The Block 2019 at The Oslo proved to be the biggest and most dramatic season ever seen which dramatic moves made by all teams to make their apartments stand out from the rest.
The Bondi boys, Mitch and Mark were the leaders of the pack when in just Week 3 they revealed they had changed their building design plans to host an Entertainment Space rather than opting for a fourth bedroom like the other contestants. Shaynna described it as "the most exciting twist I've ever seen on judging The Block."
Below we explore how Mitch and Mark worked with Freedom Wardrobes to produce some of the most exciting rooms on The Block. It's also worth noting that the boys won both weeks with these designs!
Week 3 – Entertaining Space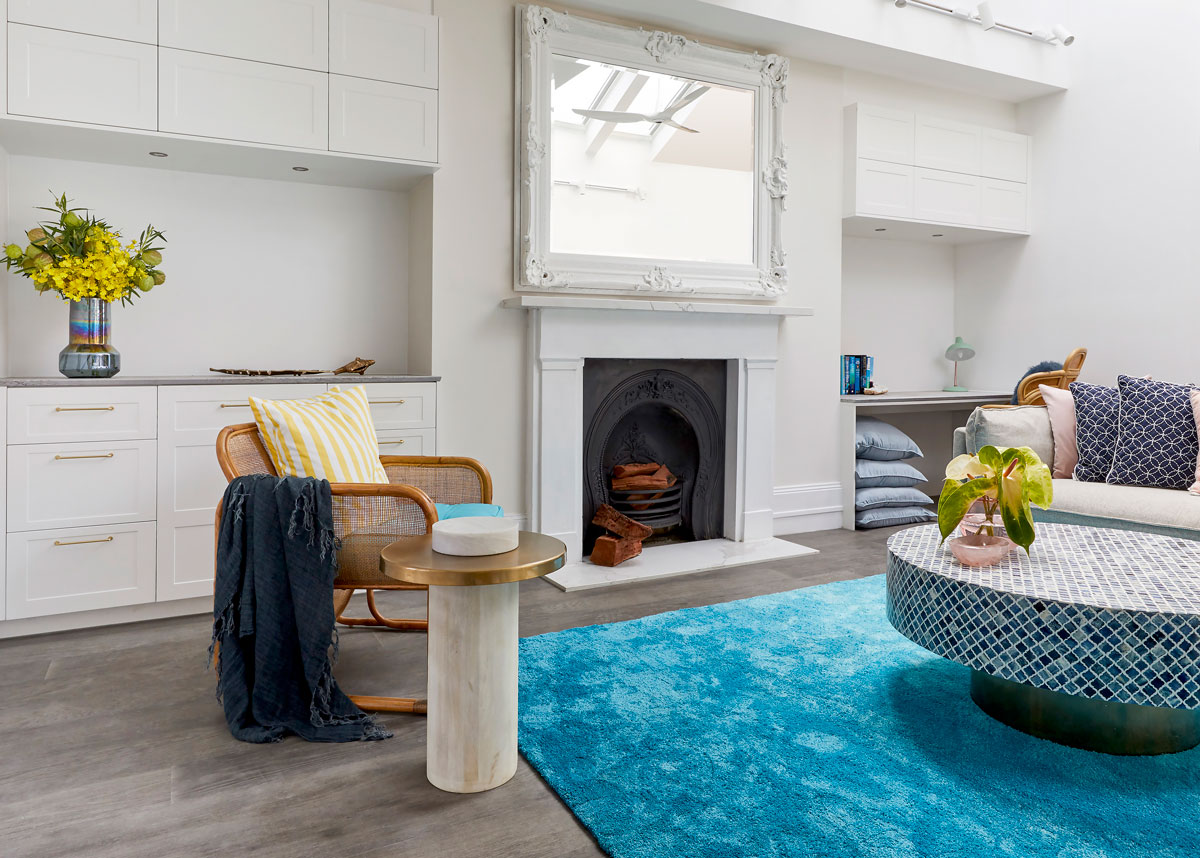 Instead of revealing a Master Bedroom in Week 3, the boys turn The Block on its head by instead presenting the first room of their Entertainment level- a stunning lounge space featuring cabinetry from Freedom Wardrobes. Inevitably, Mitch & Mark's controversial decision to create this space surprised the judges as they entered the room. After initial shock sunk in, Shaynna stated the room had elegance and class, labelling it good enough not to be a Master Bedroom- in fact they went on to win the room reveal that week!
Luxurious Sierra White Matt doors pair perfectly with Classic White Satin interiors, creating a clean and bright entertainment area, complementing the period features of the building with their Shaker style profile. Neale defined the space as the "epitome of glamour".
The base and wall cabinets, as well as the functional bar caught the eye of Darren as he noted there is plenty of space for wine! Another the unique feature within the room is a desk topped with Caesarstone® Excava, chosen specifically to balance the timber flooring and contrast well with the neutral palette of the wardrobe cabinetry.
Love it? Get it!
Cabinetry:
• Exterior finish in Sierra White Matt
• Internal finish in Classic White Satin
Special features:
• Matt Brass Rounded Handles
• Caesarstone® Excava Desk & Benchtop
• Warm LED Downlights
Week 12 – Guest Bedroom 3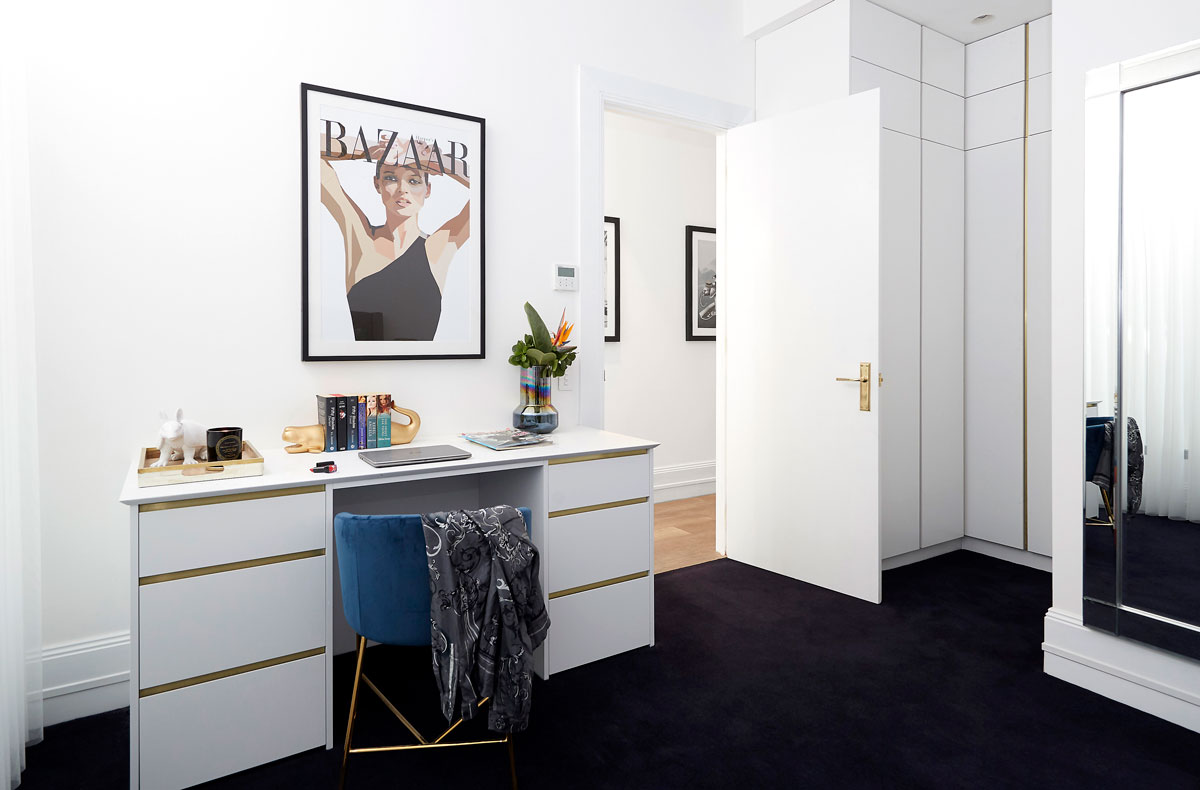 Mitch and Mark yet again walked their own path during Study, Media and Hallway Week – when they also revealed their glamourous third Guest Bedroom featuring both a desk and robe from Freedom Wardrobes. The judges loved what they presented and awarded the boys for the week!
A glamorous Palm Springs style has been at the heart of House 1 and the Guest Bedroom they revealed incorporates the look and feel flawlessly. Again, Mitch and Mark have opted for White Satin cabinetry with Brushed Gold Peak Handles but this time in an 'L' shaped wardrobe design. Internals in Suit Grey complement the door finishes perfectly to create a sleek look.
The gold accents found in the Peak Handles give the room an inviting pop of colour. To complete the look, a desk which doubles up as a make-up station has been added in matching finishes. This useful feature is topped with the NEW, luxurious Caesarstone® Empira White.
Love it? Get it!
Cabinetry:
• Exteriors in Iceland White Satin with Brushed Gold Peak Handles
• Internals in Suit Grey
Special features:
• Caesarstone® Empira White Desk Top
• Black Hanging Rail
• Flexy LED Strip Lighting
• Motion Switches
The exciting part of watching Mitch and Marks' journey on The Block was seeing how they pushed the boundaries on each of their rooms and how they really thought of new ways to use design elements such as cabinetry and benchtops.
Here at Freedom Kitchens & Wardrobes we love creating exciting new spaces that suit your needs, style and home. Our kitchen and wardrobe joinery can be used for so much more – from laundries to built-in desks, makeup stations, side tables, buffets, sideboards, dressers, credenzas, bedroom drawers sets and more. Ask your designer how we can enhance your new kitchen and/or wardrobe design with these exciting design options.
Ready to kick start your dream kitchen journey? Why wait – Click HERE to download our latest catalogue, or click HERE to book a free design appointment at your home.