Roses are red, violets are blue, let us help you choose the perfect Caesarstone® benchtop for you!
Love is in the air this week, and here at Freedom Kitchens HQ we want to help you find your perfect match – between your dream kitchen style and the perfect benchtop design.
The design process is an exciting time in any kitchen renovation, and picking the style of your kitchen and the perfect finishes to bring it to life, is a very important step. To help you on your journey, in this blog we explore three of the most popular kitchen styles and the Caesarstone® countertops that complement them.
Why Caesarstone®? The perfect complement to the premium cabinetry, hardware and accessories we offer at Freedom Kitchens, Caesarstone® is an elegant surface manufactured from natural quartz. Available in many colours and looks, they are durable, easy-to-clean and maintain.
Hamptons Love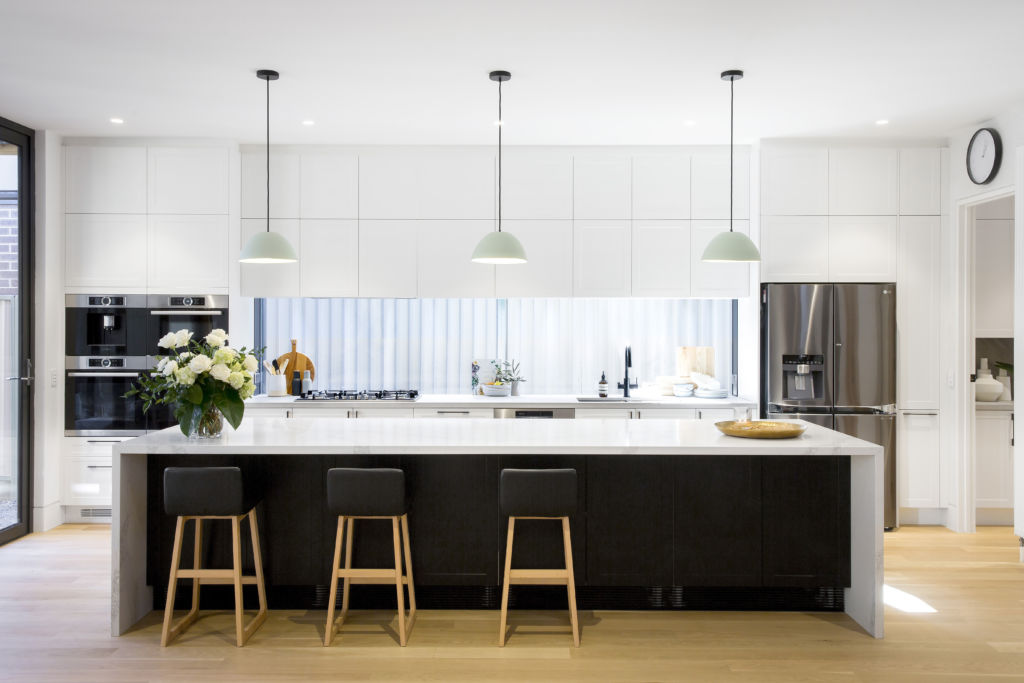 This modern Hamptons kitchen features an eye-catching island bench in Caesarstone®'s Statuario Maximus.
The ever-popular Hamptons kitchen style is one that is easy to fall in love with. Easy luxury is achieved through Shaker-style cabinetry, detailed hardware and eye-catching accessories and appliances. Whether you prefer a traditional or modern take on the style, a marble-look benchtop is the perfect fit for this look. We love the marble-inspired quartz benchtops from Caesarstone® as they mimic the natural beauty of marble without the maintenance that real marble requires- perfect for the modern Australian lifestyle.
The kitchen pictured above is an open and light filled space that celebrates a modern Hamptons feel by using Freedom Kitchens Sierra White Matt and Black Matt cabinetry and oak flooring. Catering for a family of six the island bench in Statuario Maximus by Caesarstone® stretches 3.6 metres- ensuring that is the focal point of the the room. The marble design adds luxury with its broad warm grey veins sweeping across a soft white base colour, further enriched by delicate background veins.
Designer tip: Consider adding unexpected details to your kitchen design if you want to evoke the Hamptons style but with a twist. In the kitchen above the owners thoughtfully included small details such as the pastel ceramic pendants above the island and sleek silver handles adding a hint of the Scandinavian look. By adding features from different yet complementary style to create a room that is unique to you.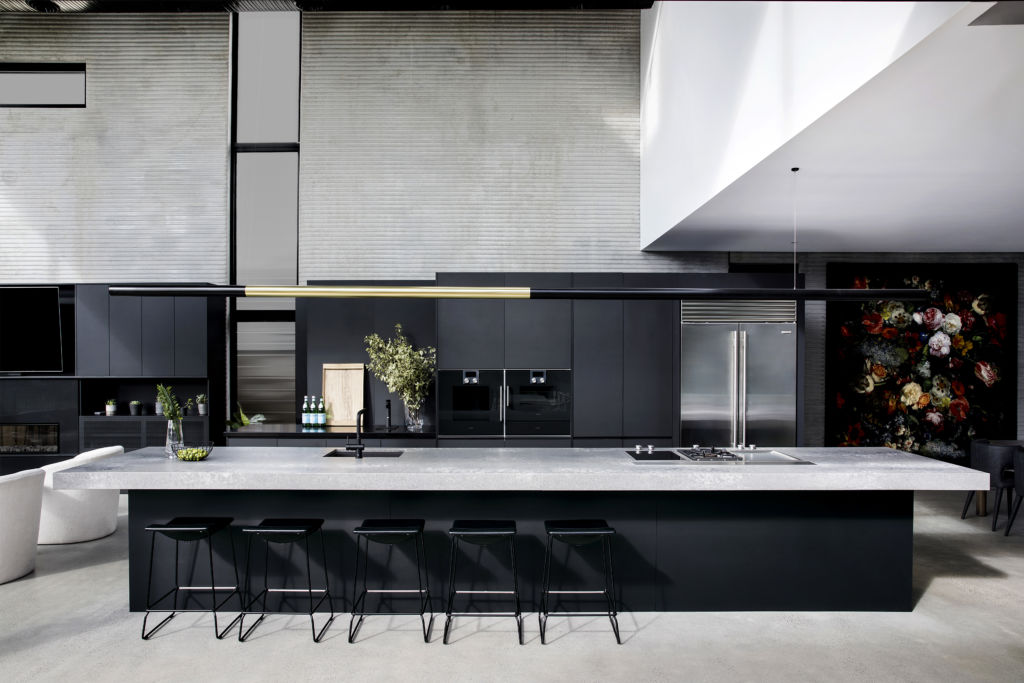 Guy & Jules Sebastian's modern, urban kitchen hits the right note with the successful pairing of sleek black cabinetry and a Caesarstone® Rugged Concrete island bench.
Concrete-look benchtops are a perfect match for modern industrial kitchen styles. We love the concrete inspired range from Caesarstone® which offers various shades from deep and dramatic tones to softer, more subtle colours.
When Guy & Jules Sebastian entrusted Freedom Kitchens to create their stunning entertainers kitchen it needs to complement the rest of their ultra-modern design of their family home in Maroubra. At the heart of the room is the incredible island benchtop in Caesarstone®'s Rugged Concrete spanning a staggering 5.6 metres in length. The perfect gathering point in the home, it also complements the flooring and wall treatment used throughout both the kitchen and beyond into the rest of the home.
Designer tip: Concrete-inspired benchtops also pair beautifully with solid white or black tops. For example, you may like to use a dramatic concrete-style top for your island and then pair with a solid shade for your back benchtops. This can be seen in the Sebastian's kitchen where Jet Black tops featured on the back run of their kitchen.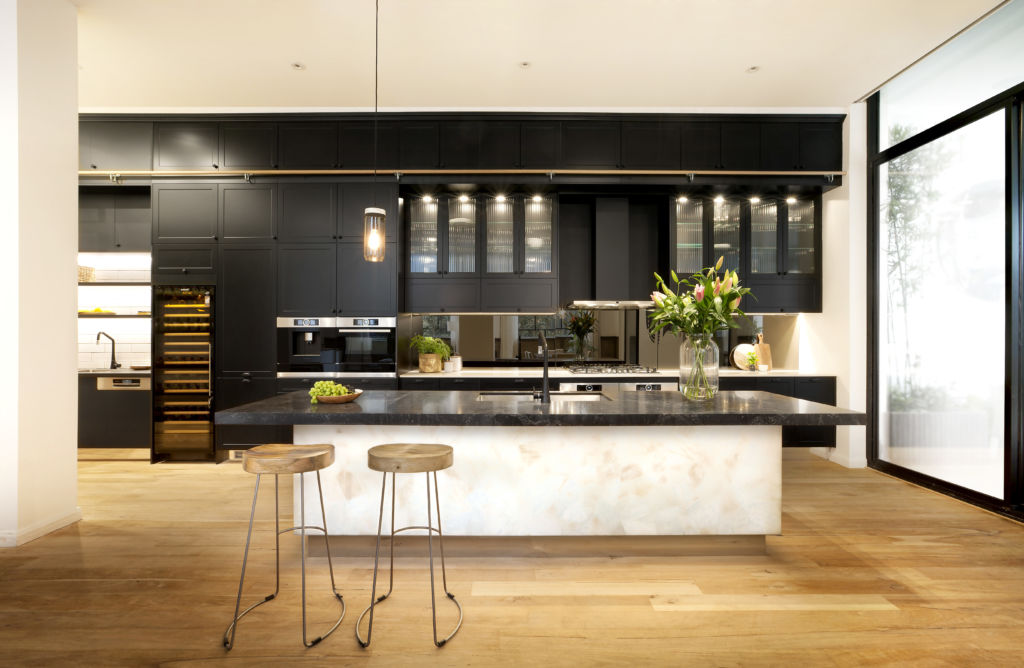 This glamorous kitchen delivered by Julia & Sasha on The Block 2016 has stood the test of time. The mix of Shaker-style doors with the stunning Caesarstone® Concetto White Quartz island results in a kitchen that turns heads.
Blockheads Julia & Sasha blew the judges away with their show stopping Challenge apartment kitchen which perfectly celebrated the Art Deco style of The Block building whilst incorporating touches of modern luxury such as the back-lit Caesarstone® Concetto White Quartz on the island which takes centerstage. The countertop is truely unique as the transparent, white crystal characteristics look equally amazing when they are lit or unlit, offering two equally beautiful but different look. The mirror kick gives the illusion of a floating, glowing box adding to the glamorous look.
Designer tip: A variety of cabinetry profiles can suit this style- from our Shaker-style Sierra doors as seen above to a more flat and modern profile as seen in the Freedom Kitchens Luxe Supa Matt and Alaskan door ranges.

Ready to fall in love with your new Freedom Kitchen?
Book your free in-home design appointment HERE. Plus, don't miss our special kitchen offer where you can upgrade to Caesarstone® for the price of laminate!*
Or download our new catalogue HERE which is full of information and inspiration.
*Terms & conditions apply. Visit https://freedomkitchens.com.au/offers/ for full details.