Freedom Kitchens Shakes it up Again on Reno Rumble
We're down to the pointy end of the Reno Rumble competition and the near perfect kitchen renovations continue to inspire! This week two more life-changing transformations took place, with Kyal & Kara of the Redbacks and Ayden & Jess of the Blue Tongues both delivering their second Freedom Kitchen of the series. And once again, two completely different styles.
Tasked with creating a Shaker style kitchen for Naomi and her busy family, Ayden and Jess have taken the original, and very dated, black and orange kitchen and transformed it into a humble yet charismatic space for homeowner, Naomi.
Cleverly combining traditional features with modern conveniences, the muted colour palette of white and taupe is accentuated by pairing classic Shaker doors with modern flat doors in varying shades. Two-tone benchtops in Caesarstone® and Timber-look Laminate add further depth and interest, whist the elegant handle choice, butler's sink and overhead pendants seamlessly tie the look together.
Naomi says she can now be so much more involved with the family, thanks to the open plan layout, "I can see the kids and they can sit at the bench and learn to love and cook food as much as I do."
She is equally admiring of island material, "The timber look benchtop was something I never thought of but it is one of my favourite parts of the kitchen. People can't believe it is laminate and I have to admit laminate is fantastic for kids due to how hard wearing it is."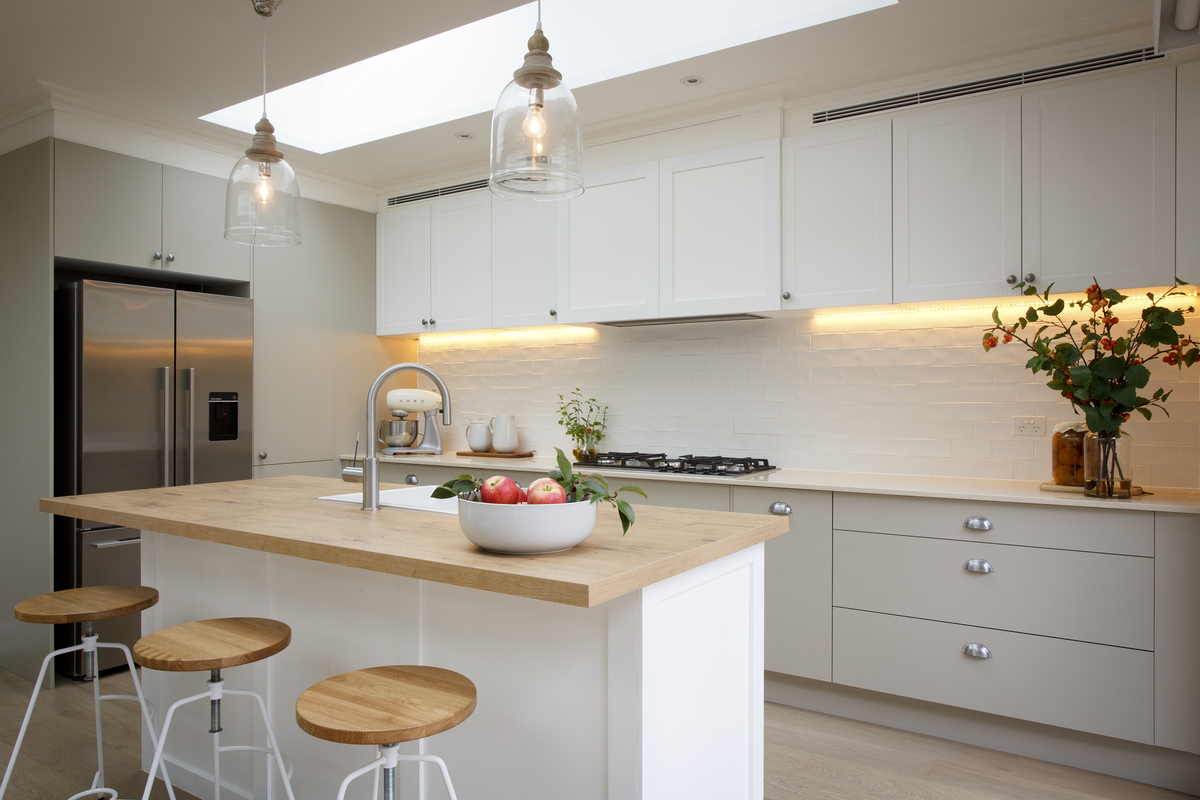 Transforming homeowner Belinda's small, unfinished kitchen into one of 'understated elegance' was the brief for Kyal and Kara. And boy did they deliver, creating a spacious and classic entertainer's kitchen to complement the rest of Belinda's home.
Designed around principle of symmetry, this kitchen features timber grain for all upper cabinetry, including tall display shelving that frames the main preparation space, and the lower section contrasting colour and texture and Caesarstone benchtops. Tall storage such as the pull-out pantry as well as wall mounted appliances are housed in the adjacent walk-in pantry, allowing the main kitchen to remain a showpiece of the home.
Belinda says the kitchen is now the heartbeat of her home, "Its layout means I can be social, entertain and prepare meals all at the same time. I can chat to my guests who now have plenty of room along the island bench to sit. It's not just a place to cook but really stunning designer talking piece within the house."