SCANDINAVIAN STYLE KITCHEN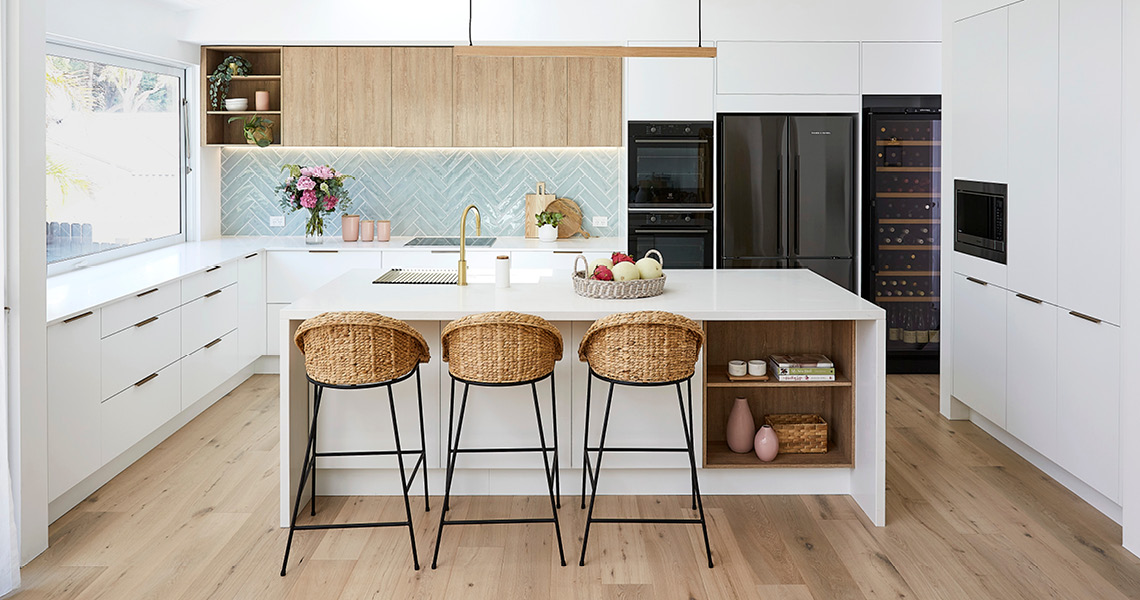 Bright and airy Scandi-style kitchens embrace the essence of laid-back coastal living. The clean lines, muted colour palette and natural features allows for a calming, minimalistic and textured environment to be created within your home.
To embrace the pared-back Nordic look, we recommend using neutral coloured cabinetry with touches of timber that add warmth and an elegant Caesarstone Frosty Carrina quartz benchtop. This combination is the perfect backdrop for luxurious extras like brushed brass handles to add some glamour to the space.
What is a Scandinavian style kitchen?
A Scandinavian style kitchen is one that draws inspiration from the style and themes of the Scandinavian countries – Sweden, Norway, Finland and Denmark. The Scandinavian kitchen style is slightly pared-back and minimalist – a simple elegance, no fuss design. Scandinavians work with what they have, maximising light, space and functionality for an all round capable and enjoyable kitchen space.
How do I get a Scandinavian kitchen look?
Design your kitchen with Scandinavian style by focusing on pale, neutral colours, and sleek, understated finishes. Take advantage of light and space to create a warm and welcoming environment in your kitchen. Speak to a Freedom Kitchens design consultant today and discover the right mix of design, layout, cabinet finishes and more to get the Scandinavian kitchen look you're seeking.