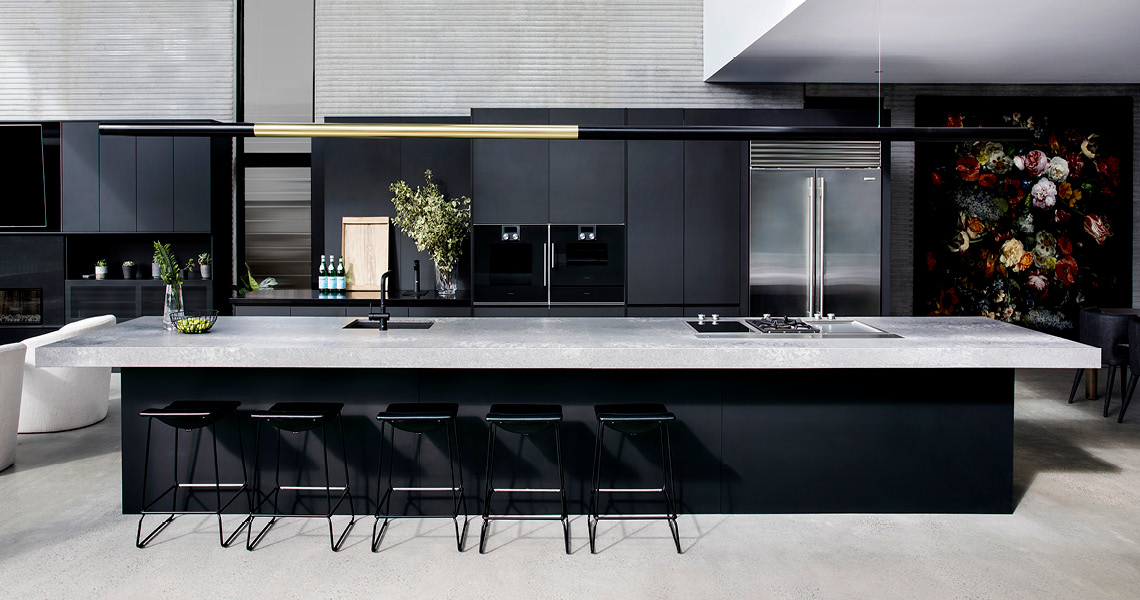 Inject some New York inspired sophistication into your home with an Industrial kitchen. Industrial style kitchens boast the perfect blend of raw and refined. A fusion of textures come together to create a modern, streamline kitchen bursting with natural elements.
Channel this style throughout your kitchen by using an indulgent concrete-look benchtop, combined with modern black matte cabinetry and open shelving. Our 2020 Black Alumin Framed Shelving with broadline glass creates a sleek and sophisticate look.
What is an industrial kitchen?
An industrial kitchen is a design style that combines materials and features – such as concrete-look benchtops, metal cabinet framing and sleek, modern handles and fixtures. Think of the vibe of a renovated inner-city warehouse – exposed wooden beams, rustic lighting or features and exposed brick walls, contrasted with modern chic appliances and polished hardwood floors.
How do I get an industrial kitchen look?
Design your kitchen with an industrial style through contrasting natural elements and new, modern finishes. Speak to a Freedom Kitchens design consultant today and discover the right mix of design, layout, cabinet finishes and more to get the industrial kitchen look you're seeking.