FREEDOM KITCHENS SIGNATURE RANGE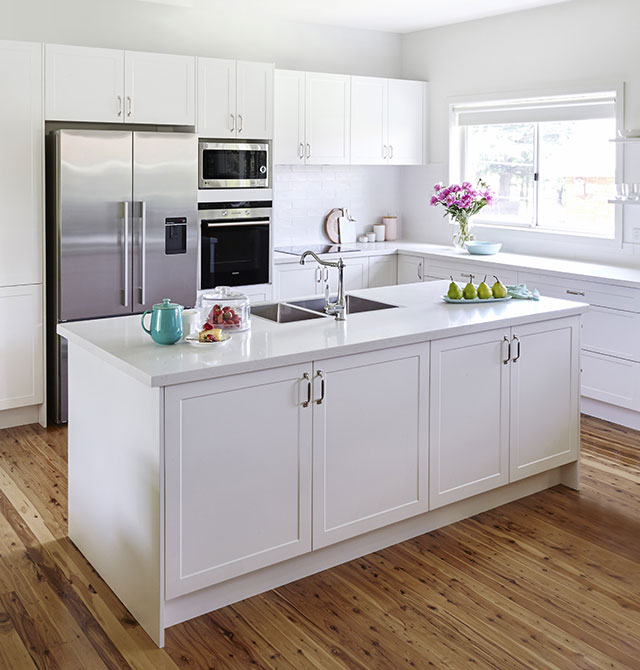 The Signature Range is our latest kitchen collection offering a stylish kitchen design solution at a value pricepoint with fully assembled cabinetry. You can get the designer look for less without having to build a flat pack kitchen from scratch.
The Signature Range offers a variety of cabinets to fit your kitchen, laundry or home office space. Four on trend door styles, a range of laminate and Caesarstone® benchtop options ensure your kitchen is stylish and functional at a great value pricepoint.
Ready to start your Signature Range journey today?
Simply download the Signature Range catalogue for more inspiration and information. Alternatively, book your private in-home or video call design appointment today!
FIVE STEPS TO CREATE YOUR NEW KITCHEN
1. DESIGN APPOINTMENT – One of our expert kitchen designers will visit you privately in your home or speak with you online via a video call to work through your measurements, style, needs and budget. You'll be shown colours and material swatches to make selections and receive on the spot pricing.
2. PLANS & DEPOSIT – Simply pay the 10% deposit to get started. Our kitchen designer will show you the first draft of plans for your feedback and any changes.
3. SITE CHECK – A check measurer will come to your home to measure the site against the plans, ensuring all details are accurate.
4. FINAL PLANS AND COSTING APPROVAL – After the progress payment is made, the final plans and costs will be supplied for your sign-off. You can view your final plans and communicate with us at any time via "my kitchen", our online communication portal.
5. DELIVERY – After final payment is made, you can expect your Signature Range Kitchen within 3 – 4 weeks, ready for your builder to install it.
EXPLORE THE SIGNATURE RANGE PRODUCTS
Four stylish and on-trend door colours and finishes to choose from.
Satin finish – Smooth finish with a slight sheen on high moisture resistant MDF board.
Matt finish – Fine textured matt surface on moisture resistant MDF board.
Woodmatt finish – Subtle woodgrain embossing with an overall matt surface on moisture resistant MDF board.
Our laminate benchtops are available in a wide variety of on-trend colours at an affordable price, making them a practical and economical addition to your kitchen design. With low maintenance and easy to clean surfaces, laminate benchtops are durable and are a consistently popular choice. Premium laminate benchtops are also available and nothing short of stunning. There is a choice of a unique matt black or authentic timber-look benchtops.
Handles are a small detail in a kitchen with the potential to make a big impact. If you choose to have handles on your cabinetry (remember that handle-less touch-catch is also an option) then be sure to choose a style that matches the profile of your doors and drawers – your design consultant will be happy to assist.