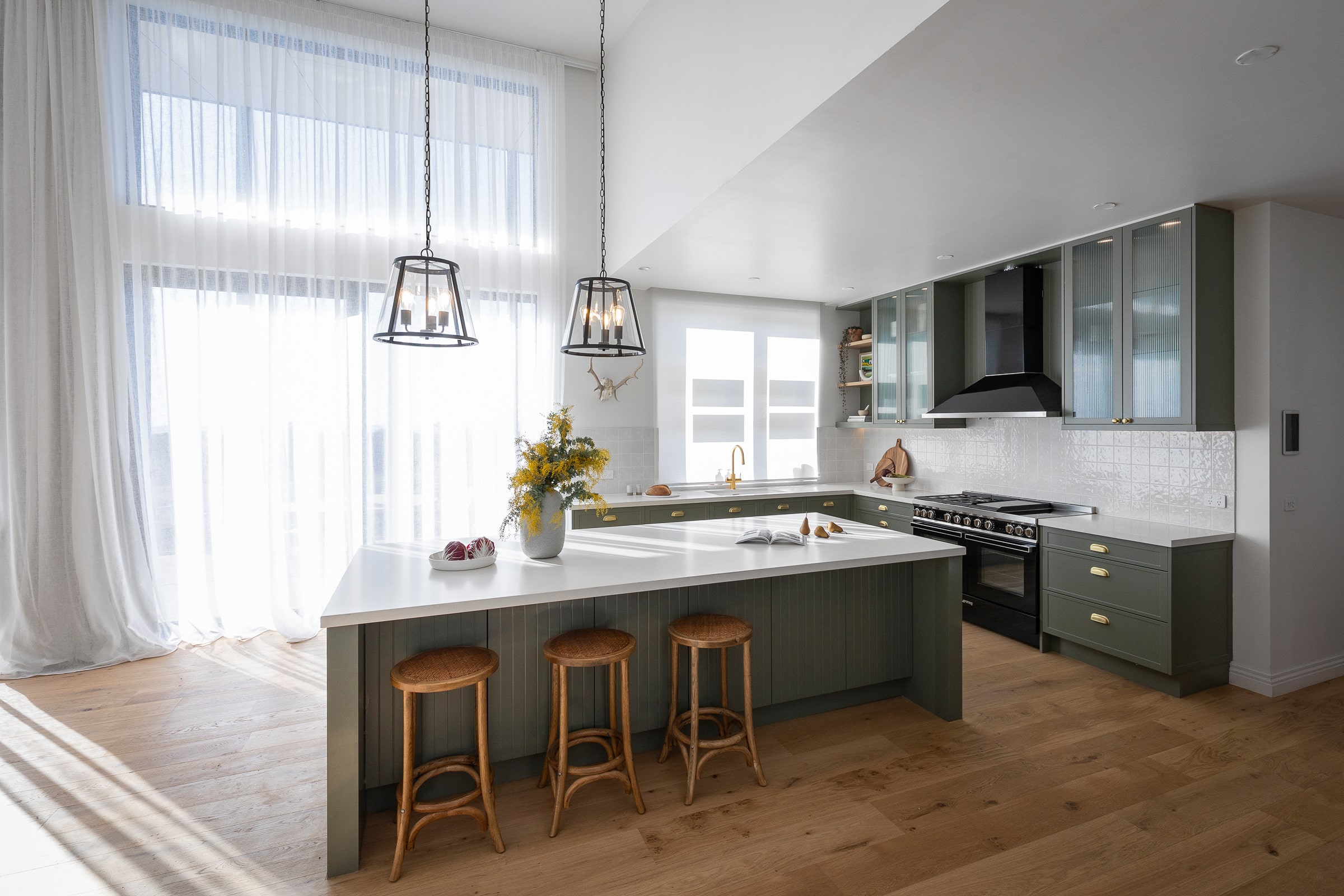 Regardless of whether you live in the city or the country, a farmhouse kitchen is a beautiful option if you wish to create a kitchen space that is warm, welcoming and nods to rustic living.
An all-white kitchen is a classic choice or you may like to combine cabinetry in matte whites and soft greys, warm green or blacks. Combine with marble or timber-look benchtops and classic Satin Cup and Dimple Knob handles to celebrate this classic design aesthetic. For a contemporary twist, opt for warm metallic accents such as brass handles and tapware.
Decorative door profiles are a must in this newly popular kitchen style. Shaker door profiles lend themselves perfectly to the look. Consider either our ever-popular Sierra door profile, a striking and traditional option or our new Cora door, its thin Shaker profile perfect for those wishing to achieve a modern and subtle look. Pair with our Vera door, another new addition to the Freedom Kitchens range, a luxurious panel-look cabinet for a look that is sure to turn heads.
What is a farmhouse kitchen style?
A farmhouse kitchen style is one that reflects the look and feel of a country farmhouse. It can otherwise be known as a 'rustic' kitchen – the principles are the same. Characterised by the way kitchens were built in country farmhouses centuries ago, the focus is on communal space and family living, creating a warm and welcoming environment whilst being sturdy and timeless.
How do I get a farmhouse style kitchen?
Texture is one of the key elements to create a successful farmhouse style kitchen, with door profiles and fittings key in complementing a farmhouse kitchen design. White can often be a core colour of a farmhouse style kitchen, and contrasting these with timber or marble look benchtops can help create the style you're looking for. To create your dream farmhouse kitchen, speak to a Freedom Kitchens design consultant today and discover the right mix of design, layout, cabinet finishes and more.