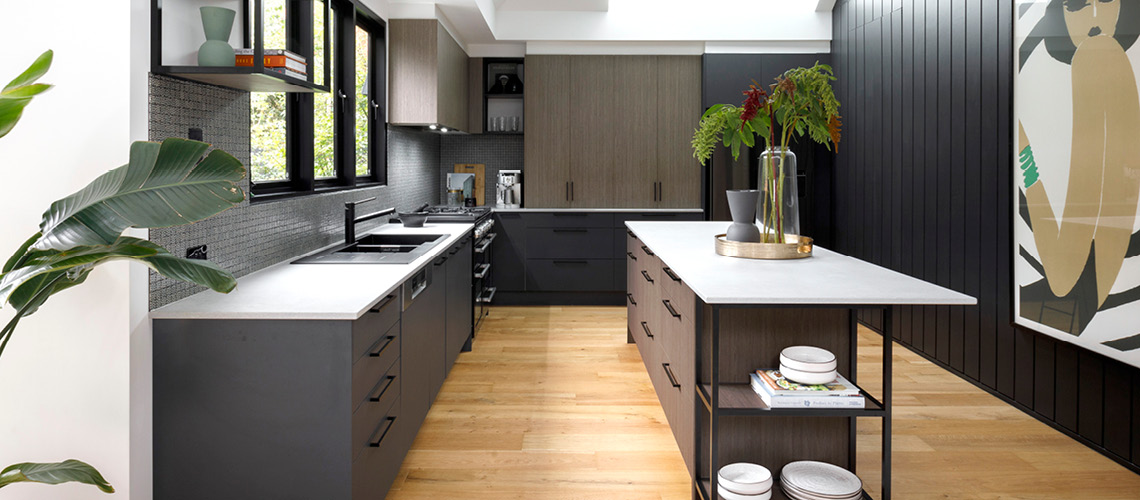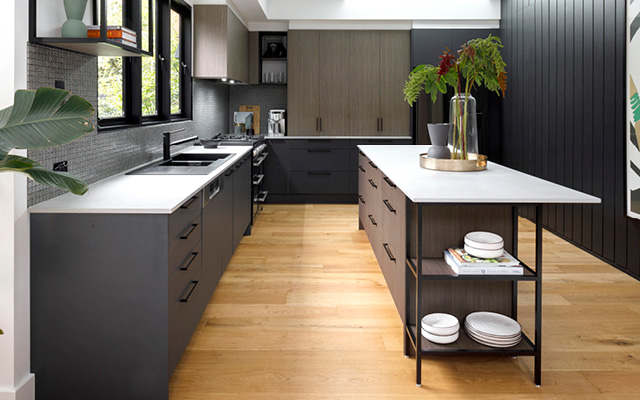 Consisting of two main sides meeting at a right angle with an open space in the middle, an L-shaped kitchen is an incredibly efficient layout and perfect for open plan living. A flexible design allows you to place the cooking, cleaning and prep zones how you wish, while keeping them within easy reach of each other.
With the generous open space that the L-shaped kitchen provides, consider including an island bench into your design. It will add additional prep area and storage space, and is the perfect location for seating within your room.
What is a L-Shaped Kitchen Design?
Our extensive range of accessories and storage solutions will add to the functionality of your kitchen. For example, we love to use corner carousels and blind corner Le Mans shelves to maximise otherwise tricky corner cupboards found in L-shaped and U-shaped kitchens.
What are the Advantages of an L Shaped Kitchen?
Ideal for medium to large family homes
Efficient layout
Perfect open plan living
Cooking, cleaning and prep zones with easy reach of each other
Add an island bench to the design for more prep and storage space
What are the Disadvantages of an L-Shaped Kitchen?
Spacing might prove to be problematic, best speak to our expert designers to ensure you maximise the layout and the space of the room.
Corner cabinets need to be adapted with the best internal configuration so as not to waste the corner space
Might not have enough storage; we suggest adding an island to mitigate this
What size space is best for a modern L-shaped Kitchen Design?
L-shaped kitchen layouts are suitable for small, medium and large spaces.
Where can I get an estimate for L-Shaped Kitchen design renovation?
Freedom Kitchens offers a wide range of modern l-shaped kitchen designs. Our experts can help guide you through your kitchen renovation and find the perfect solution for your household. Explore our design gallery below and make an enquiry to get an estimate today.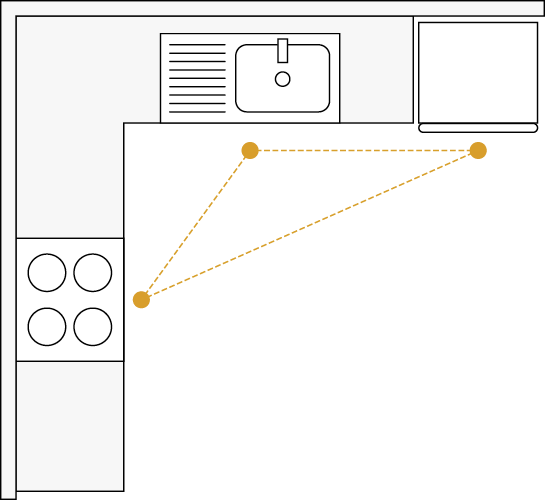 Modern L-Shaped Kitchen Design Gallery
Click on the examples below of L-shaped kitchen layouts and designs by Freedom Kitchens.