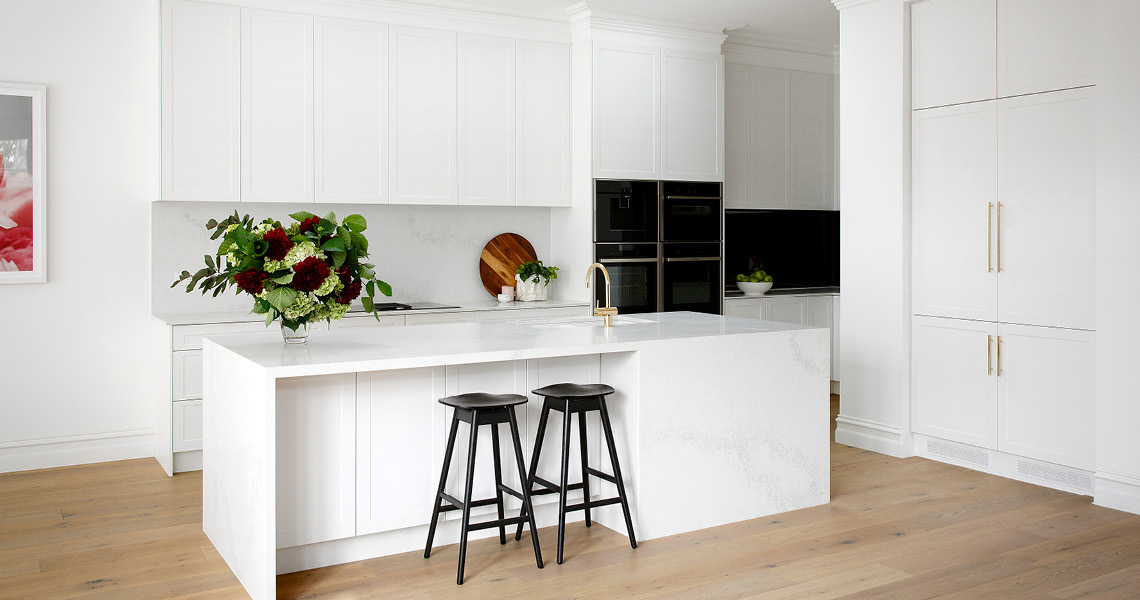 With such an effortless approach to style, a white Shaker-style kitchen will make you feel like you have been transported to the Hamptons.
Our eye-catching Shaker profile kitchen doors are characterised by a flat centre panel and square edges, creating a simple and classic profile. It's easy to see why our Shaker style Sierra doors are a popular choice and perfectly suited to modern Australian homes.
To enhance the chic and timeless look, pair the fresh white Shaker-style door with a marble look Caesarstone benchtop boasting a light and elegant palette. The addition of gold tapware and handles accentuates luxe and grandeur.
What is a Hamptons style kitchen?
A hamptons style kitchen is one that reflects the design and style of the Hamptons region in Long Island – 90 minutes from New York City and noted for grand beachfront holiday homes and country estates for the rich and famous. White is a heavily used colour, with an emphasis on detail and a slight nautical theme. Hamptons style kitchens generally suit large spaces and homes as they focus on space, light and grandeur to make an impact.
How do I get a Hamptons style kitchen?
Design your kitchen with a Hamptons style by imagining it belonging in a grand house on Long Island! Focus on white or very neutral colours, with elegant design and an open use of space. Shaker-style kitchen cabinets are a perfect way to capture the feel of a Hamptons kitchen, and pair these with a lighter or marble look benchtop. Speak to a Freedom Kitchens design consultant today and discover the right mix of design, layout, cabinet finishes and more to get the Hamptons style kitchen you're seeking.