FREEDOM KITCHENS ESSENTIAL RANGE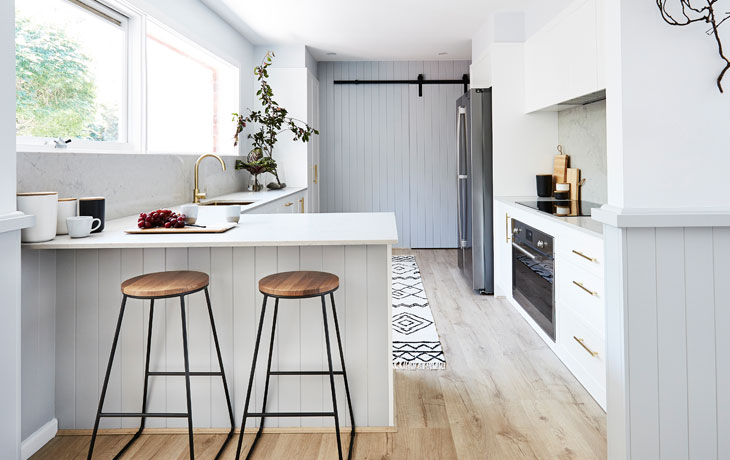 The Essential Range is a quality flat pack kitchen, featuring a curated selection of the season's most popular styles and colours at an outstanding price.
You may wonder how we're able to offer this designer look for less. The answer is because Essential kitchens come 'ready to assemble', rather than being assembled in our factory, the kitchens are ready to be assembled by your builder or installer – this means you can get a great value kitchen fast, delivered to your door in as little as 10 days after final payment.
Need help with design? Our in home design appointment is still part of the service. Book today and ask your designer about our special offer.
To view the Essential Range visit your nearest Freedom Kitchens showroom
FIVE STEPS TO CREATE YOUR NEW KITCHEN
1. DESIGN APPOINTMENT – One of our expert kitchen designers will visit you privately in your home or meet with you online via a video call to work through your measurements, style, needs and budget. You'll be shown colours and material swatches to make selections and receive on the spot pricing.
2. PLANS & DEPOSIT – Simply pay the 10% deposit to get started. Our kitchen designer will show you the first draft of plans for your feedback and any changes.
3. SITE CHECK – A check measurer will come to your home to measure the site against the plans, ensuring all details are accurate.
4. FINAL PLANS AND COSTING APPROVAL – After the progress payment is made, the final plans and costs will be supplied for your sign-off. You can view your final plans and communicate with us at any time via "my kitchen", our online communication portal.
5. DELIVERY – After final payment is made, you can expect your Essential Kitchen to be delivered to you in 10 days, ready for your builder to install it.
READ MORE ABOUT OUR FLAT PACK KITCHENS HERE: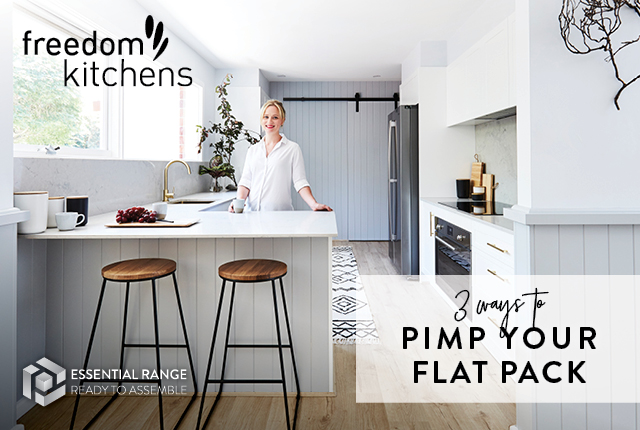 3 Ways to 'Pimp Your Flatpack'
April 4th, 2018
3 Ways to 'Pimp Your Flatpack' Considering a flat pack kitchen, but want to make sure it stacks up in the style stakes? Rest assured, the latest generation of flat pack kitchens, the Essential Range by Freedom […]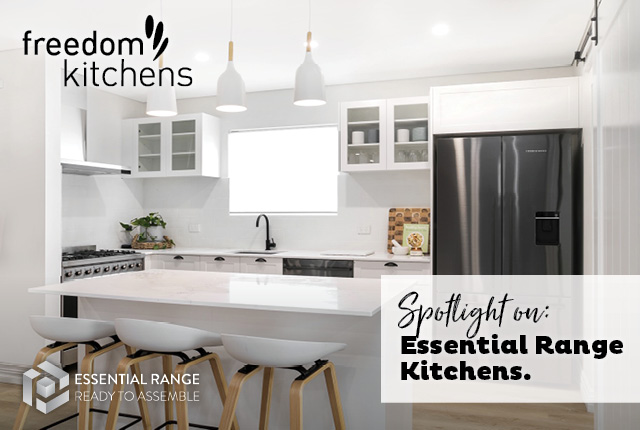 Spotlight on: Essential Range Kitchens
November 27th, 2019
As 2019 comes to a close and a new decade draws near, now is the perfect time to be planning your dream kitchen in the New Year. Perhaps you've been searching for a fast and affordable option that doesn't compromise on quality and style? If so, look no further than our Essential Kitchen Range.[…]