At Freedom Kitchens, we pride ourselves as being leaders in Australian kitchens for style, quality, and price. Part of what makes us stand out from the crowd are the partners we work with, who also share the same values that we do. This is why we're thrilled to be working with Silestone® Designed by Cosentino®, to provide you with amazing mineral benchtops and splashbacks that will bring your dream kitchen look and design to life. With less than 40% crystalline silica in the composition of all their surfaces and products, enjoy the peace of mind of knowing that your kitchen surfaces are stylish, sustainable, safe, and of the highest quality.
Read on to discover why Silestone® surfaces are a perfect option for your new Freedom Kitchen.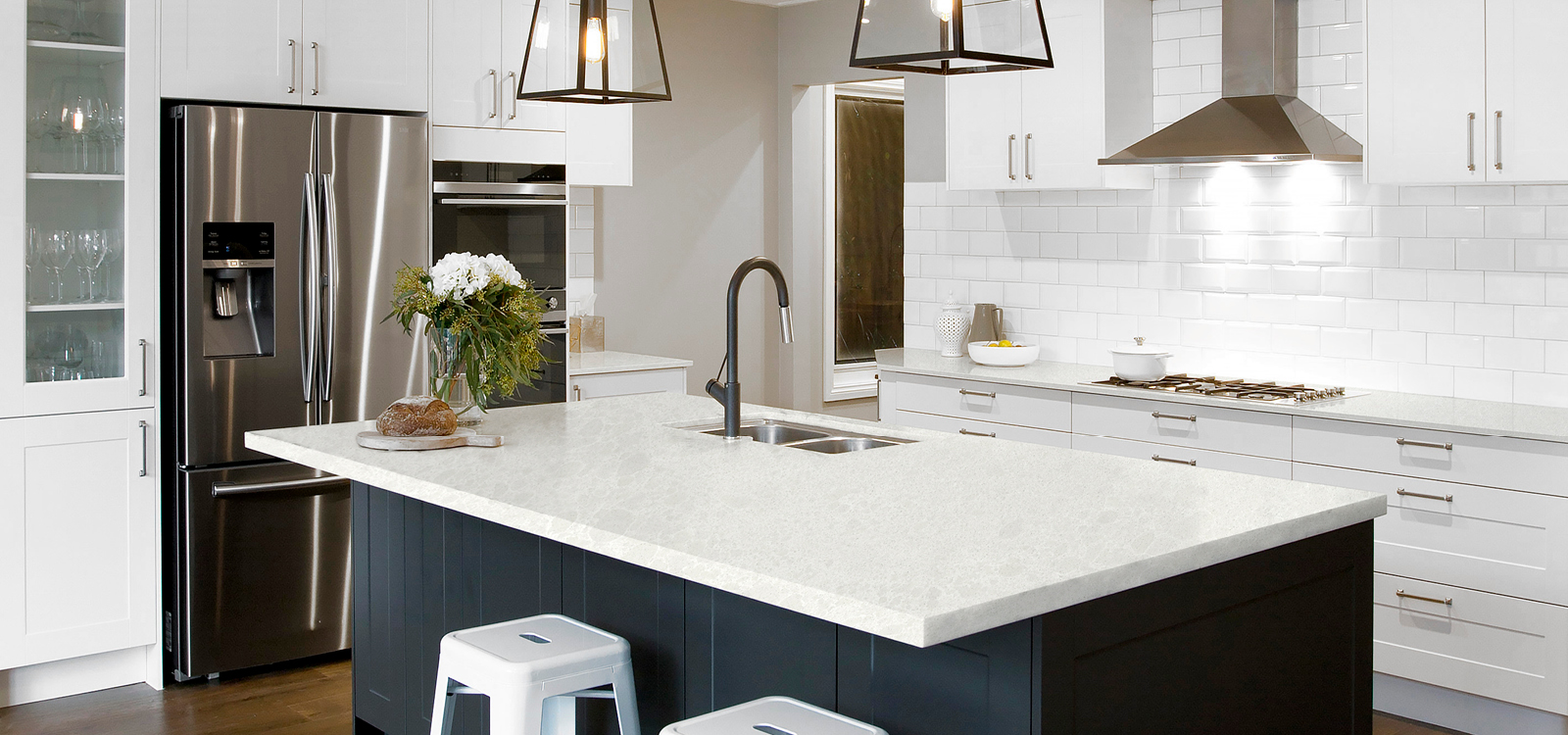 What is Silestone®? 
Silestone® is a hybrid surface made from premium natural minerals and recycled materials. Manufactured with the exclusive and innovative HybriQ® technology, they are a more sustainable approach to architectural surfaces.
Style meets sustainability. 
Moving beyond quartz materials, HybriQ® technology is the ultimate in mineral surfaces. A new type of Silestone®, it is composed with a hybrid formulation, blending minerals and recycled materials such as glass. Manufactured through a sustainable process involving 100% electric energy from renewable sources, the result is a series of beautiful and safe surfaces that feature significantly reduced silica levels. 
Beautiful natural-looking surfaces without the maintenance. 
Perfect for busy Australian households and families, Silestone® surfaces are highly stain and heat resistant, hygienic, and easy to clean, making them a great option for kitchen worktops.
Enjoy a range of colours and texture. 
Reimagine your kitchen with a range of colours and looks that will ensure that your kitchen will become the heart of your home. Your benchtop selection should complement your Freedom Kitchens cabinetry and elevate the kitchen look you want to achieve. The possibilities are endless but here are 3 of our favourite combinations.
Blend neutral tones with nods to timber and marble for a kitchen style that will stand the test of time.

Sleek Modern. 
Evoke a sleek and luxuriant feel in your kitchen by layering black materials to create a stunning and inviting space.

Natural Beauty.
Celebrate earthy and organic shades and bring the outside in for a kitchen that is calming and grounding.

Create your perfect kitchen with Freedom Kitchens. Ask our expert designers about how Silestone® surfaces can be included in your new kitchen design when you book your free in-home or video-call design appointment HERE.  Ask about our current special offers so you can create a designer kitchen without the designer price tag.


Silestone® HybriQ is a low silica hybrid surface composed of premium minerals and recycled materials. Find more info at https://www.cosentino.com/en-au/silestone/hybriq-technology/