Maximise your Wardrobe Storage 
Updating your wardrobes will instantly transform your bedroom and entire home, taking it to stylish new heights! When done well, wardrobes will maximise storage and optimise style, which is why we introduced the Freedom Wardrobes Range. Offering smart storage solutions for Walk-in, Hinged and Sliding wardrobes, you can choose from a curated selection of premium doors, interiors finishes and handles. Luxury extras including island benches and stylish black hardware will complete the look.
With a place for everything and everything in its place, read on to discover what makes our wardrobes stand out from the crowd.
The perfect wardrobe layout.
Choose from a walk-in, walk-through, hinged or sliding wardrobe design. No matter your bedroom's size and floorplan there is a wardrobe design to suit every home and room.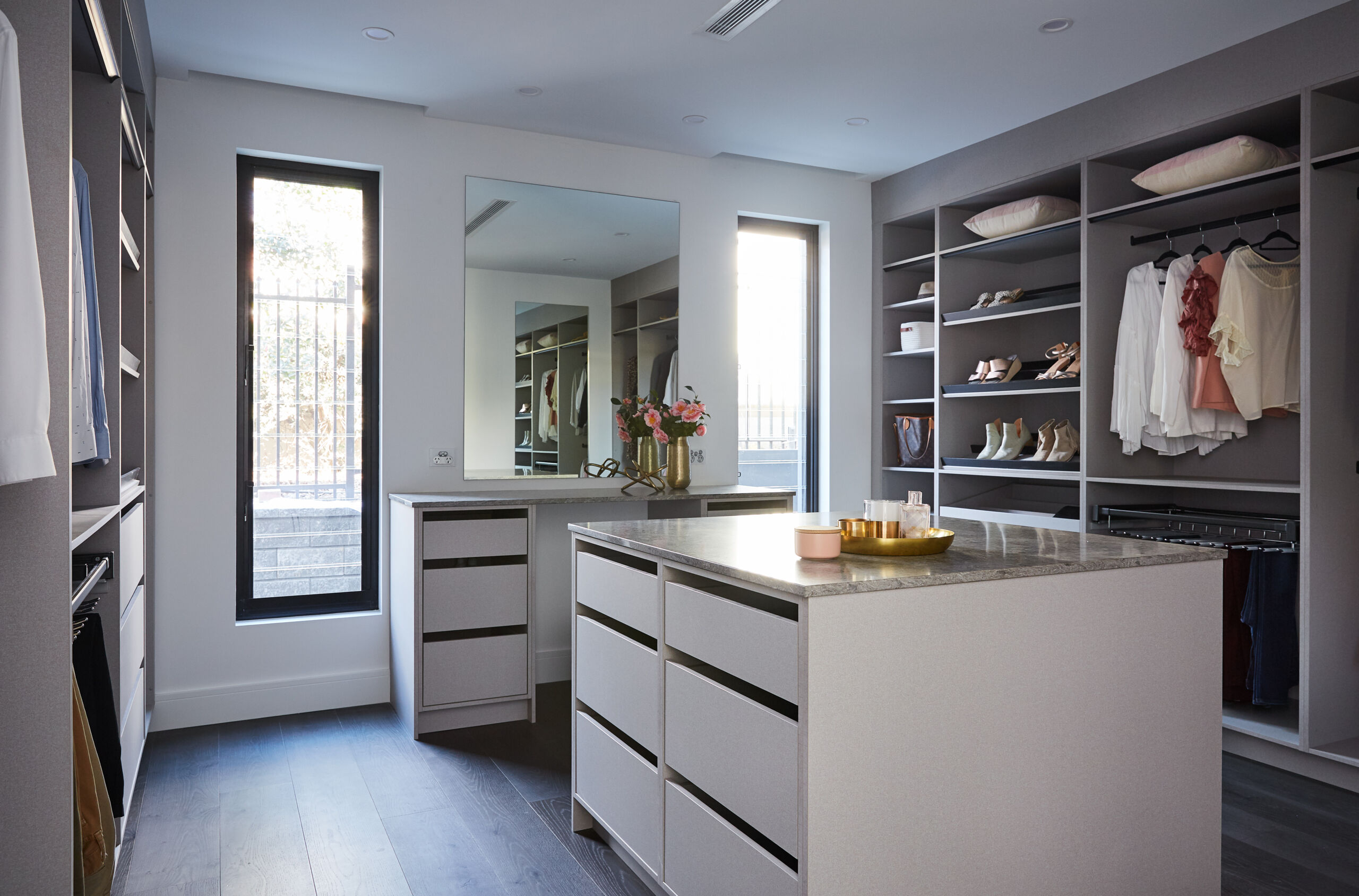 The epitome of luxury, our Walk-in & Walk-through Wardrobes create more than just smart storage solutions. They are a daily style experience designed to showcase all your prized items. Add an island bench for additional storage as well as a space to style décor and floral arrangements.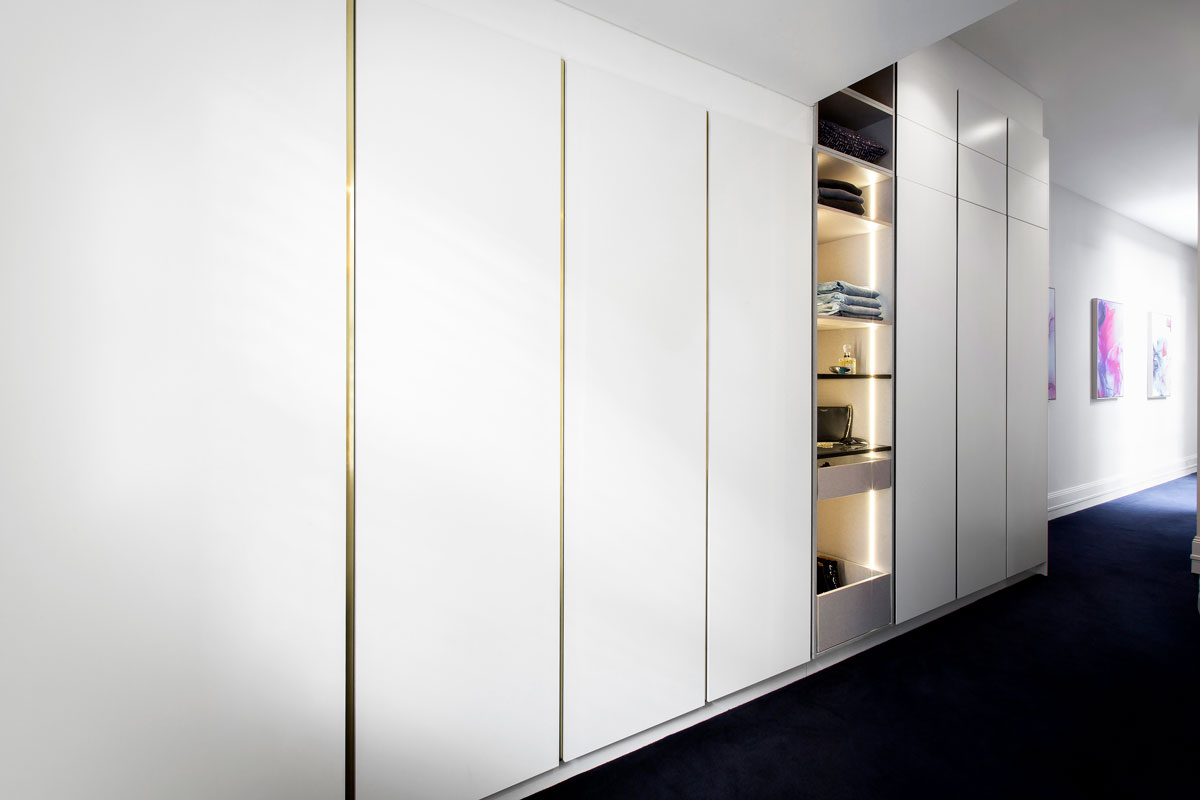 Hinged wardrobes are another popular choice, suited for small or large bedroom sizes. They create a feature wall of storage bliss that allows you to keep everything hidden behind soft-close doors. Our Black Frame Glass Shelves are a wonderful addition that will allow you to display your favourite bags, shoes, and other accessories so you can enjoy them every day.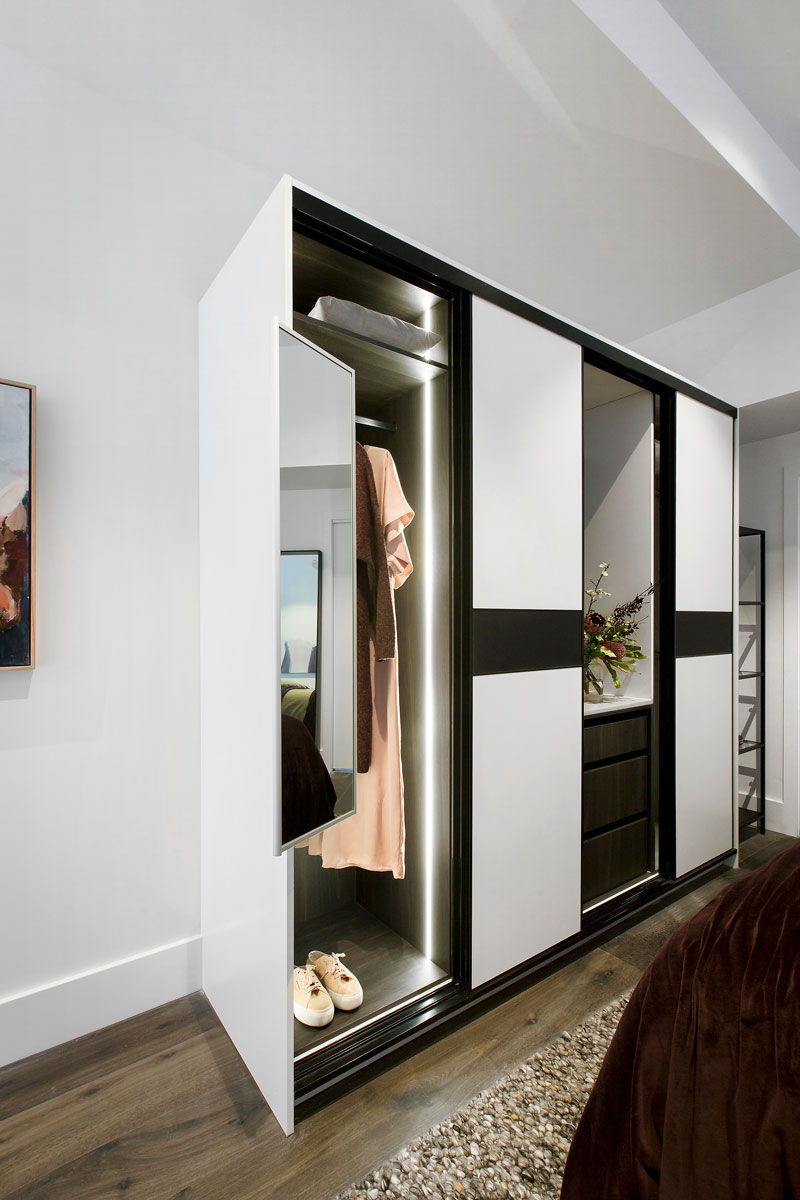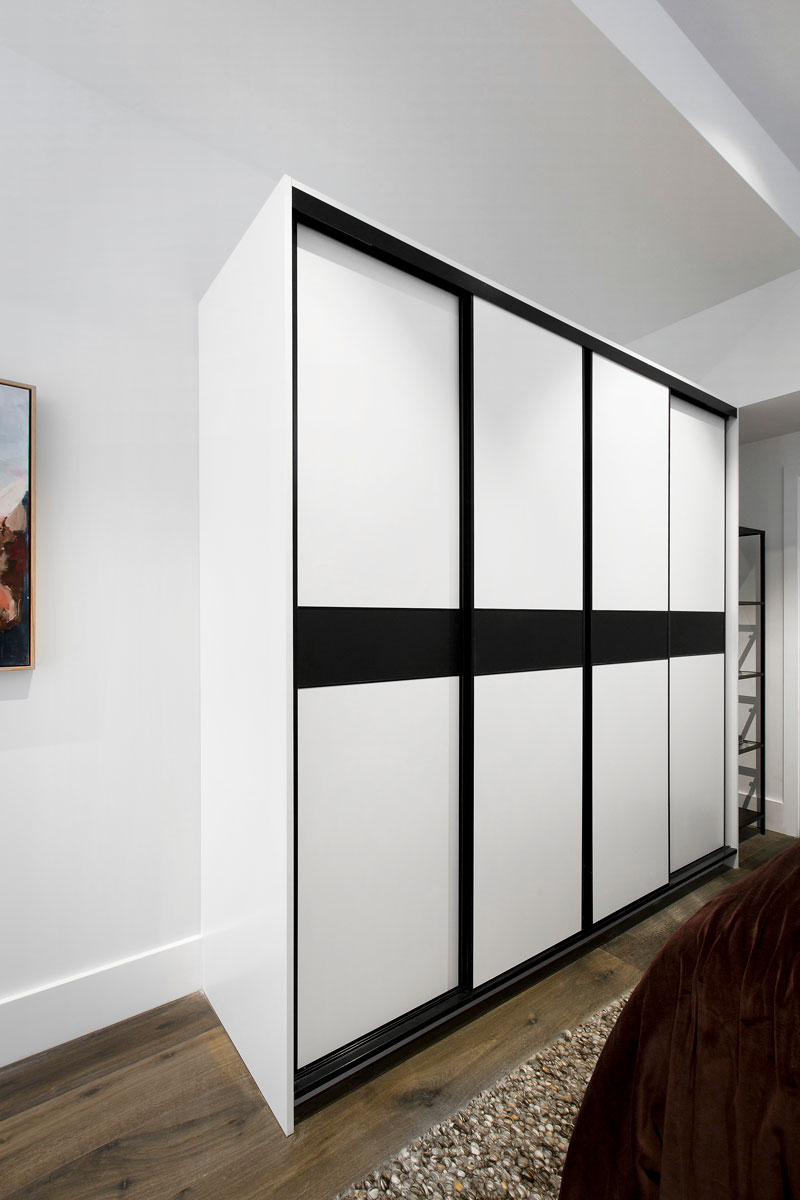 Our Sliding Wardrobe styles are the perfect combination of space-saving and style. Our unique Tri Panel Door System gives you the flexibility to create a simple and classic one-colour look or mix and match different coloured finishes within the 3 separate sections of each sliding door for a dramatic effect.
 Stylish doors, interior finishes & handles.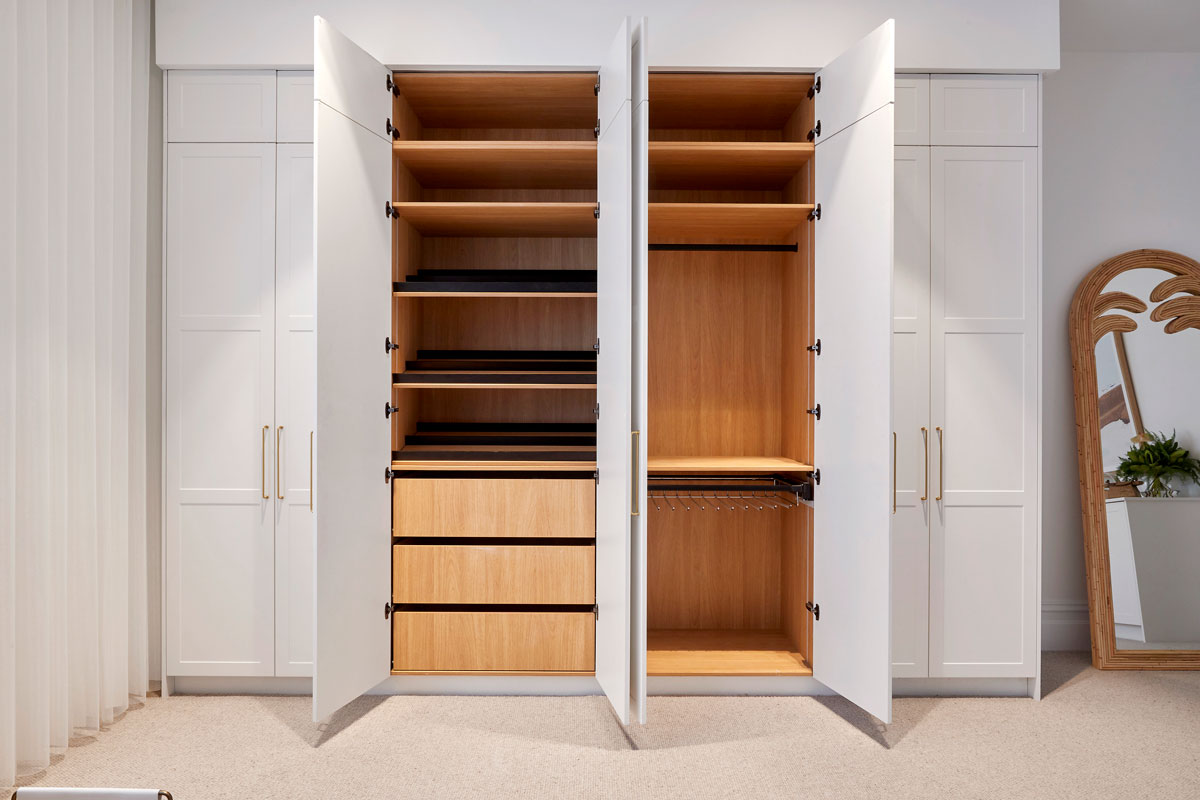 Your wardrobe is a wonderful way to elevate the style of your bedroom. Select from a range of door profiles and colours, and pair with interior finishes and handles to bring your look to life! If you love a classic Coastal or Hamptons aesthetic, consider teaming our Shaker-style Sierra doors in white tones with Nordic Oak interiors and Brass handles. For a more modern take you may like flat dark-toned doors combined with grey interiors and black or integrated Peak handles.
Clever internal storage solutions.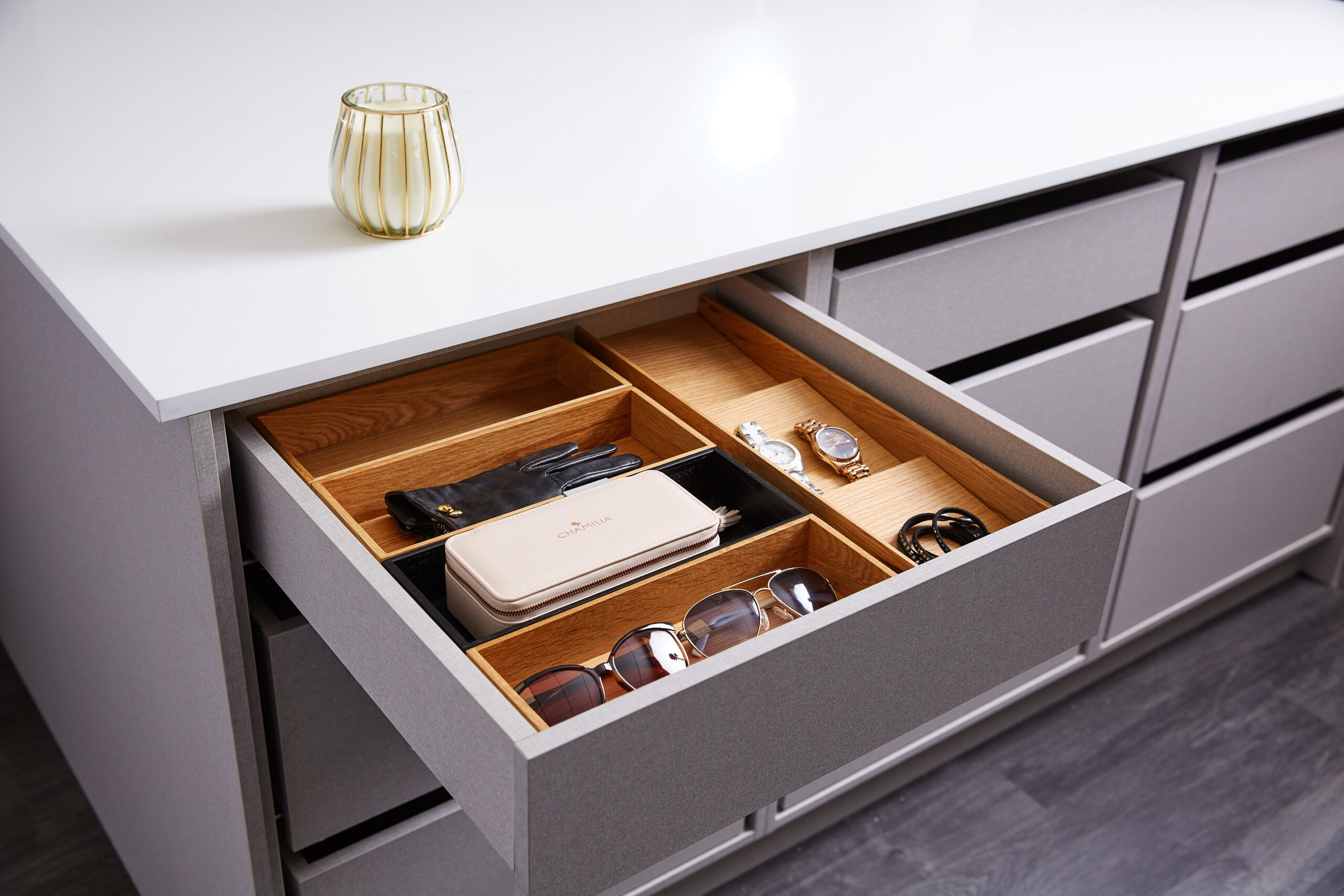 Organise and keep your belongings tidy within your robe with our range of internal storage solutions. Jewellery drawers allow you to store jewellery, sunglasses, and other precious items together, while our series of wire pull-outs such as our Trouser Racks and Tie & Belt Racks ensure full access to your wardrobe units.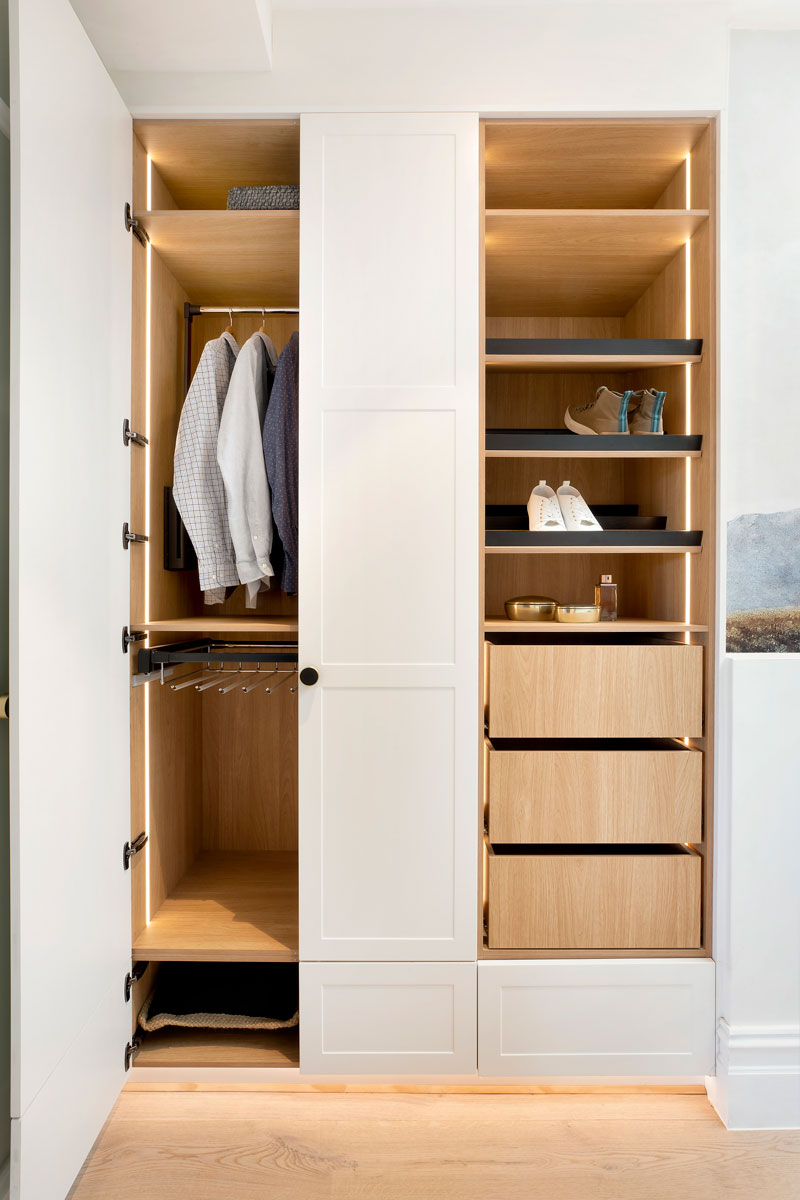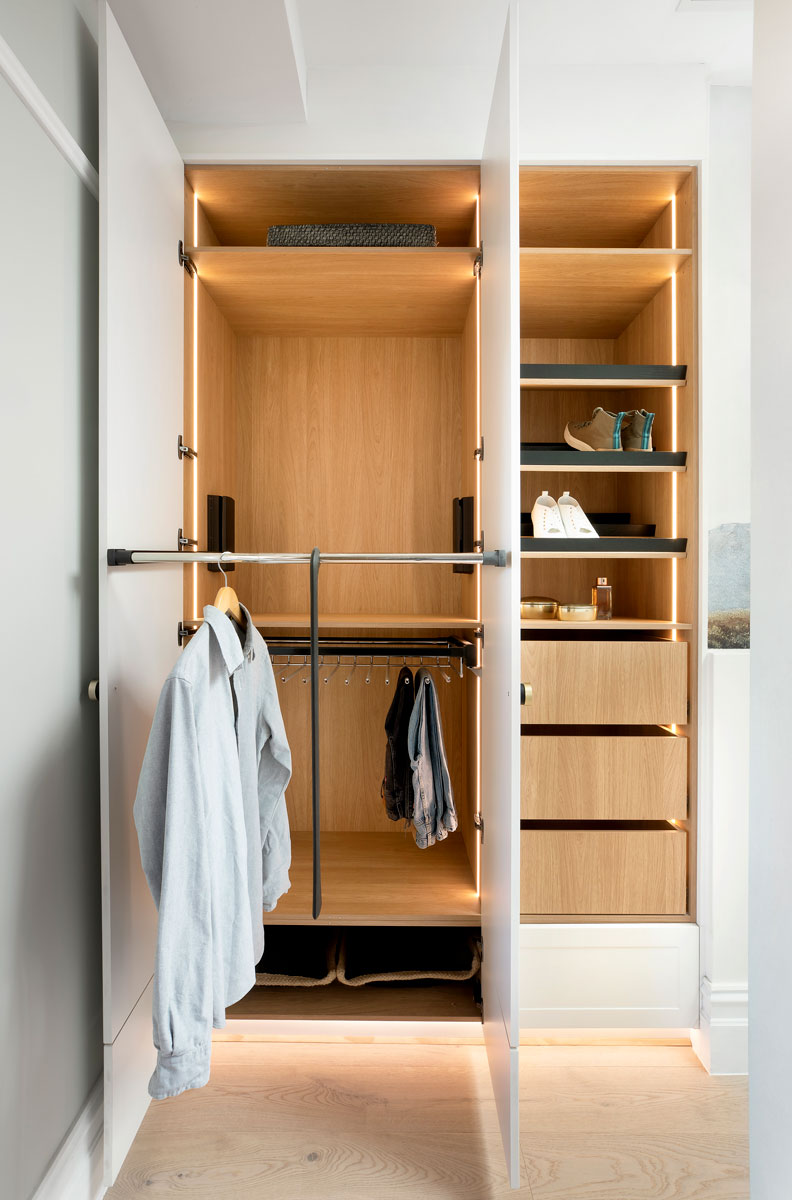 Multi-functional spaces.
Maximise your wardrobe design with additions such as makeup station or small desk area. Adding a study nook to the end of a Hinged Wardrobe is a great solution for modern Australian homes as so many of us are now working from home more than ever.
For a stylish yet practical look, consider a desk topped in Caesarstone quartz or one of our premium laminates, and add open shelves for extra storage. Don't forget about power points and lighting to ensure that your work zone functions well – we love to add strip lighting under open shelving to complement a desk lamp so that you can use the space day or night.