As one of the biggest weeks on The Block, last night's Kitchen Week reveals did not disappoint, as a new round of brilliant kitchens were unveiled, boasting fabulous new metallic and textured finishes and enviable appliance technology.
The winning kitchen as announced last night was by the youngest couple on The Block, Josh & Elyse, for their perfect scoring 30/30 contemporary take on a traditional Hamptons style kitchen. They chose 'Sierra Cinder' and 'White' profiled cabinetry from Freedom Kitchens to align with the look of the rest of the house, and their kitchen space was centred by a luxe Caesarstone island benchtop with waterfall ends, in 'Noble Grey'. In a risky move that paid off, their island bench was the only one oriented to face the garden rather than the living area, to enhance the feel of indoor-outdoor living. Another winning feature was their enormous hidden butler's pantry, which the judges loved – Neale Whitaker commented that it was "large enough for an army of butlers" and he summed up the entire kitchen's vibe as "hygge" – a Danish term used to describe a social and inviting atmosphere. Their kitchen also made the most of some beautiful Bosch appliances fit for a large family, including a freestanding side-by-side stainless steel fridge, 900mm gas cooktop and integrated coffee machine.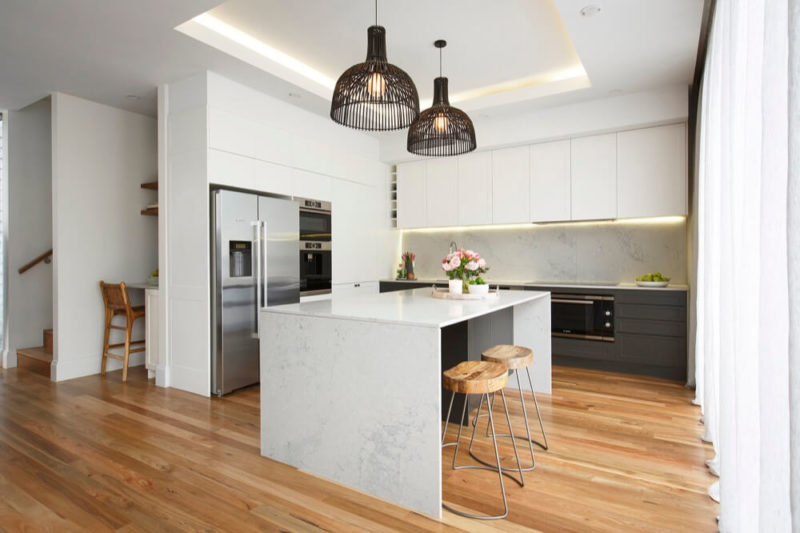 Josh & Elyse's contemporary take on a Hamptons style kitchen
Also gaining top scores was Sarah & Jason, who created a functional flow in a contemporary style kitchen featuring new metallic and concrete finishes for decorative effect. They concealed their integrated fridge with Freedom Kitchens' stunning new metallic cabinetry in platinum-coloured 'Titan', contrasted by use of 'Super Matt Black' on the range and 'Blackened Elm' in the butler's pantry. Their standout island bench showcased Caesarstone's 'Statuario Maximus', with a decorative feature ledge in the new 'Rugged Concrete'. Judge Shayna Blaze said, "Buyers are going to fall in love with this kitchen, because it works with the house. They should be proud of themselves."
For functionality they opted for a state-of-the-art Bosch pyrolytic oven with added steam and warming drawer, as well as an integrated coffee machine.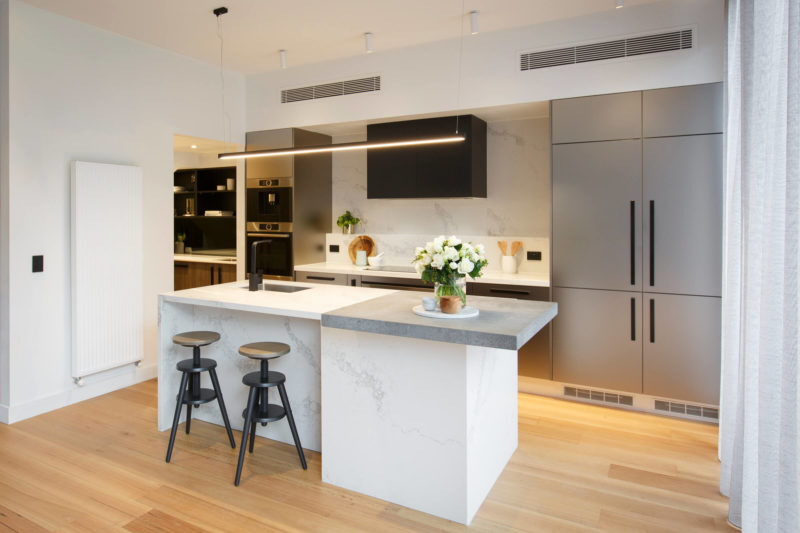 Sarah & Jason's functional and stylish kitchen
Ronnie and Georgia also scored highly with their luxurious industrial style kitchen, featuring Freedom Kitchens' new textured light concrete cabinetry in 'Beton' and the latest in appliance technology from NEFF. Their bank of NEFF ovens was set into ceiling-to-floor 'Matt Black' cabinetry, contrasting beautifully with the upper run cabinetry. Tying back in with the concrete look, they chose Caesarstone's new 'Rugged Concrete' for both their island bench and also in the butler's pantry. Judge Darren Palmer was impressed with their sophisticated use of dark contrasting light, saying "it's the cut through that a grey kitchen needs".
Having won an appliance upgrade to NEFF earlier in the show, this couple had the most technologically advanced kitchen in the competition, featuring a new induction cooktop with downdraft ventilation and Pyrolytic full steam slide and hide oven.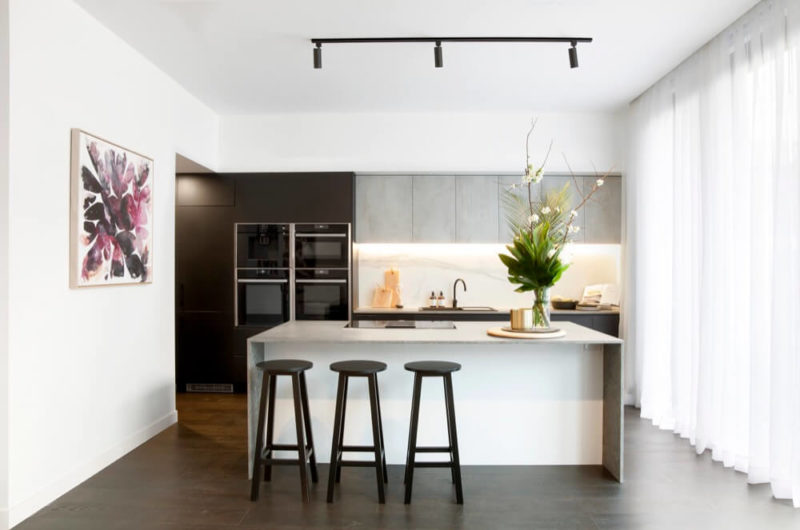 Ronnie & Georgia's industrial luxe kitchen
Hannah and Clint's kitchen made a style statement with its contemporary tones and sophisticated use of materials. For cabinetry they opted for Freedom Kitchens' 'Pewter' on the upper run, contrasted by the darker 'Charcoal Riven'. Their island bench in Caesarstone's 'Calacatta Nuvo' was designed for entertaining, featuring a wine fridge and open display shelving. It also featured added extras like design glass on the sides of drawers by Hettich, and an integrated Bluetooth sound system by Hafele to bring music into the kitchen. "It's a great entertainer's space," said judge Darren Palmer.
Their Bosch appliances included a French door fridge and high end induction cooktop.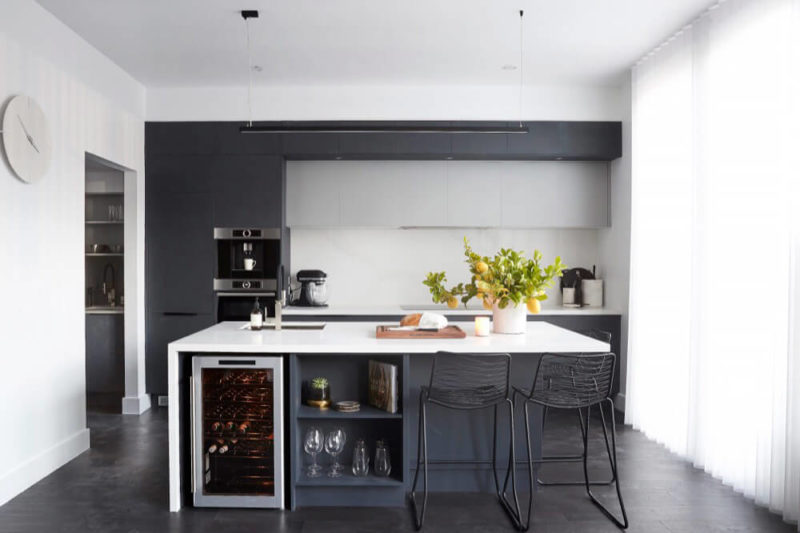 Hannah & Clint's sophisticated entertainer kitchen
True to their style, Sticks & Wombat produced an edgy kitchen with organic tones and raw textures. They chose the darker shade of Freedom Kitchens' new textured concrete in 'Valetta' for their ceiling-to-floor cabinetry, blending seamlessly with their self-made stone-box over the rangehood. Their mirrored kickboards created a floating effect in the kitchen and pantry, and for their central island bench they chose Caesarstone's new colours of 'Turbine Grey' and 'New White'. A dining table extension features Freedom Kitchens' new 'Tobacco Halifax Oak' – a high quality laminate which looks and feels like real timber. Judge Neal Whitaker labelled the look "Raw luxury – that's what the boys are doing so well here". They completed their kitchen with Bosch appliances including a fully integrated bottom mount fridge/freezer and a stylish 'black glass flame select' gas cooktop.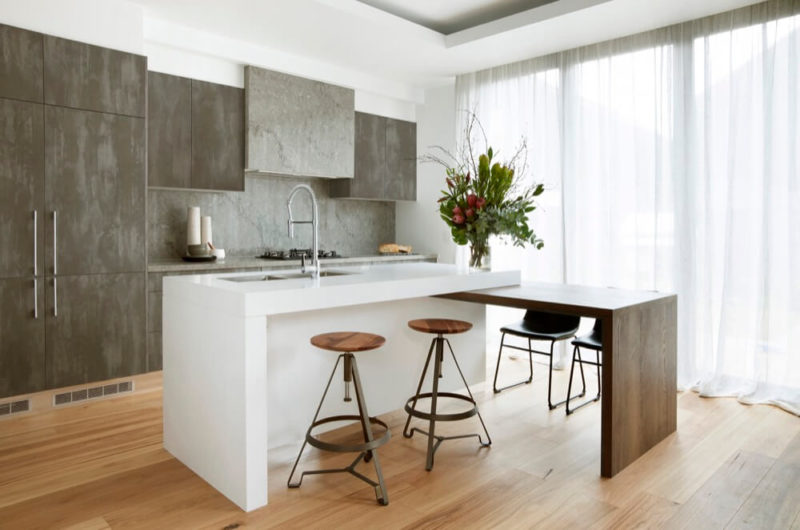 Sticks & Wombat's industrial luxe kitchen
With all five kitchens gaining high praise, they proved a wonderful showcase for so many new products, and provide plenty of new kitchen ideas and inspiration for viewers.  And as the heart of the home and the room that sells houses, the kitchens within The Block houses will undoubtedly contribute to the bid amounts garnered come auction day.
Learn more about Freedom Kitchens' new metallic and textured cabinetry and other products, or to arrange a free in home kitchen design appointment with a professional kitchen designer, visit or call 1800 113 733.
View The Block kitchens 2017 galleries.
Enter The Block Freedom Kitchens + YouFoodz competition.
For more on The Block TV show, visit