Reno Rumble's Chris & Nick Talk Kitchens
Interiors Addict TV chats to Reno Rumble contestants, brothers Chris and Nick, about their contemporary coastal kitchen. Learn how they got the look with the help of Freedom Kitchens and see the homeowner's tearful reaction to the reveal. Then read on to learn what both homeowner's from week 2 love about their new kitchens!
LISA, CONTEMPORARY COASTAL: Before the makeover, Lisa was growing tired of the lifting laminate and was dying to get space for a dishwasher.
On the colour scheme and styling Nick and Chris implemented…
"The kitchen is beautifully neutral without being boring," Lisa says. "The subtle mix of white gloss, grey timber and glass cabinetry blend together to bring a tranquil coastal theme to the space".
What she loves most about the kitchen…
"I'm all about practicality first, so I love the generous island bench space I have for food preparation, the extra-large sink for cleaning those big pots and the wow factor for me is the mirrored splash back that adds a touch of bling and makes the space feel twice as large".
How it's improved her day-to-day life…
"The kitchen is now not only very functional for food preparation, it also serves as another living/entertaining space that family and friends enjoy spending time in," Lisa explains. "The drawers are very generous in size, both in width and depth, to fit the largest of pots".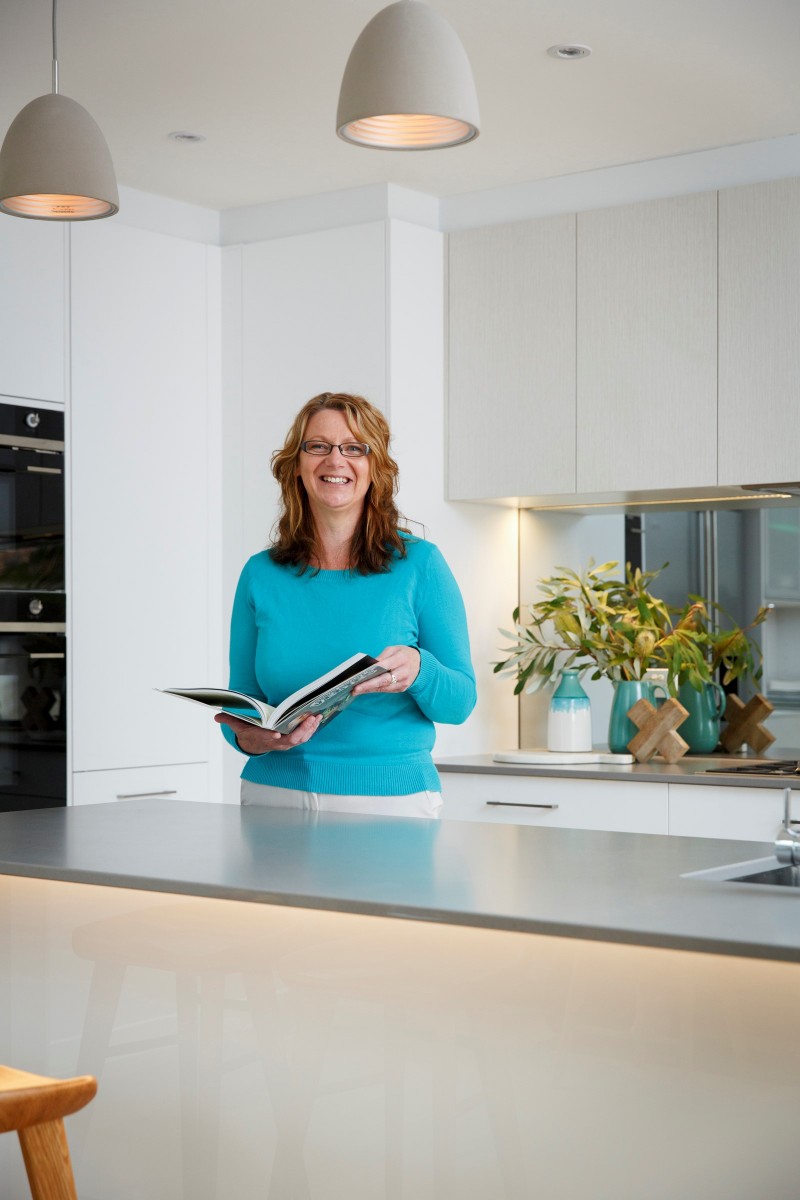 ANGELA & ALEX, MODERN CLASSIC: They were after a timeless scheme but with modern appliances to make the room feel fresh and vibrant.
What they think of their new kitchen…
"The kitchen is the focal point of any home, especially ours," Alex and Angela say. "Where we could not have more than one person in the old kitchen at any one time, we now have plenty of room. The mainly white colour scheme has given the appearance of space".
Their fave elements in the space…
"The Caesarstone marble-look stone benchtop is stunning and it adds a touch of elegance. Benchtops and storage are the two biggest winners for us. We have storage space for groceries, crockery and we are big fans of the the slide out soft closing drawers! The bi-fold window was a great innovation also".
How the new kitchen has improved their lives…
"We have found, because we have our whole family over every second Sunday for lunch, that it is much easier to cater for 10 people. We don't have to fight over each other when there is more than one in the kitchen, it's an absolute joy to be in".