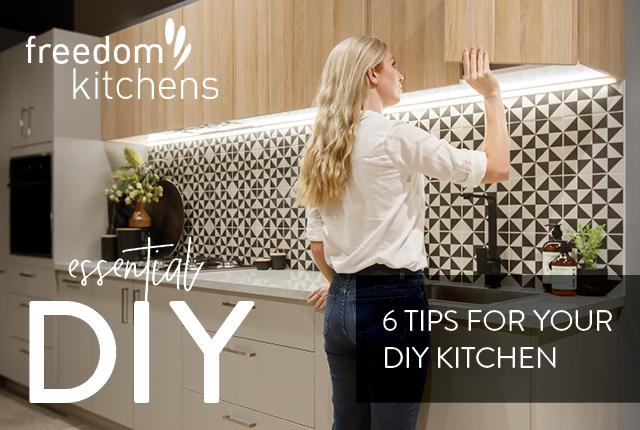 Interested in DIY kitchens and need some tips?
If you're an experienced renovator, you know that the more you do yourself, the more you save. Using your own DIY skills means cutting labour costs, potentially saving you thousands.
If you're confident that you have the skills, tools, and the time to take on a new kitchen build or renovation project yourself, then read on for our 6 top tips for DIY kitchens.
Have a clear design objective Is this a flip project or a forever home? A small kitchen for a couple or a large family entertainer? Know who the end users will be and the design aesthetic you wish to achieve, bound by the project timeframe. This will determine your budget and help you make appropriate decisions before you DIY, starting with the right ready to assemble / flat pack kitchen. Stylish, fast and affordable, an Essential Kitchen can be delivered to your door just 10 days after final payment.
Seek the expert advice of a design consultant This may be a do-it-yourself project, but there's no need to go it alone at the design stage. An expert design appointment such as the one included by the Essential Kitchen range is an invaluable way to ensure peace of mind when planning your layout and making style selections. The measure and site check will provide peace of mind around your design plans, before you roll up your sleeves.
Do a quality check Not all ready to assemble and flat pack kitchens are created equal. Look for a complete solution that has been manufactured using high quality materials, and design features that you don't want to compromise on. Amongst many features and benefits, the Essential kitchen range comes standard with soft close drawers and doors, highly moisture resistant cabinetry, strong ABS edging to avoid chipping, and adjustable commercial grade polymer legs.
Look for a long warranty When you take on a DIY project, you want to safeguard yourself as much as possible, so look for products that back themselves with a long warranty in alignment with Australian standards. Essential kitchens come with a 7 year warranty – and peace of mind.
Have the right tools and enlist the help of a buddy Most of your kitchen job will be fast, easier and safer if you have the right tools at hand – and an extra pair of hands to help.
Know when to use a qualified tradesperson There are going to be some jobs that you (and your buddy) just won't be able to do on your own. When bumping out an old kitchen and installing new appliances, any plumbing, gas and electrical work must be carried out by a qualified tradesperson. Be sure to hire certified electricians and plumbers and ask to see their certificate of compliance – that way you'll know that their work will meet Australian standards.
Ready to start your DIY kitchen journey? Book your FREE in-home appointment now to learn more about our Essential Kitchen range, and our special intro offer. Hurry – limited time only.