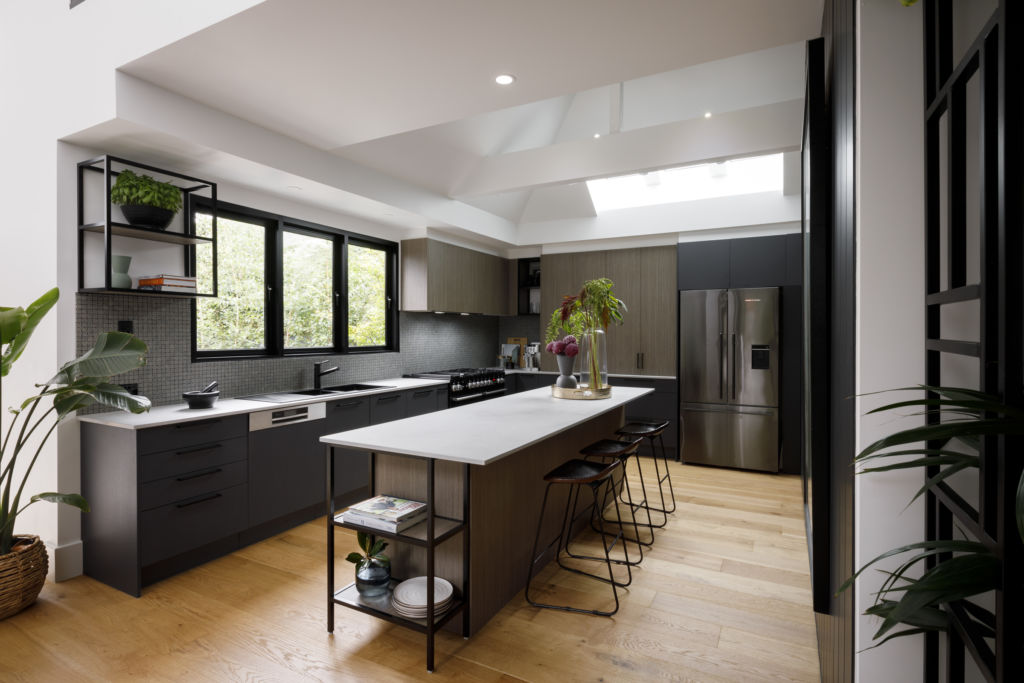 When Karen and Patrick purchased a house that they intended to use as an investment property in the Melbourne suburb of Elsternwick, they knew that renovating the kitchen would be central to creating a home people would fall in love with. They enlisted Freedom Kitchens to create a modern and welcoming kitchen that is anything but your typical investment property room. Read on to discover more!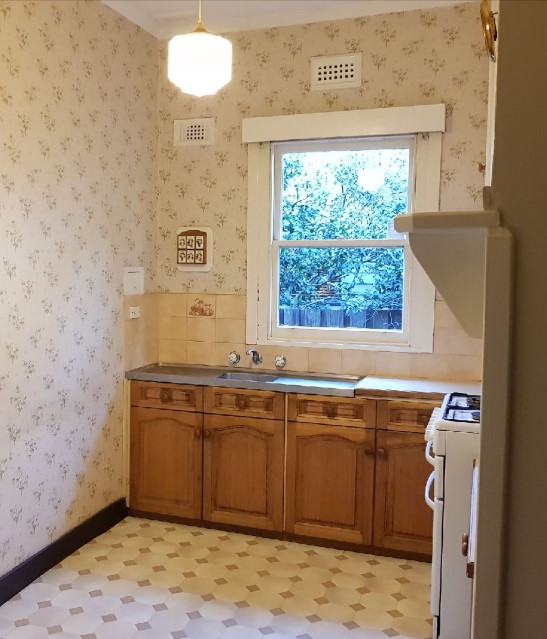 Before: The original kitchen was a tiny space designed in the 1920s that lacked storage and space.
The house was an original 1920s Californian bungalow, and while sweet and charming it lacked the space, functionality and style that Karen and Patrick wanted to achieve. The room that they were most transform was the tiny L-shaped kitchen, as they wished to turn it into a large and welcoming heart of the home. "We wanted the kitchen to be contemporary but warm and functional," says Karen. "We are Italian so it was important to us that it is a social hub for big family lunches and casual dinners."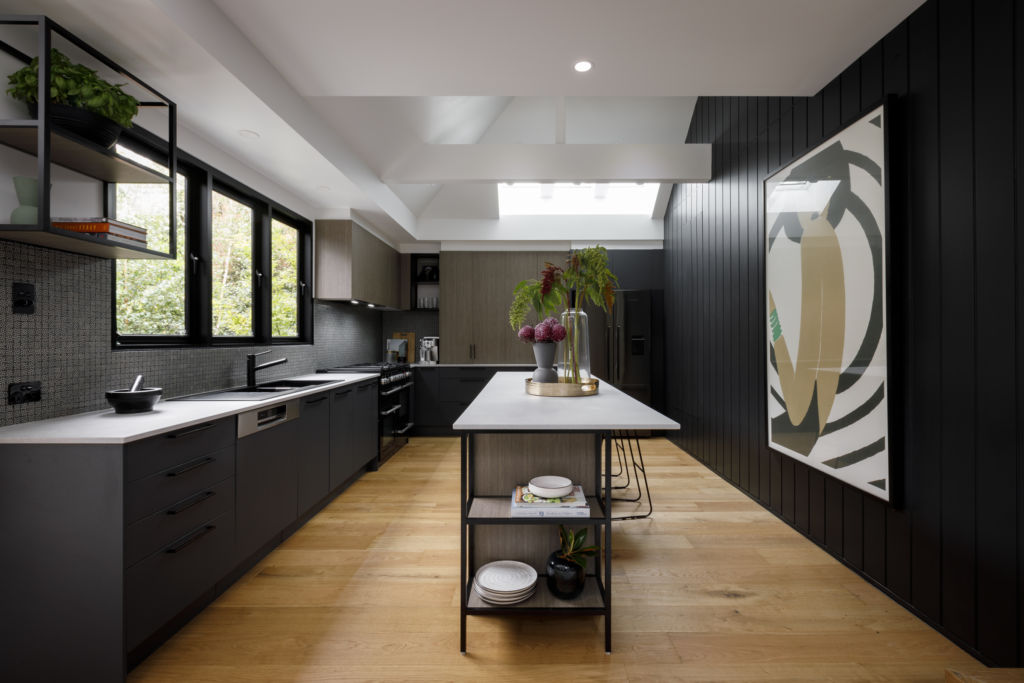 To achieve this, the footprint of the area was completely changed, allowing for a larger floor plan for the kitchen, creating room for an array of space-saving design features. The L-shaped layout remains but has been completely revolutionised, now featuring a stunning island bench, open shelving, a plethora of storage and a modern, warm colour palette.
One of the first things you notice when you step into the kitchen is the cabinetry colour palette which complements the style and colour scheme of the rest of the home which has also been updated. This is not your typical white kitchen, instead, it showcases a stunning mix of Freedom Kitchens' Jericho Nuance and Charcoal Riven cabinetry from the Impressions range, both of which feature a beautiful timber-grain finish. To maintain sleek and clean lines, the cabinetry has also be used to integrate certain appliances and accessories within the kitchen, including a semi-integrated dishwasher and two pull-out bins.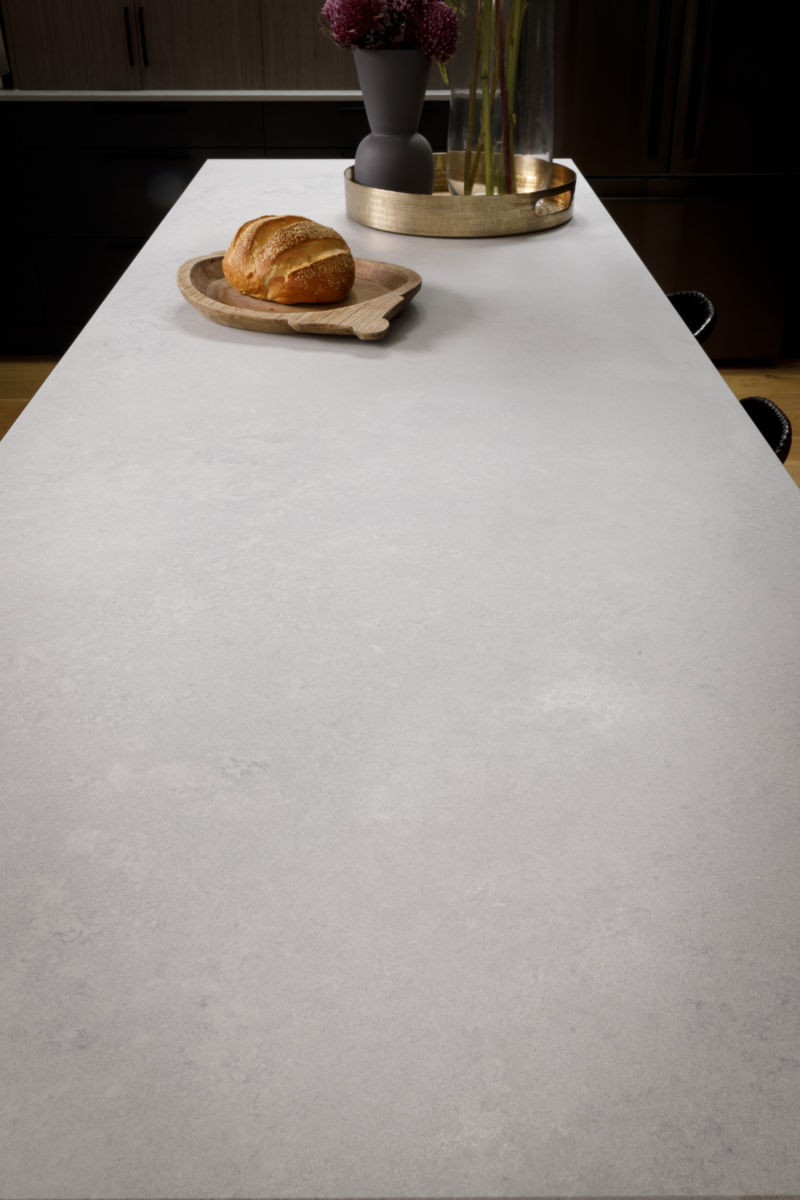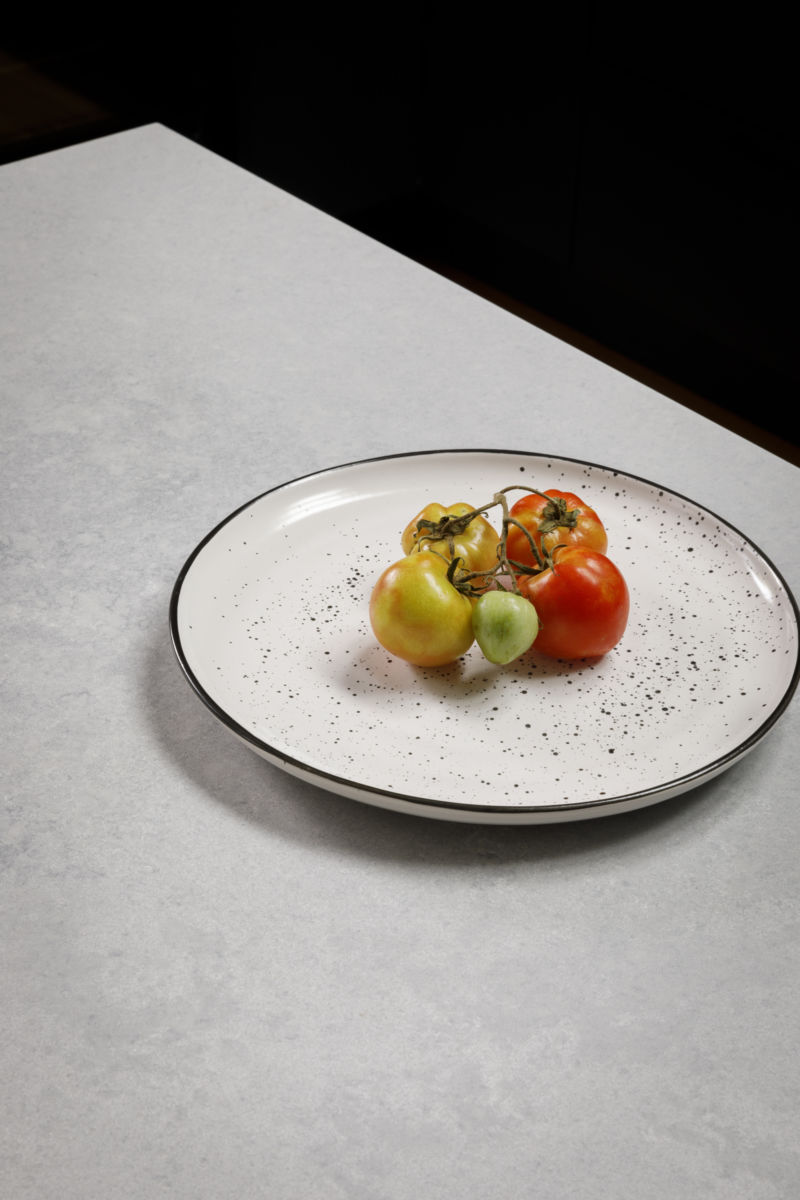 Caesarstone Airy Concrete benchtops complement the cabinetry colour palette and tie in perfectly with the modern look and feel the kitchen evokes. The island bench not only provides ample seating for both family and guests, it also adds generous storage with the inclusion of nine deep drawers and open shelving on one end.
One of the main drawbacks of the original kitchen was the lack of storage. Creating a large yet thoughtfully considered space that has a place for everything was an important detail in the new design. Now, storage is no longer a concern, with a myriad of smart solutions to store all the essentials (and more). A combination of cupboards and drawers have been used throughout the room to store anything you can think of- from cutlery drawers for cutlery and utensils, upper cupboards for glassware, to deep drawers to store dinnerware and pots and pans.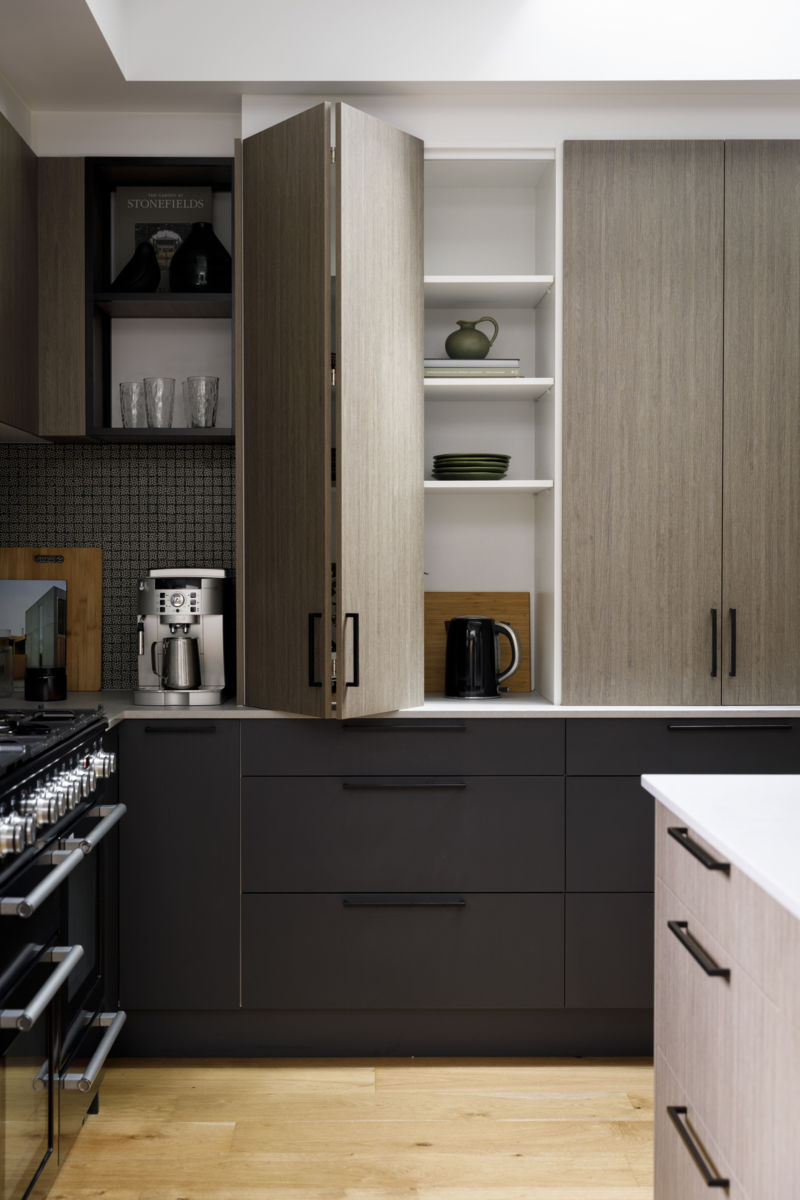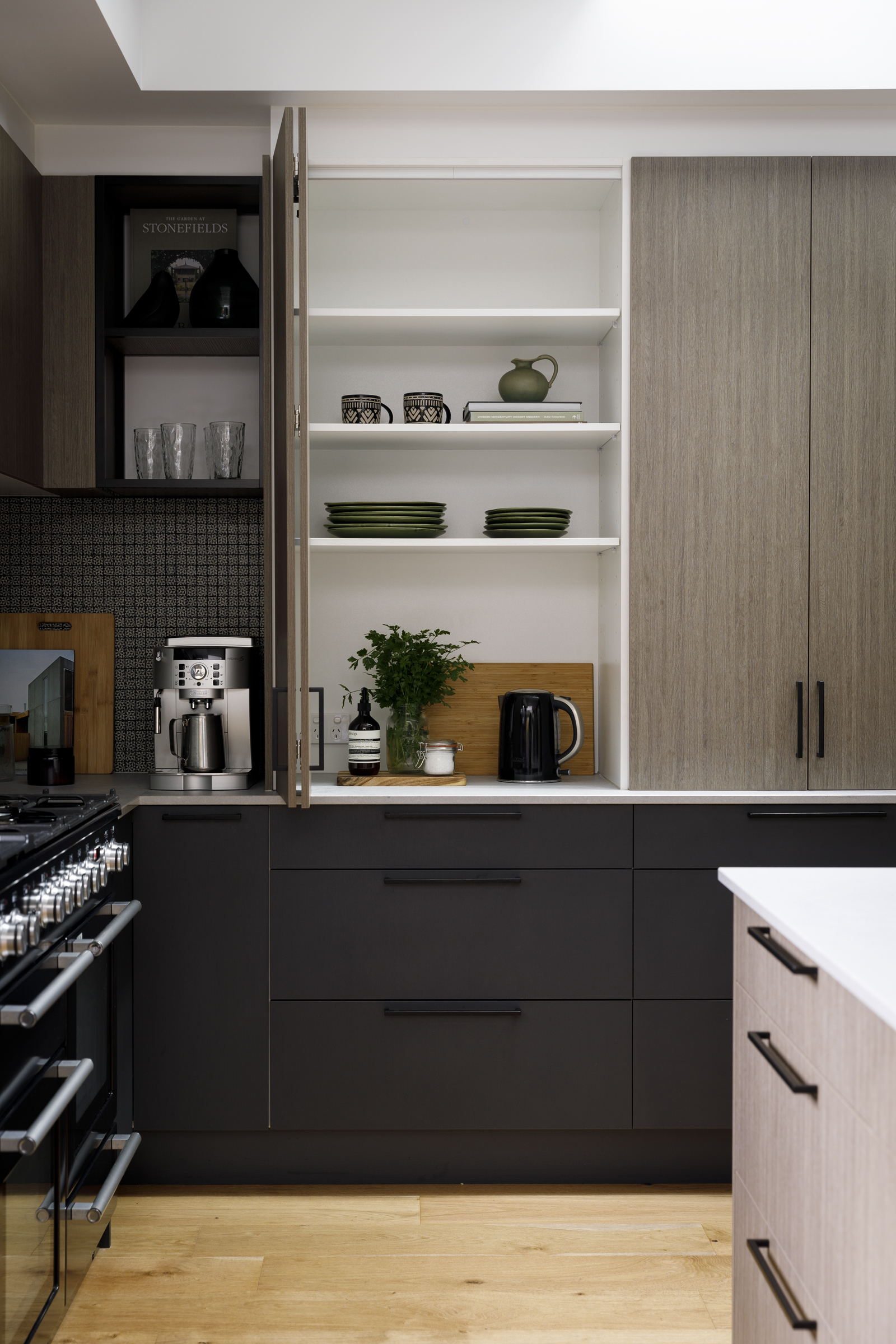 We love the large, double bi-fold cupboards – the perfect place for storing small appliances! "We love the functionality and layout. Everything is considered and planned and works well," smiles Karen. "I have always liked having drawers instead of cupboards and the drawer inserts and varying depth of the drawers make it easy to give everything a home and easy to find!"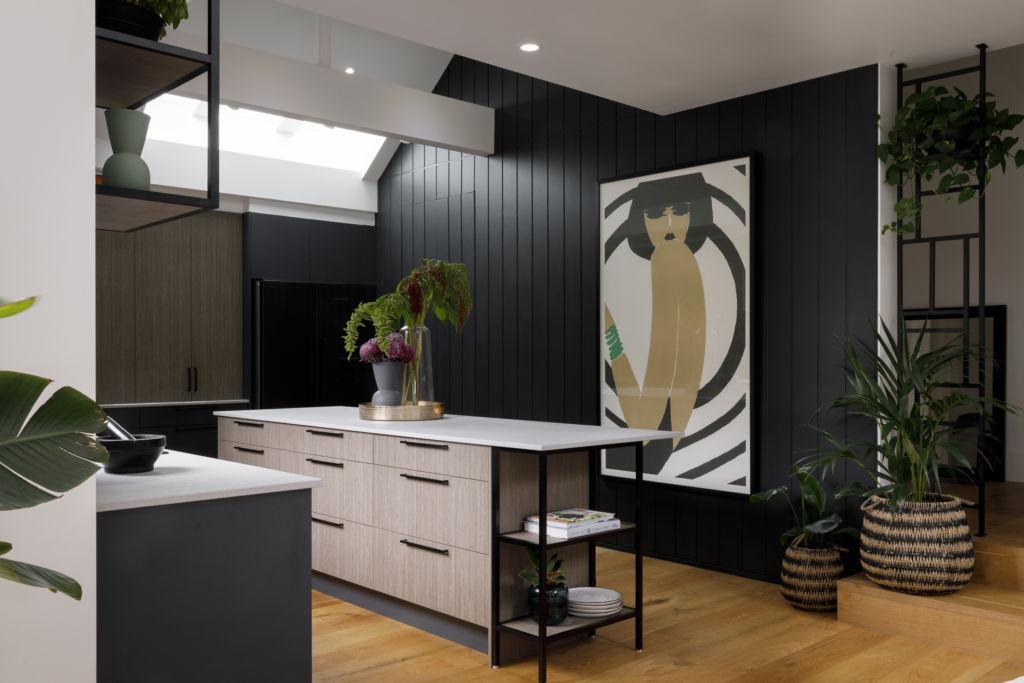 Sleek, black open shelving has been used to great effect in the kitchen – both on one side of the island bench, as well as on the top, back run of cabinetry. Shelves are perfect for storing cookbooks and other kitchen essentials, and they also provide the perfect place to add styling decor – from vases, greenery and small artworks- to the kitchen, adding colour and personality.
Black hardware, accessories and appliances have been used throughout the kitchen to great effect. Ash Black Anodised handles add clean lines to the design and work perfectly with both the dark tones of the Impressions Charcoal Riven doors, as well as the lighter shade of the Impressions Jericho Nuance cabinets. The splashback features hand-painted Italian tiles. "I always splurge on the splashback, I think it should be a point of interest and give a sense of your style." says Karen. Black appliances, including a freestanding oven and double fridge, further enhance the space, as does the black sink and tap. The black, panelled wall with a graphic Bally-inspired print completes the modern look.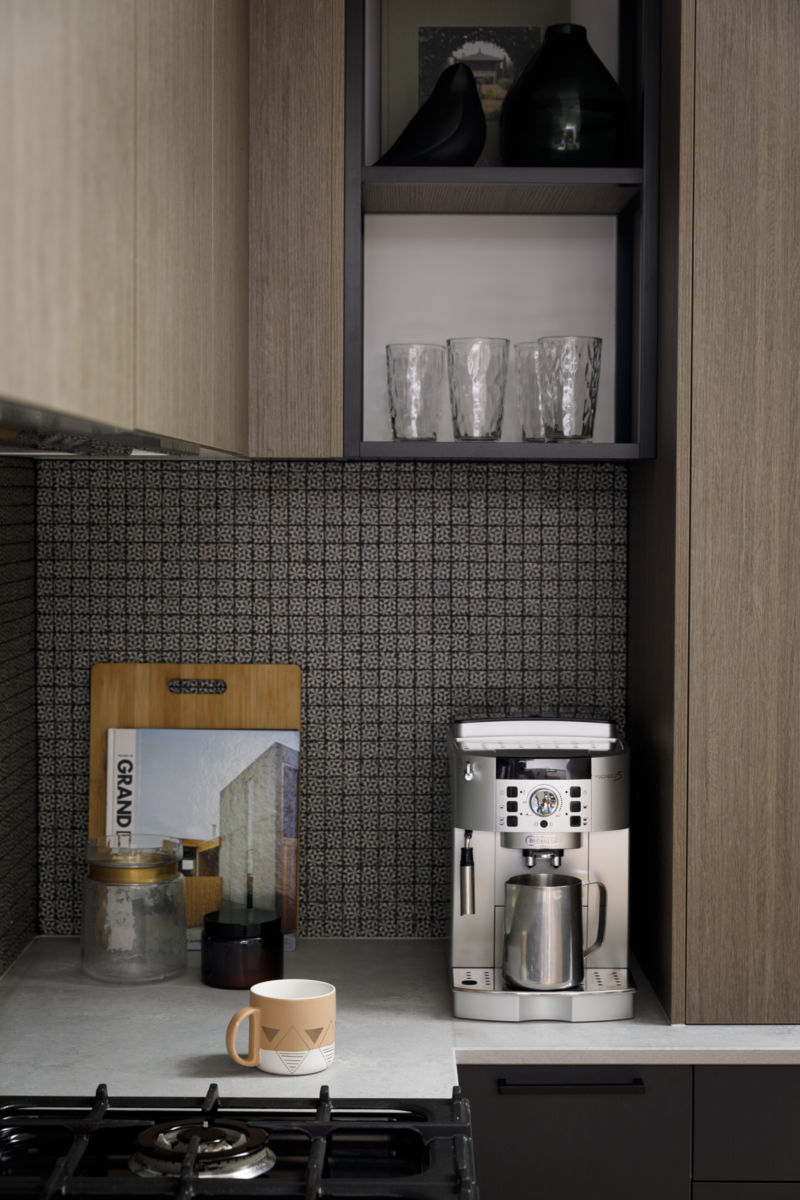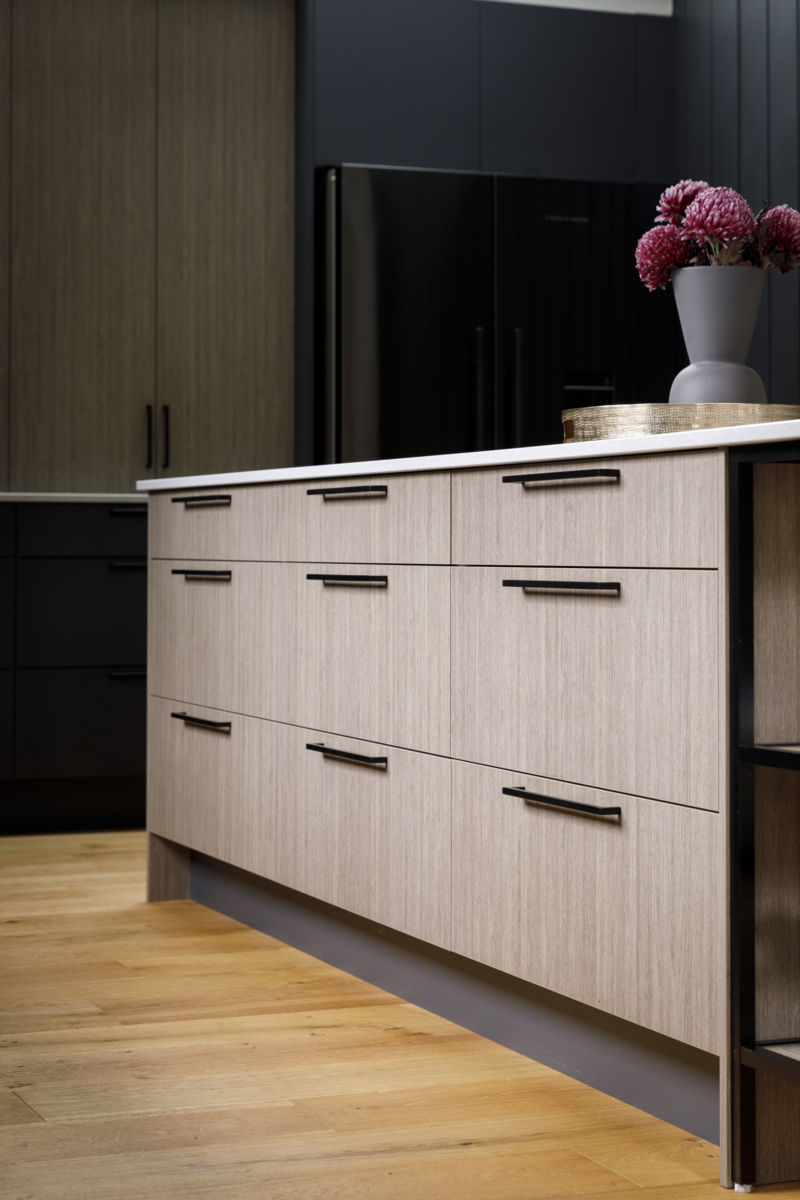 The result is a luxurious and contemporary kitchen space that is warm and welcoming- and one that people won't soon forget. As for the experience with Freedom Kitchens Karen says, "Everyone we came into personal contact with was professional and helpful. While I knew what I wanted the kitchen to look like and how I wanted it to function, our designer was really helpful with the design and came up with some good solutions and ideas. We would use Freedom Kitchens again."
Ready to see how your own kitchen can be transformed by Freedom Kitchens? Why wait – start your own kitchen journey today!
Click HERE to book a free design appointment at your home at a time that suit you, or click HERE to download our latest catalogue.
Features:
Cabinetry: Impressions Jericho Nuance & Charcoal Riven
Benchtops: Caesarstone® Airy Concrete
Handles: Ash Handle Black Anodised (15-K-100)
Luxury extras: Cutlery trays, Pull-out Bins, Upper Drawers, Wing-Line Top Rails, plus Soft-Close comes standard on all Freedom Kitchens doors & drawers
Photoshoot credits:
Photography: Marcel Aucar – @marcelaucar
Styling: Jess Frazer – @jessfrazerstylist