For the key room in her Renovation Rookie project, Deborah Hutton came to Freedom Kitchens to help her create an elegant coastal luxe kitchen for her new home in Bronte.
Working within her light-filled kitchen and living space boasting high ceilings and idyllic views out to the South Pacific, we delivered just that – a Hamptons-style kitchen to die for!
Depicting relaxed yet luxurious coastal living at its best, a large marble island bench takes centre stage, highlighted by polished nickel pendant lights.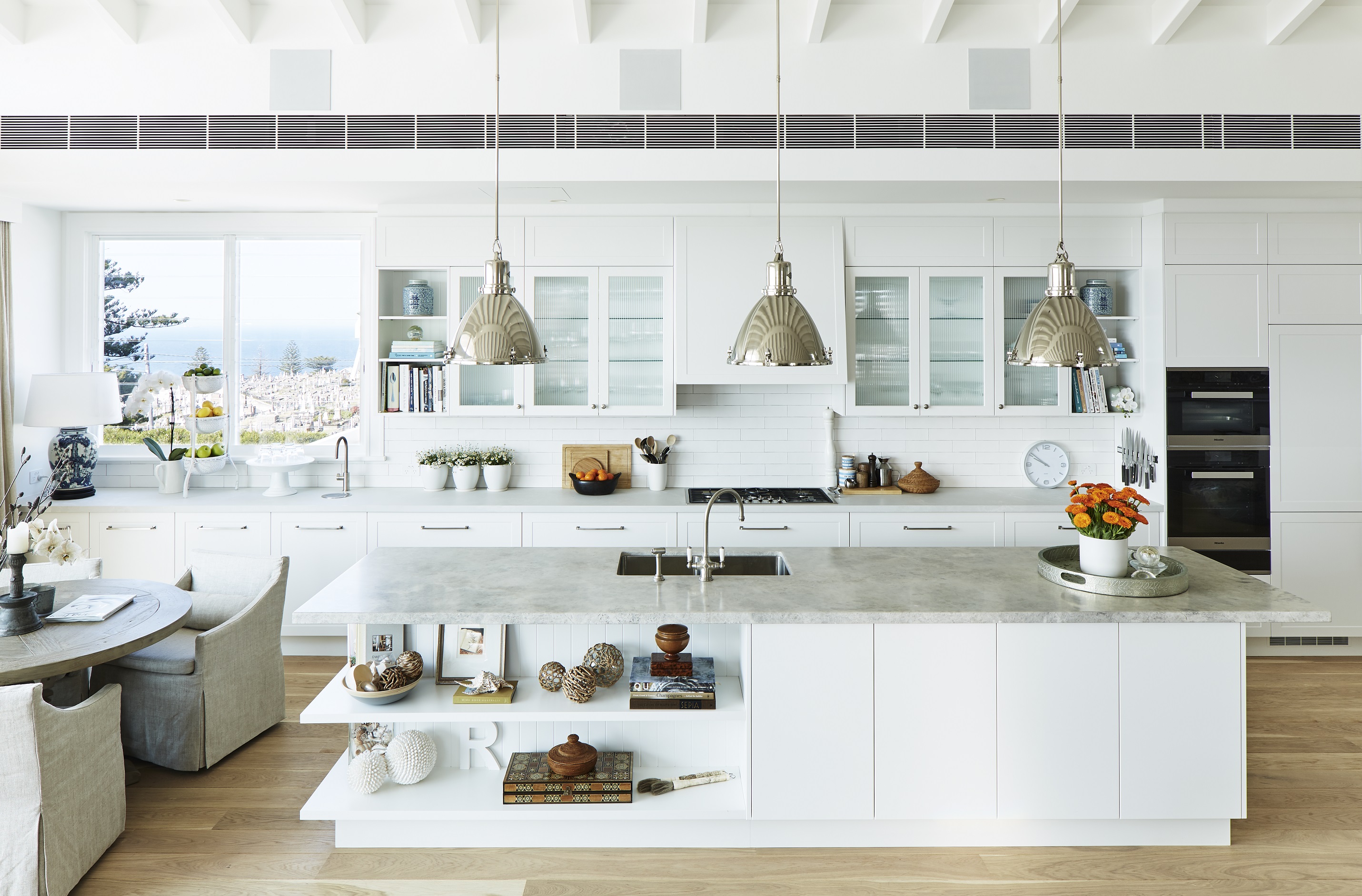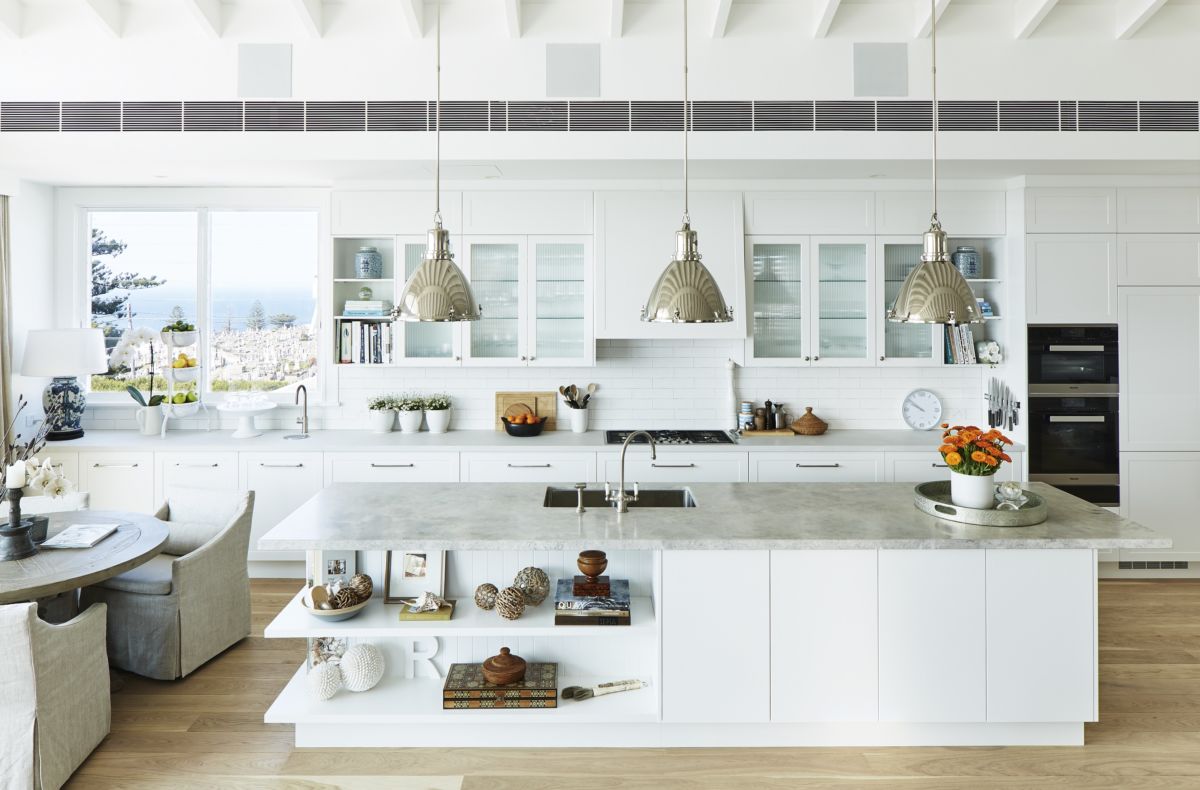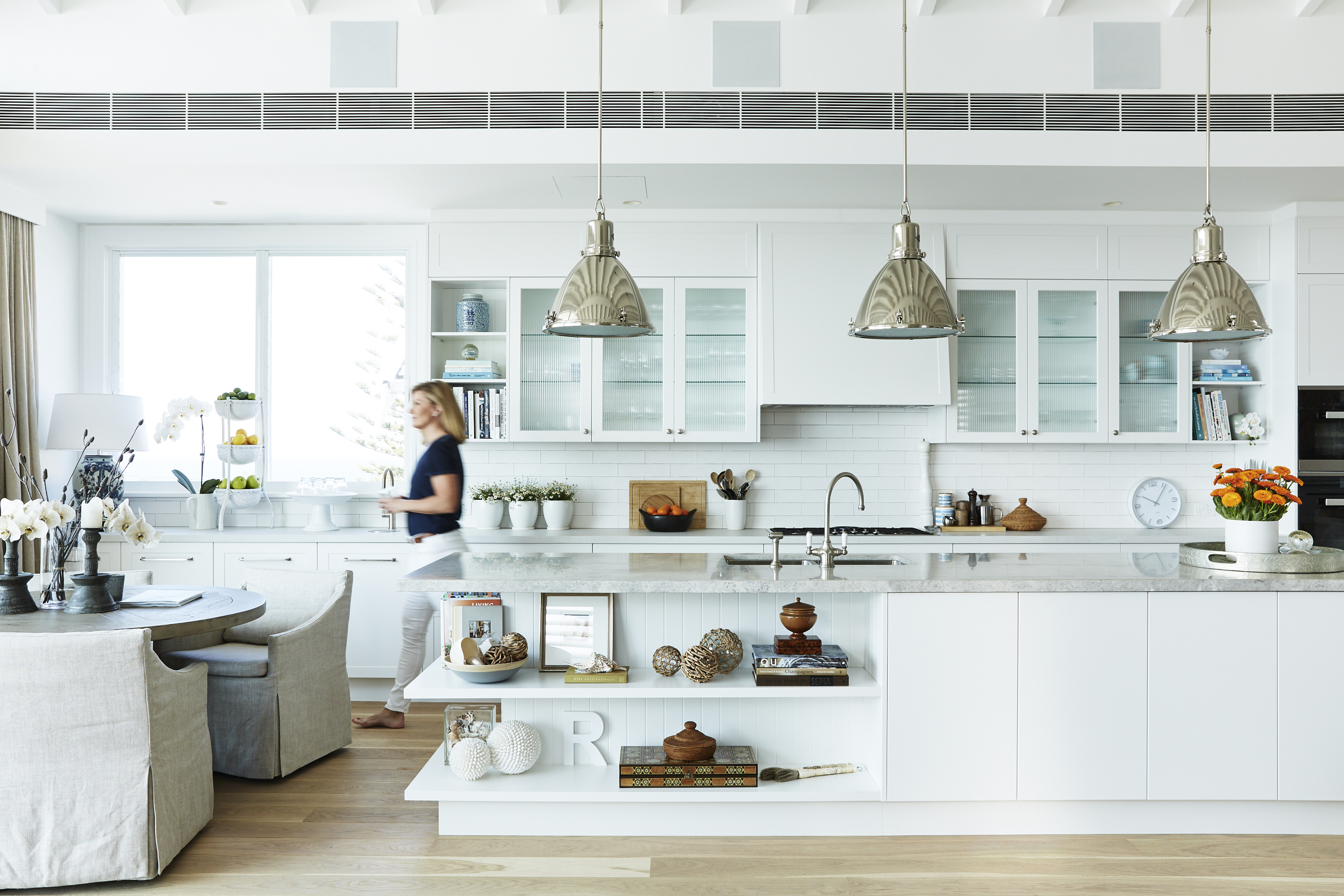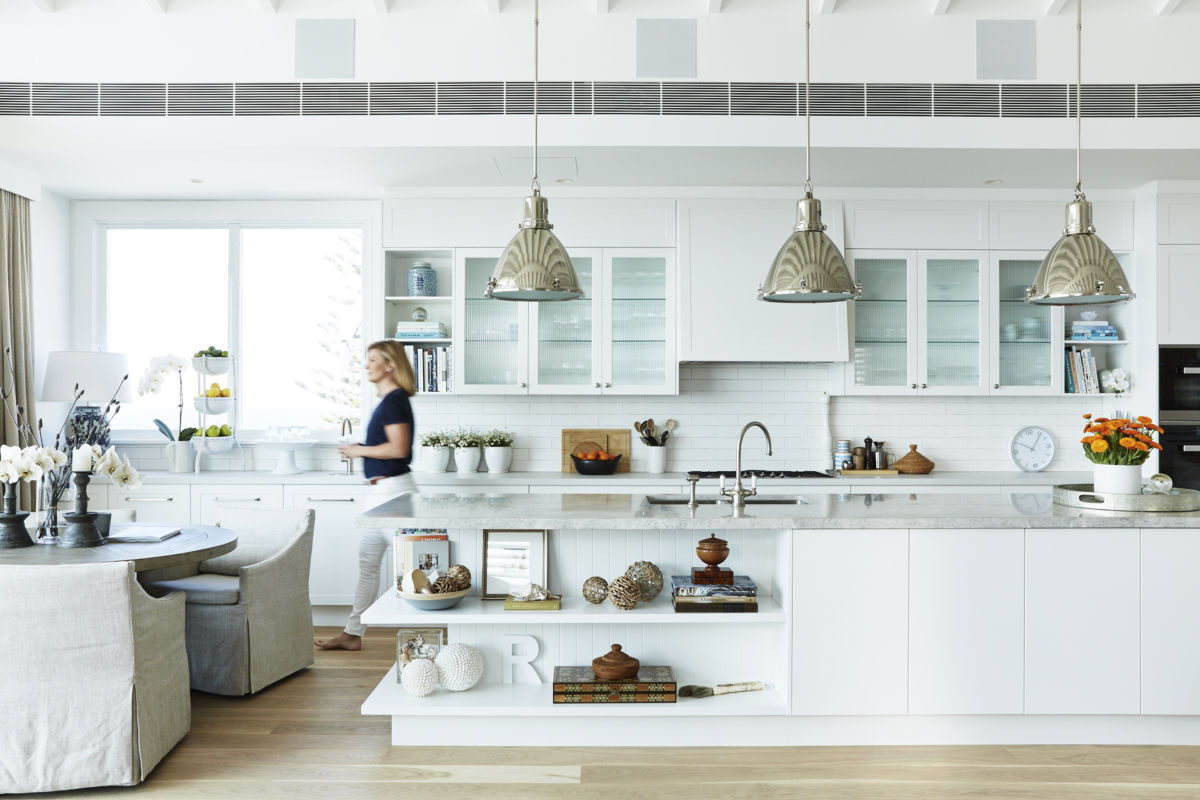 Deb's kitchen features an open plan layout with an abundance of Freedom Kitchens' modern Shaker doors in 'Sierra White'.  The cabinetry is complemented by other classic Hamptons details, like seafoam green glass overhead cabinets which reflect light from the balcony.
Deb's lofty high beam ceiling sets the tone for her coastal kitchen design, teaming well with both the Shaker style cabinets, as well as a white V-panelled wall concealing a hidden walk-in pantry.
Her fridge, dishwasher and a pull-out hanging rail were all integrated into her 'Sierra White' cabinetry, along with loads of storage.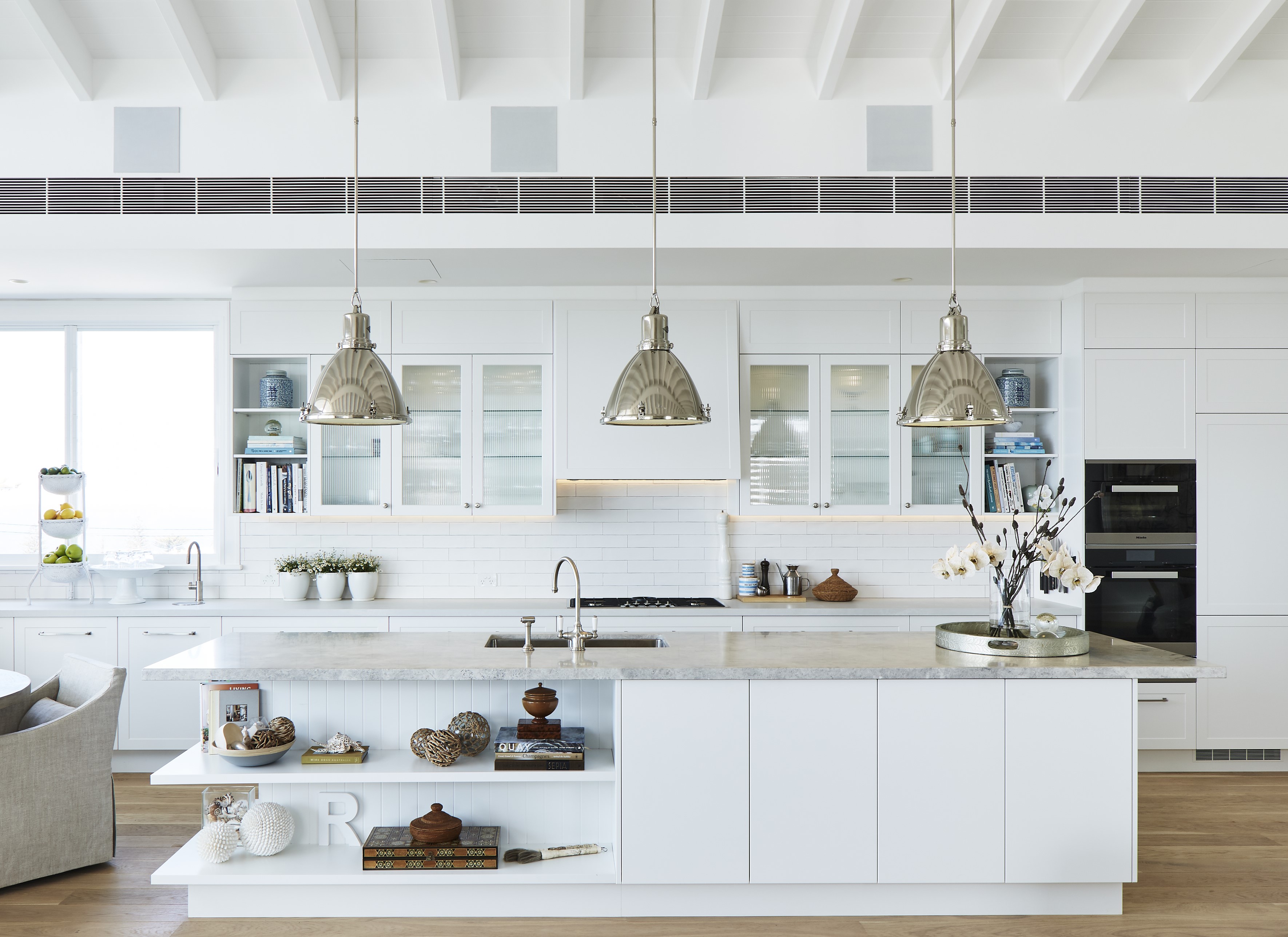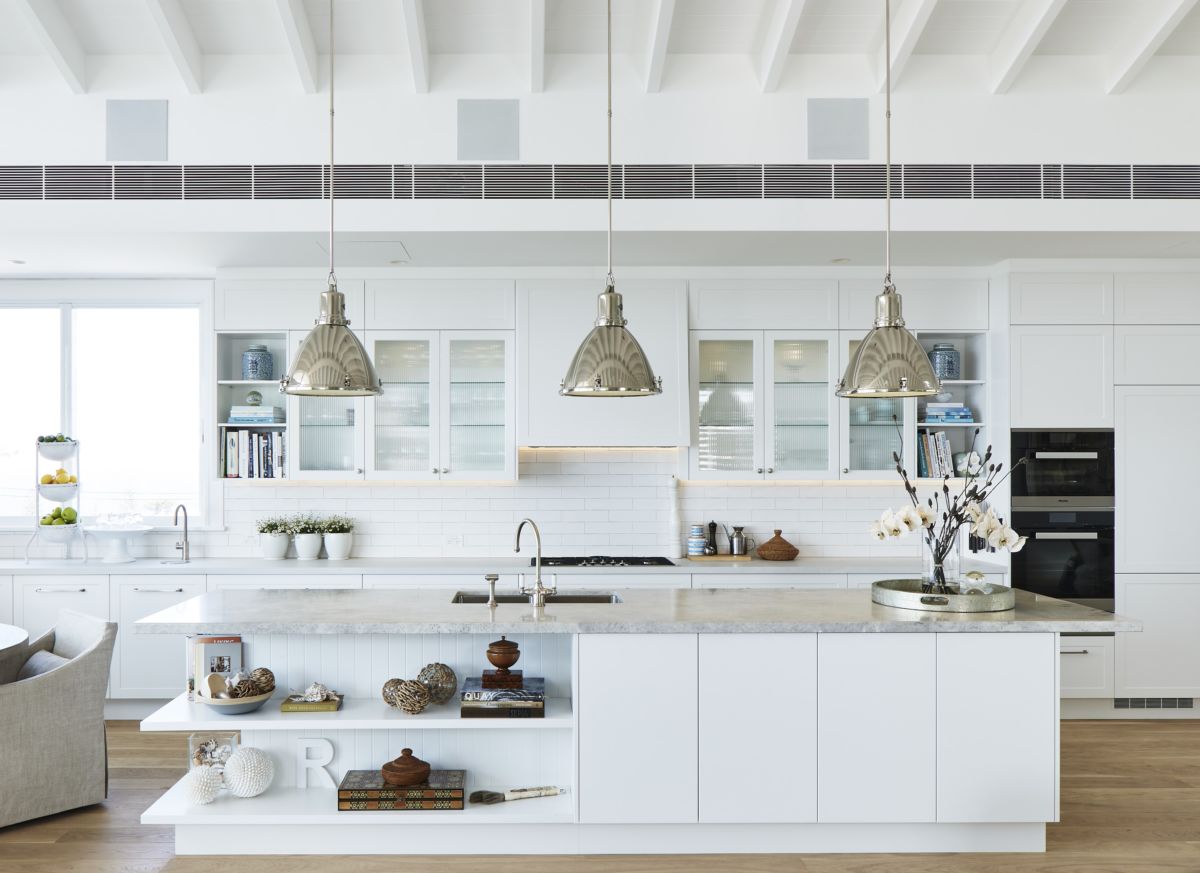 The rear benchtop features Caesarstone's 'Cloudburst Concrete' – its tonal cloud-like patina being the perfect companion to the surrounding fresh white tones and coastal feel.
As a 'Reno Rookie', Deborah says she's learned a lot from the kitchen design and installation process.
Deb had the process for designing the perfect kitchen guided by Freedom Kitchens, but often it's the sequence of events during installation which customers find the most challenging. So we asked if she had any tips for other 'Reno Rookies' when it comes to avoiding common pitfalls.

FK: Do you have any advice on the installation stage, and coordinating your trades?

DH: It is so beneficial to have very good relationships with people and I've really loved working with the designers, and then the tradies on this site. We have great relationships, great communication and I think when people respect the relationship then they will do their best to work with you. 
The biggest thing I've learned is around the kitchen appliances: it pays to triple check measurements with all parties. For example, after you get the kitchen plans from Freedom Kitchens, the cabinetry installers are the ones cutting the openings for appliances – so measurements need to be cross checked with them as well as the appliance company.
I think you need to take some responsibility along with the experts when coordinating between various tradespeople, and ask questions if you're unsure.

FK: Would you say then that there's a level of expectation on your tradie's side that you have a certain amount of knowledge about the process?
DH: Yes, absolutely. But I've been very upfront letting them know that I knew nothing!  Because I did that, the building and the other tradies have been very good at explaining everything and it's been a great learning curve. I think the more information you've got, the easier it is to make decisions.
For me, the kitchen is the most important part of my rebuild – this upstairs area is where I'll be doing most of my living, so I've wanted to be present for the installation. I can't just expect someone else to know all of the right answers for me when things arise, even little things like where I want a power-point to go – like, where exactly do I want it to be? What am I going to do there? If you can physically be there and picture yourself in that space, making toast or something, then that eliminates a lot of room for error.
By the time you get to kitchen installation day, you have learned that there's a sequence of events – a,b,c. First was the floor, plumbing and electrics, then there's the cabinetry and appliances, then in about another 10 days the stone benchtops can go in, then the tiling for the splashbacks.  So you're conscious along the way not to hold anything up.
Along with wanting to finish your project on time, you also don't want to mess other people around, and I think all of the tradies respect and appreciate that everyone on the project is trying to keep on schedule.
Ultimately, if you can keep everything as streamlined as possible, you'll have a much smoother process.
Inspired to create your own new kitchen for summer?  Take advantage of our limited time offer and get $1000 off Caesarstone when you purchase a new Freedom Kitchen – but hurry, offer ends 31st October.
To start your kitchen journey, simply book a free appointment with one of our designer consultants today.