Favourite kitchen designs from past seasons of The Block
The time of year we find ourselves here at Freedom Kitchens discussing upcoming kitchen design trends for 2024 and looking back at some of our favourite kitchen designs. Some of the standout designs hail from past seasons of everyone's favourite TV renovation show, The Block, from as recently as last year's season, all the way back to 2016! While all celebrate different colour palettes, door profiles and benchtop colours, they all have great style, functionality, and storage in common. 
Step back in time with us as we explore some of our favourite kitchens from past seasons of The Block.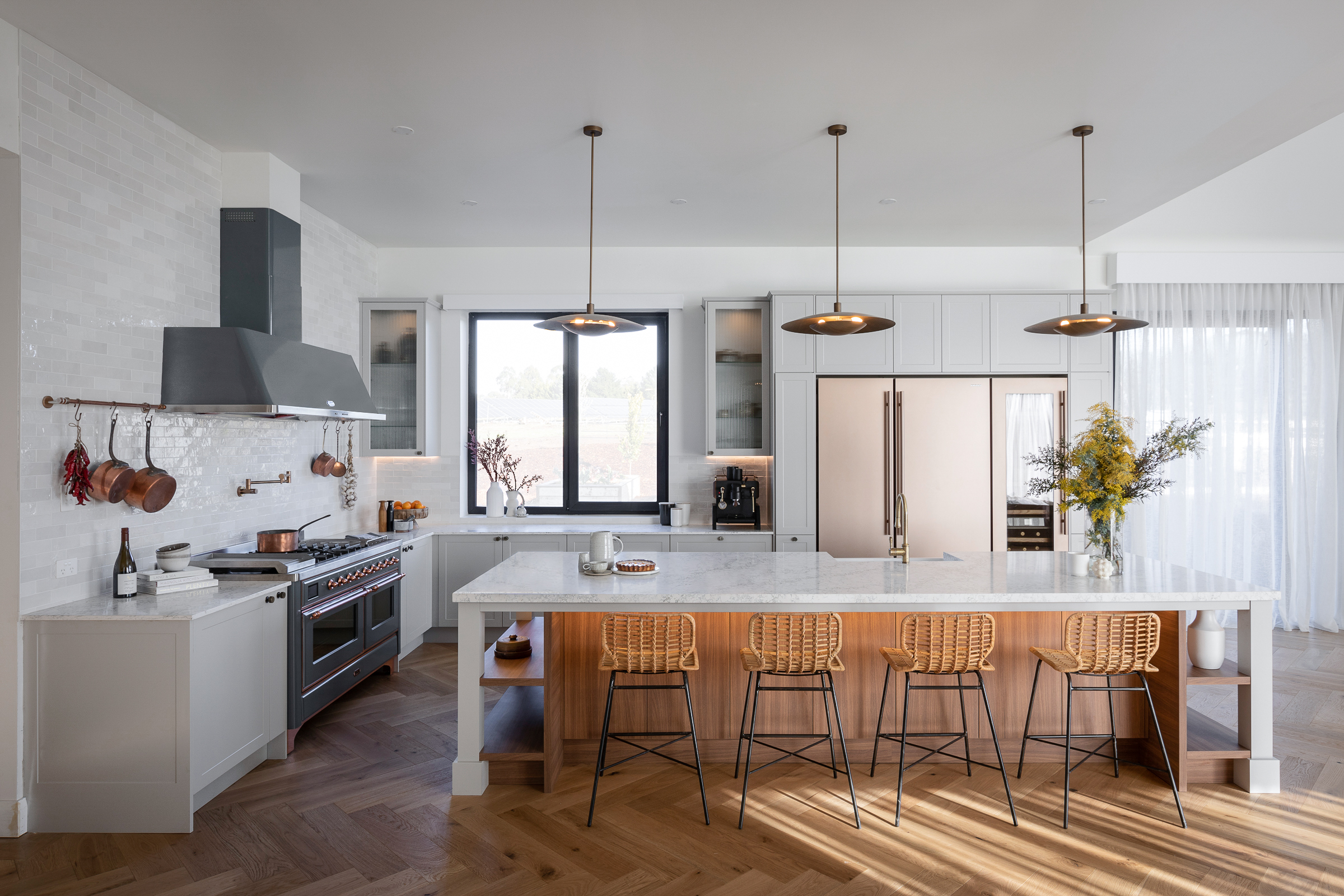 When a kitchen scores a perfect 30/30 you know it is truly something special! Case in point, Tom and Sarah-Jane's Modern Farmhouse luxury kitchen! The kitchen design features a generous kitchen island bench spanning 3.7 metres, with plenty of room for seating and open shelving on each end for styling décor and storing cookbooks. 
The colour palette balances grey, timber, marble and bronze tones with a focus on subtle detail. Shaker-style Sierra Kitchen cabinets in Oyster Grey Smooth dominate the space, broken up by Vertical Broadline Glass cabinets and timber-look Warm Maderia joinery. Brushed Antique Bronze Knob kitchen handles add the perfect amount of glamour to the room.
The L-shaped design is perfect for open-plan living, keeping all the important zones such as cleaning, cooking, food prep and food storage, all within easy reach of each other. The couple also included a separate butler's pantry, providing a wealth of additional storage as well as cooking appliances – perfect for those who love to entertain!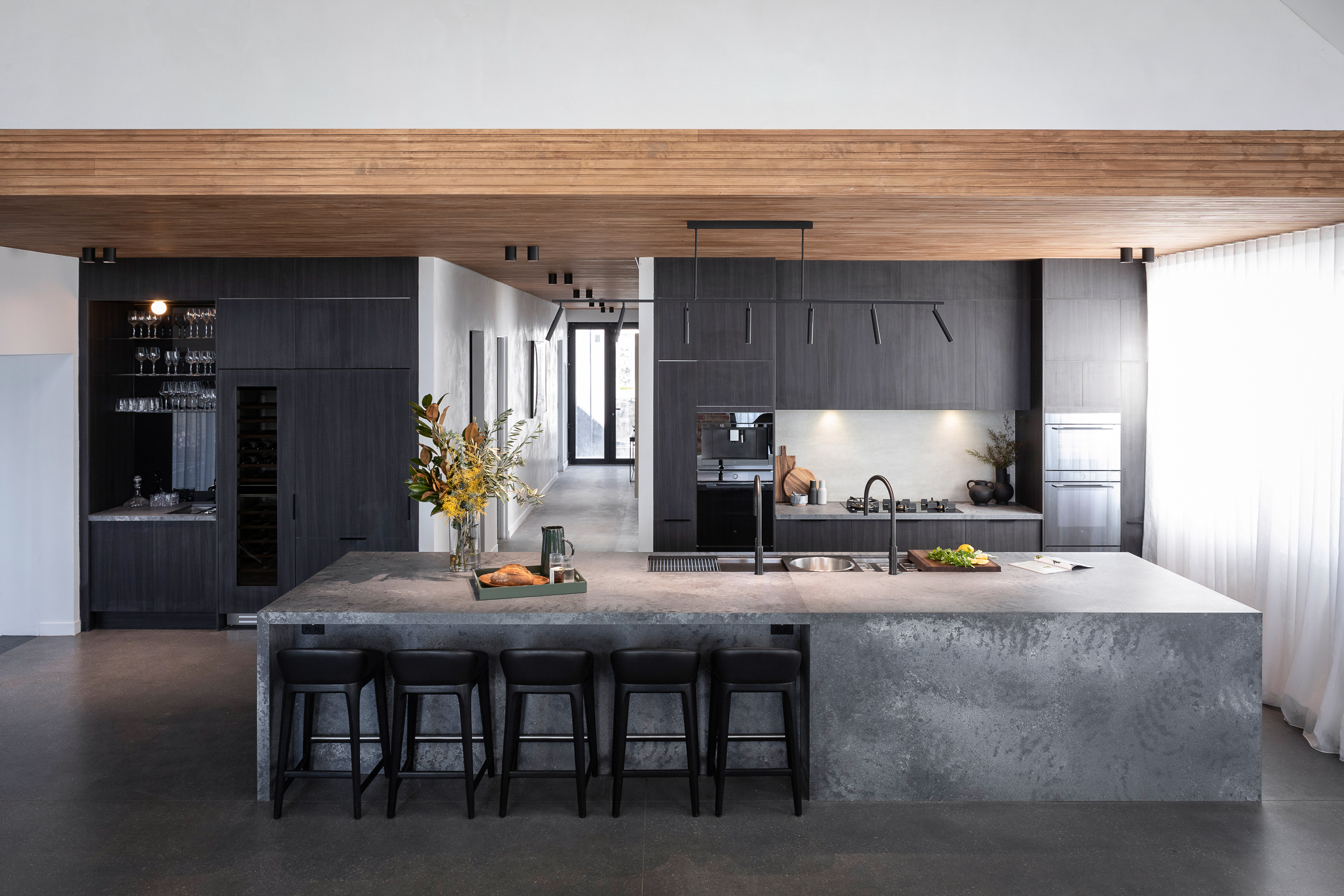 Winners of The Block last year, Omar and Oz pushed the design envelope with their modern kitchen style. In contrast to the other kitchens from that season, which focused a more Country/Farmhouse style, the boys opted to present a streamline design, bold masculine colour palette, and subtle textures. The dark, tonal scheme was achieved with a combination of our Blackened Legno Chalk joinery, Black Anodised Lip Pull handles, and Caesarstone kitchen benchtops and kitchen splashbacks. 
The galley-style layout of the room allows an easy flow between all the critical touch points of the kitchen. The kitchen island bench is the focal point of the design, providing generous seating for family and guests and plenty of additional storage space. 
Internal organisational accessories such as Häfele Dispensa Pull Out Pantries, Inner Drawers and Cutlery Trays were thoughtfully used within the main kitchen and the adjoining butler's pantry. The pantry was designed as a second kitchen, offering a plethora of storage, as well as additional cleaning and cooking appliances plus a fridge.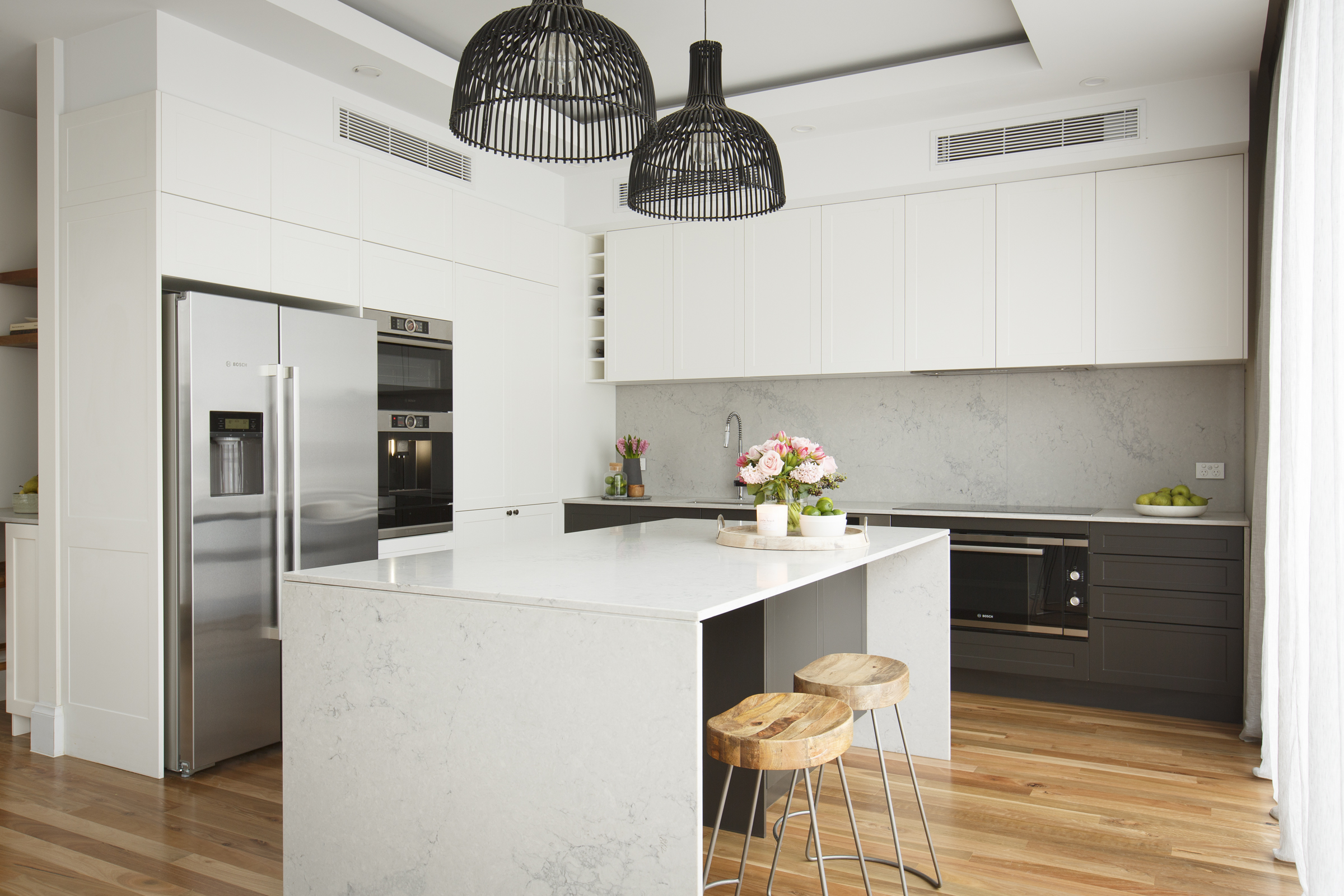 Fan favourites Josh & Elyse scored a perfect 10/10 for their contemporary take on a traditional Hampton style kitchen. The pair chose classic Shaker-style doors throughout the design, selecting a mixture of Sierra joinery in Classic White Matt and Cinder. Caesarstone® benchtops in Noble Grey add to the timeless look, with the central island bench featuring waterfall ends. Touch Catch handles kept the look sleek, seamless and modern. 
In a risky move that paid off, their island bench was orientated to face the garden rather than the living area, enhancing the feel of indoor-outdoor living. Another winning feature was their hidden butler's pantry, perfect for hiding away mess, which was cleverly placed under a set of stairs. All in all, it was easy to see why the judges fell in love with this kitchen and the couple went on to win the series!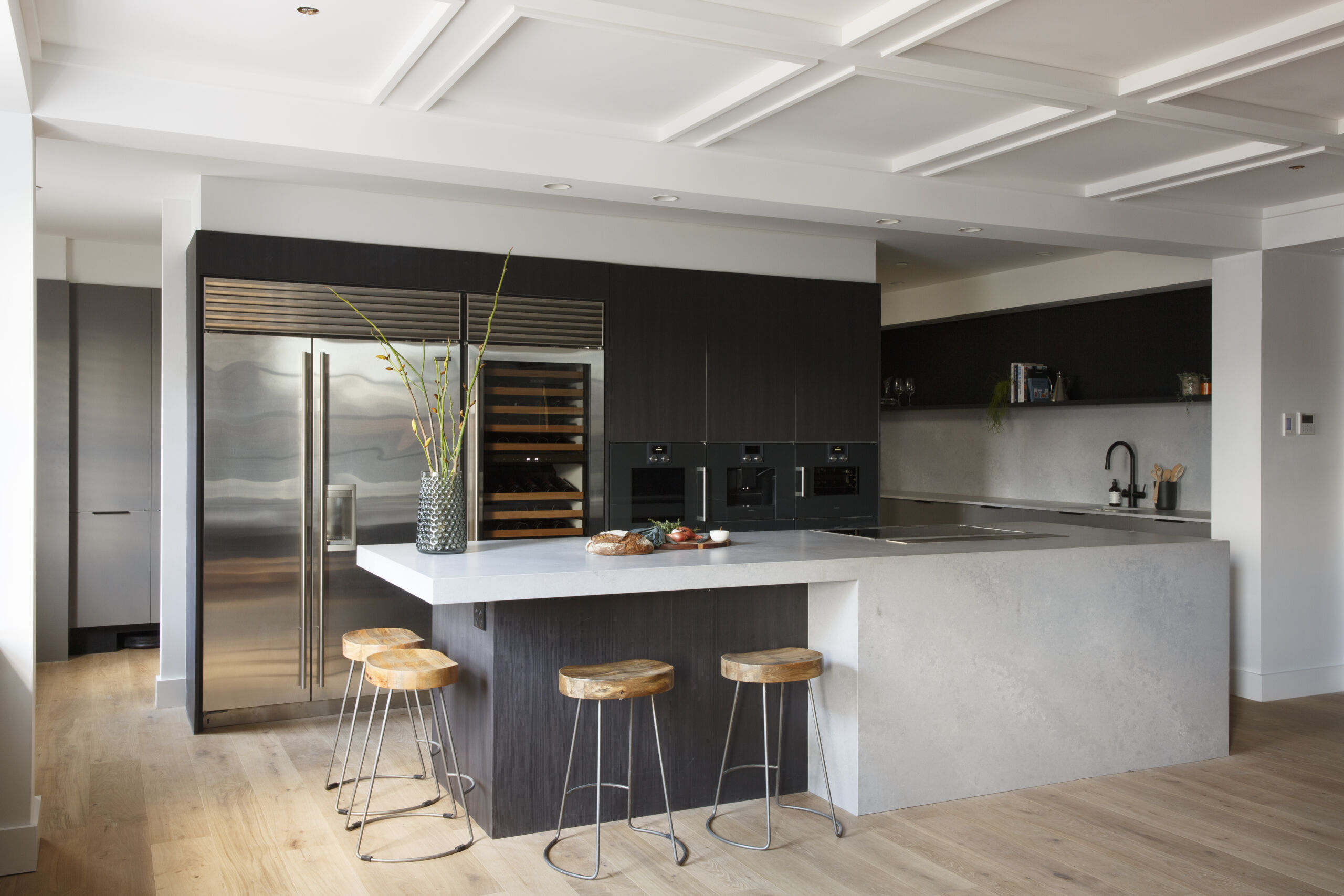 It's hard to imagine that this expansive kitchen was at the heart of an apartment and not a huge home, but that was exactly the case for Kerrie and Spencer, who appeared in "The Gatwick" season of The Block in 2018. The couple was awarded a perfect 30/30 for their refined design using contemporary neutrals and a timeless layout. Dark timber-toned cabinetry took centre stage, softened by concrete look benchtops and splashbacks.  
Designed for entertaining, the layout features a central kitchen island with a cooktop and concealed ventilation system, allowing guests to take a front row seat to the drama of cooking meals. Behind sits plenty of appliances from a Sub-Zero fridge, wine fridges and a series of ovens and microwaves. This enduring design may have graced our screens six years ago, but we believe it has stood the test of time!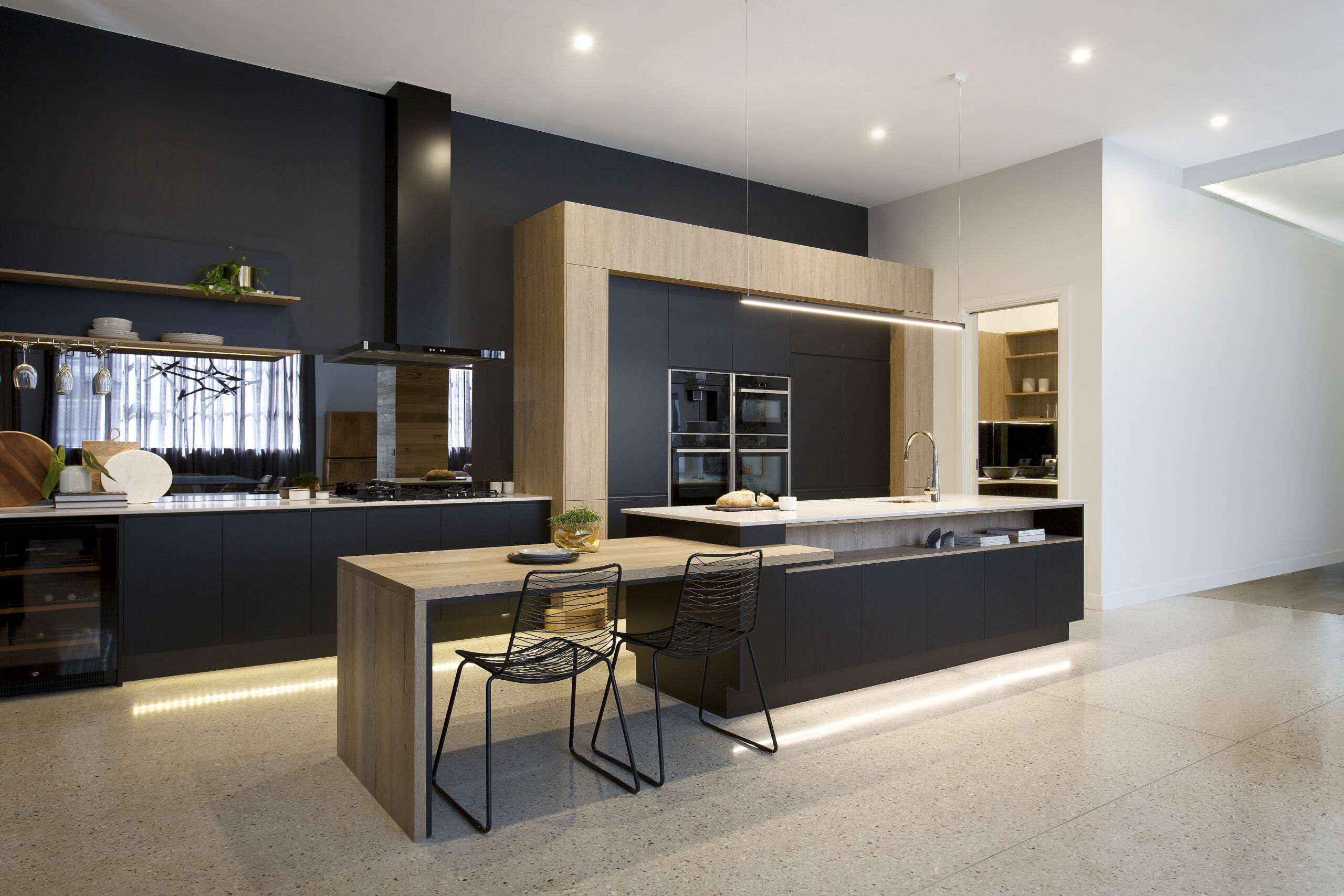 Showcasing a classic blend of matte black and warm timber tones, all the way back in 2016 we saw this kitchen from Karlie and Will be awarded first place by the judges. The pairs 'in-deco' kitchen design displayed a perfect balance between modern industrial with influences of Art Deco which was very in keeping with the 'theme' of the season that year. 
The duo used a modern palette of white, black and timber to stunning effect, with the banks of Black Ultramatt cabinetry broken up by the 'blockout' frame in Rural Oak Chalk. The living and cooking spaces are visually linked with the introduction of a timber-look table in Natural Halifax Oak which extends from the island bench, a stunning option from our range that beautifully replicates the appearance and texture of solid oak.