How To Make A White Kitchen Pop
"Is white boring and predictable? No! It's timeless, sophisticated and sharp — especially when designed correctly. I'm going to share with you the secrets of how to make a white kitchen pop!"
White is THE most popular choice for consumers looking for a new kitchen, but there's no need to settle with a lifeless kitchen devoid of contrast. To make it pop, you need 'wow factor' and a little luxury appeal. Here are a few tips on how to do it.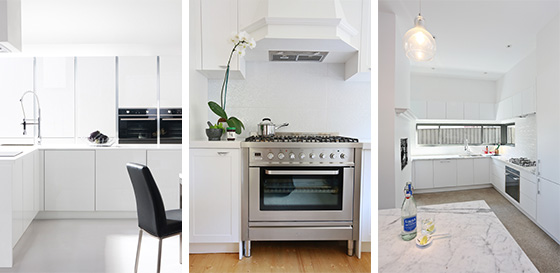 White cabinetry
White cabinetry is the little black dress of the home, but as anyone knows it's the things you wear with the LBD that take it in a certain direction and add drama, interest and class.
For a kitchen, those interest-adding things aren't shoes or earrings, but benchtops, splashbacks and a little bling with things like lighting and appliances. Door handles can transform a basic kitchen from drab to fantastic – just like the right kitchen tap can add interest and functionality to the kitchen sink.
Door and drawer front profiles
Door and drawer front profiles can add an edge to a white kitchen, with different profiles fitting with differing styles of homes. The Shaker style door, for instance, lays the foundations for a Hamptons or French Provincial setting, whilst a super matt finish is sleek and modern.
Benchtops
Benchtops have got to be the biggest ticket item in some kitchens, but there is no questioning the impact of a beautifully chosen benchtop, like a stunning Caesarstone top or satin smooth solid surface top. Freedom Kitchens' professional designers can help you choose the right colours and textures, or a combination of dual-tone benchtops, to give your white kitchen a designer finish.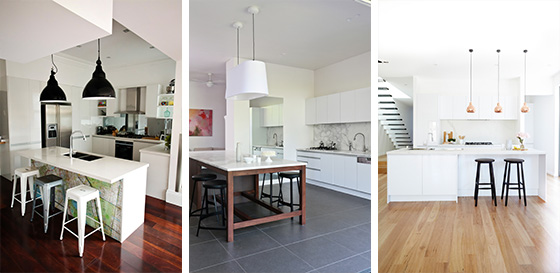 Layered lighting
Layered lighting is the key to creating ambience, but is also an opportunity to bring in colour. Balance necessary task lighting with undermount or LED strip lighting, and choose beautiful hanging pendants as a statement against a white backdrop.
Splashbacks
Splashbacks are far more than just colour-backed glass. Look to stone, tiles with texture, pattern, colour or even mirror to add a sense of luxury and space.
Furniture
The last item for attention is the furniture. Bench stools add a little designer element, while accessories like a toaster, small appliances, bowls, styling, books and tea towels can all be layered into your beautiful white kitchen for colour and interest.
"The kitchen is one of the most expensive investments in your home. A white kitchen gives you a blank canvas to play with, so use accessories to reflect your personal style."
Darren Palmer