I REVIEW THIS WEEK'S KITCHENS FROM THE BLOCK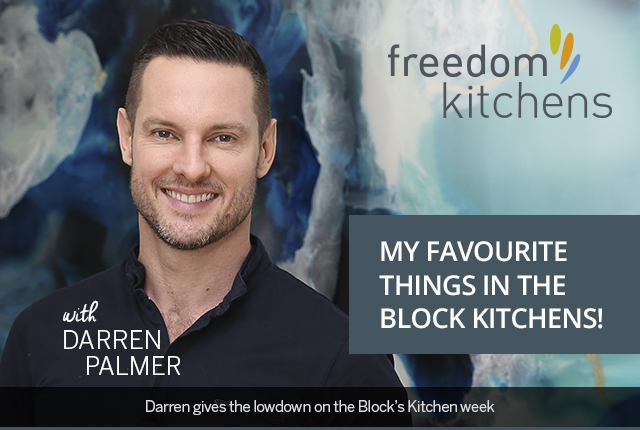 Kitchen Week is one of my favourites on the show and this series' Freedom kitchens were no exception. The level of creativity blew me away and here I explore each kitchen and list out my favourite elements.
Apartment 1 – Karlie & Will: "Industrial meets Deco"
The pair's 'In-deco' design strikes a perfect balance between modern industrial and Art Deco touches that really works with the building's period architecture.
I love the kitchen's Natural Halifax Oak table that replicates the rich appearance and texture of solid oak. The harmonising Rural Oak blockout beautifully frames the deep and dark cabinetry and ovens.
Caesarstone Cosmopolitan White benchtops complete the look with butler's pantry, ample storage, island recess and NEFF apps providing high-end functionality.
Standout design features:
More is more: the kitchen's scale provides space for serious entertaining capacity
Plenty of interest: contrasting black and timber tones mix, rough and smooth, light and dark
Considered lighting: illuminating every nook in an understated fashion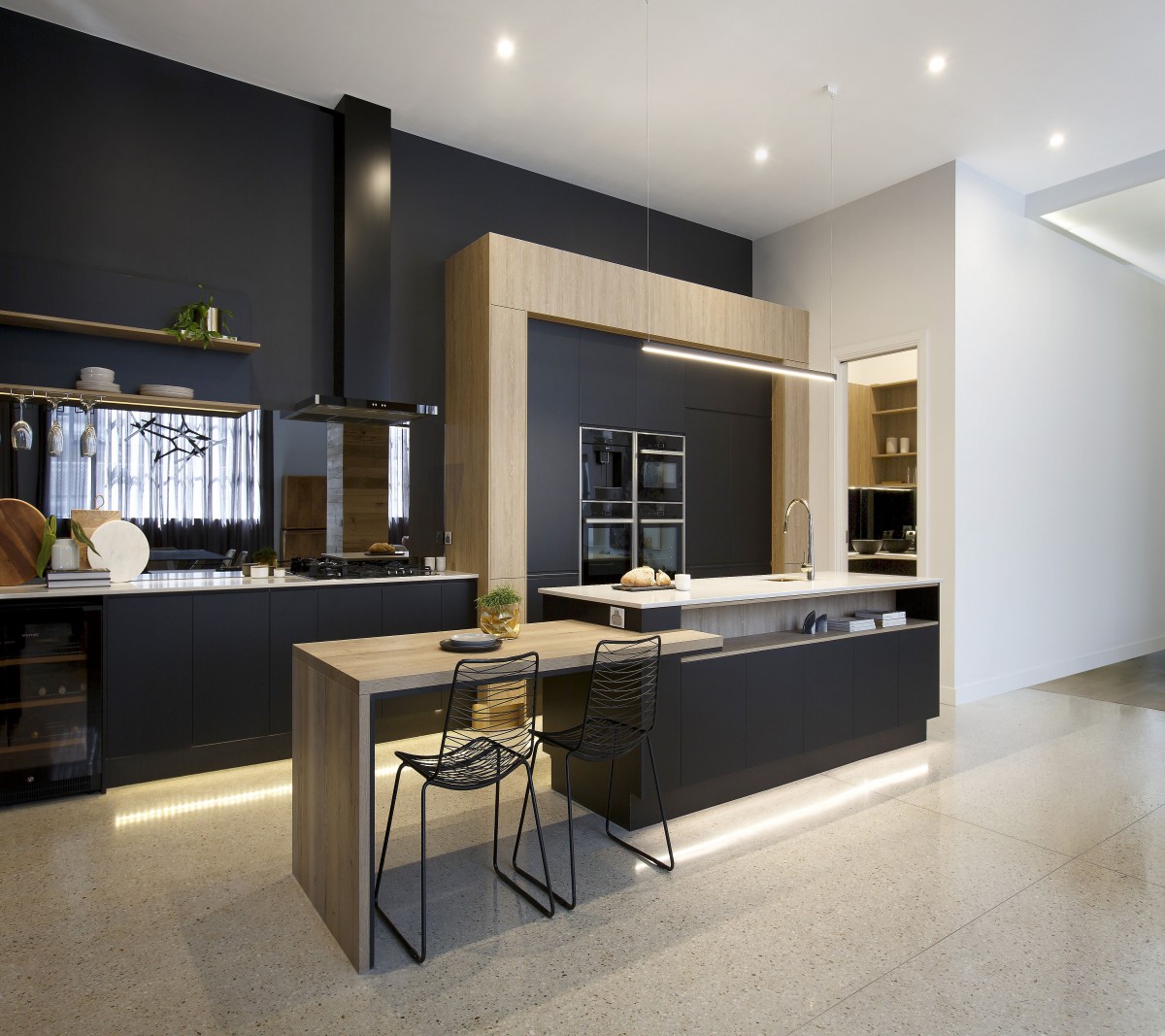 Apartment 2 – Carleen & Dan: "Bold Contemporary"
Carleen and Dan have created a bold and luxurious design that also pays homage to the beautiful Art Deco building this kitchen lies within.
The warmth and texture of the Cherry Riftwood cabinetry gives a sense of drama to the entire back run. The opposing Island White Satin cabinetry is cool and smooth, contrasting with the timber tones. The White Attica benchtops – a new marble-look design – bridge the cabinetry through a white base with dense, dark grey veins.
Integrated appliances by Bosch, a display nook within the island bench and heavy use of touch catch cabinetry throughout further enhances the modern design without compromising the aesthetic.
Standout design Features:
Presence: floor-to-ceiling cabinetry emphasises cathedral ceilings
Island bench: commands the kitchen with size and built-in functionality
Butler's pantry: out of sight but open, spacious and functional without a door
Feature lighting: adds period style to a modern look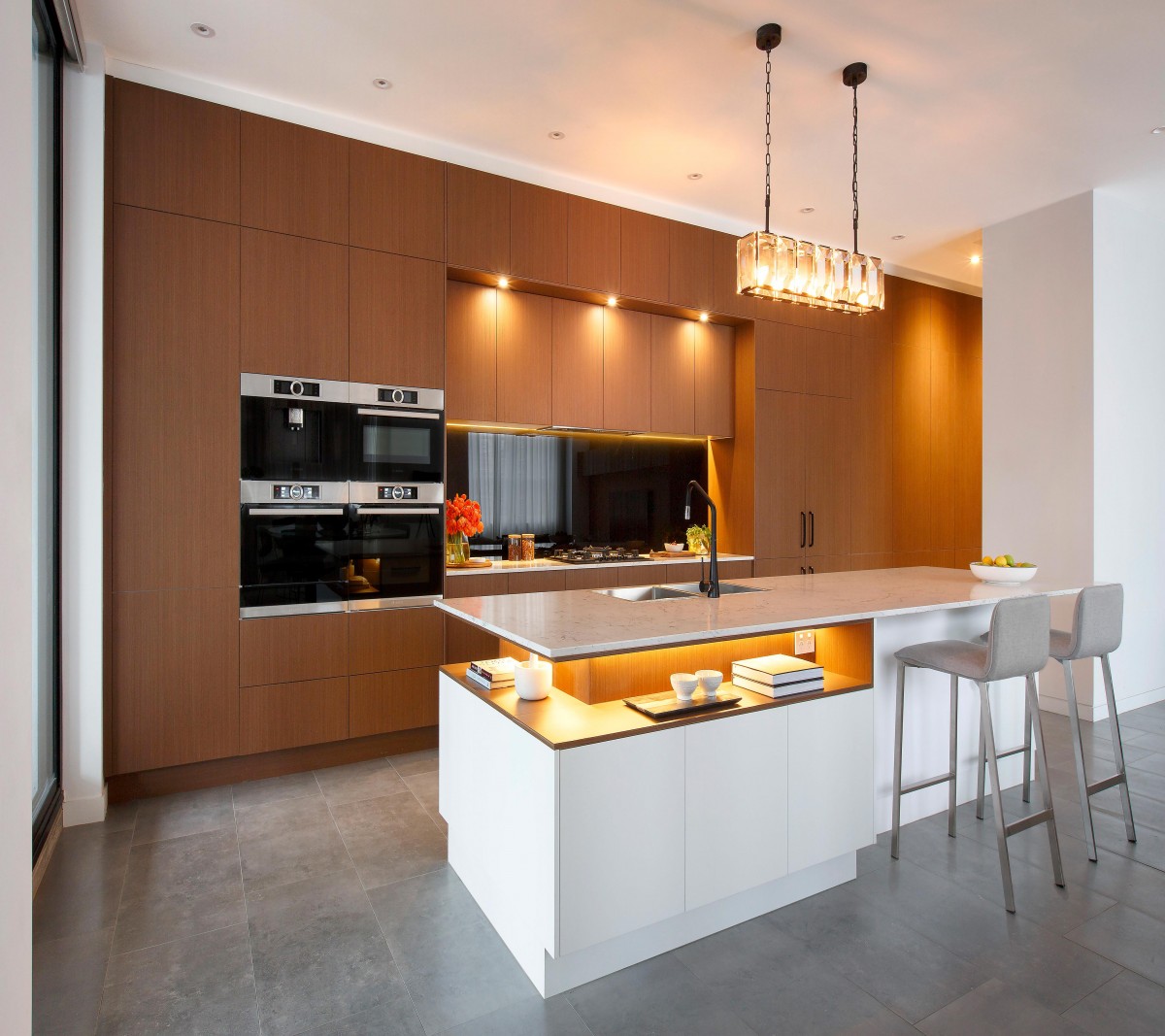 Apartment 3 – Andy & Ben: "Modern with a Twist"
The boys have created a modern kitchen with an Art Deco twist, fitting the heritage of the building.
Colour and texture have been used in refreshing ways to celebrate Art Deco whilst keeping clean contemporary lines. Top cabinets in Black Riven are offset to create interest and play on the Deco style. Paired with Newbury Baye and Bayleaf to create a fresh colour palette.
An entertainer's dream, the design features ample storage throughout both the kitchen and sizable butler's pantry. Using chic NEFF appliances and stunning Caesarstone Fresh Concrete benchtops.
Standout design features:
Colour effect: the pastel greens tastefully soften the monochrome design
Epic island bench: Caesarstone Fresh Concrete bench takes pride-of-place
Essential storage: ample draw and storage space throughout – a must for any kitchen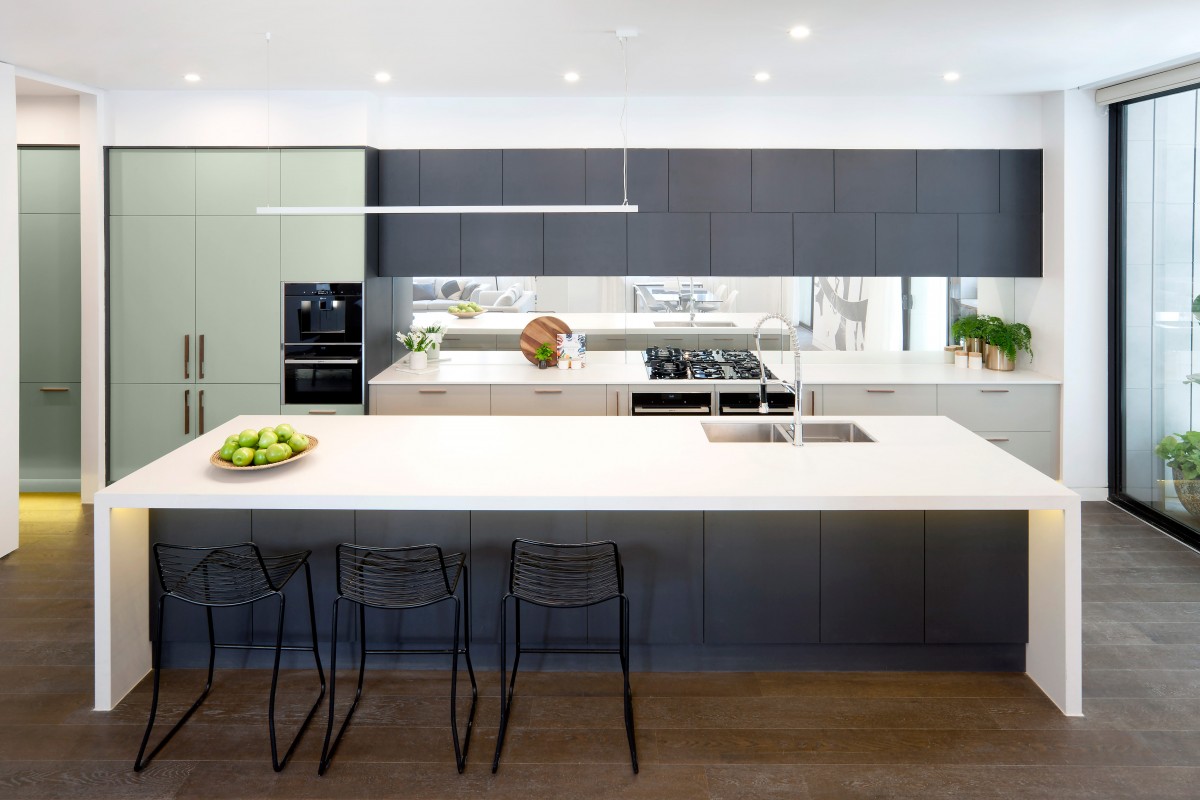 Apartment 4 – Julia & Sasha "Hollywood Glamour"
Julia and Sasha have created a modern design with touches of Shaker style that epitomises luxury and glamour.
Caesarstone Statuario Maximus benchtops and splashback combine perfectly with the matte white and black, Shaker-style cabinetry. With high-end Gaggenau appliances throughout, this is a kitchen that demands attention.
I love the Bright Brass cornet handles and tap with metallic sink that add luxurious touches to the timeless design. A butler's pantry offers generous storage with open shelving, integrated dishwasher and coffee machine.
Standout design features:
Classic & contemporary: clever use of white, brass and Shaker details match the apartment's feel
Benchtops: Caesarstone Statuario Maximus enhances style and space
Brass handles: add a jewellery-like elegance throughout
Gaggenau downdraft: an impressive inclusion that removes the need for a range hood
Apartment 5 – Kim & Chris 'Blue Steel'
By pairing bold blue tones and a built-in Bluetooth sound system, Kim & Chris have created the ultimate entertainer's kitchen.
Combining Alaskan Gloss cabinetry in Royal Oyster with Flair Deep Sea top cabinetry and Caesarstone Alpine Mist benchtops makes this kitchen both stylish and functional. The look is completed by Siemens appliances and an integrated Bluetooth sound system that turns cupboards into speakers.
With generous provision of storage and drawers plus a butler's pantry, this is a kitchen that appeals to lovers of refinement and modern design.
Standout design features:
Symmetry + scale: generous expanses of benchtop and prep space add versatility to the design
Less is more: The omission of handles creates clean and simple lines for a truly contemporary look
Colour: a bold mixture of deep blue and rich timber colours is beautifully matched with Caesarstone Alpine Mist benchtops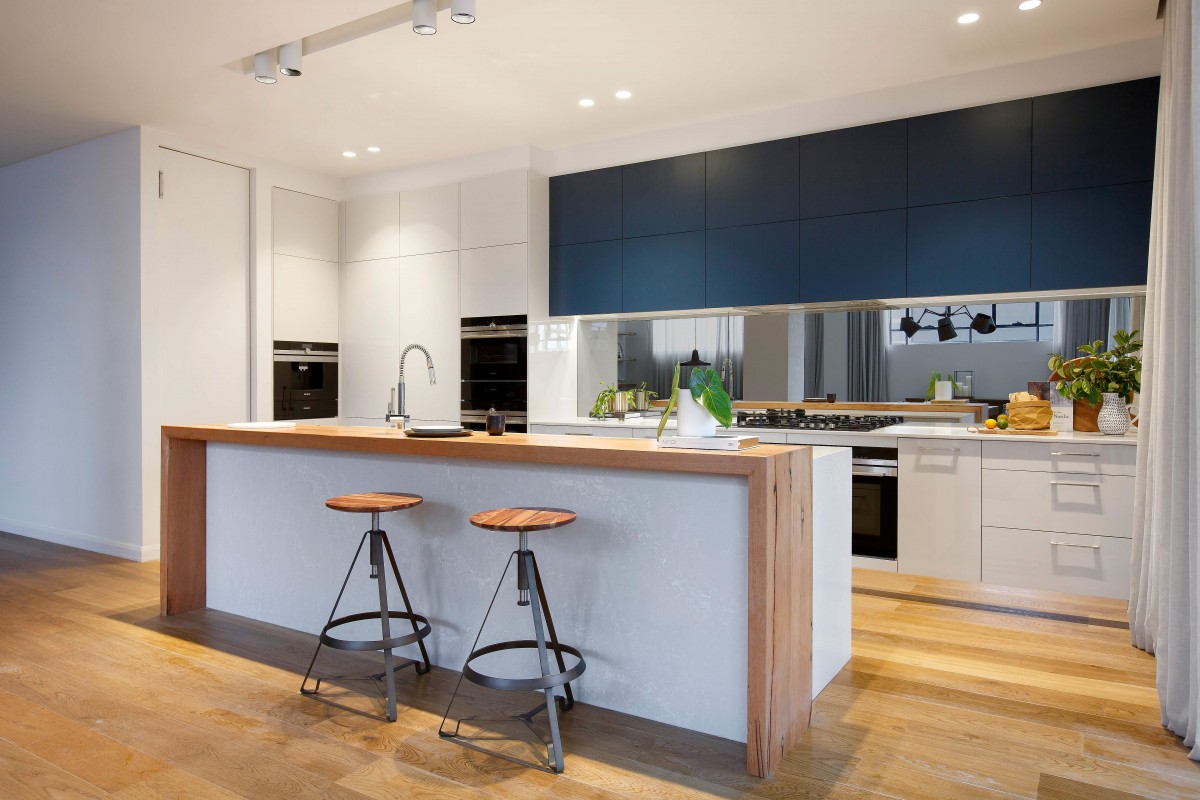 To create a kitchen that is the best on your block, book your free, in-home design appointment with Freedom Kitchens now or download our new Spring catalogue for more inspiration.
Darren Palmer