Industrial vs Scandi in the Week One Reveals
The new season of Reno Rumble sees teams from across the nation competing in an East Vs West battle for renovating supremacy!
The first two teams to tackle the kitchen transformations were Dane & Leanne representing the West and Country Girls Sarah & Renee representing the East. Not without drama, the two teams delivered exceptional homes for two deserving families, with these new kitchens now standing proudly as the heart and heroes of the homes.
We caught up with the Contestants to find out how they did it — Leanne & Dane on creating a functional Scandi space, and Renee & Sarah on how they nailed the Modern Industrial brief. Read on to find out how the new kitchens have changed the lives for the homeowners.
Scandi Success
Sarah and David have been busy entertaining since they moved back into their West Footscray home. "We both love cooking, but with the old kitchen, it was so painful we just stopped using it. It was extremely disjointed with a sink in the hallway and the fridge in another room!"
With their new open plan U-shaped kitchen, entertaining and organisation is a breeze with ample workspace and practical storage solutions, all wrapped up with fresh Scandi appeal. "The Caesarstone benchtops are my favourite feature of the kitchen – they are not only lovely to look at, they are really practical and easy to clean. My favourite small feature are the open timber shelves. They add warmth to the kitchen and are perfect for cookbooks." Sarah also says the two Inalto ovens are fantastic for cooking for a large group. "They make cooking enjoyable again!".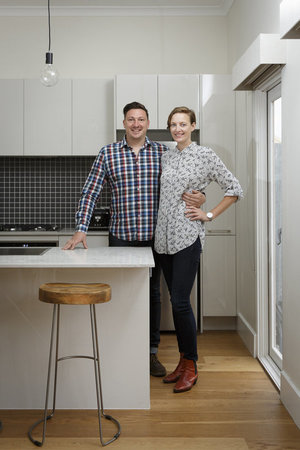 Modern Industrial Masterpiece
David and Madeleine had struggled for years with their small, dark, claustrophobic kitchen, and wished for a light-filled space where they could entertain friends and family.
Enter design duo Renee & Sarah who completely transformed the space in a striking modern industrial kitchen in a monochrome scheme of white and charcoal. "The kitchen looked incredible when I walked into the room, especially the marble-look Caesarstone island benchtops and appliances which fit seamlessly," said David, adding Madeleine hasn't stopped beaming since discovering the integrated dishwasher which topped off a well-planned layout.
"We now love spending time in this part of the house, whereas it was a chore before. We can now say we are proud of our kitchen thanks to Freedom Kitchens, and we can invite others to enjoy the space with us," says Madeleine.
Clearly impressed, Colin & Justin said there was a great sense of continuity in the house, with Colin adding, "the kitchen feels like it belongs."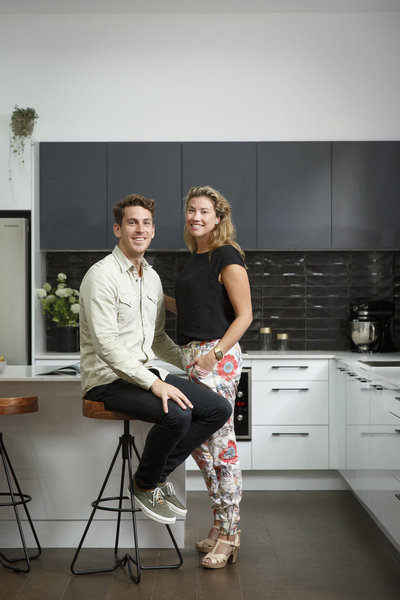 We're already looking forward to another gripping week on Reno Rumble!