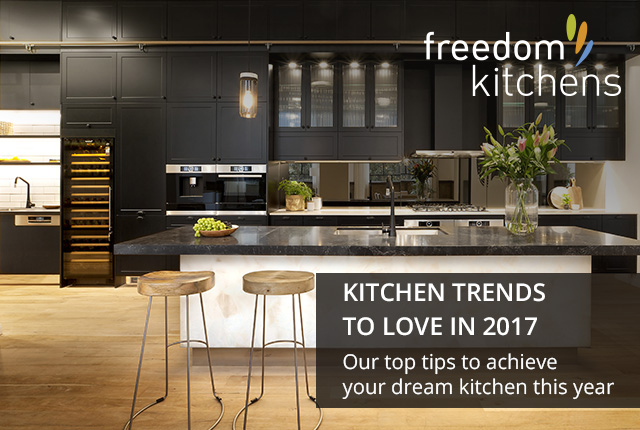 It's a brand new year, and here at Freedom Kitchens we think that creating your dream kitchen should be at the top of your New Year resolutions' list! In this blog, we share our top 4 design tips for 2017: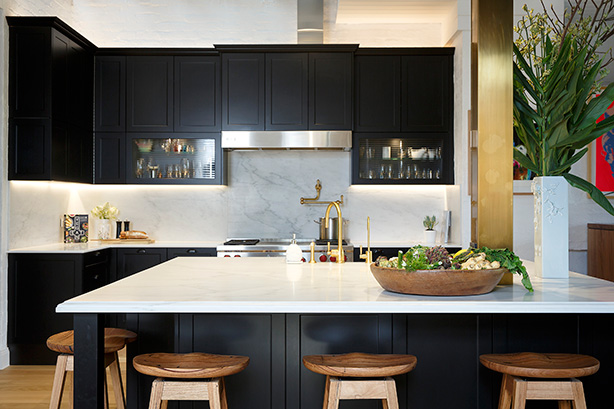 Kitchen Styles
One of the most important questions to consider when designing your kitchen is: what does your home and lifestyle need from this space? From here, you can create a kitchen design that looks like it's always belonged. The four most popular kitchen styles are traditional, industrial, contemporary and Scandinavian. But remember, there's always a style that's perfect for you and your home.
The traditional kitchen style continues to be very popular in kitchen design in 2017 – as it doesn't date and can be easily and effectively updated with accessories, such as handles. For a true traditional style, think white routed cabinetry, detailed handles and glass or subway tiled splashbacks paired with luxe benchtops from Caesarstone's stunning marble effect tops or timber-look laminates. If you want to push the design envelope, consider matt black cabinetry for a dramatic and modern effect.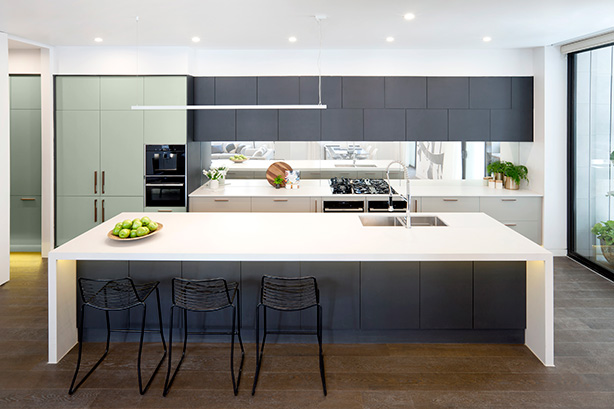 Colour play
Colour is back in a big way. You can use it in a variety of ways – from a pop of colour in a bank of cabinetry or splashback – through to layering different shades of one colour across various surfaces. Colour trends that were prominent at last year's EuroCucina kitchen fair in Milan – such as shades of blue (navy is a great alternative to black and pair beautifully with gold accents), green, teal and pastel – are right on trend for Australian kitchens this year.
Balance a splash of colour with Caesarstone marble or concrete-inspired benchtops, coupled with white-toned cabinetry and integrated appliances. This creates a thoughtful and modern take on colour in the kitchen.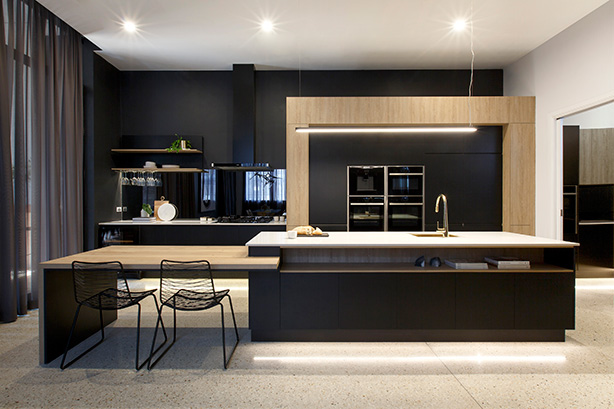 It's all in the detail
Renowned interior designer and judge on The Block, Darren Palmer, describes handles in the kitchen as 'jewellery'. The humble handle has the power to inject instant glamour, interest and complete the kitchen style you wish to achieve. Be sure to select timber handles to complement a Scandi look, while ornate or chrome cup handles enhance the Hamptons style. Or, if the modern kitchen is more to your fancy, use handleless and touch-catch cabinetry to complete the look.
Another trend that featured heavily in the stunning kitchens on The Block was display enclaves and breakfast tables incorporated into benchtops. Eating and social spaces, as well as breakfast bars designed into an island bench (or extended from the island bench) are a winning feature for any entertainer or family kitchen. Display enclaves within an island bench also create an eye-catching area – allowing you to showcase your personal style and display décor.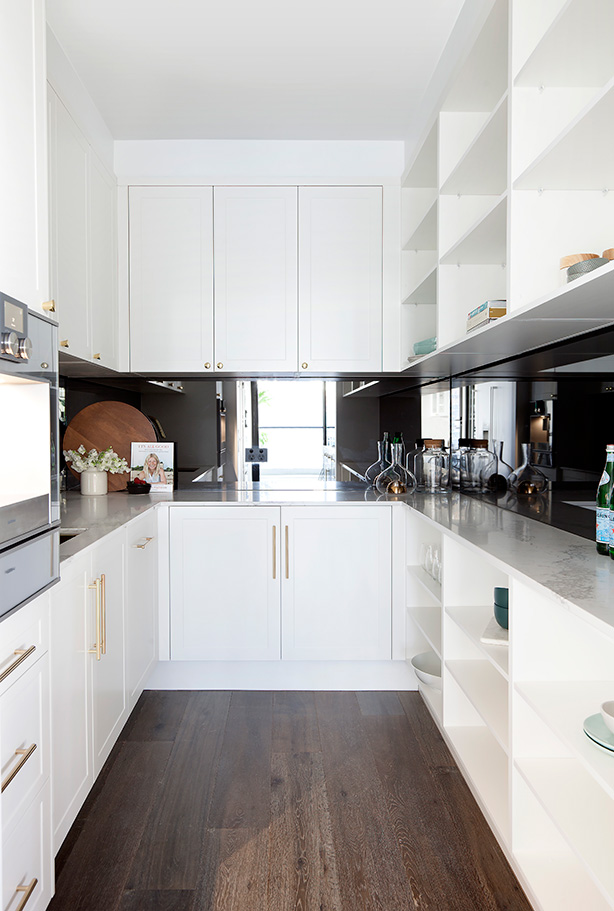 Storage is king
Smart storage solutions can transform how you use your kitchen space. Find a place for everything, thanks to the extensive range of internal organisers from Freedom Kitchens. Adjustable drawer dividers – for cutlery and kitchen utensils – mean that these essential items can be easily stored and found. Furthermore, spice drawers, knife holders, towel rails and base units built into drawers or cupboards allow you to optimise your kitchen space.
Make every corner of your kitchen work hard for you – from small accessories, such as corner carousels to transform those pesky corner cupboards, all the way to pantries. Pantries are a must-have in kitchen design – and they can be customised to fit any space. Space permitting, a walk-in or butler's pantry concealed from the main kitchen will also provide extra storage space – helping to hide mess when entertaining. If space is tight, opt for a pull-out pantry with adjustable shelving to store all your necessities – or customise your own by adding drawers inside the cupboards.
By integrating your appliances and accessories, you'll enhance your kitchen design in 2017. It's these hidden gems within the design that transform your space from ordinary to extraordinary.
Our most important tip is to have fun with your kitchen design. To begin your kitchen journey, start by gathering inspiration from the Freedom Kitchens' image gallery – or download the brand-new summer catalogue today. You can also follow Freedom Kitchens on Instagram and Pinterest.
Book a free in-home design appointment with Freedom Kitchens today.
Happy New Year!