The humble laundry is not often the first room that people consider renovating however here at Freedom Kitchens we love laundries and love to create laundry spaces that not only function well but that also become a room that you love to spend time in.
So what makes a perfect laundry? Below we share our top 5 considerations when designing your new laundry.
1. Design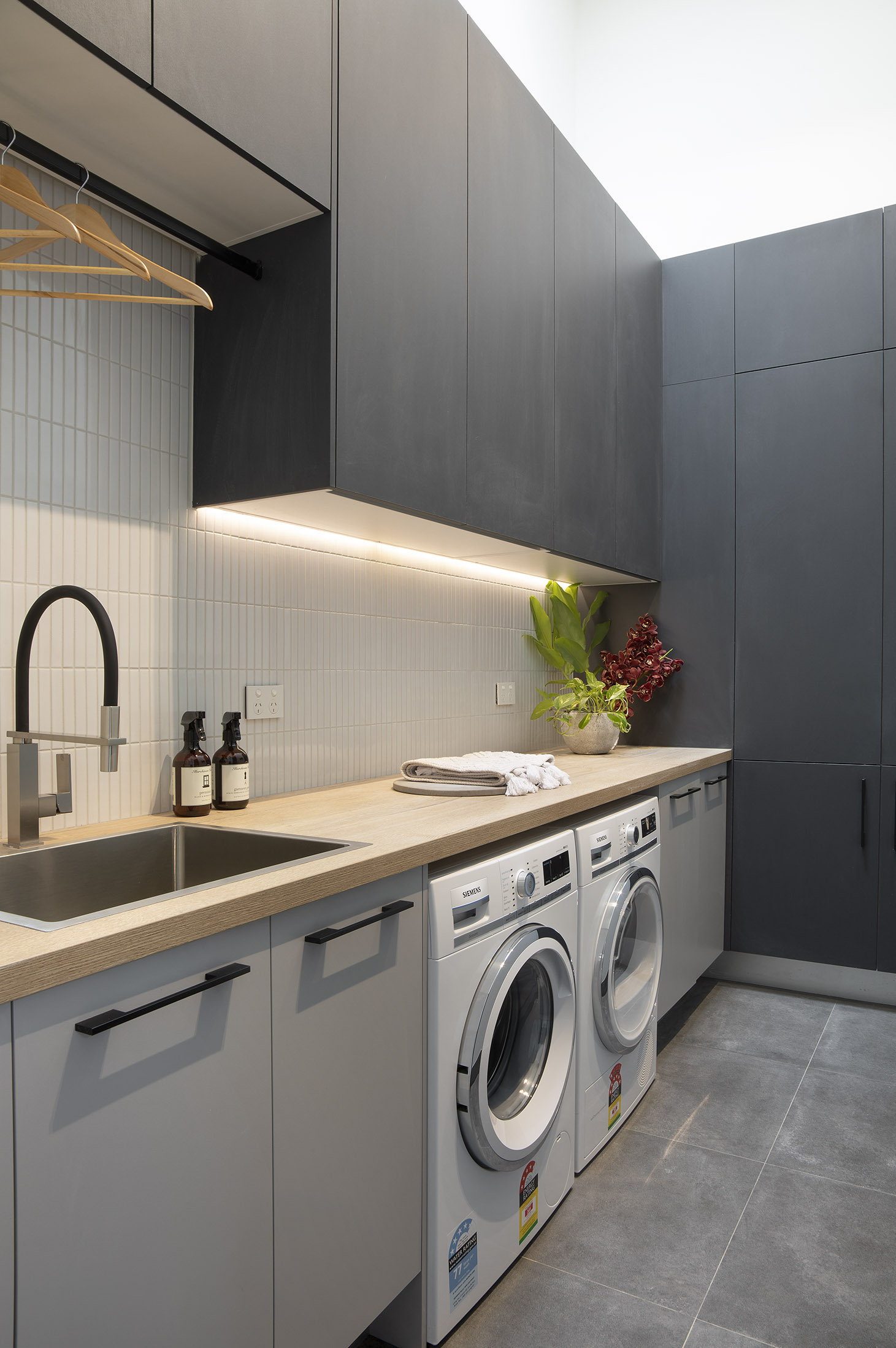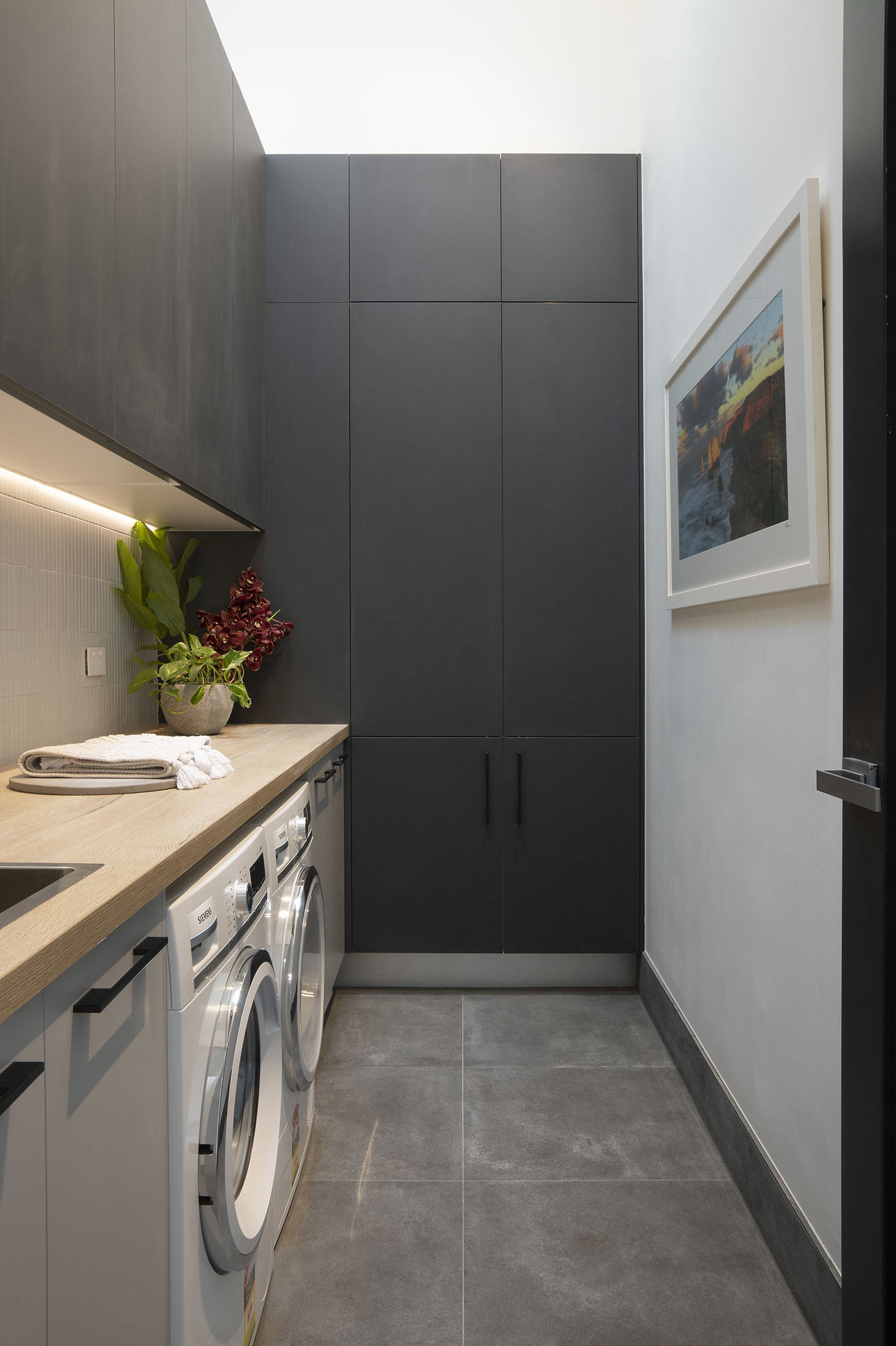 Bianca and Carla created this stunning laundry space on The Block 2018 mixing dark tones with timber accents.
Create a laundry space you love being in. The laundry is no longer just solely a working space, it is now a room that loves you to expand on the style you have in the rest of your home, as well as an opportunity to add personality and transform it into a place that not only works hard but looks good at the same time!
If you love a fresh and classic style consider white shaker style doors with brushed brass or gold accessories or for a more modern and opulent space opt for darker coloured cabinetry with complementary accessories such as handles as well as sinks and taps.
Our tip: Consider coordinating the style and finishes of your laundry to match other 'wet' areas of your home – such as the kitchen. This provides a seamless transition from the other areas of your home into this essential working space. Additionally, using the same materials as your kitchen and even bundling the two projects together can save you money in production, and also add significant value to your home.
2. Appliances
The heartbeat of any laundry, your selection of your appliances and the type that you choose will affect the design and the way you use this room.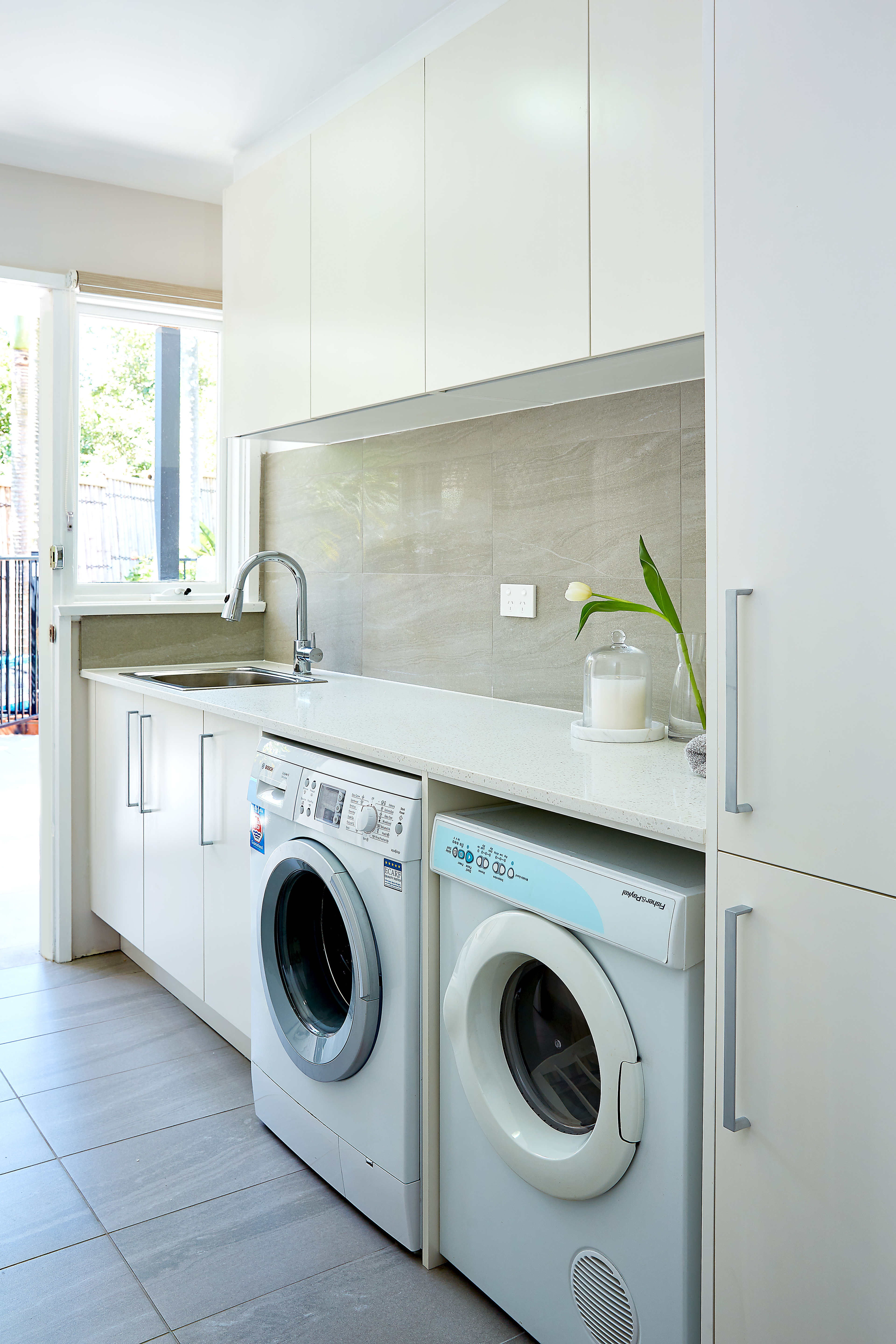 Your washing machine and dryer and their placement is something that should be considered at the beginning of the design process.
For example, you may opt for a pair of front-loading appliances. You can fit these beneath a benchtop or simply stack a washer and dryer. Either option is a great space-saving solution that will depend on your available space and layout.
Should you wish to conceal your appliances in the laundry, consider stacking them to allow the addition of a cupboard to achieve a clean and streamline look.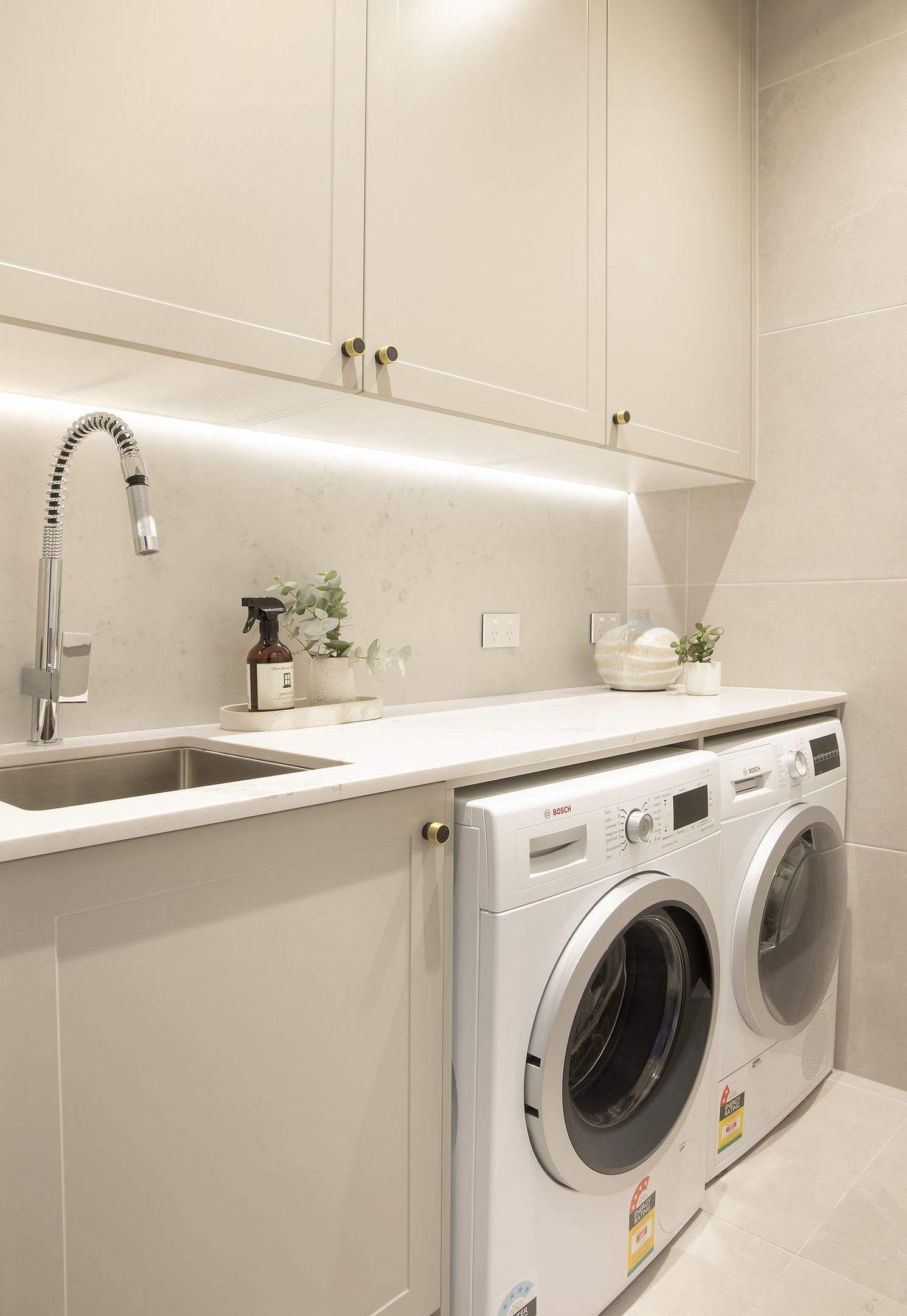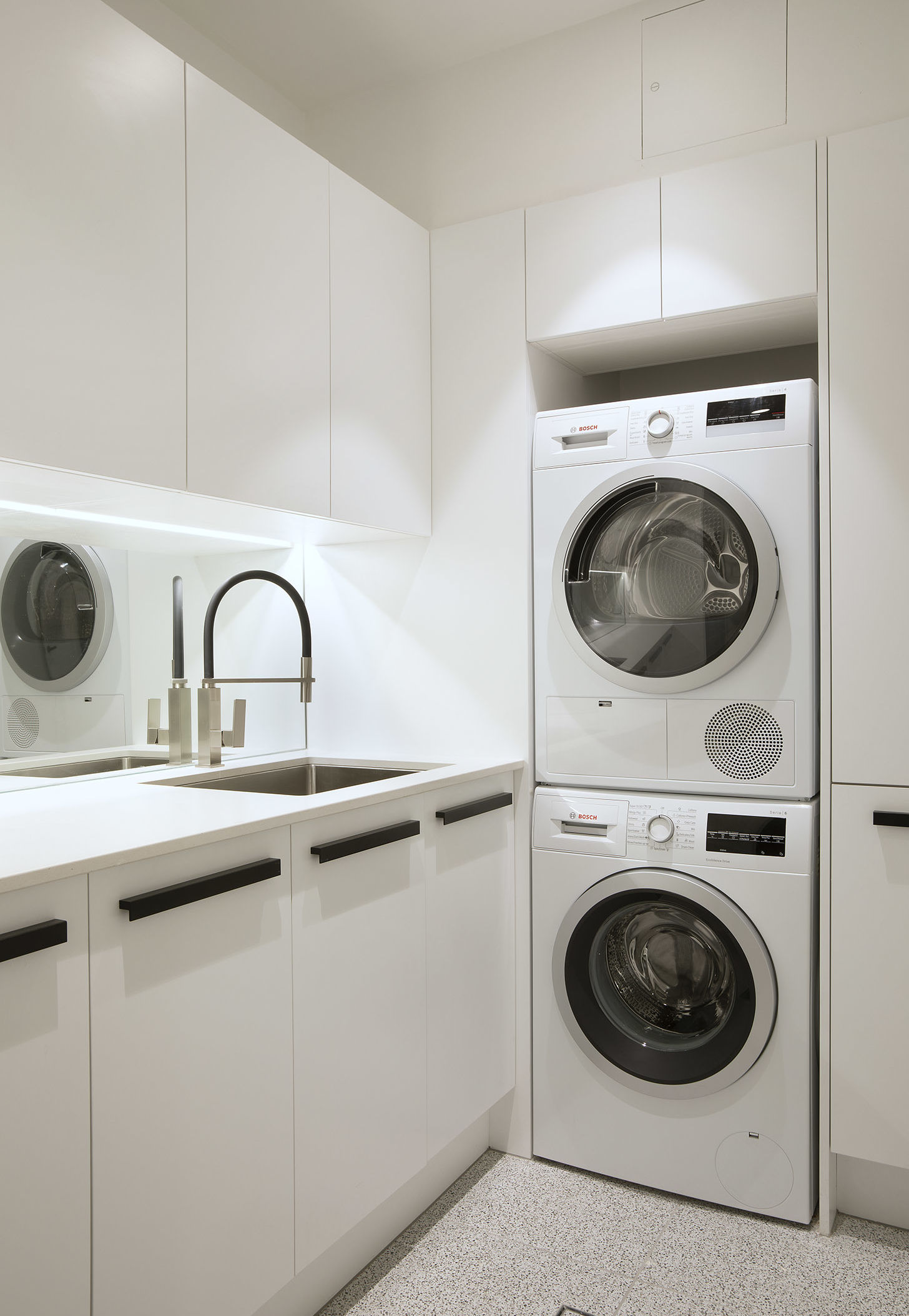 Opt for either side by side front-loading appliances or simply stack your washer and dryer.
3. Layout
Just like a kitchen, you have a variety of choices when it comes to the layout of your laundry – namely U shaped, L shaped or galley. The shape and configuration of your floorplan will dictate which layout is best for you.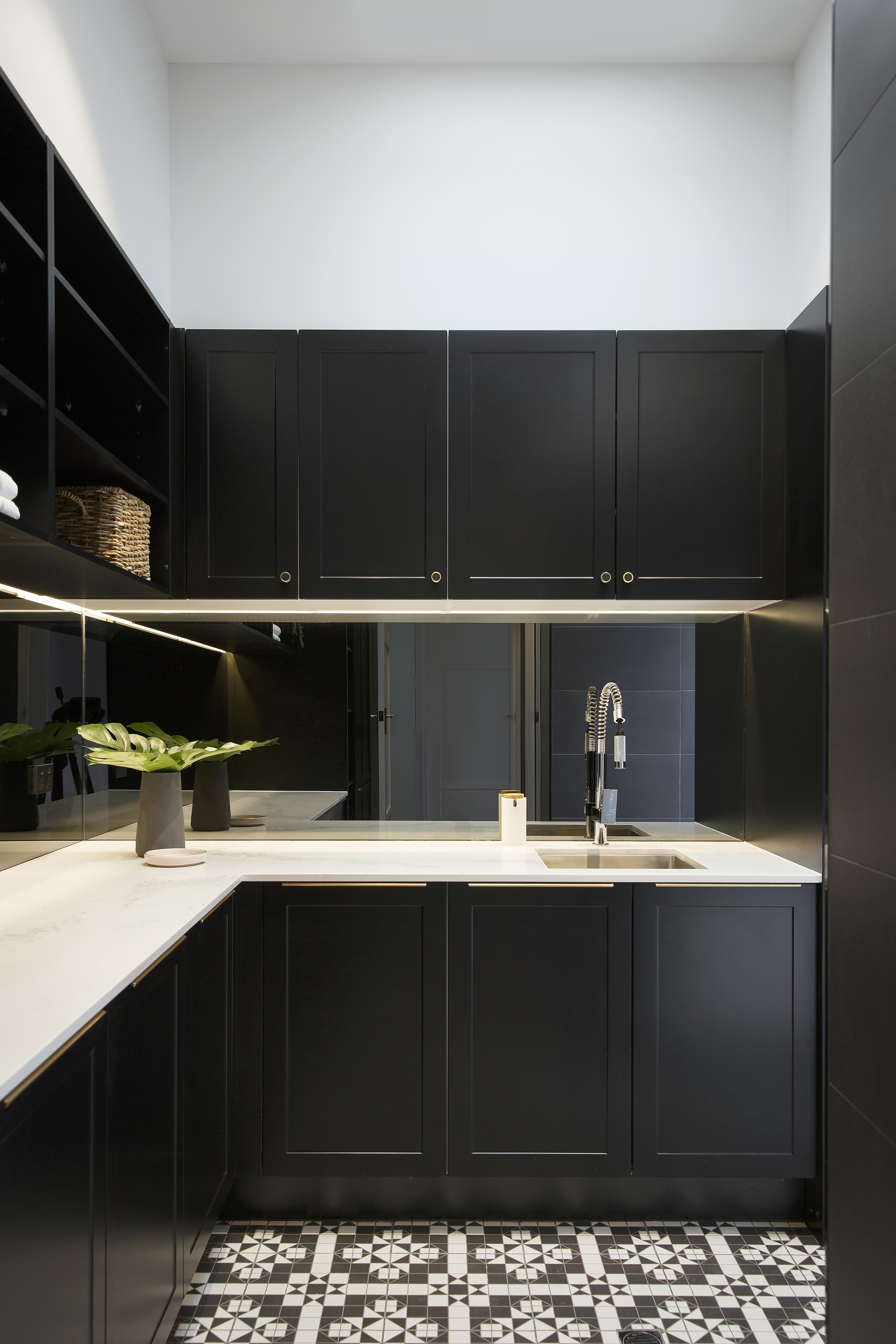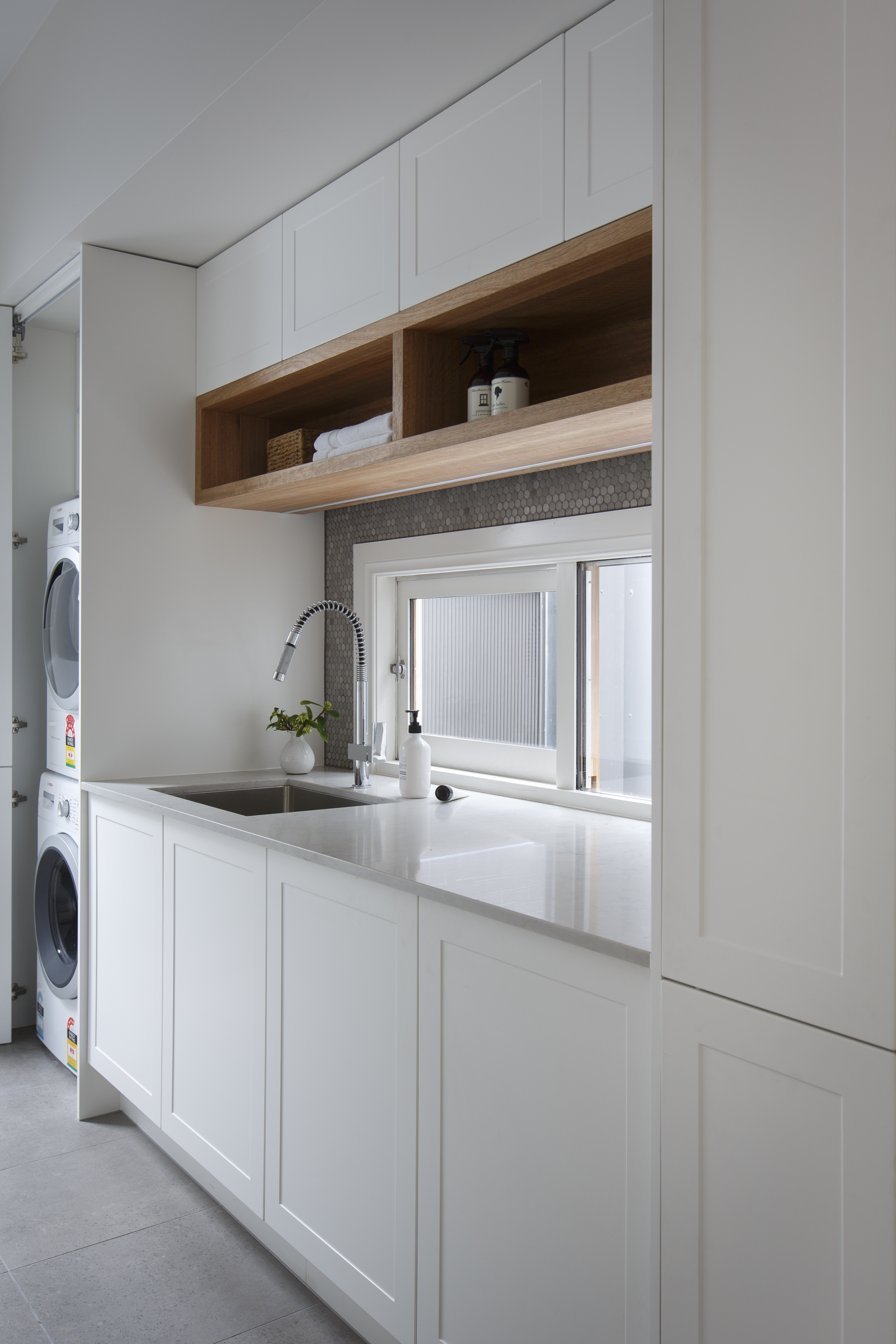 Plan your laundry layout – L shaped or galley.
Keeping the space 'open' is key – both from a functional and aesthetic point-of-view. When planning your laundry layout, consider the location of the most-used elements in your laundry – such as your washer and dryer, sink & tap and benchtops – plus what will be in your line-of-sight as you enter the space.
Appliances and the sink should be kept together for plumbing purposes. And ideally, you want a design that keeps appliances concealed or out of your initial line-of-sight.
4. Storage
Storage is king in a laundry. No matter the size of the space, our smart storage accessories can transform the way you use this space. Make sorting laundry a breeze with our pull out laundry hampers and consider our Under Sink Unit to create the perfect space for storing and organising laundry products that you don't want on display.
Maximise cabinetry as much as possible, and if possible consider tall cupboards to store items such as mops and brooms. If it works with your design and style open shelving is also another great option as it allows you to display beautiful items such as stylish canisters, candles and plants which adds colour and personality to the space.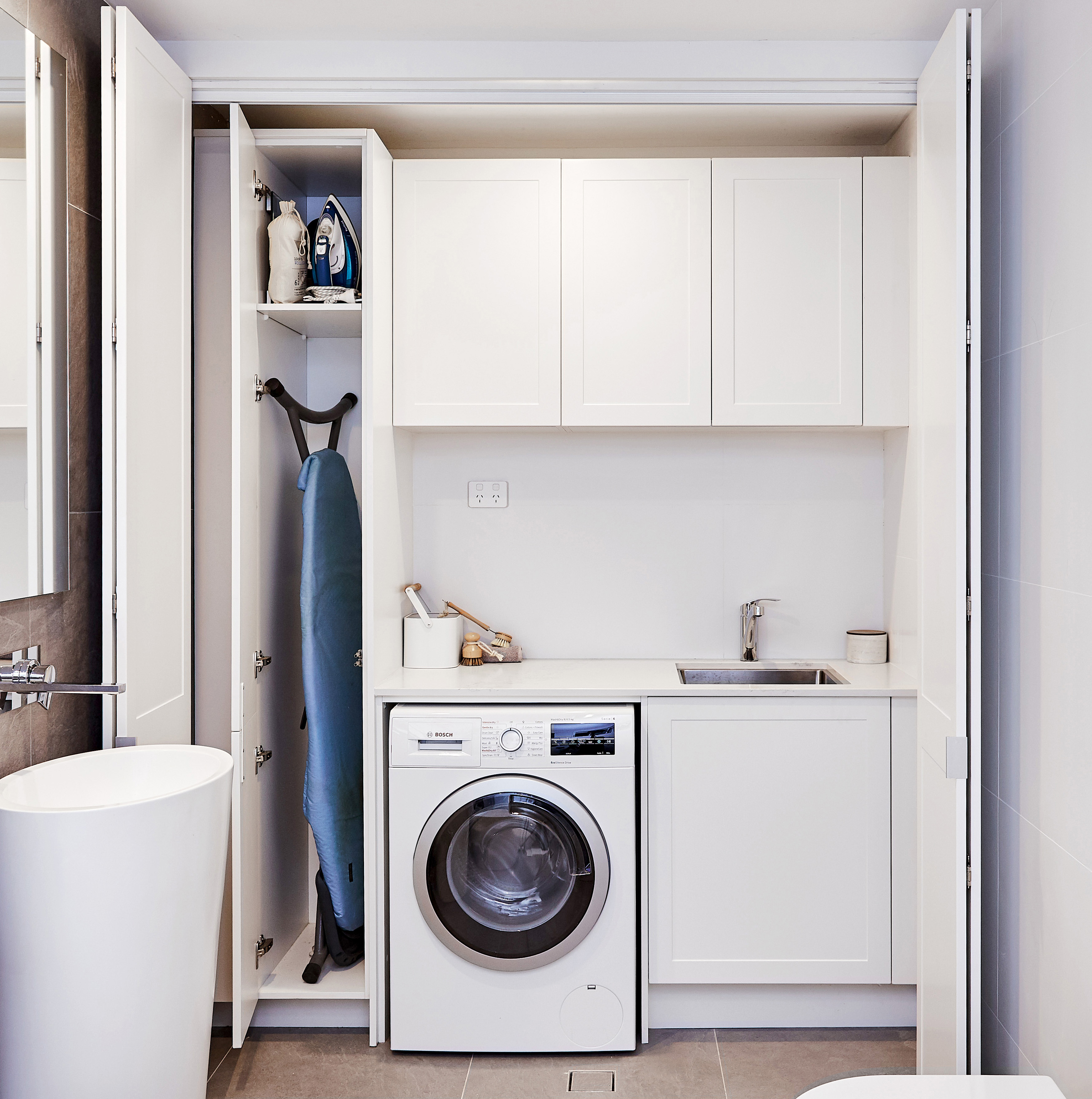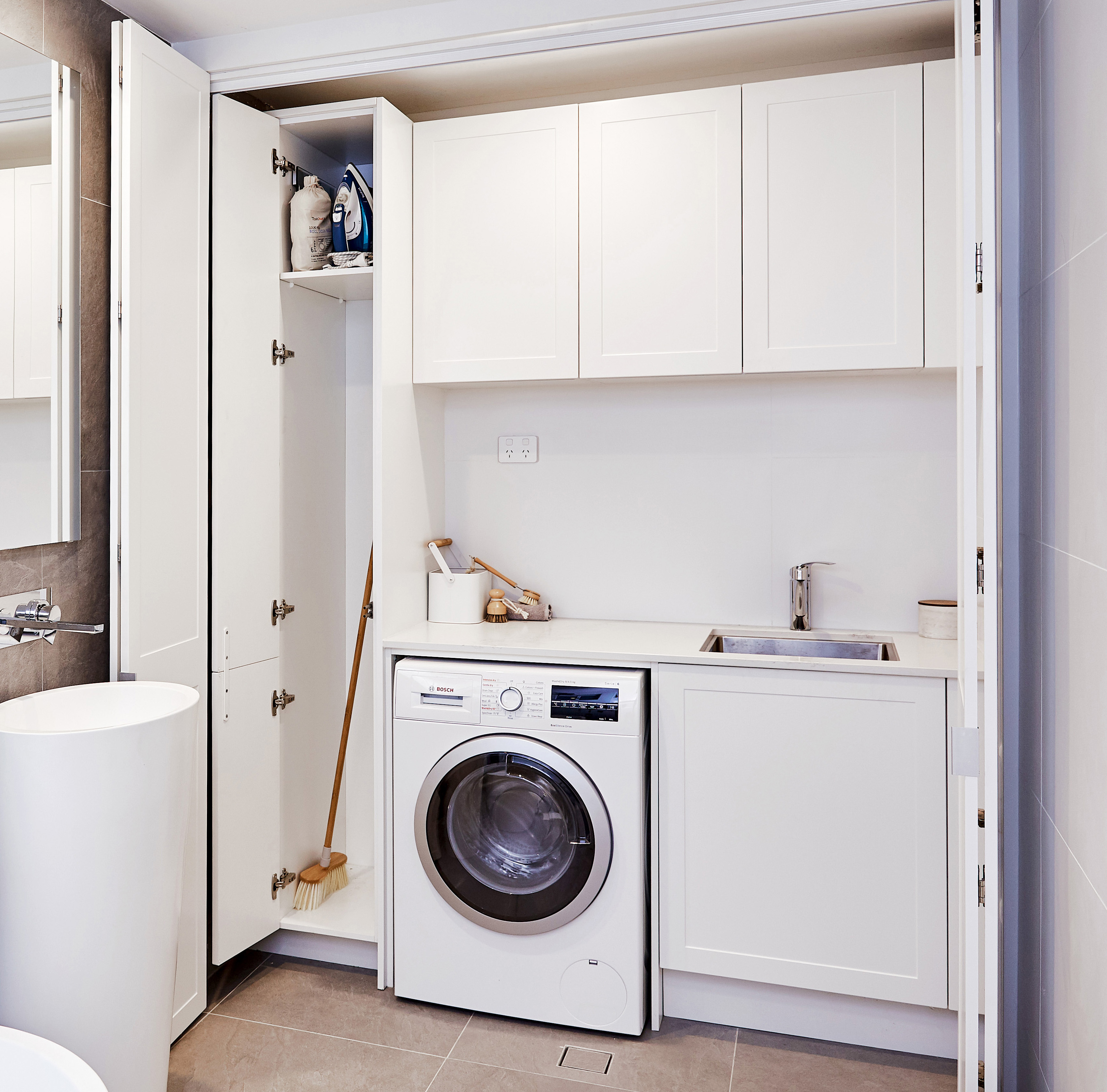 A broom cupboard offers a clever storage solution for tall items that may not otherwise have a convenient location in your home.
5. Bench Space
If your laundry design allows, bench space should be maximised. A great bench space allows for easily sorting and sorting clothes as well as moving items around from hampers to washing machines with ease.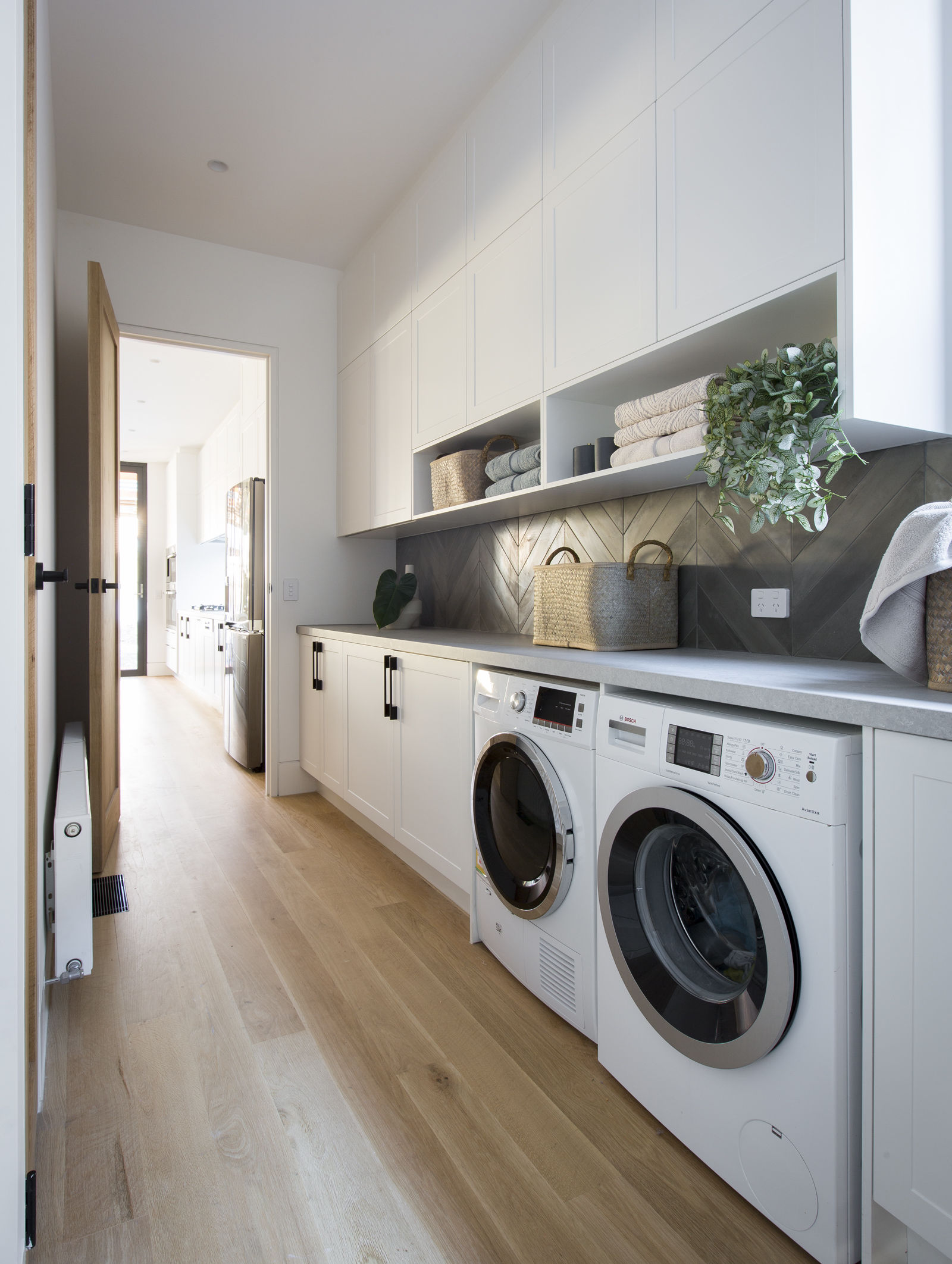 Maximising your bench space in your laundry will change the way you use this space!
Ready to clean up your laundry design and create a space you will love being in?
Book a free in-home design appointment with a professional Freedom Kitchens' designer HERE. For more inspiration, follow @freedom_kitchens on Instagram or download our new Spring catalogue HERE.