BEST KITCHENS ON THE BLOCK
With The Block's Oslo in full swing, here at Freedom Kitchens we have been looking back at past kitchens that we loved on Australia's favourite renovation show. Below we revisit past seasons and the winning kitchens that earnt perfect scores. Which is your dream kitchen style and design?
Please note, we have kept this in chronological order according to series, not favourite kitchen design – that would be like trying to pick a favourite child!
The Block 2018 – The Gatwick: Kerrie & Spence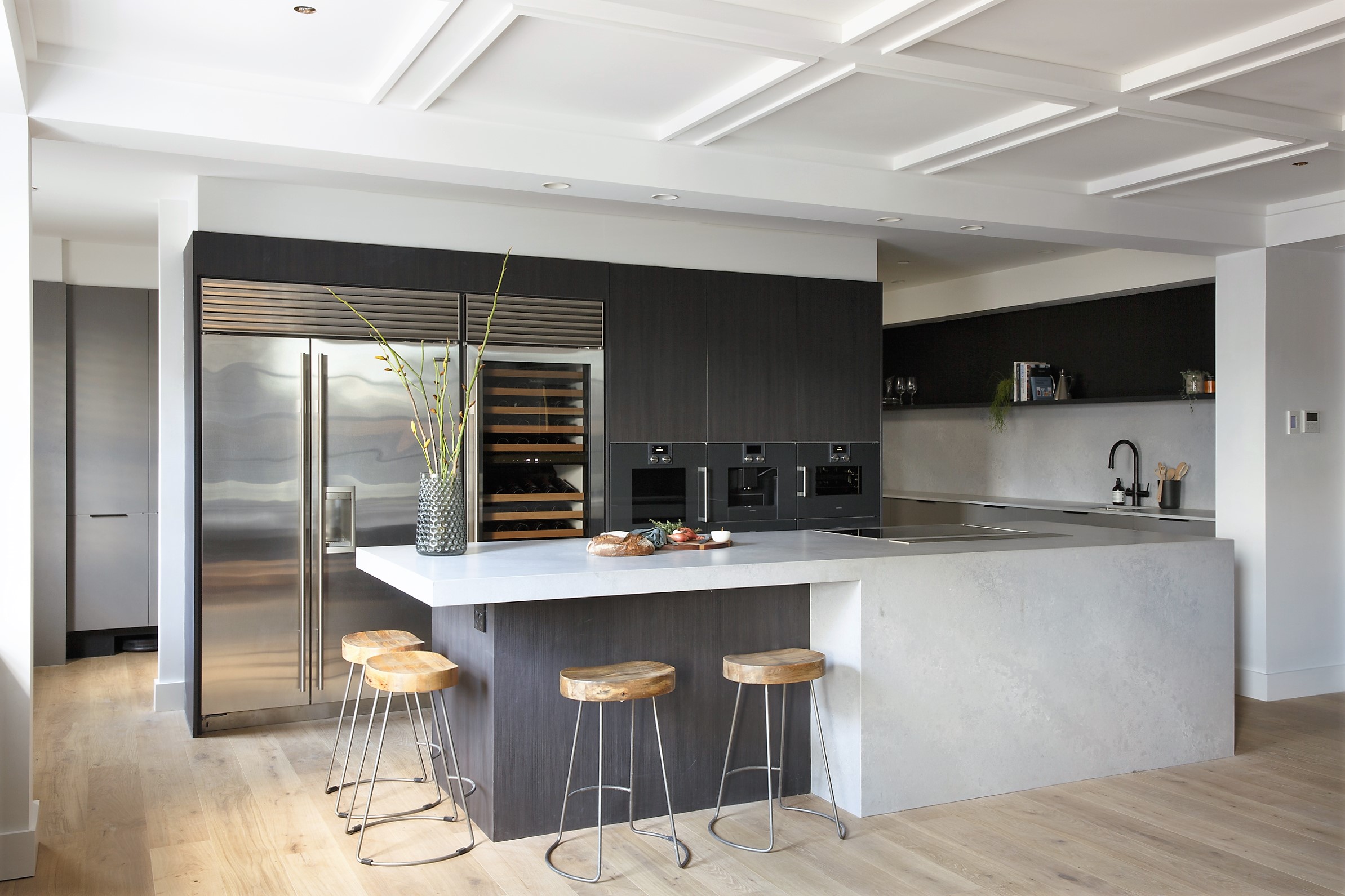 Love Kerrie & Spence's kitchen? Download the new catalogue HERE for more inspiration.
Kerrie & Spence in Apartment 1 were awarded a perfect 30/30 for their refined design using contemporary neutrals and a timeless layout. Their winning kitchen featured a sleek central stack of cabinetry in 'Burnished Wood' and 'Moose', complete with sophisticated integrated appliances including a large Sub Zero fridge, wine storage, and side-by-side ovens by Gaggenau.
Their hero island bench also featured Burnished Wood, with Caesarstone's 'Airy Concrete' taking pride of place for the benchtop with its stunning concrete-look finish. Vast in stature, the island benchtop hosts a Gaggenau ventilation system for the cooktop which rises from the benchtop from within the 'stone box'.
WE LOVE: Kerrie & Spence's "Butler's Kitchen"- it's not just a butler's pantry- it's a kitchen in its own right!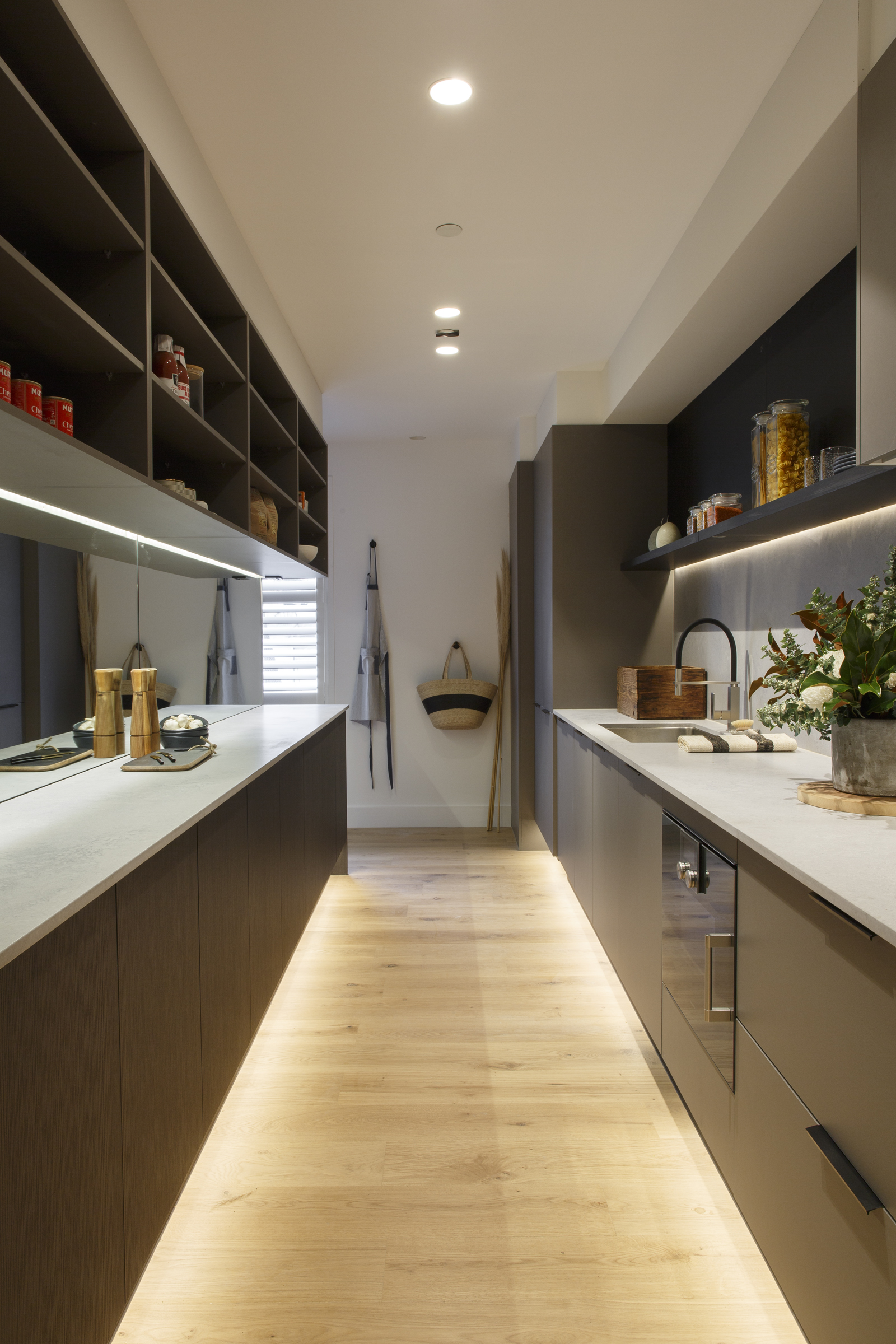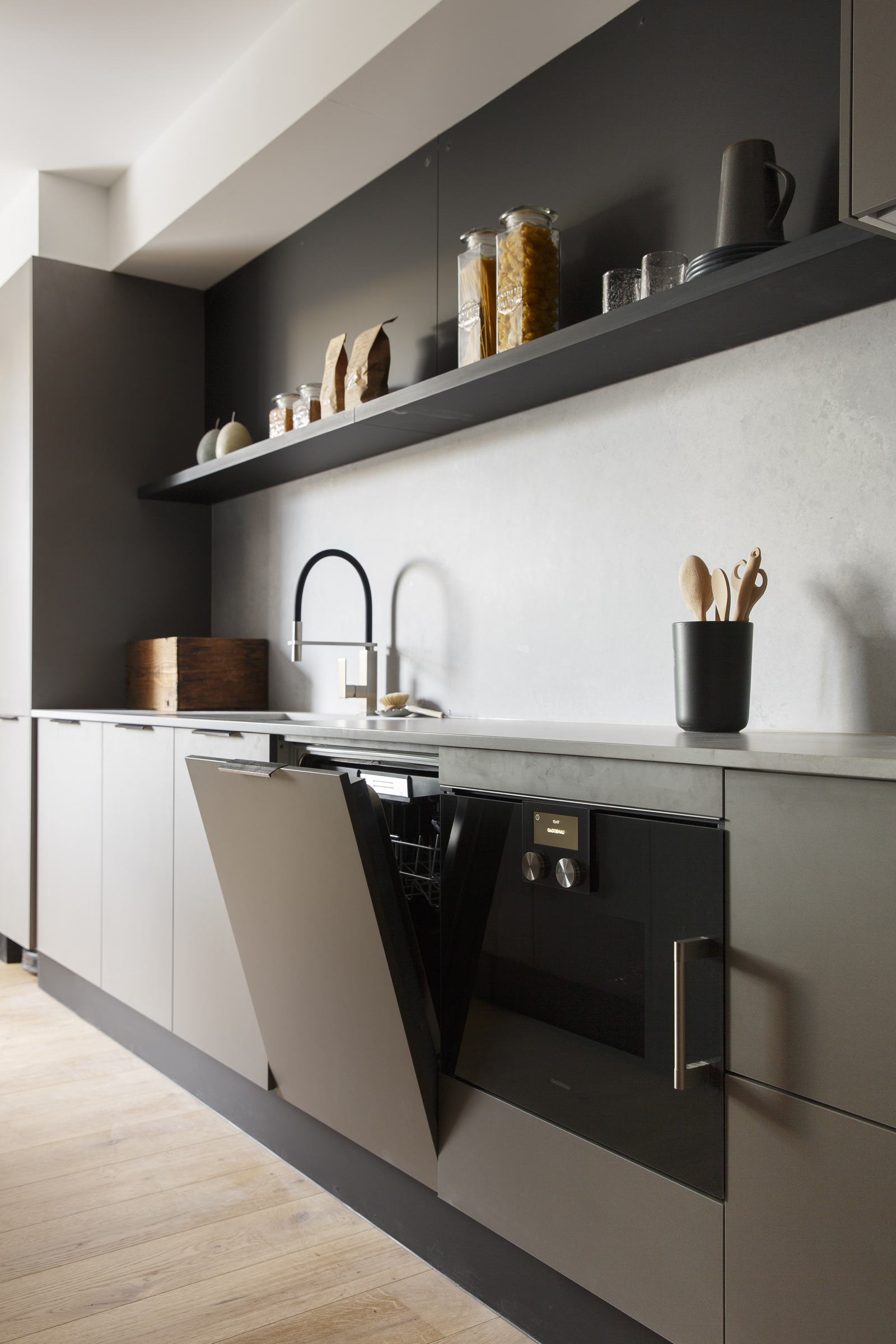 Kerrie & Spence's winning kitchen also featured a Butler's Kitchen.
The Block 2017- The Elsternwick: Josh & Elyse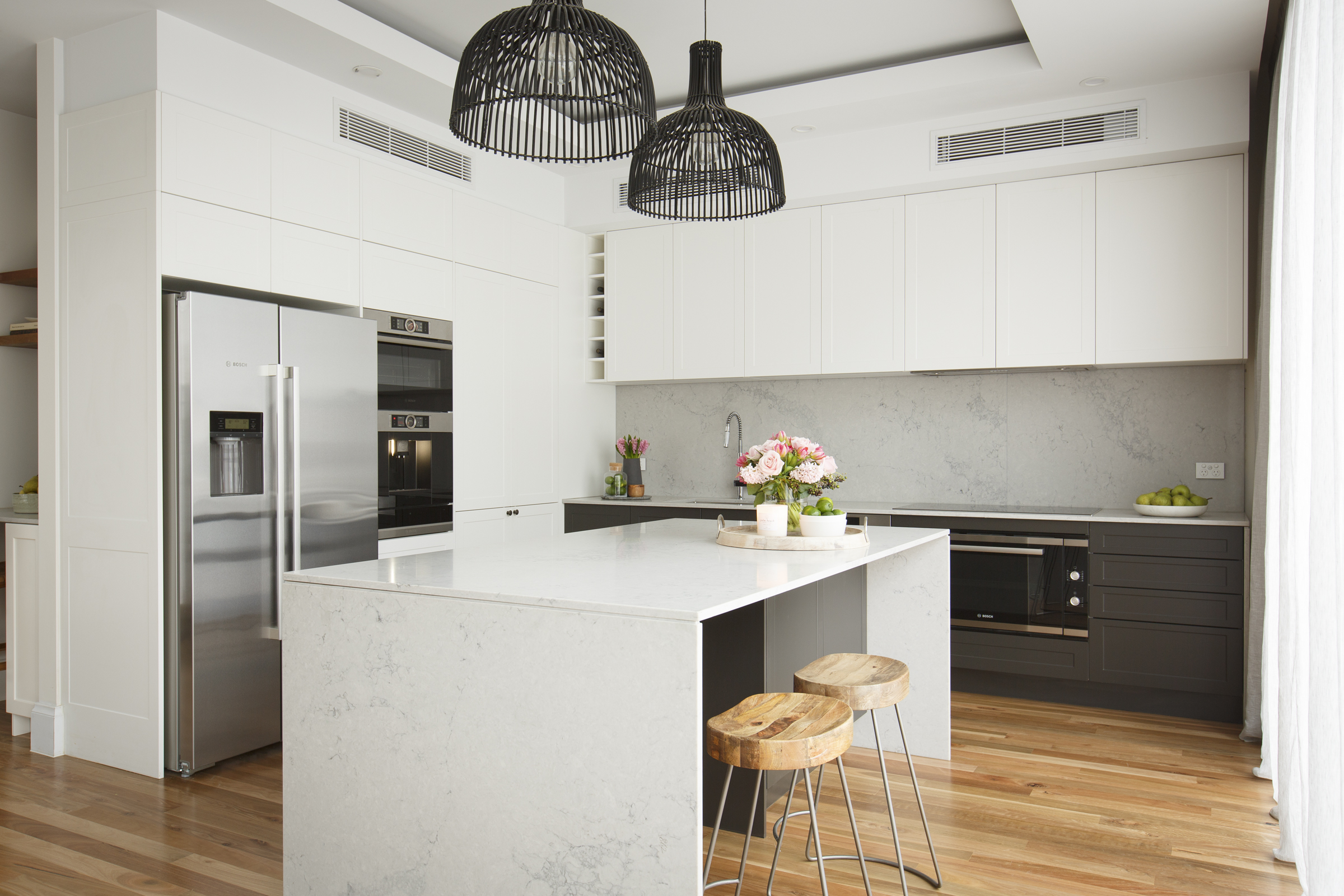 Melbourne couple Josh & Elyse, scored 10/10 for their contemporary take on a traditional Hampton style kitchen. They opted for 'Cinder' and 'White' Sierra profiled cabinetry from Freedom Kitchens to align with the look of the rest of the house, and centred their kitchen space with a luxe Caesarstone island benchtop with waterfall ends, in 'Noble Grey'.
In a risky move that paid off, their island bench was the only one oriented to face the garden rather than the living area, to enhance the feel of indoor-outdoor living. Another winning feature was their enormous hidden butler's pantry, perfect for hiding away mess. This kitchen also features beautiful Bosch appliances fit for a large family, including a freestanding side-by-side stainless steel fridge, 900mm gas cooktop and integrated coffee machine.
WE LOVE: The orientation of their island bench- it was a big risk that paid off!
The Block 2016 – Port Melbourne: Julia & Sasha's Challenge Kitchen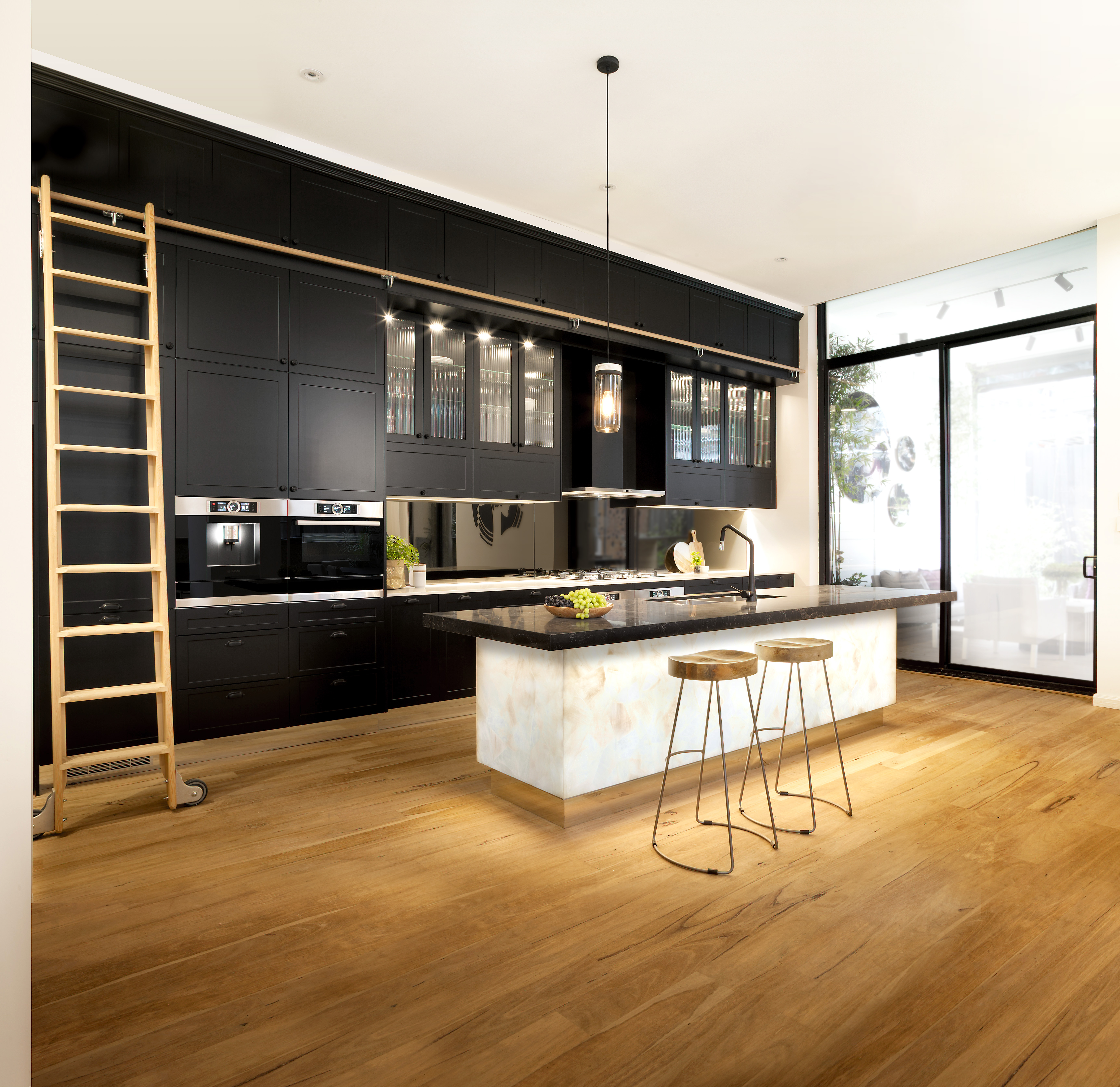 Julia & Sasha's Challenge kitchen blew the judges away.
Julia & Sasha's Challenge kitchen blew the judges away, scoring a perfect 40/40! This showstopper embodies the New Heritage style, where contemporary design celebrates heritage style, while incorporating touches of modern luxury.
There were so many standout features in this space including a stunning backlit Caesarstone Concetto White Quartz island bench. It's suspended above mirror-like board kickboard – showcasing a monolith of backlit glowing quartz. Paired with Shaker-style Sierra Black Ultramatt cabinetry and the rustic library ladder and generous storage in both the kitchen and butler's pantry, this kitchen is the perfect match for the modern-day entertainer.
WE LOVE: Being able to access the shaker style cabinetry via 'that' ladder!
The Block 2016 – Port Melbourne: Dual Kitchen Week Winners!
The Block 2016 produced not one, not two, but three 'perfect' kitchens! Explore them below.
Karlie & Will – Apartment 1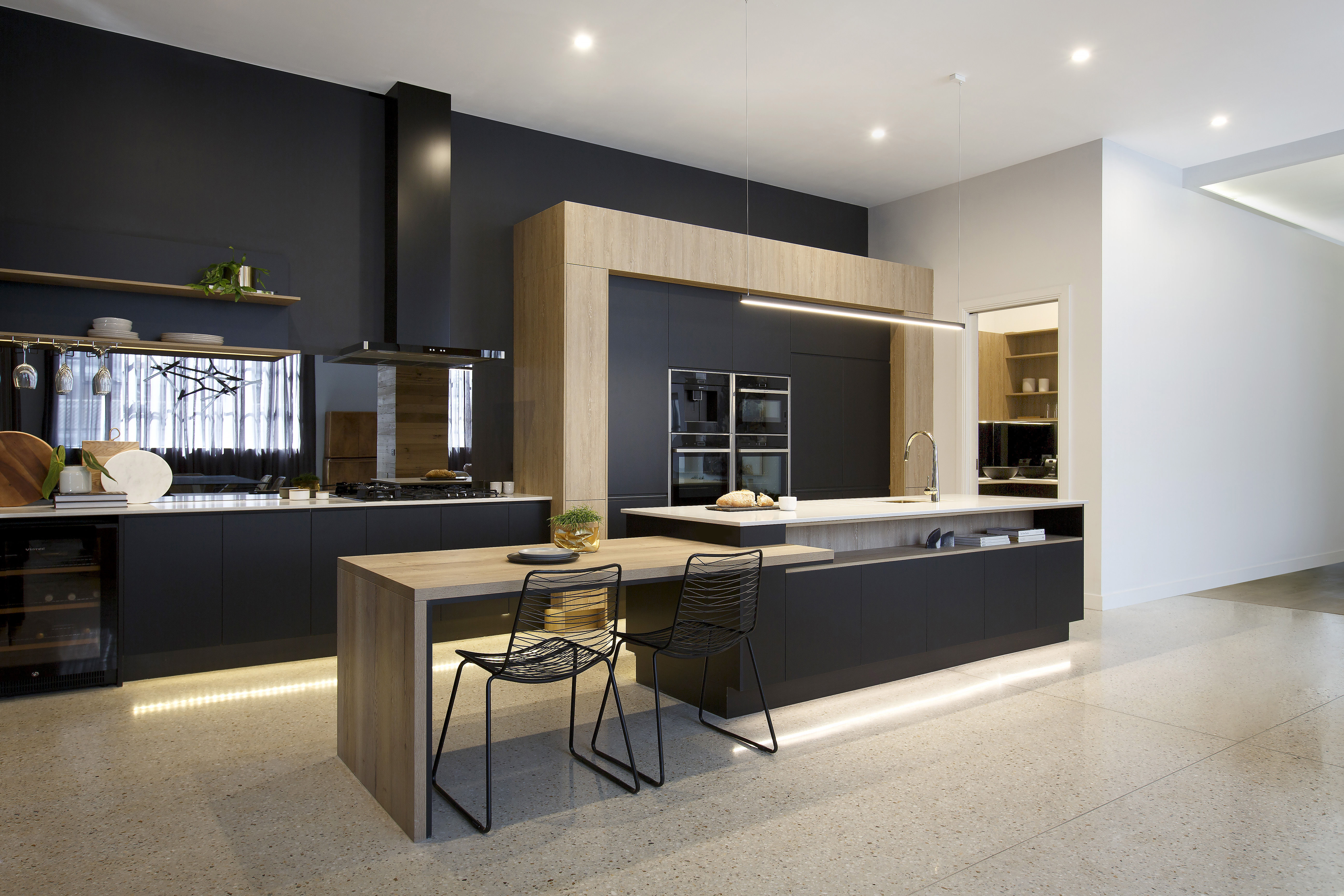 We love the use of timber-look accents in Karlie & Will's kitchen.
The pairs 'In-deco' kitchen design displayed a perfect balance between modern industrial with influences of Art Deco. A feature blockout in Rural Oak frames the dark cabinetry. The living and cooking spaces are visually linked with the introduction of a timber-look table in Natural Halifax Oak, a stunning option from the Freedom Kitchen range that beautifully replicates the appearance and texture of solid oak.
The duo used a modern palette of white, black and timber to stunning effect, with the introduction of a beautiful Caesarstone Cosmopolitan White benchtop adding another standout feature. A display enclave in the kitchen island, sleek NEFF appliances and a butler's pantry, featuring open shelving, completed this winning look.
WE LOVE: The timber-look table- it's the perfect gathering place in this stunning kitchen.
Carleen & Dan – Apartment 2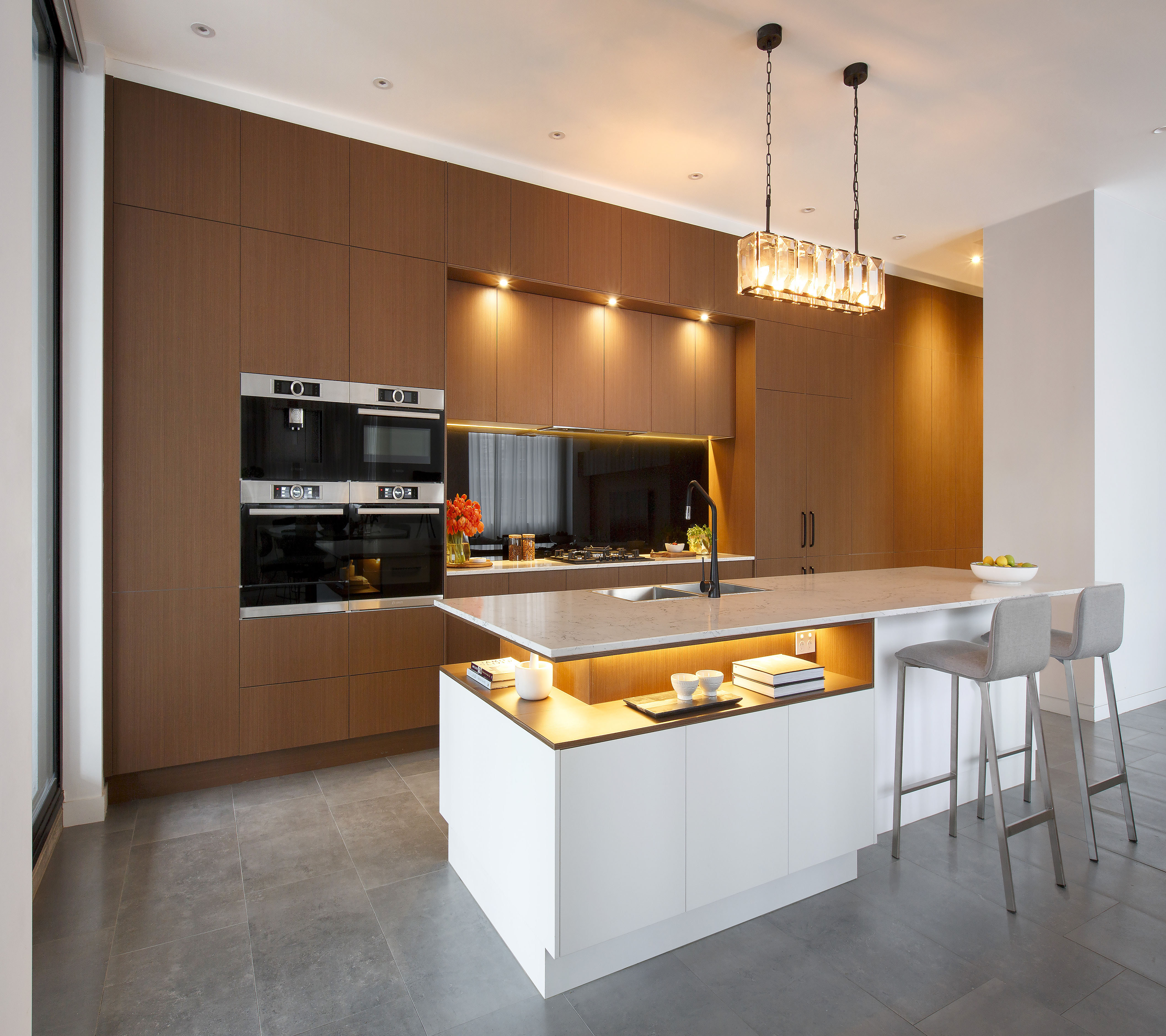 Carleen & Dan's winning kitchen features a stunning timber and white colour palette.
Carleen and Dan created a bold and luxurious design that paid homage to the beautiful Art Deco building this kitchen lies within and earned them a perfect score.
The warmth and texture of the timber-look cabinetry gave a sense of drama to the entire back run. The opposing White cabinetry is cool and smooth, contrasting with the timber tones. Caesarstone White Attica benchtops, which feature a classic marble-look design, bridged the touch catch cabinetry through a white base with dense, dark grey veins.
WE LOVE: The display nook within the island bench- it's the perfect place for cookbooks or styling elements to add personality to your kitchen.
We hope you enjoyed this trip down memory lane as much as we did!
Inspired to start a new kitchen journey with us? Why wait – start your own kitchen journey today! Click HERE to download our latest catalogue, or click HERE to book a free design appointment at your home.