With a shift towards kitchen designs that celebrate natural and raw finishes, as well as earthy colour palettes in 2021, bringing texture and colour into your new Freedom Kitchens design is something you should definitely consider.
Below, we take a look at our favourite ways to incorporate colour and texture into your kitchen design in a way that is thoughtful and complements the style of the room and your entire home. From your cabinetry selection to benchtop, splashback and handle choices there are so many exciting ways you can add interest and details into your new kitchen!
Cabinetry.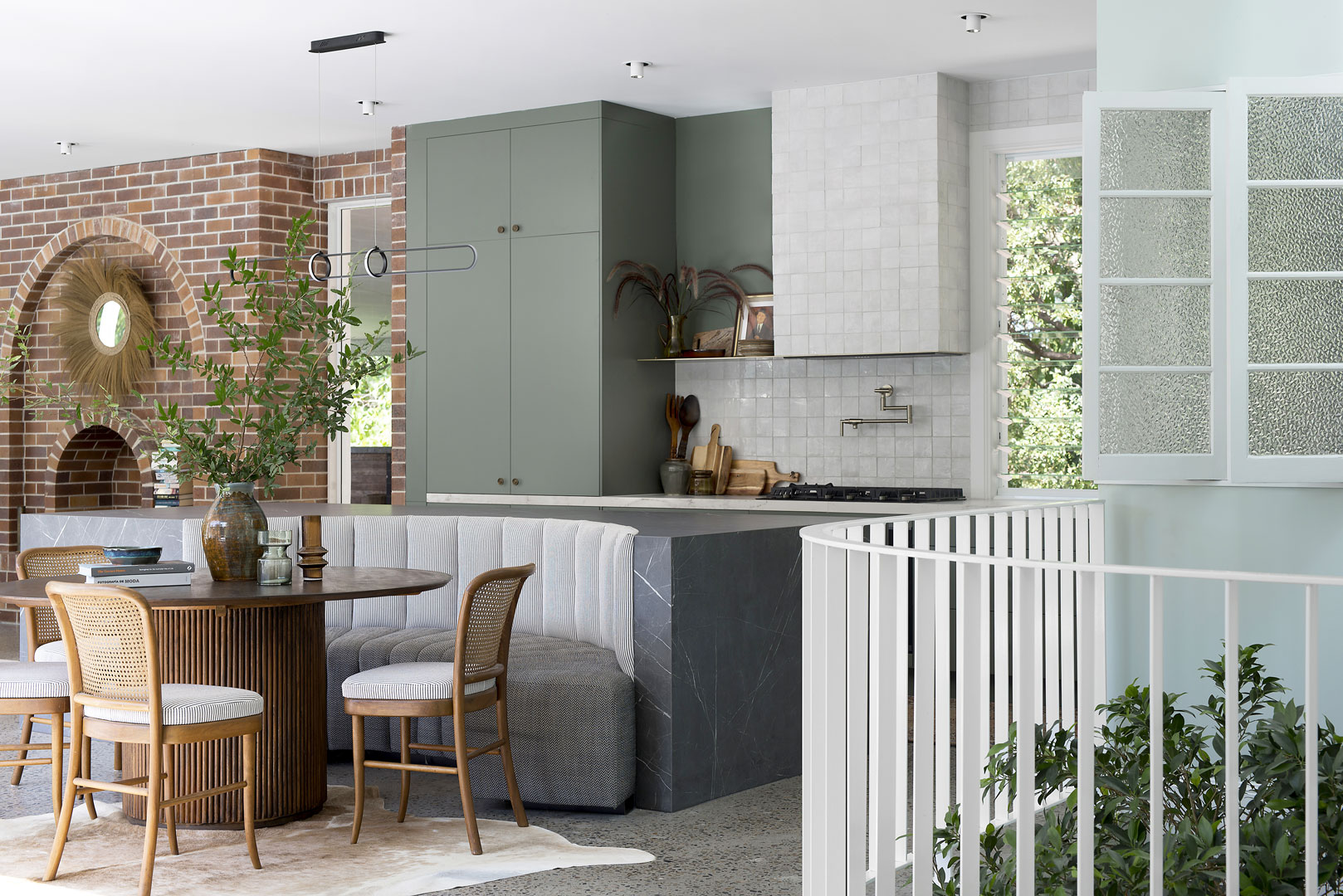 Here at Freedom Kitchens we are pleased to offer a wide variety of door options, both in a range of colours and profiles, to suit any kitchen style and your personal taste. One of the trends we are most excited for this year is a focus on using colour that mimics the great outdoors, such as our Impressions Green Slate Flint that The Block Alumni, Michael and Carlene, choose for their Gold Coast family home which mirrors the green of the surrounding gumtrees, as shown above.
Beyond shades of white, cream, black and grey, you may also like to consider cabinetry that evokes a timber-look and feel, including crowd favourites Prime Oak Woodmatt and Jericho Nuance. For those who love the look and feel of concrete, our Luxe Beton Texture door is a must-see. Simply put: there is something for everyone!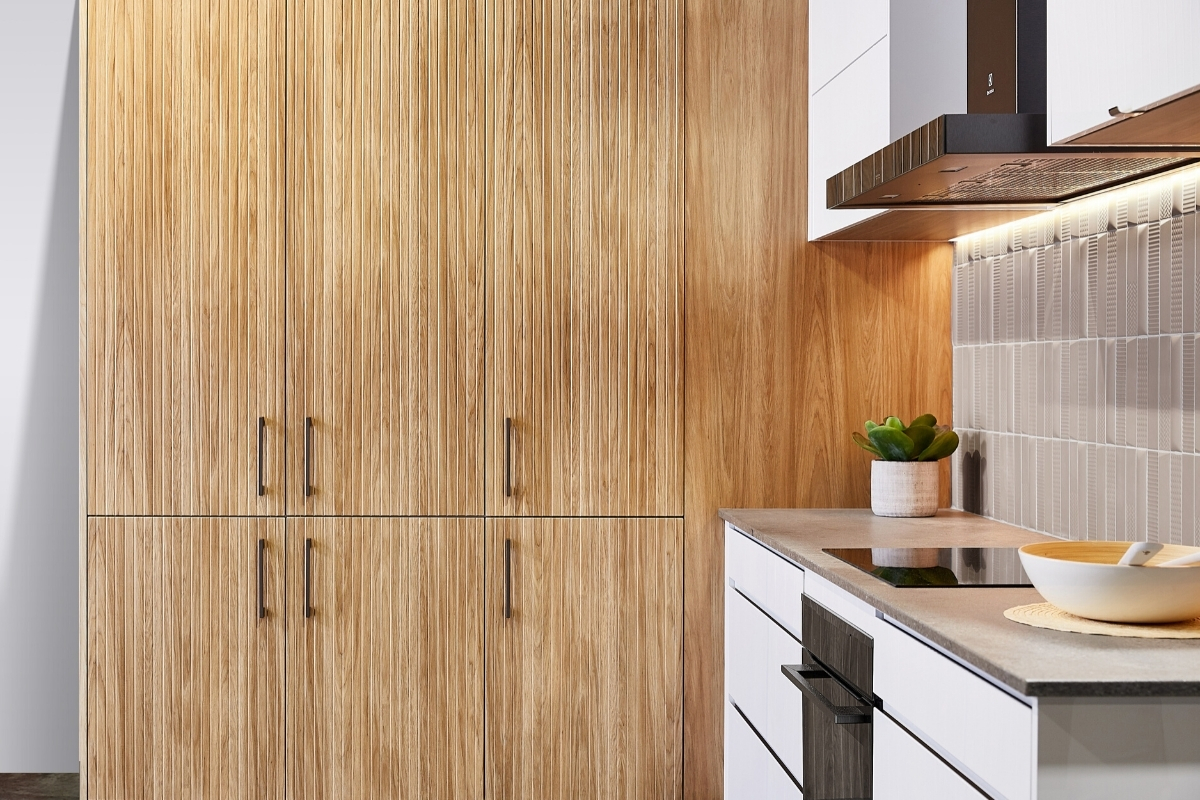 Your door profile can also add texture to your kitchen design. A detailed profile instantly adds depth to your space. For example, our new Vera and Verity door profiles can be used either throughout your entire space for a bold look, or add the perfect amount of texture and interest when used in one section of your kitchen, as such as your back wall cabinetry. Vera is a luxurious panel-look door style ideal for a modern coastal or country inspired kitchen. Verity on the other hand is a decorative, vertical fluted door profile creates an art-deco look and feel, perfect for a mid-century modern home.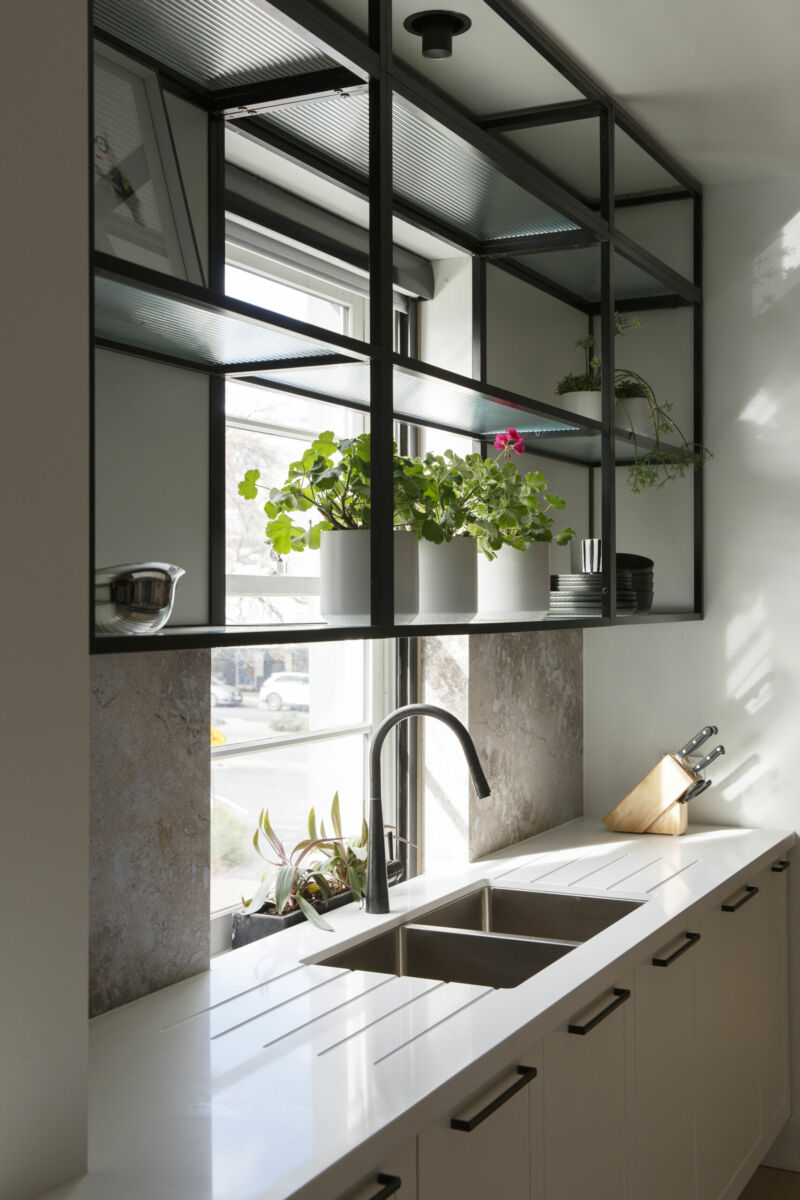 For a subtle look that suits both modern and traditional kitchens alike, our 2020 Black Alumin anodised matt black frames with glass shelves; providing a striking visual effect. They're a clever way to incorporate extra overhead storage without blocking light and allow you to style with both kitchen and living décor to connect your open plan living. These are also available with melamine panel shelving.
Benchtops.
Elevate your kitchen design with stunning benchtops. Whether you choose one of our premium laminate benchtops or a quartz surface from Caesarstone®, your selection will allow you to add an element of texture and colour to your kitchen.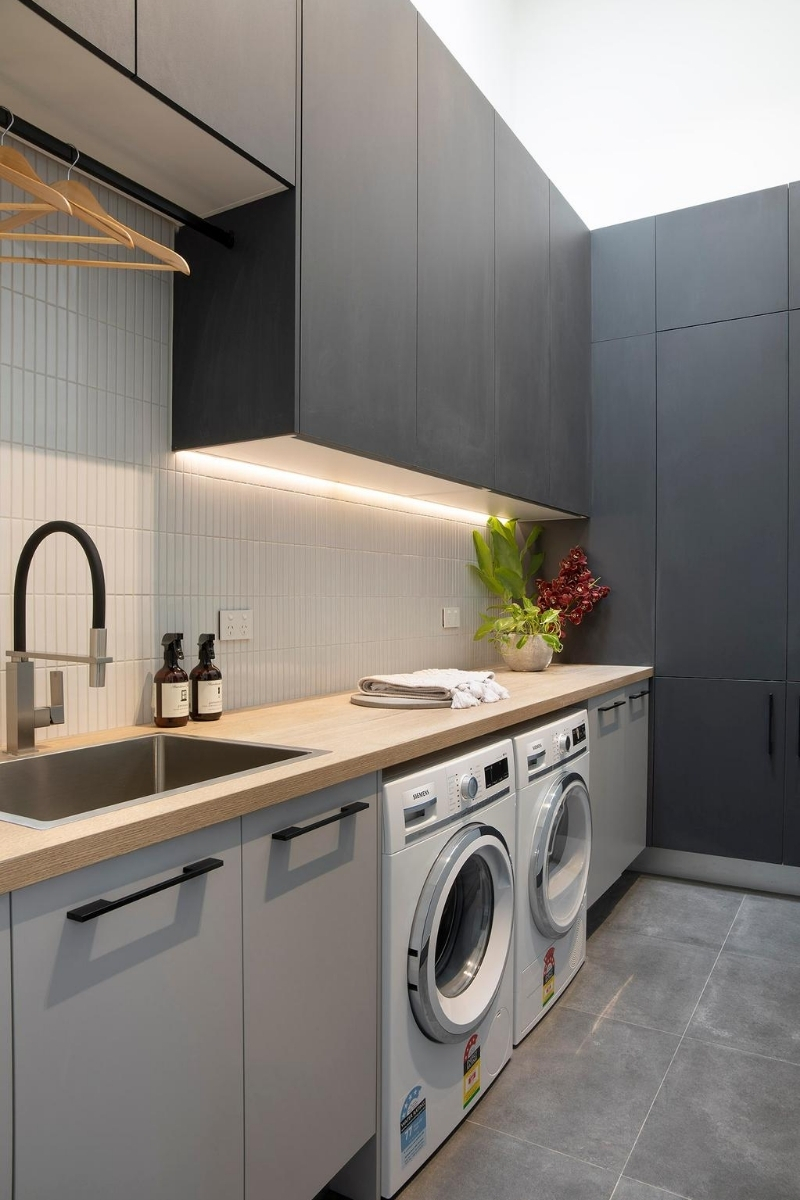 Laminate benchtops are a stylish, low maintenance and cost-effective option to create the look you want, including our Premium Halifax Oak Benchtop Range where the authentic texture of timber is characterised by knots and planking to create a natural wood feel. Vertical grain edging is also applied at the end of the run, mimicking solid timber. This is seen above with our Natural Halifax Oak Streamline laminate bench adding warmth to this modern Country-style kitchen.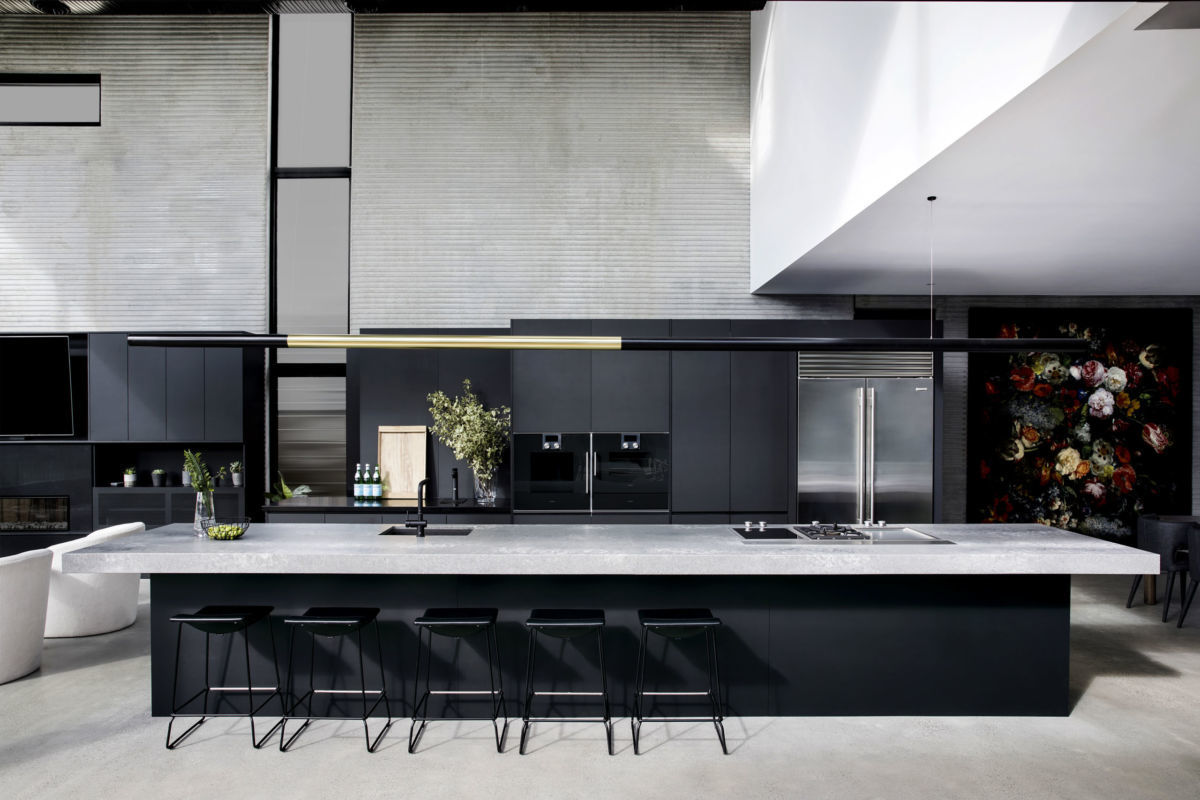 Caesarstone® is an elegant surface manufactured from natural quartz, and just like our laminate options you can select from a range of colours and styles that celebrate the look of concrete, marble, terrazzo and more. For a bold and modern look, draw inspiration from the Freedom Kitchen we created for Guy & Jules Sebastian (shown above) which features a 5.6 metre island bench topped in Rugged Concrete. To ensure that the island stands out they selected Black Ultramatt cabinetry with integrated Peak handles and back benches in Caesarstone's® Jet Black.
Splashbacks.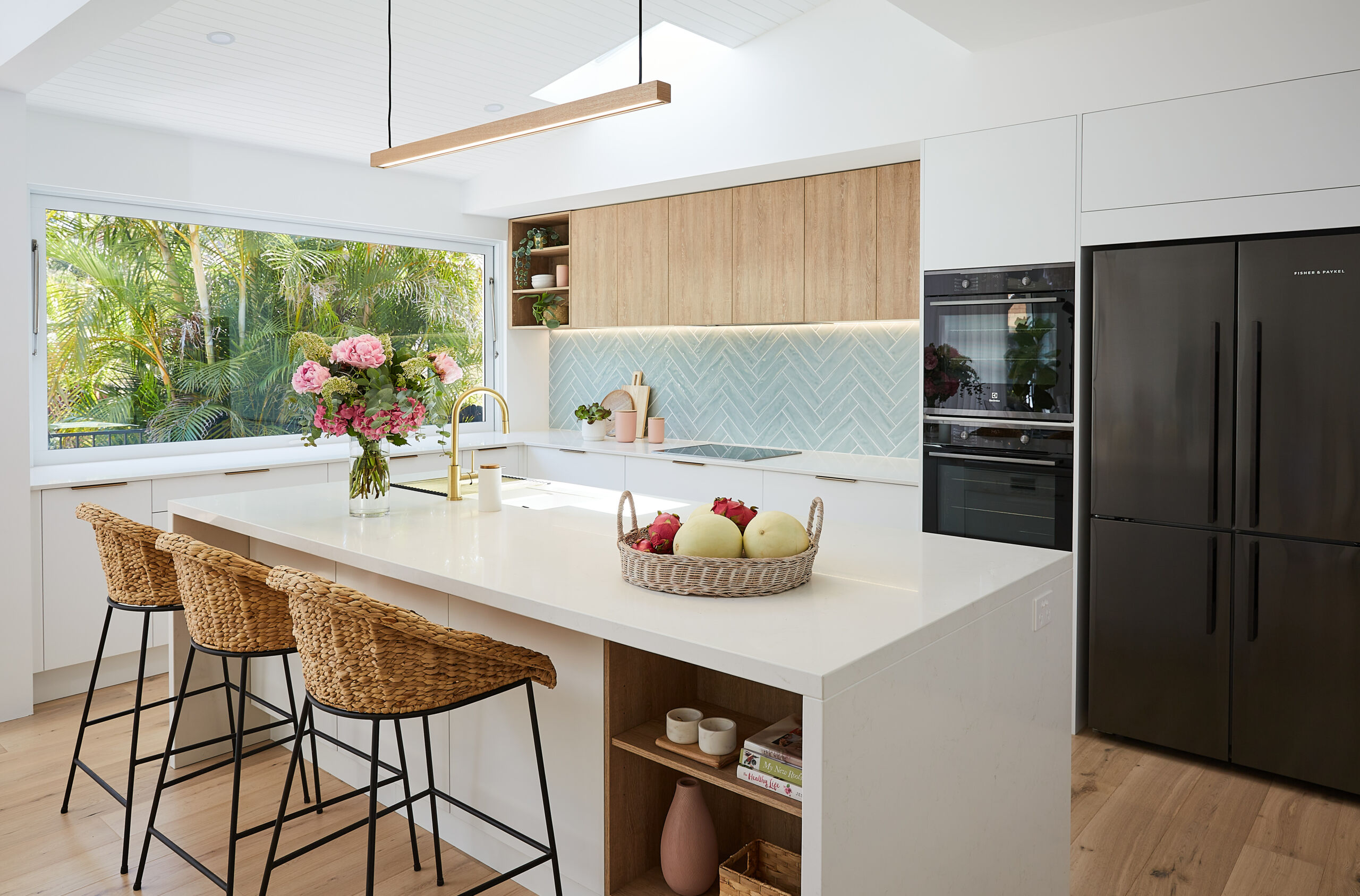 Your splashback provides a wonderful way to introduce both texture and colour to your kitchen, even if you have opted for a neutral palette for your cabinetry and benchtops. If you choose to tile your splashback the options are endless in terms of what look you can achieve through your choice of colour, size, finish and how they are laid. For example, these Herringbone, hand-cut tiles shown above are perfect for coastal-inspired kitchens, while marble-look fishtail tiles are a perfect fit for a glamorous Hamptons-style space and Bohemian kitchens suit a graphic, colourful tile design.
Alternatively carry your top from your benchtop up through to your wall, while a window splashback brings in plenty of natural light into your kitchen, allowing you to create a frame of natural beauty that will change and evolve with the seasons and as your plants grow.
Handles.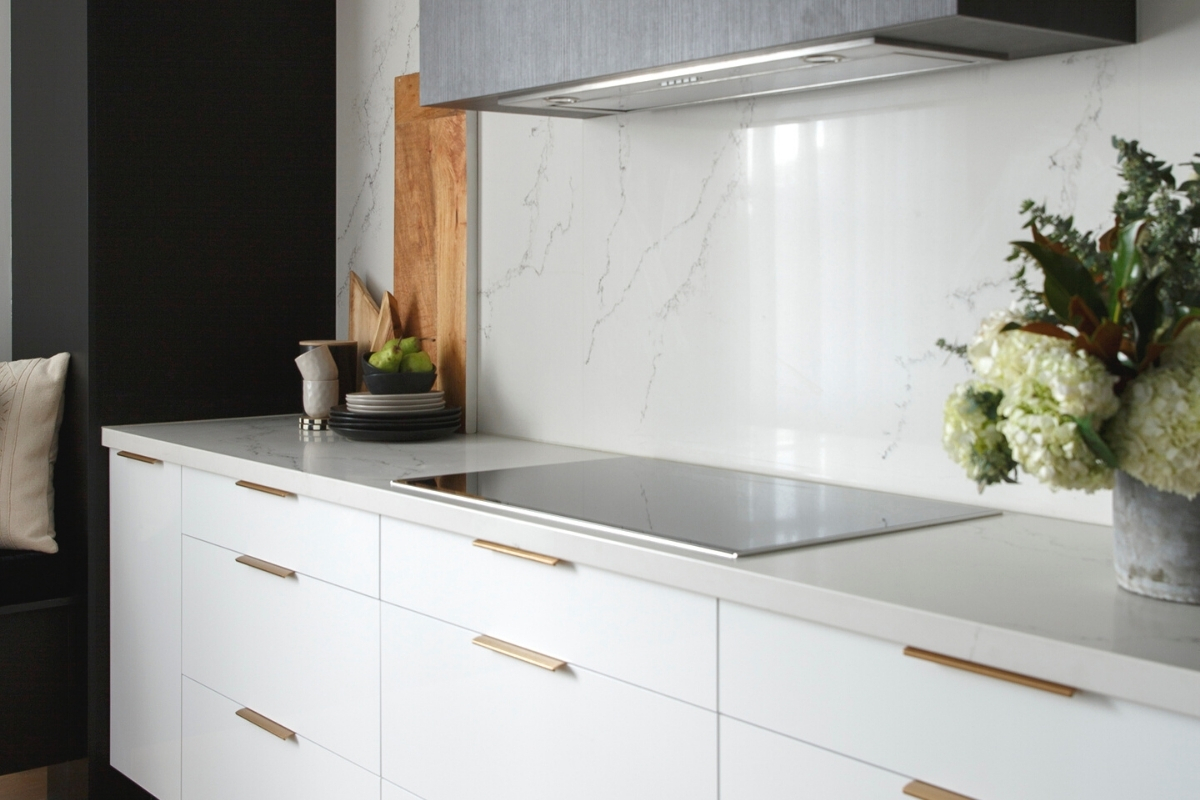 Often considered a smaller, less important detail, your handle selection actually has the power to bring your whole kitchen together. Whether you have have opted for a more neutral colour palette or a bolder more colourful scheme there is a handle to suit. Select from looks that celebrate Brass, Gold, Silver, Copper, Timber or Matte Black to add a pop of colour, depth and interest to your Freedom Kitchens cabinetry.
Styling and other accessories.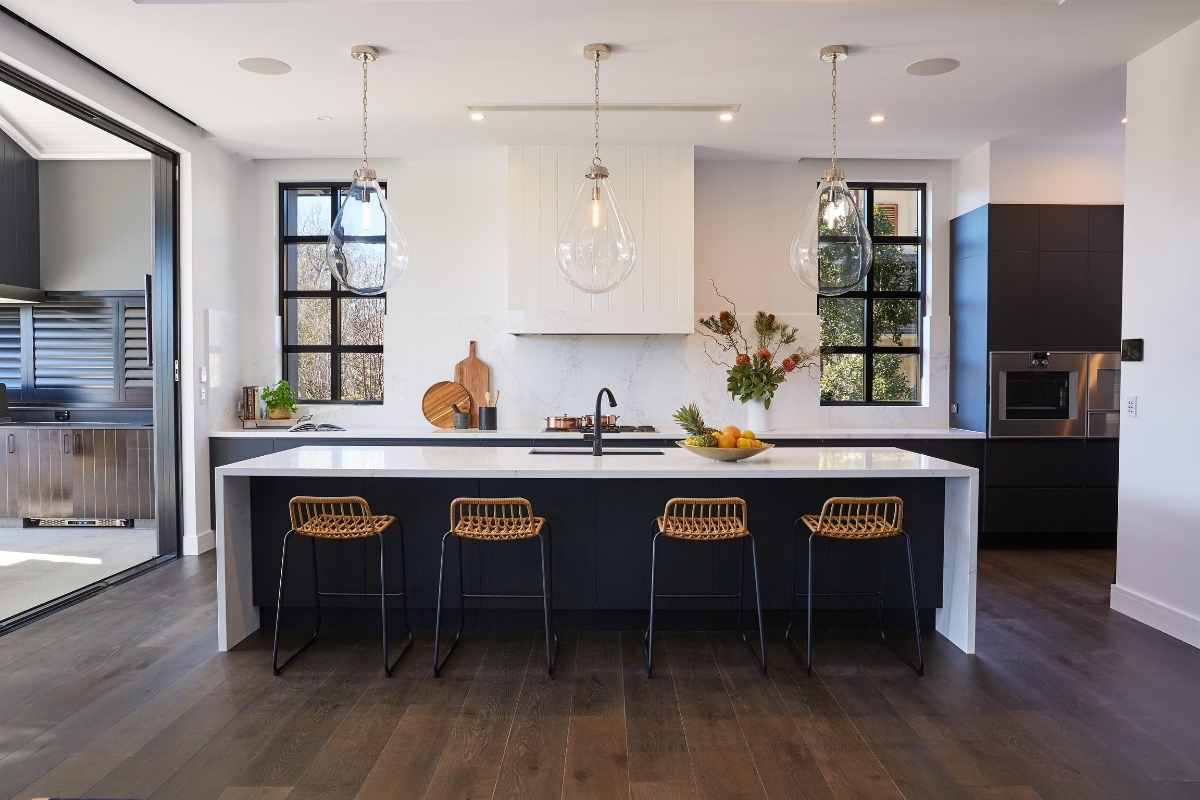 Now that you have selected the colours and finishes for your cabinetry, benchtop and splashback, your styling and furnishings will complete the look in your kitchen. Flowers and indoor plants bring in natural, living beauty. Create vignettes to add focal points within your room- we love to mix timber boards with items such as candles, cookbooks, small artworks or sculptures and other decorative kitchen items to add colour and personality.
If your new Freedom Kitchen includes an island bench, choose kitchen stools that are both functional and stylish. Select taps and sinks that complement your hardware and style of your space- we offer options in silver, brass and matte black looks.
Ready for a new Freedom Kitchen that celebrates texture and colour? Start your own journey with us today!
Click HERE to book a free design appointment at your home or a video call appointment at a time that suit you, or click HERE to download our latest catalogue.