Things I Love About These Kitchens
"Just in time for Valentine's Day, I'd like to share three of my all-time favourite kitchen concepts with you. From industrial chic to white with wow factor and smart, stylish storage solutions, you may just fall in love with them too."
SMALL SPACE, BIG STYLE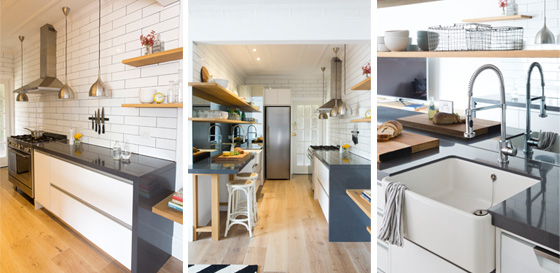 This industrial style galley kitchen is in a small space but it is packed with style and interesting design details.
I love how the materials for the cabinetry and benchtops are consistent so the flow continues throughout the space and through clever design, an eat-in bench has also been made possible.
The open shelving and mirrored splashback open up the space and make it feel larger than it really is whilst the choice of butler's sink, subway tiles and industrial style lighting are in keeping with the kitchen style.
Smaller kitchens can sometimes be a challenge to design – compromises will be made, but one thing is for sure, you never have to compromise on style, as this kitchen illustrates so well.
WHITE WITH WOW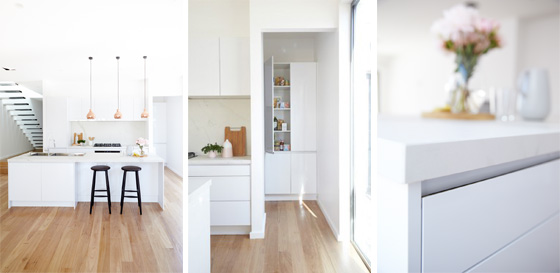 White kitchens are the most popular option for Australian renovators, they are a safe bet. But what I love about this kitchen is how if features a few simple statements and effective design ideas that take it from 'Plain Jane' to something so elegant and quite beautiful.
By now you probably know that I love nothing more than clean lines and mess free spaces. What this kitchen does so well is keep visual clutter to minimum and this has been easily achieved by integrating bulky appliances, featuring handle-less cabinetry and by adding a butler's pantry to house the microwave and smaller appliances.
I also love how the subtly textured benchtop and gleaming copper pendants instantly warm up the space.
This is a refined and well-resolved kitchen.
STORAGE HEAVEN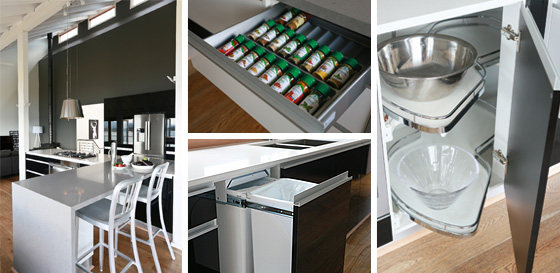 I am a storage geek. I absolutely love innovative products that help make our lives more organised and our kitchens more functional!
So aside from the on-trend colour palette of black, white and grey, this kitchen is complete with a few nifty ideas worth mentioning. The Le Mans corner carousel is a personal favourite, turning awkward corner cupboards into truly useful spaces. A dedicated spice drawer will appeal to those who love to cook, whilst the integrated bin is a brilliant idea for away sweeping benchtop mess.
Design wise, this kitchen is so clever in so many ways. Tall cabinetry has been kept to the back wall, whilst everything else is below eye level to make the most of the location's ocean view. To top it off, the choice of materials is spot on. Gloss cabinetry reflects the view and the two-tone Caeasarstone benchtops are perfect for this entertainer's kitchen.
"All the best for a happy Valentine's Day, filled with kitchen inspiration!"
Darren Palmer