Trending: Hottest Cabinetry Profiles and Colours
Kitchen cabinetry is the most dominant element in any kitchen, meaning that it's a feature that you want to 'get right'. Choosing the perfect joinery both in terms of colour and profile will allow you to create the kitchen style of your dreams, and their design will also form the basis of the rooms functionality.
Here at Freedom Kitchens we are proud to offer various door profiles in endless colour ways but we understand that it can sometimes feel confusing and overwhelming to select the best combinations for your kitchen. Don't worry though – our expert designers will guide you through the selection process during your free design appointment which you can book HERE.
In the meantime, read on as we explore some of our most popular cabinetry profiles and three trending colours that you may not have considered before.
Trending Cabinetry Profiles.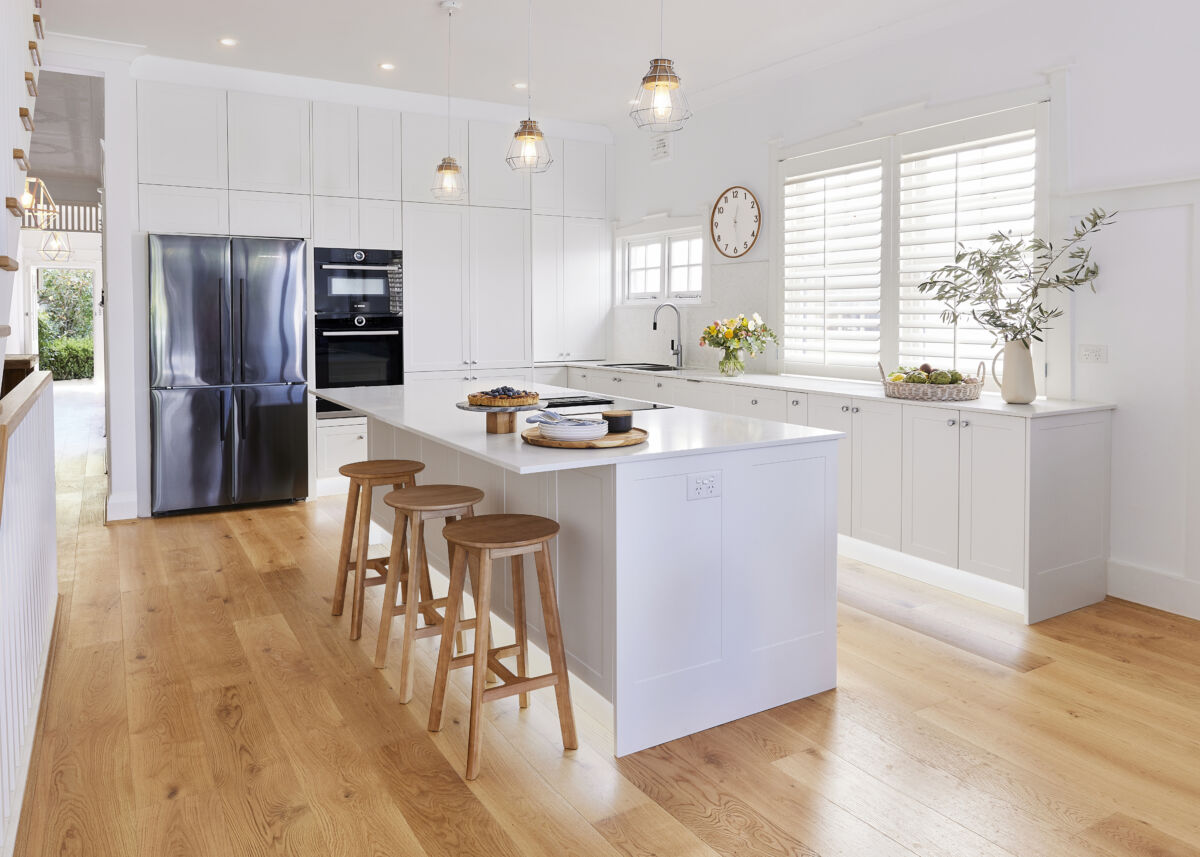 The homeowners of this stunning home in Sydney wanted to create a modern Hamptons-inspired kitchen and our Sierra cabinetry was the perfect choice!
As mentioned above, your door profile can set the tone for your kitchen style. Australian homes are currently celebrating a number of classic kitchen styles, with a focus on Hamptons, Coastal, Country and Modern-inspired spaces. This is reflected in our 4 most popular door profiles: Sierra, Cora, Vera and Flat; which will allow to create your dream look.
Sierra, Cora and Vera are from our Thermolaminated Door Range. Thermolaminated doors offer a durable finish with the option of having a profile on the door. The vinyl is wrapped around the door (including all edges) and then heat sealed. This style of door offer numerous benefits including being available in different colours and profiles, being easy to clean, and providing excellent resistance to impact- making it an ideal choice for busy households!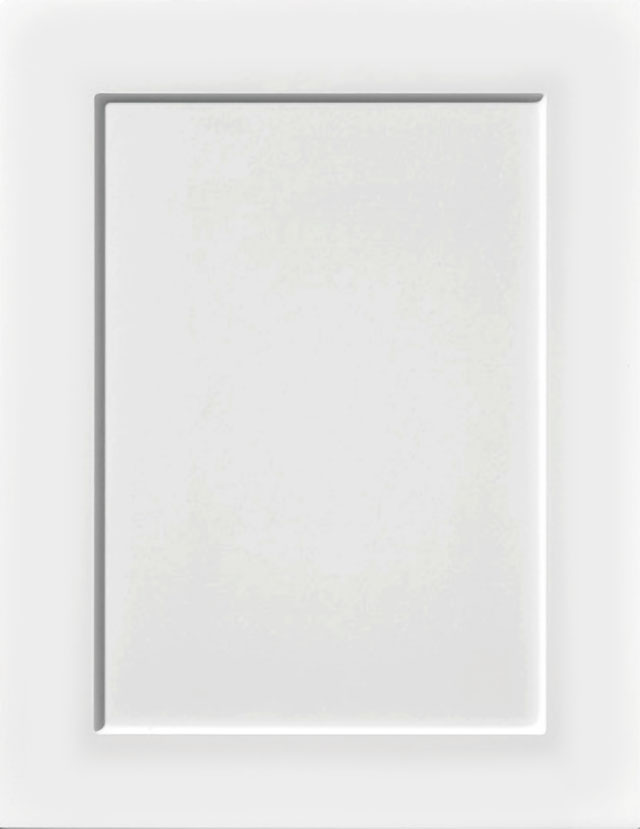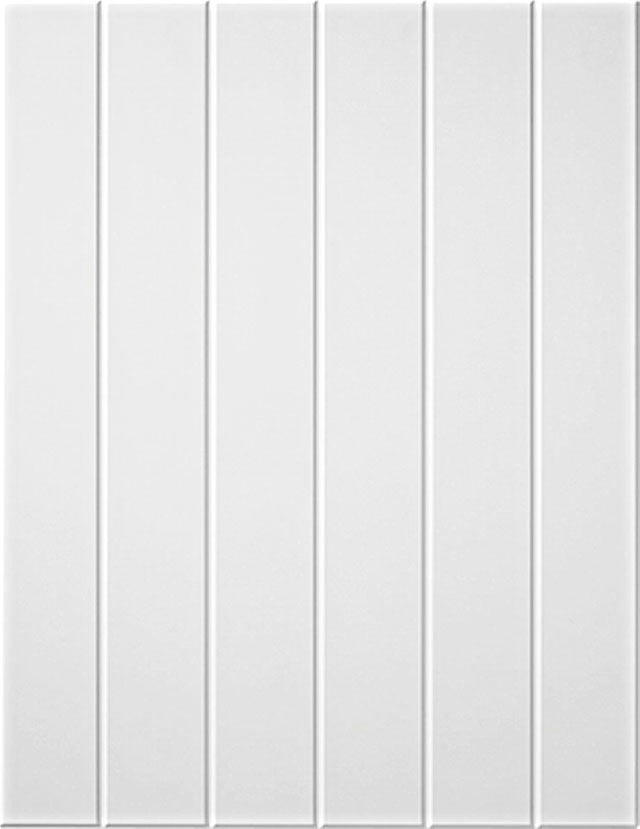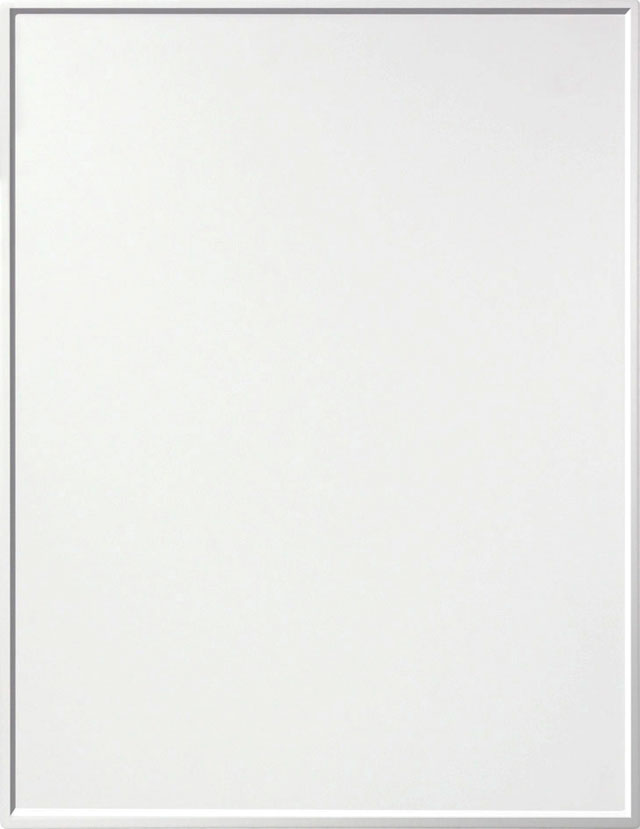 Sierra is our classic Shaker-profile door and a perennial favourite from the Freedom Kitchens range, suiting a number of styles from Hamptons, Coastal and Country. Cora is also a shaker-profile door, however its distinctly thin shaker-style profile provides a more modern and subtle effect than Sierra. Complementing a coastal or country style kitchen, Vera is a panel-look door profile available in a matte finish and looks beautiful when paired with either Sierra or Cora. 
Trending Cabinetry Colours.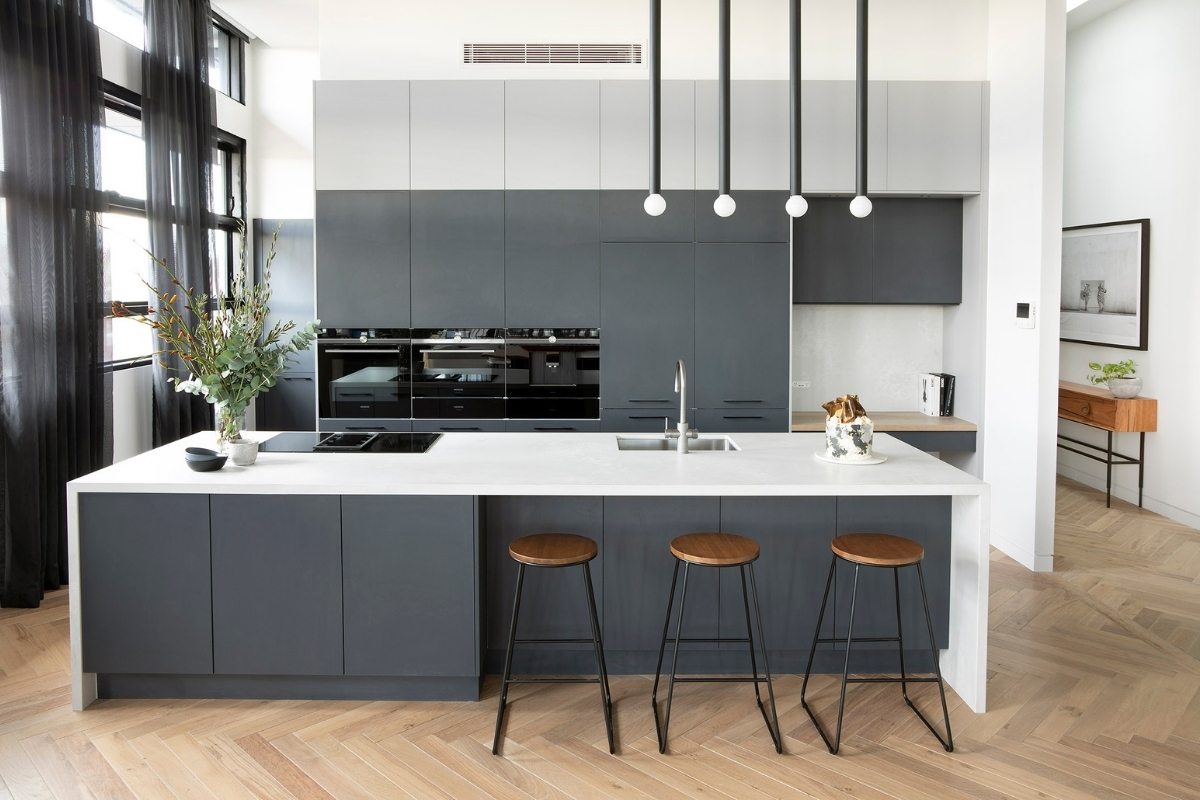 This New York loft-inspired kitchen is designed to impress with the use of deep charcoals and a subtle texture from using our Fox and Charcoal Nuance cabinetry.
One of the hottest trends in kitchen design this year (which will extend well beyond just 2021), is a rise in organic and natural palettes, with a push towards tactile and raw finishes. Our Flat Melanie Door Range is the perfect choice for bringing this look into your kitchen design. A consistently popular choice, our flat doors are available in an extensive matte colour range with textured, timber grain or flint finishes. Available in 14 modern and practical colours our favourites are Charcoal Nuance, Fox Flint and Moose Natural.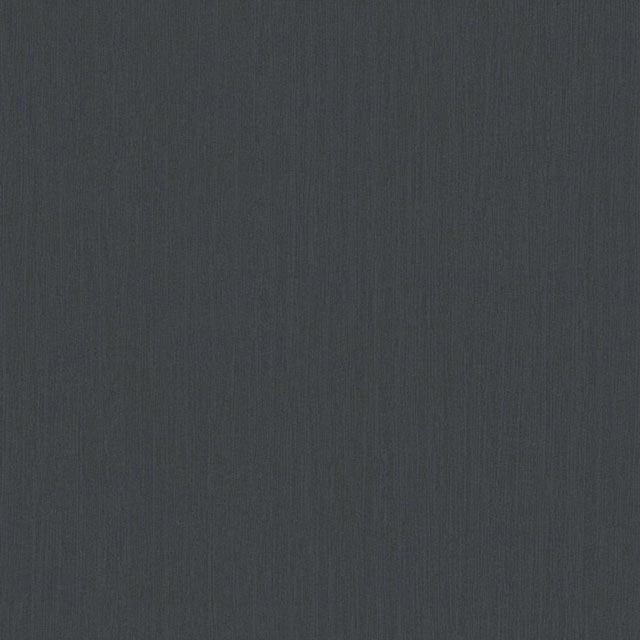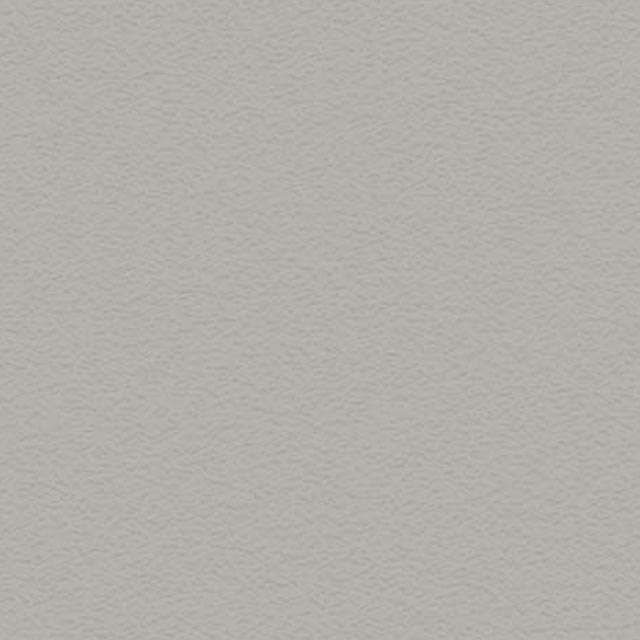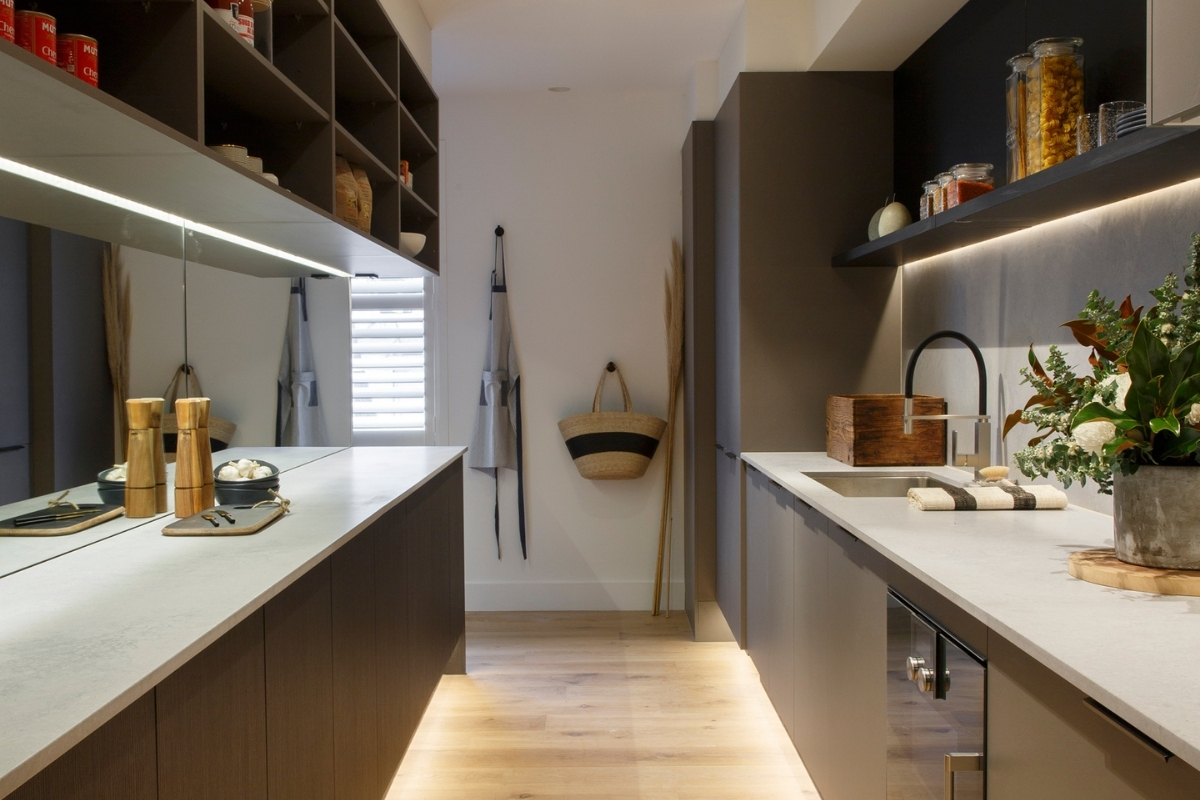 The beauty of this range is that you can achieve your desired style by mixing and matching colours within the collection, creating varying textures, tones and finishes. They provide a wonderful alternative if you wish to steer away from an all-white, black or grey palette and instead celebrate more natural shades.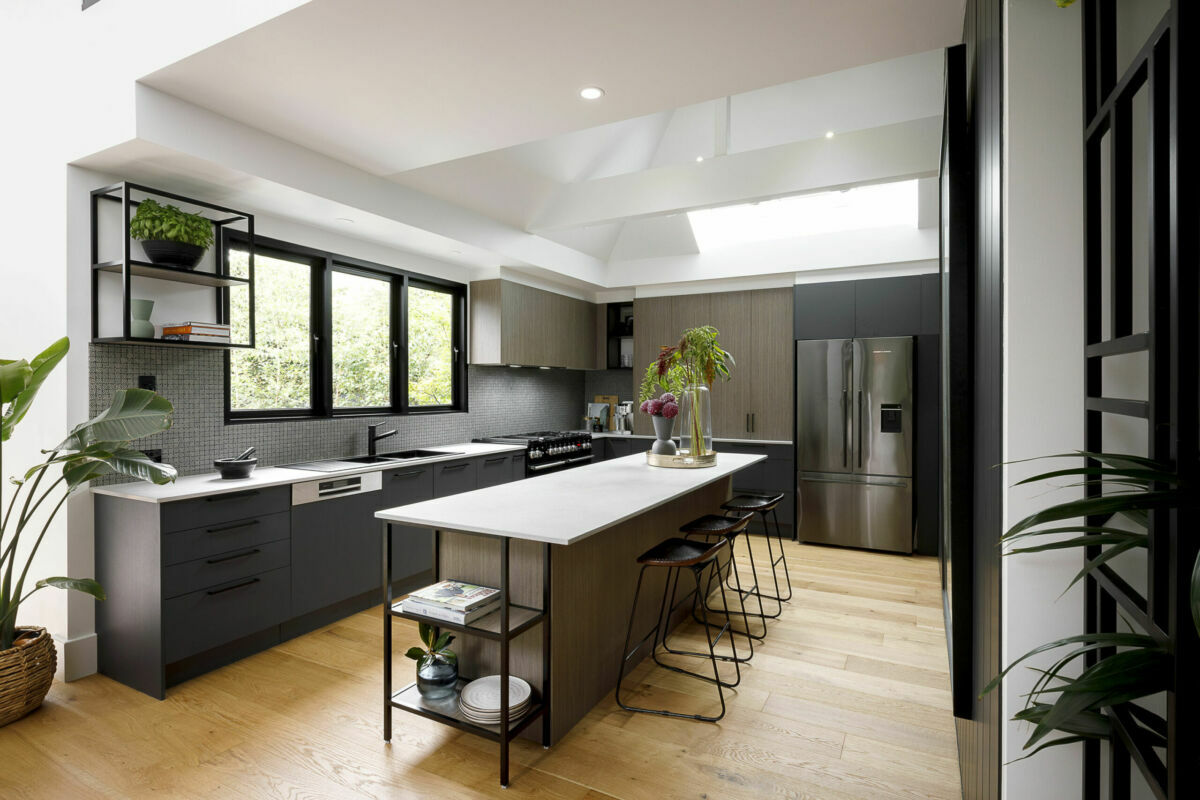 This modern entertainers kitchen in Melbourne showcases a stunning mix of Jericho Nuance and Charcoal Riven cabinetry from the Impressions range, both of which feature a beautiful timber-grain finish.
When you have selected your kitchen joinery's colours and profiles you can then begin the enjoyable process of pairing it with benchtops and handles that will bring the whole look together. We have a wide range of options to choose from so no matter your style, needs and budgets, you will be able to create your dream kitchen with us.
Create your dream family kitchen with Freedom Kitchens today!
Click HERE to book a free design appointment at your home or via video call, or click HERE to download our latest Designer Range Catalogue for more inspiration, images and product range details.