Uncovered: Our Top Kitchen Design Tips
So you've made the exciting decision to start renovating your kitchen and have booked your free design consult with us. Congratulations! In the lead up to your appointment you may have lots of questions turning over in your mind that you want to ask your designer that ensures your new kitchen is stylish and functional. Below, our designers share some of the topics that will most likely be discussed at your appointment and how they go about resolving them to create your dream kitchen.
Eliminate wasted steps in your kitchen layout.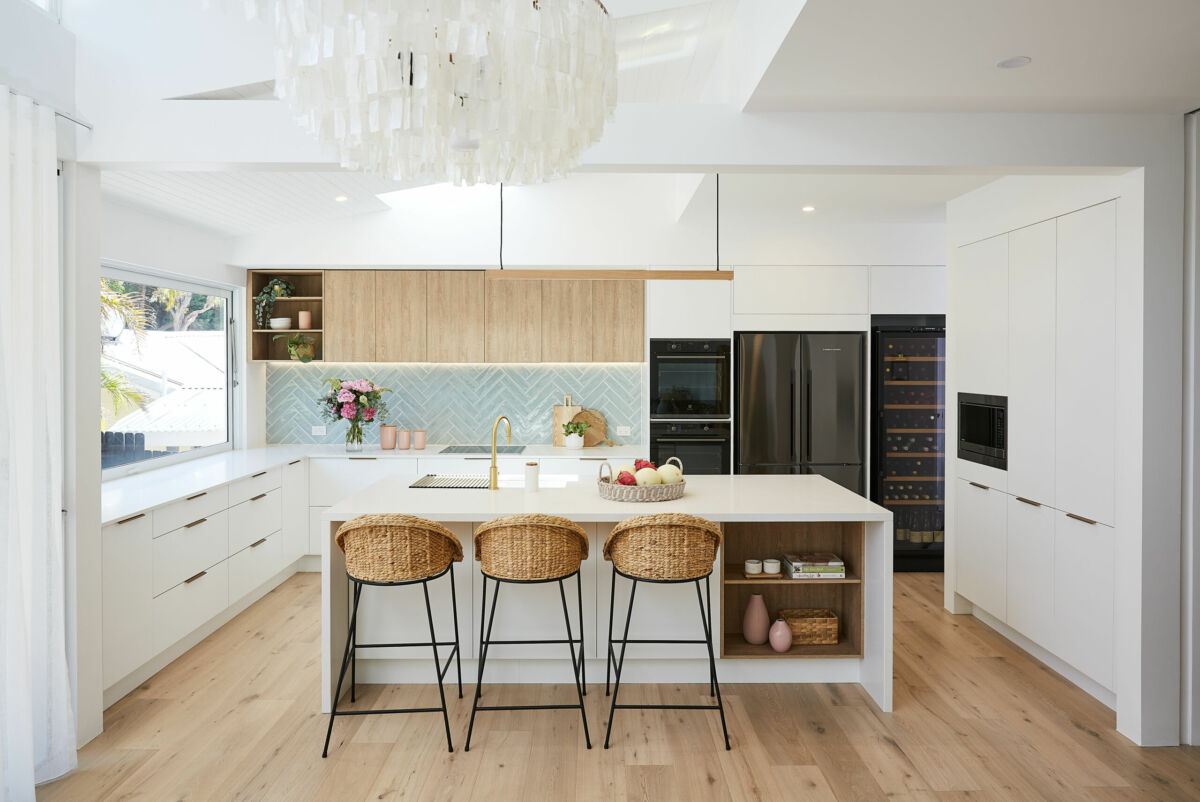 A great kitchen one that works hard and allows you to move around it efficiently. Eliminating unnecessary steps can be achieved by choosing the best layout for your kitchen based on your floorplan and your needs. Selecting the most suitable floorplan for your home will depend on a number of factors including space, workflow and appliances. A successful layout maximises the efficiency of the three key zones in the kitchen or 'working triangle' as it is commonly known: food prep, cooking and cleaning. By getting these elements right, you will be able to move around your kitchen with ease, making it a joy to be in every day.
Mix cabinets and drawers throughout your design.
Whether you opt for drawers or cupboards will depend on what you intend to store in your kitchen and the space you have available. However, we usually find that incorporating a mixture of both will yield the best results for your design. Wide cabinets are great for glassware and other drinkware, as well as small appliances such as mixers, toasters and blenders, allowing them to be accessed easily while stored on adjustable shelving. Deep drawers are a great solution for dinnerware, and larger cookware, allowing for neat storage and easy access (aka no more pulling everything out of the cupboard because you the item you want is at the back of the cupboard). Alternatively, consider shallow drawers for small jars and cooking utensils which can be stored neatly within our drawer divider inserts.
Include internal storage accessories.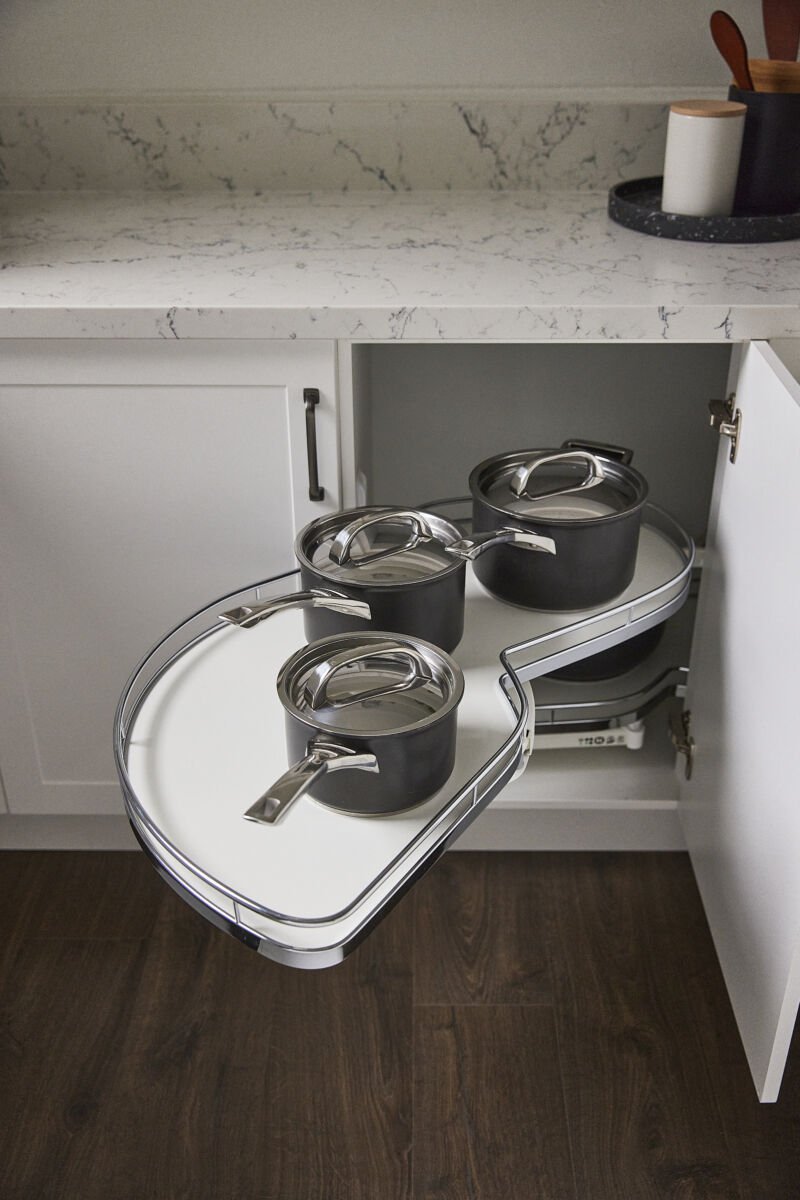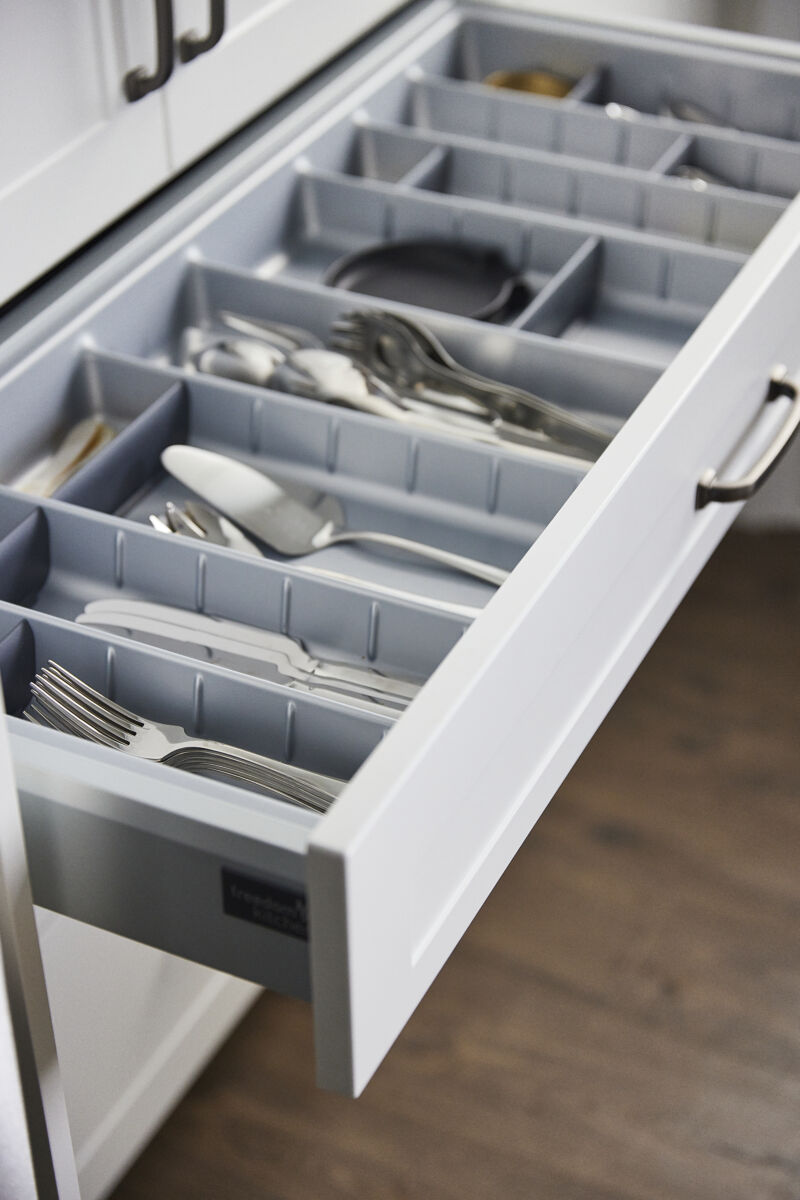 We believe that storage is king! Maximising kitchen storage is on the top of our clients wish lists when it comes to what they want to achieve in their new Freedom Kitchens, and our range of smart storage solutions have been designed to offer the solution.
Ask about our adjustable drawer dividers which make easy work of keeping your cutlery and utensil drawers tidy. Our collection of wire pull outs include drawers and pantry designs so every inch of space is used in your kitchen, while our Corner Carousels transform those pesky corner cupboards.
Store pots and pans by your cooking appliances.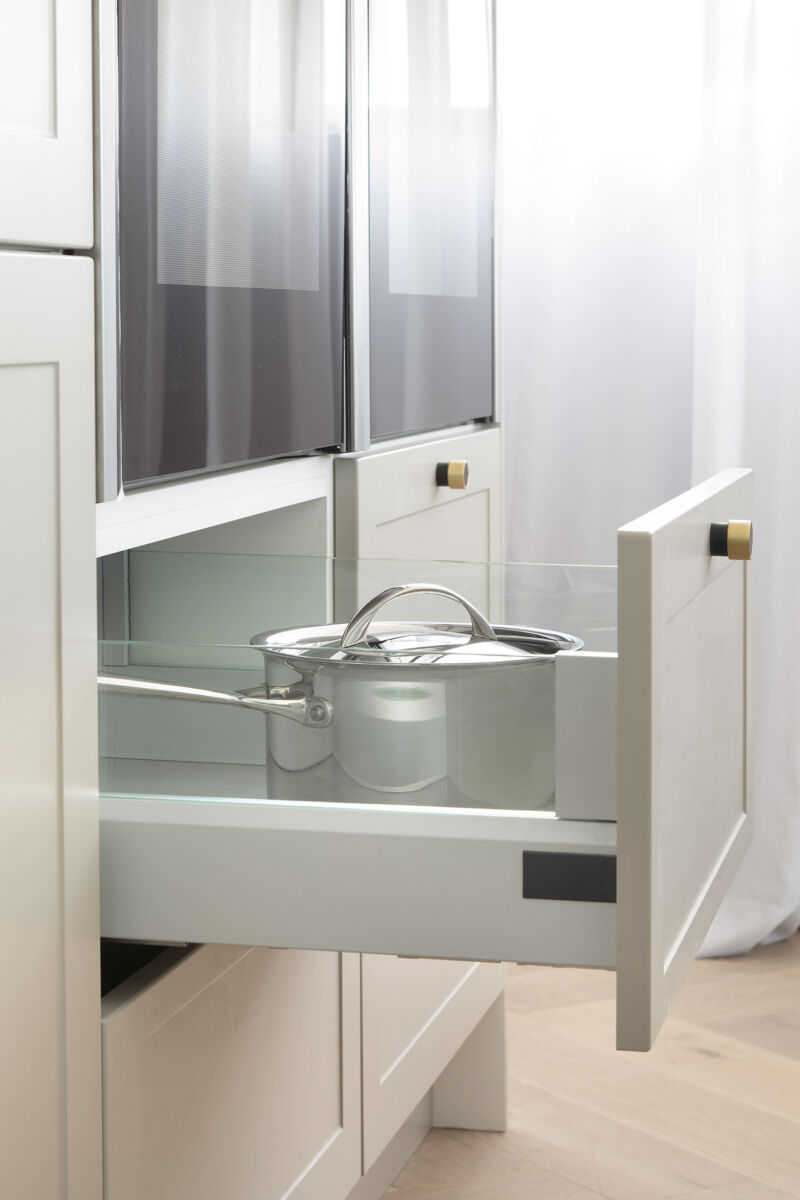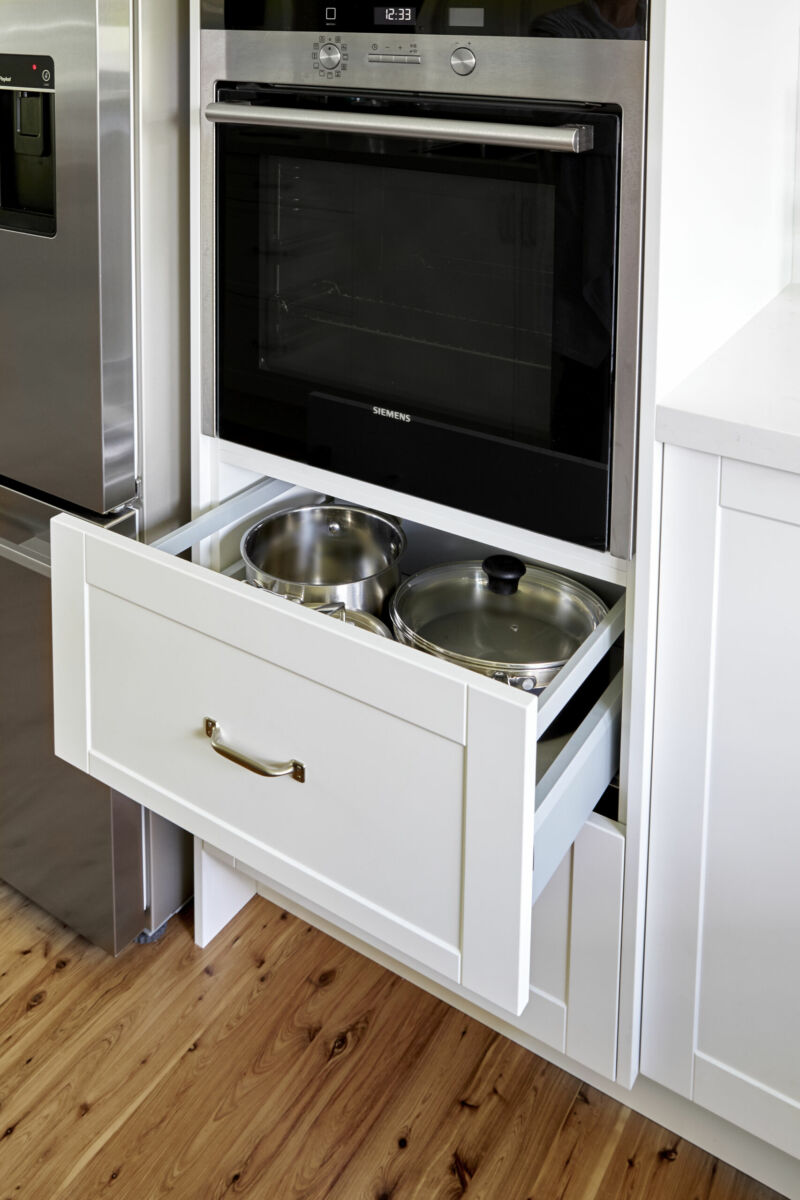 Often large, heavy and bulky, your kitchen pots and pans can be tricky to store and move around in your kitchen. When designing for where to store them, we recommend placing them in deep drawers by your oven and cooktop to minimise the distance they need to be transported.
Find a home for your small appliances.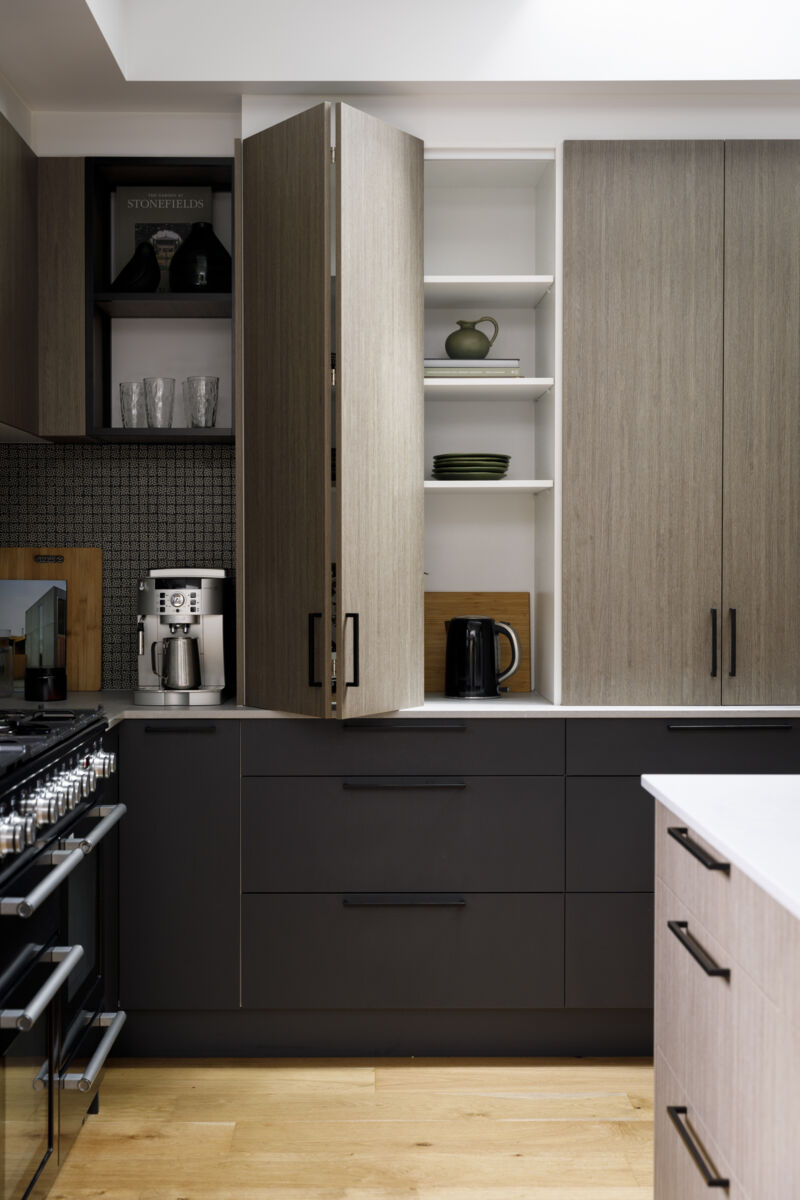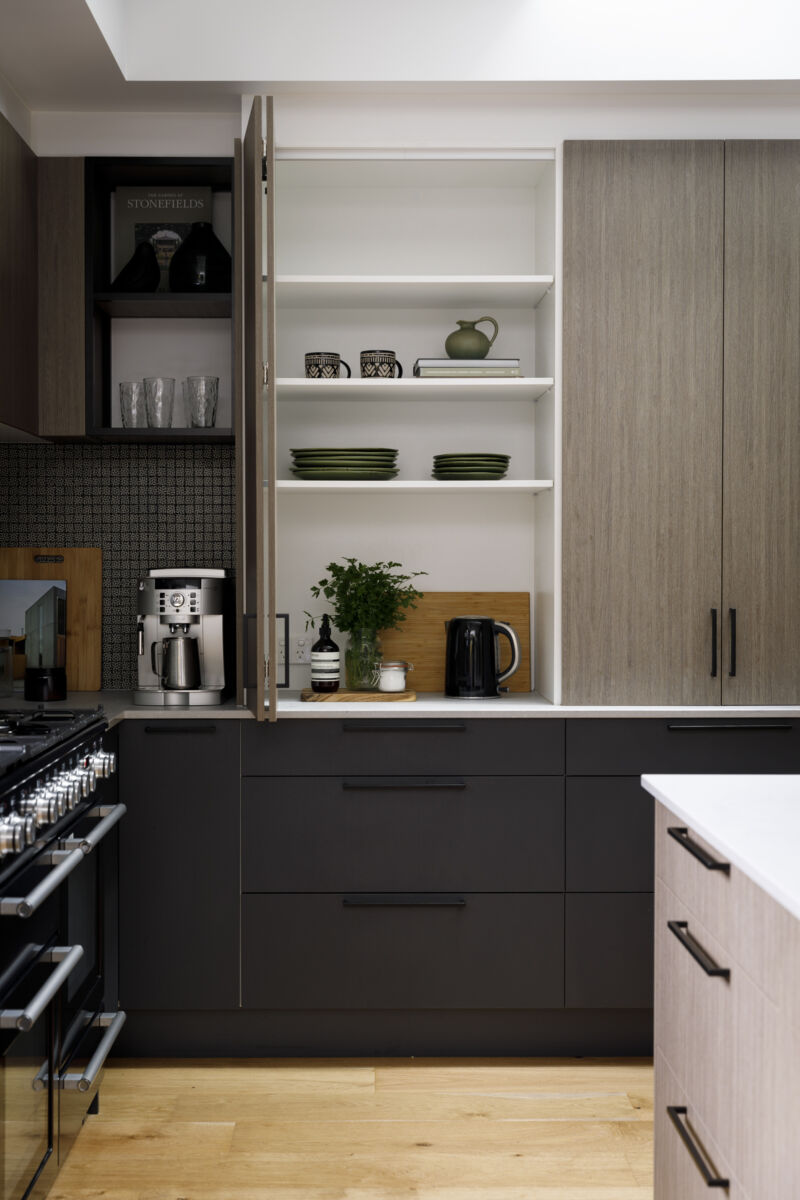 Unlike larger appliances such as ovens and cooktops within your kitchen, the placement of small appliances such as kettles, toasters, microwaves and coffee machines is more flexible and should reflect the way you use them. Popular options include placing them out on display on bench space or concealed in a walk-in or butler's pantry.
If you don't have a walk-in or butler's pantry and don't want your small appliances out where everyone can see them, an appliance hutch can be a great option- keeping them within easy reach while being tucked away out of view when not in use.
Consider your fridge placement (and which way it opens).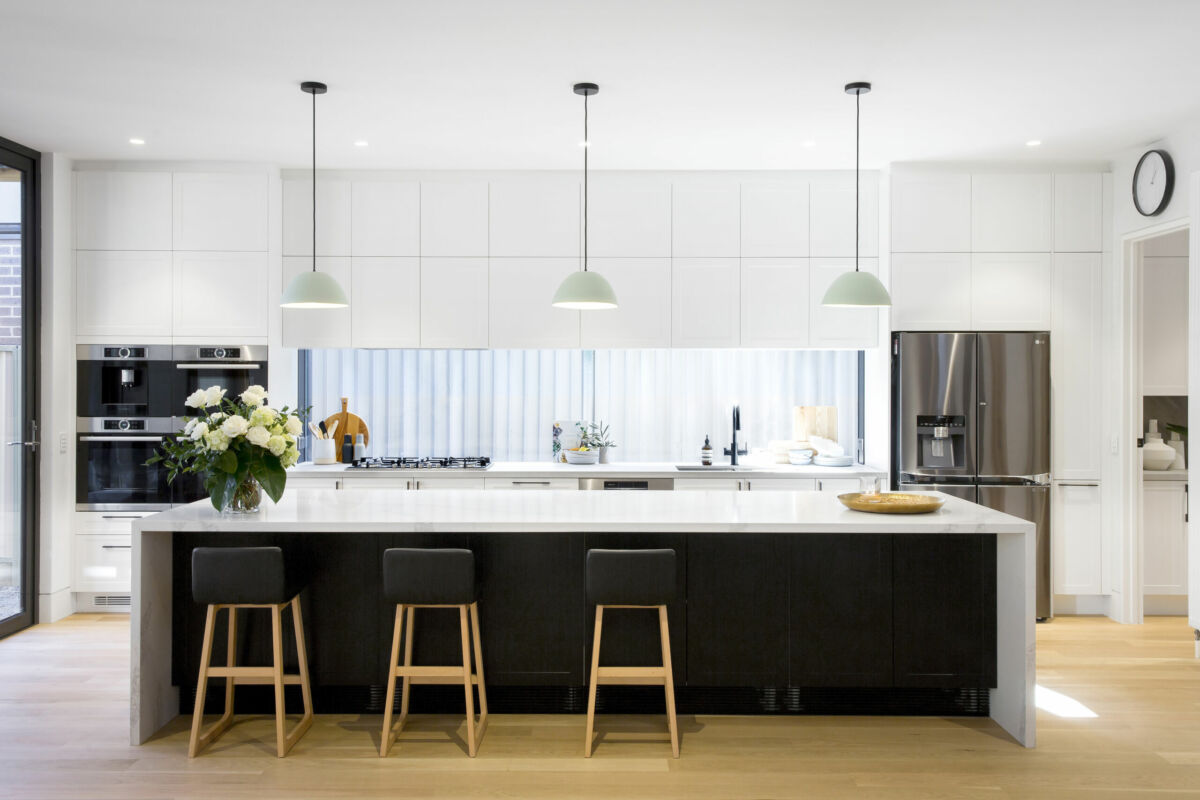 One of the most important appliances within your kitchen, your fridge's placement will largely depend on the layout of your kitchen. Ideally you will want to place your fridge by a bench space to allow for quick and efficient grocery loading and unloading. Typically we recommend placing a fridge on one end of a bank of cabinetry and have it open on the side that allows for easy movement and use within your layout.
Don't forget power points.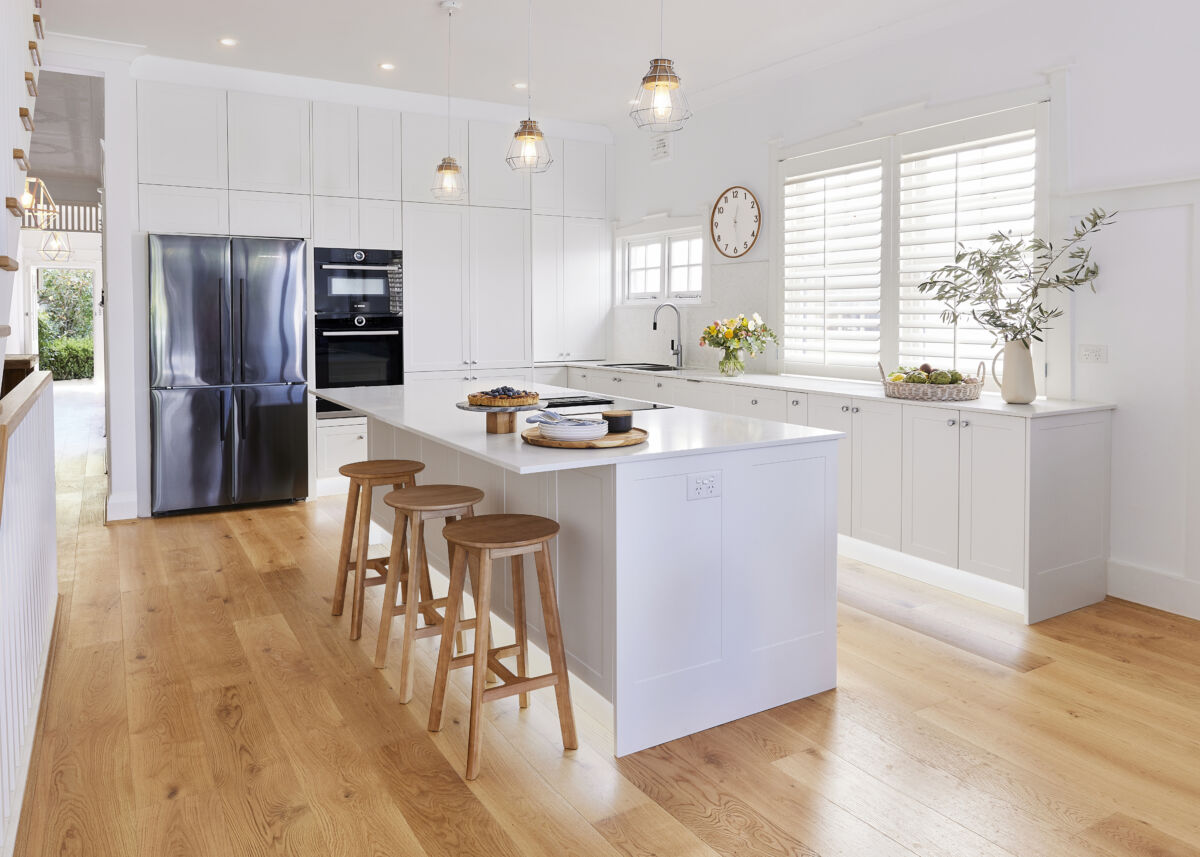 Your kitchen includes numerous appliances – from fridges to ovens, microwaves, kettles and coffee machines. What do they all have in common- they require power points. While this may seem obvious, we like to pay attention to where each appliance will be placed and ensure that power points are in the right place for them- and that you have enough in your space.
Aside from appliances, your kitchen is the gathering place in your home. You may conduct work sitting at the island bench, or help your children with their homework while prepping dinner. Placing a power point on the island bench will allow for easy charging of laptops and phones. If you want a sleek look consider placing a powerpoint within a drawer to you charge phones and tablets out of sight.
Locate a bin below the chopping space.
If you watched The Block during Kitchen Week, the you would have heard the judges talking about the importance of the 'cleaning zone' within a kitchen which includes a bin (or two). Essentially the cleaning zones works in tandem with the prep zone, meaning that if you place your bin under the benchtop where you do the majority of your food prep, you can easily move any food waste straight into the bin without having to pick it up and rush over to another part of the kitchen and hope that you don't drop or spill anything on the way.
Pay attention to lighting.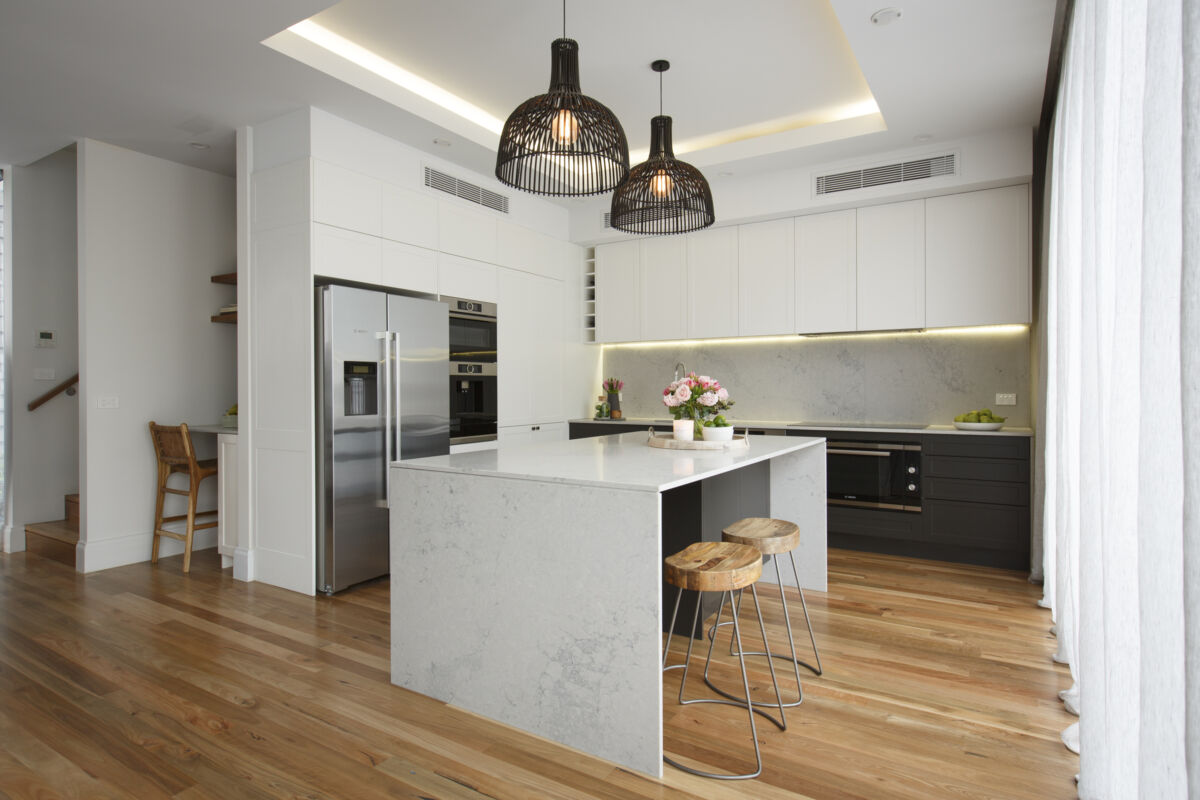 Often a forgotten element of your kitchen design, your lighting scheme is actually very important and affects both the style and functionality of the room. We have a number of options for lighting up your kitchen. LED downlights are great for lighting up prep and chopping zones within your kitchen, and can also be placed within cabinets with our Broadline Glass to illuminate the contents. Our Flexy LED Strip lighting can be placed below wall cabinets to light up splashbacks and cooktop zones, as well below kickboards to create a floating effect.
The above gives a glimpse into what you and your Freedom Kitchens will discuss and implement for your kitchen design, creating the perfect kitchen to suit you, your style, family and budget.
Work with one our expert designers to create your dream kitchen with Freedom Kitchens today!
Click HERE to book a free design appointment at your home or via video call, or click HERE to download our latest Designer Range Catalogue for more inspiration, images and product range details.