Top 5 tips to Declutter Your Kitchen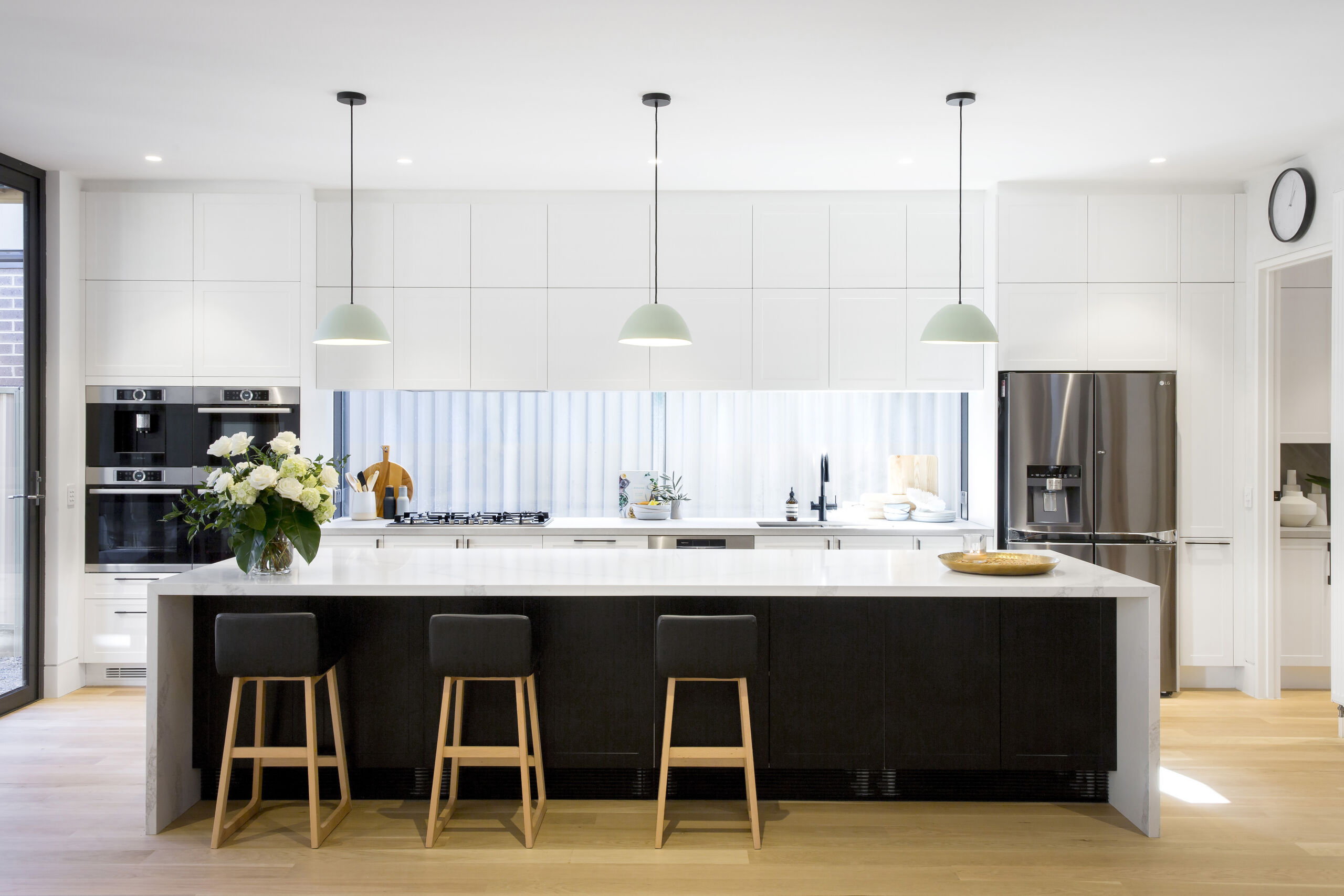 At Freedom Kitchens HQ we couldn't be happier! Spring has finally arrived, symbolising new beginnings and transformations. For many of us, decluttering the home is quickly becoming a priority, particularly in key areas like the Kitchen. To help you with your spring-cleaning process we are sharing our top 5 tips to tidy your kitchen – they are quick and easy but make a big impact!
1. Keep countertops clear.
Tidy and clear benchtops will instantly transform your kitchen. The great news is that it's also one of the quickest and easier ways to spring clean your room. Put away any dishes either into the dishwasher or pack into draws and kitchen cupboards. Pack away any other items on your counters that can be placed elsewhere, and then give your benches a good wipe down.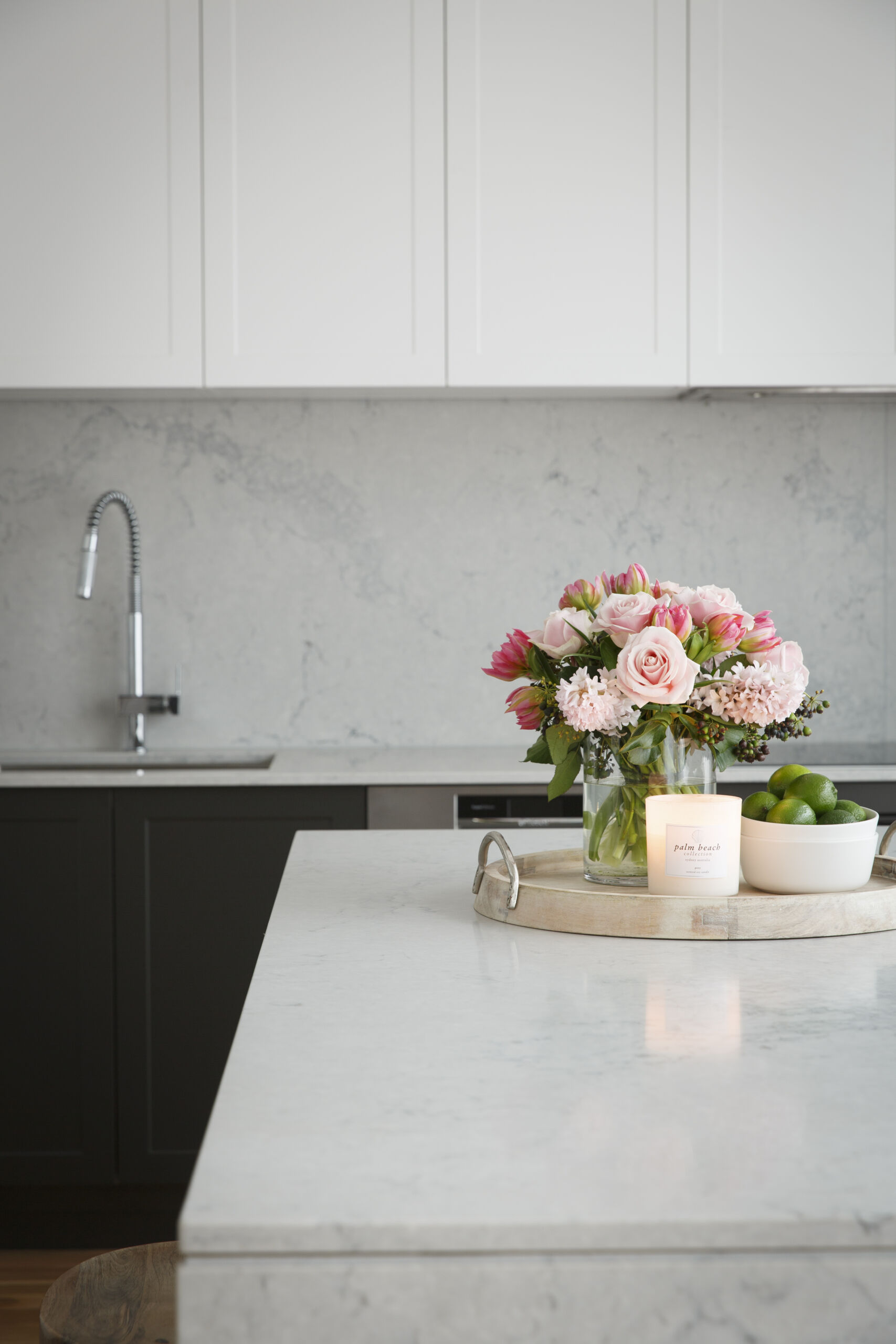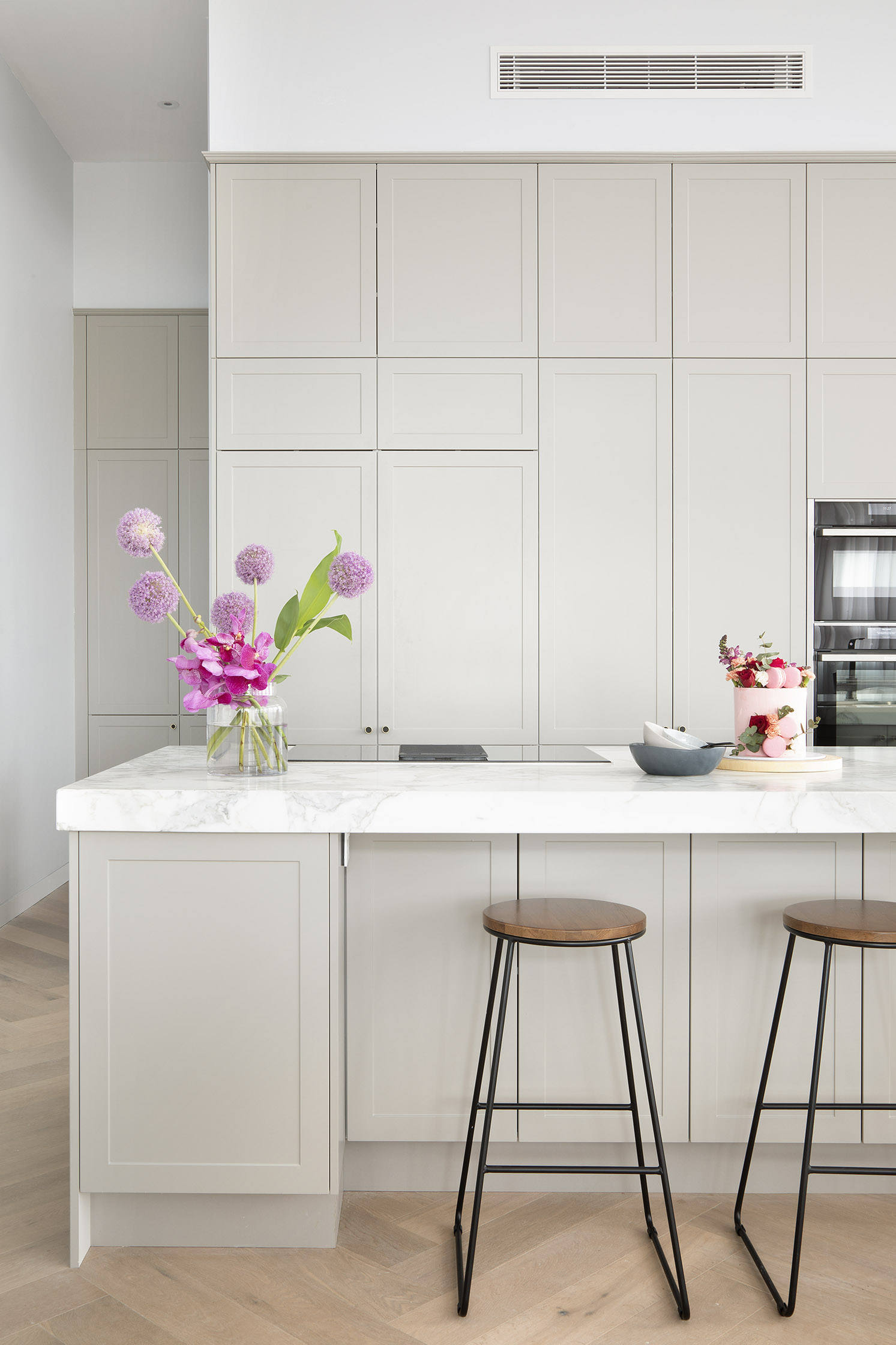 Styling tip: Now that you have clear benchtops, placing styling décor such as a vase of fresh flowers or a simple vignette with a mixture of candles and chopping boards will make your kitchen shine! 
2. Simplify your drawers.
A simple and effective way to spring clean your kitchen is to tidy your drawers containing cutlery and utensils. Simply remove everything out of your drawers and give them a wipe down. Sort all your items into groups and then replace back into drawers according to these groups.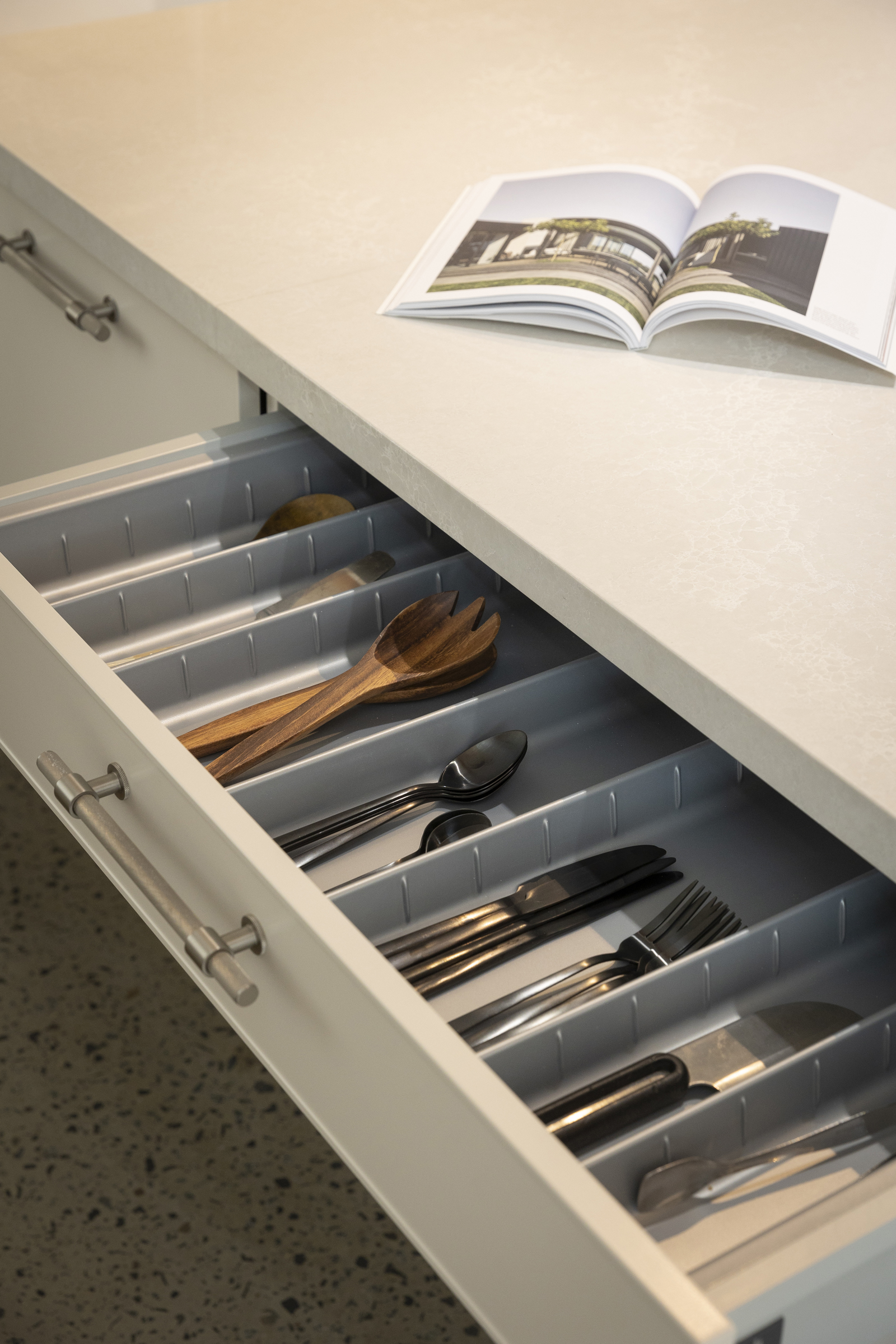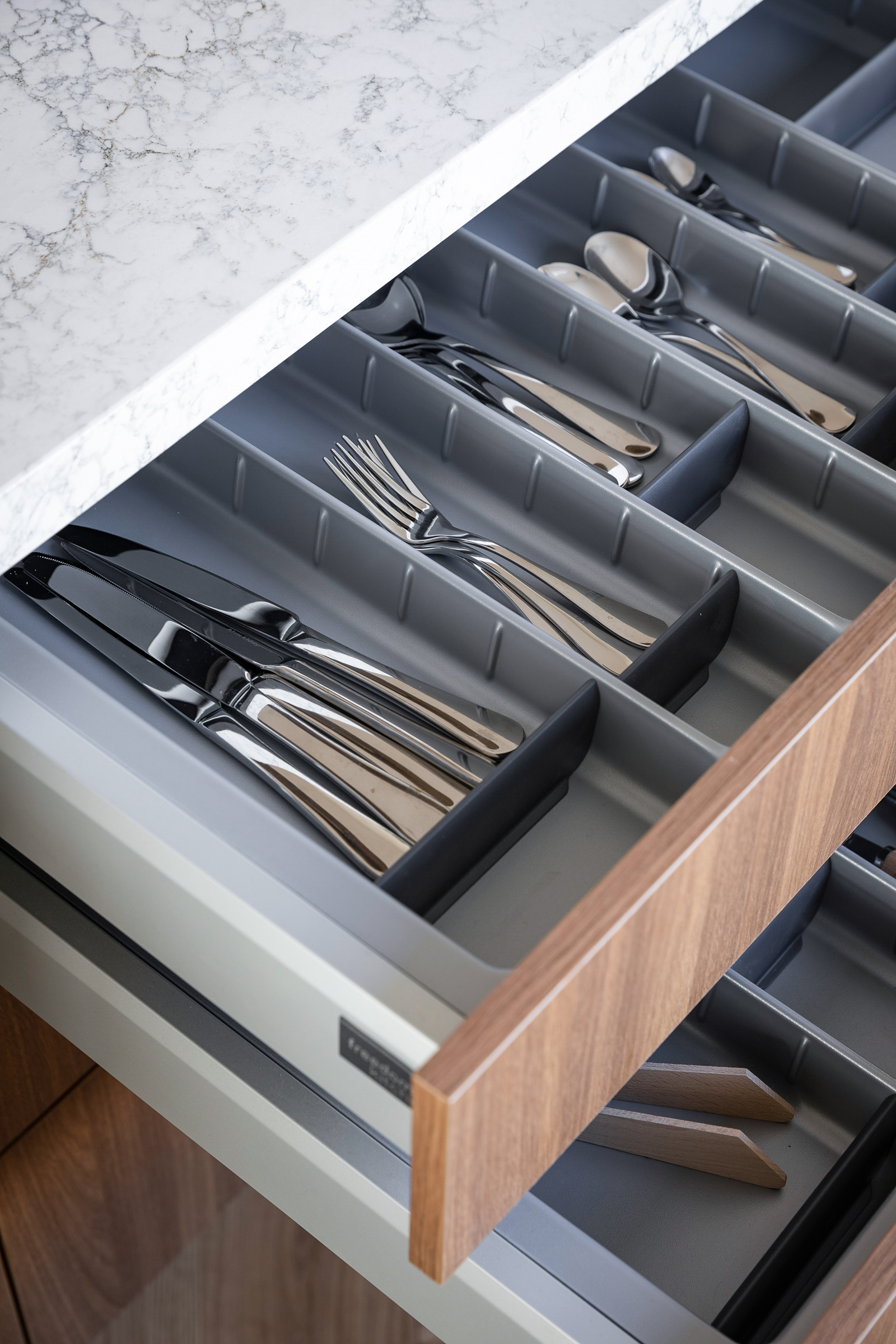 Designer Tip: Our range of cutlery trays and inserts are game changers when it comes to easily and effectively organising your drawers. Select from a wide range of options, including our cutlery tray with adjustable dividing elements available in a stylish silver-grey plastic finish. 
3. Organise your pantry.
As one of the hardest working areas of your kitchen, the pantry – whether a butler's pantry or a simple single unit – is often one of the first places to become disorganised and overwhelming. By tidying this essential part of your kitchen design, your space will instantly feel cleaner and more organised. Follow these 4 simple steps for a perfect pantry.
Step 1: Remove everything from your pantry. Throw out anything that is out of date and group the rest into "like" items. Store tinned items together, then flours & sugars, pasta & rices, oils & sauces, herbs & spices and so forth. This allows you to find a given food item within your pantry quickly and easily. 
Step 2: Clean the pantry shelves and internals.
Step 3: If matching clear containers and pretty labels are your jam, now is the time to place all items in them, keeping all like items all together of course!
Step 4: Strategically place items back into the pantry. Keep everyday items at eye level (such as cereals, pasta, and other cooking staples) while placing treats and baking items up high on top shelves and small appliances at the lower levels.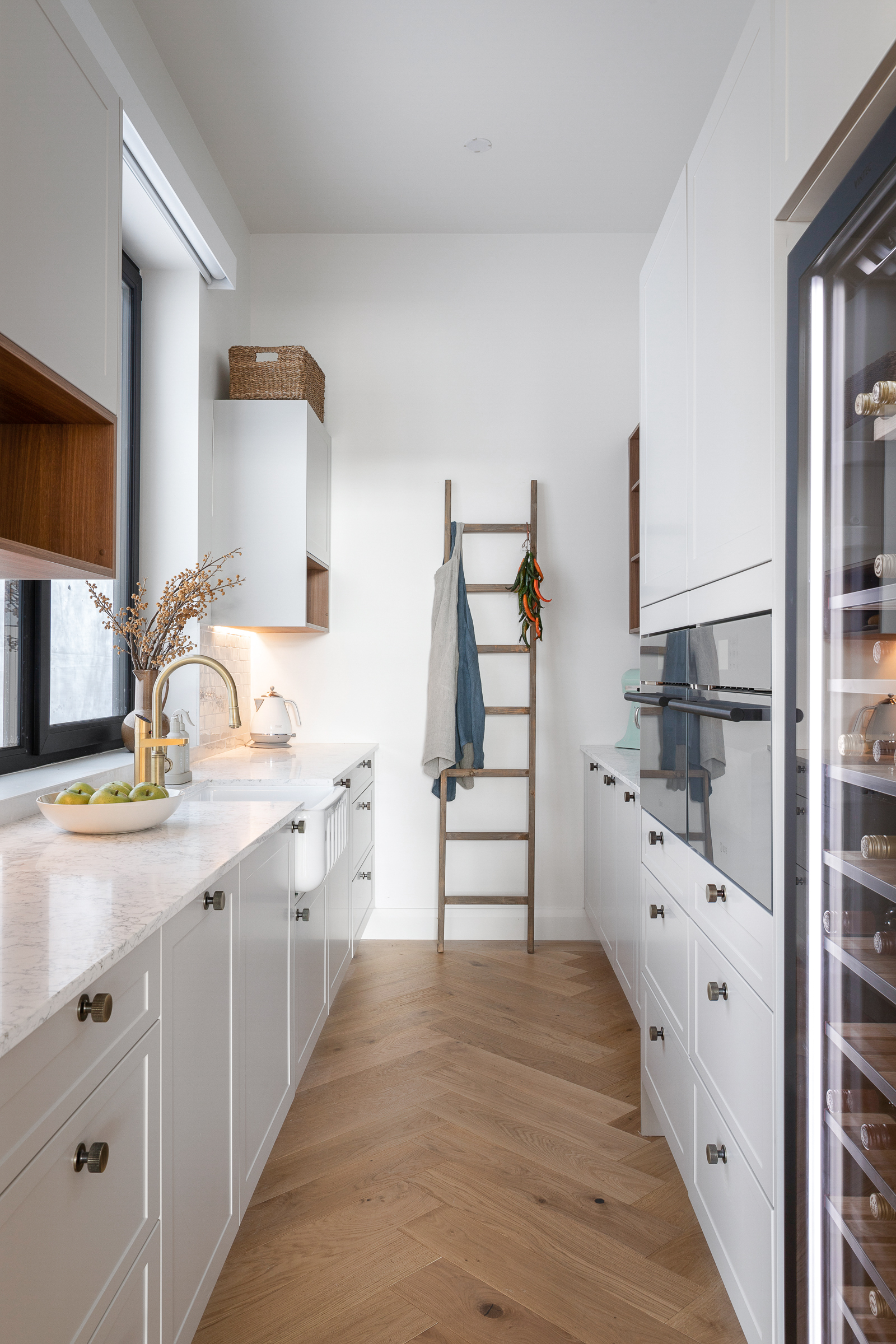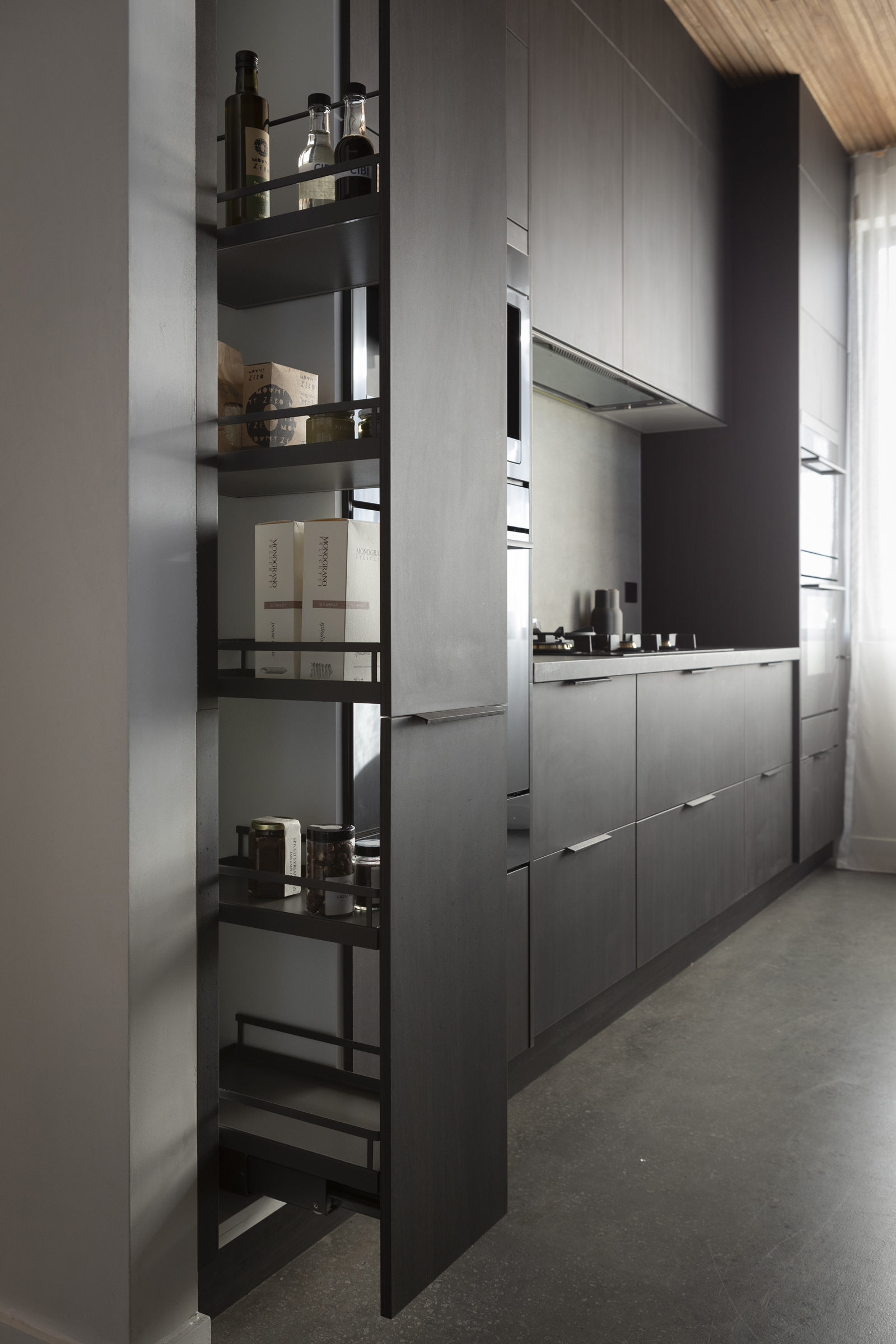 4. Hide away small appliances.
They're essential to how you use and enjoy your kitchen, but if you can move small kitchen appliances including kettles, toasters and coffee machines within kitchen cupboards or a pantry, you will be freeing up a lot of counter space. To achieve this within your pantry, add a bench with a power point within your design, or if you prefer to have these items readily on hand within your main kitchen, we suggest concealing them behind joinery for a sleek and seamless look.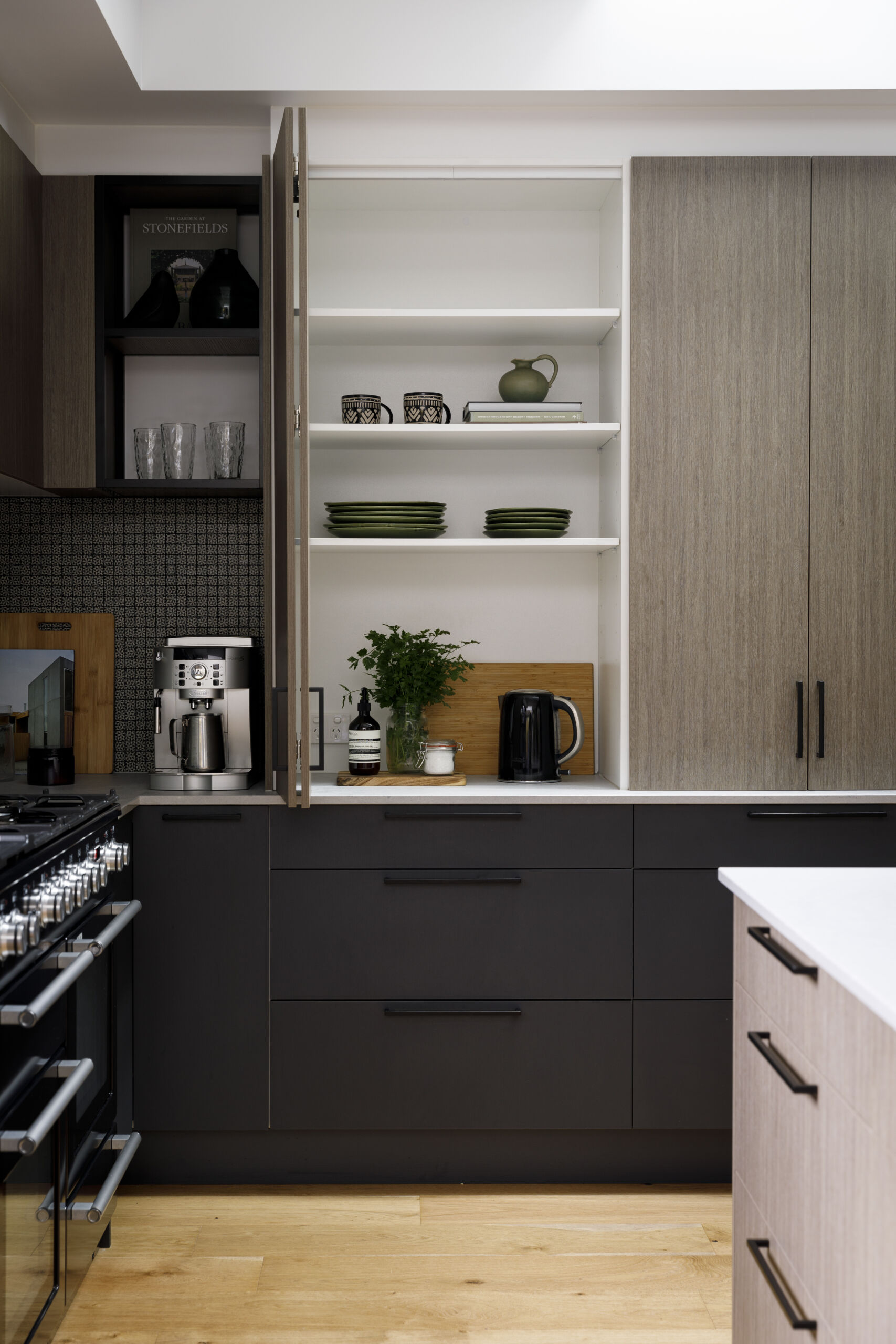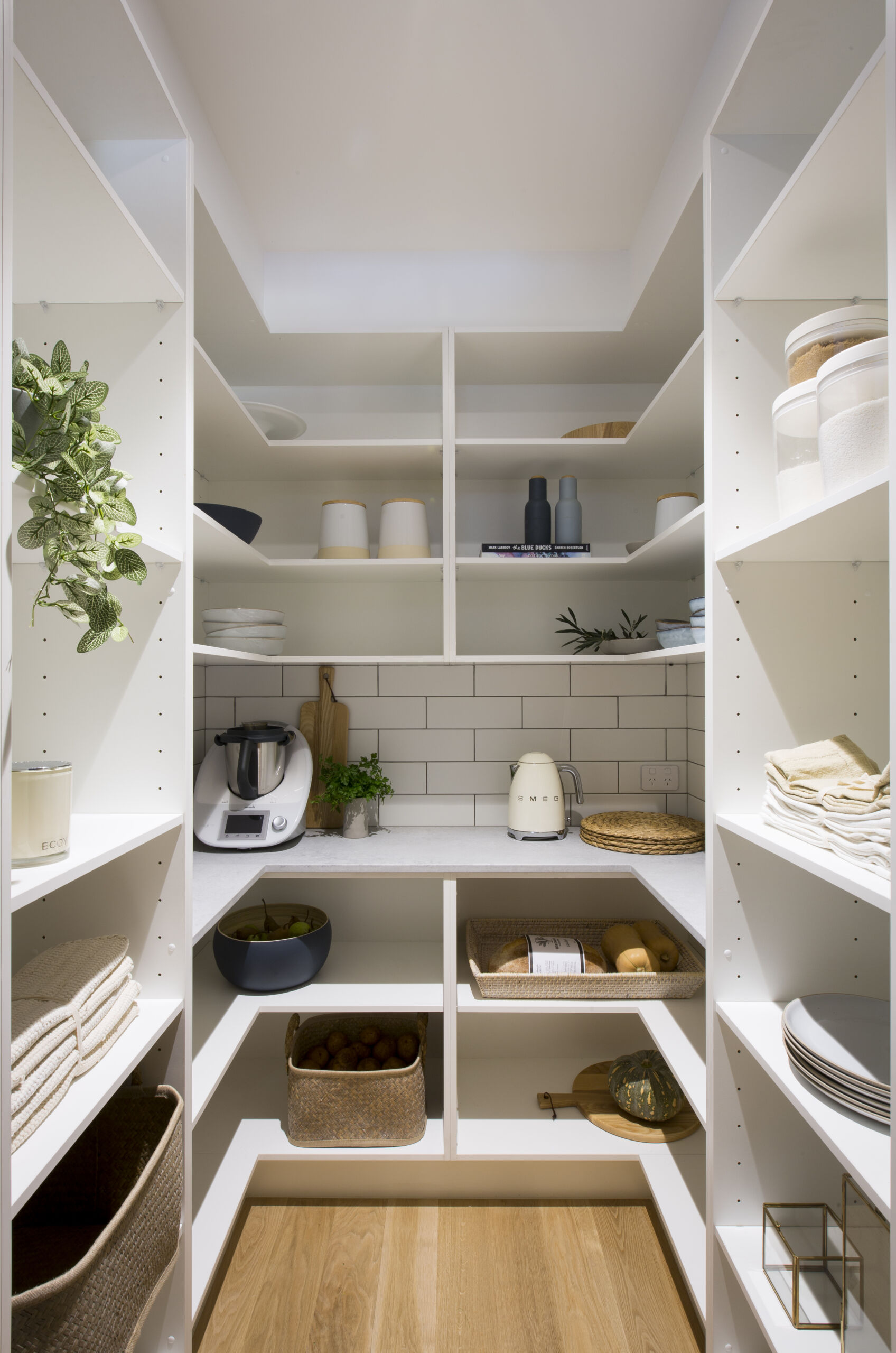 5. Tidy under your kitchen sink.
Another area of the kitchen which can either be your best friend or worst enemy is the space under the kitchen sink. Ensure it's the former by throwing out anything that you don't use, and then group all like items together. Consider space-savvy storage solutions such as our specially designed pull-out rails for tea towels and cleaning cloths, stainless steel pull-outs, or an under-sink drawer to make organisation even easier. Now you will always be able to find your essentials – cleaning products, brushes, gloves and sponges – making spring cleaning a breeze.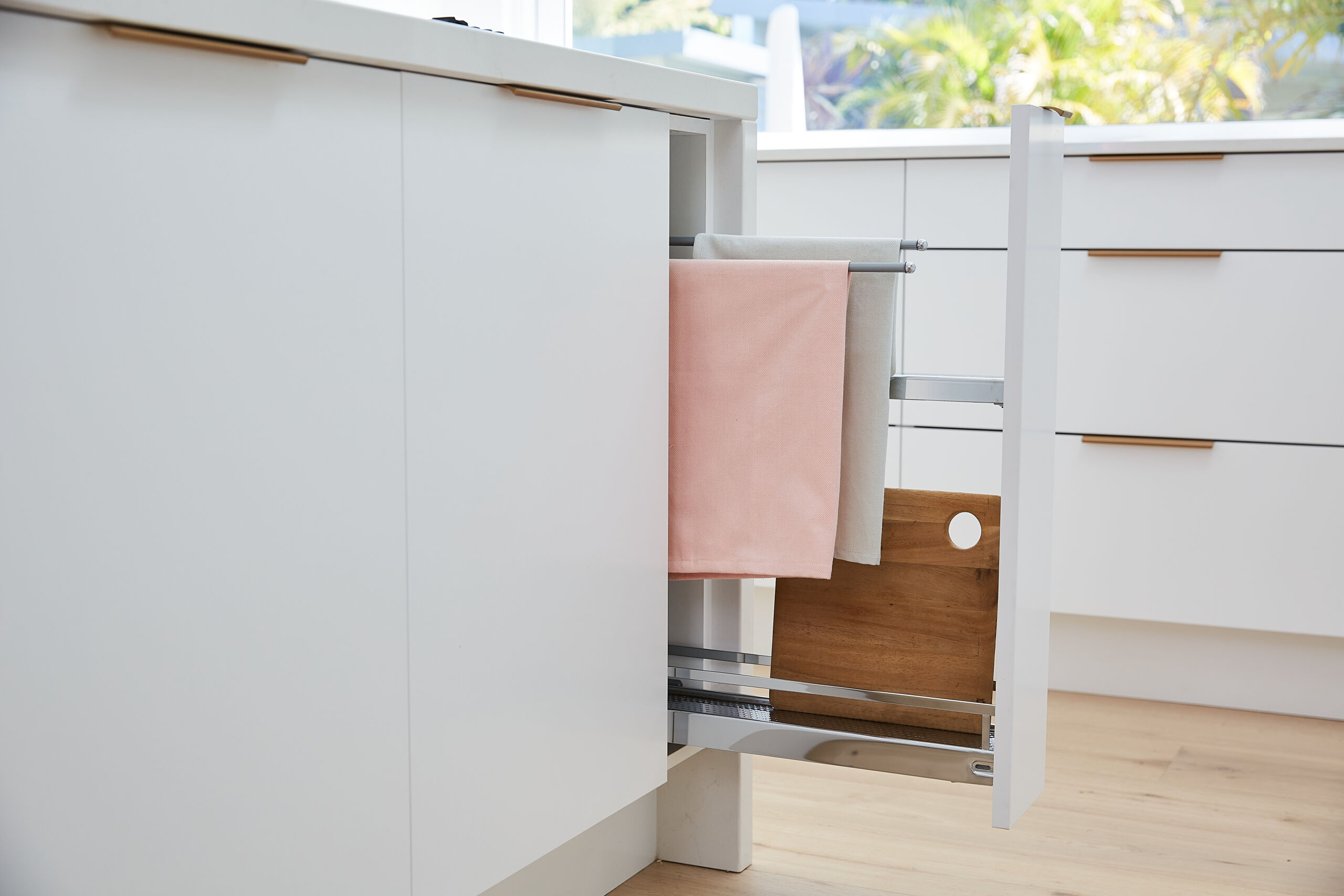 If you're inspired to spring into a new kitchen brimming with smart storage items, style and form; book a free design appointment at your home or via video-call at a time that suits you.
Or, for more inspiration and information click HERE to download our latest Designer Range catalogue.