Are you dreaming of a new kitchen but concerned by the price tag that it might come with? Here at Freedom Kitchens, we love to create beautiful kitchens to suit a range of styles, homes and budgets. Read on to discover our top 5 tips to creating a designer Freedom Kitchen without breaking the bank.
1. Cabinetry Selection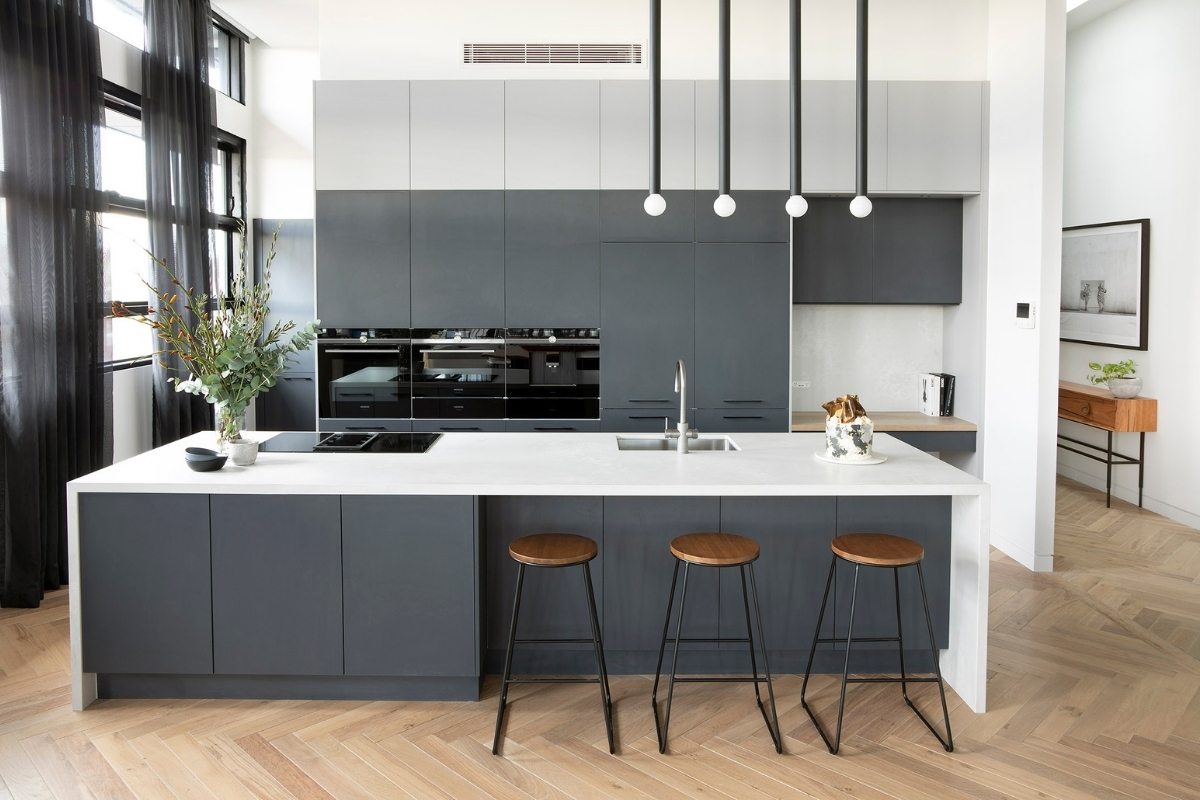 Sleek and stylish, flat door profiles are a great cost-saving design choice. Our Newbury and Impression door ranges are a wonderful option, available in a variety of varying textures, tones and finishes.
We recommend using larger cabinetry to cover more space rather than a mixture of smaller cabinets, plus cabinets with adjustable shelving are more cost effective than banks of drawers. That said, drawers are a wonderful inclusion in your new Freedom Kitchen so don't discount using them all together.
2. Benchtop Selection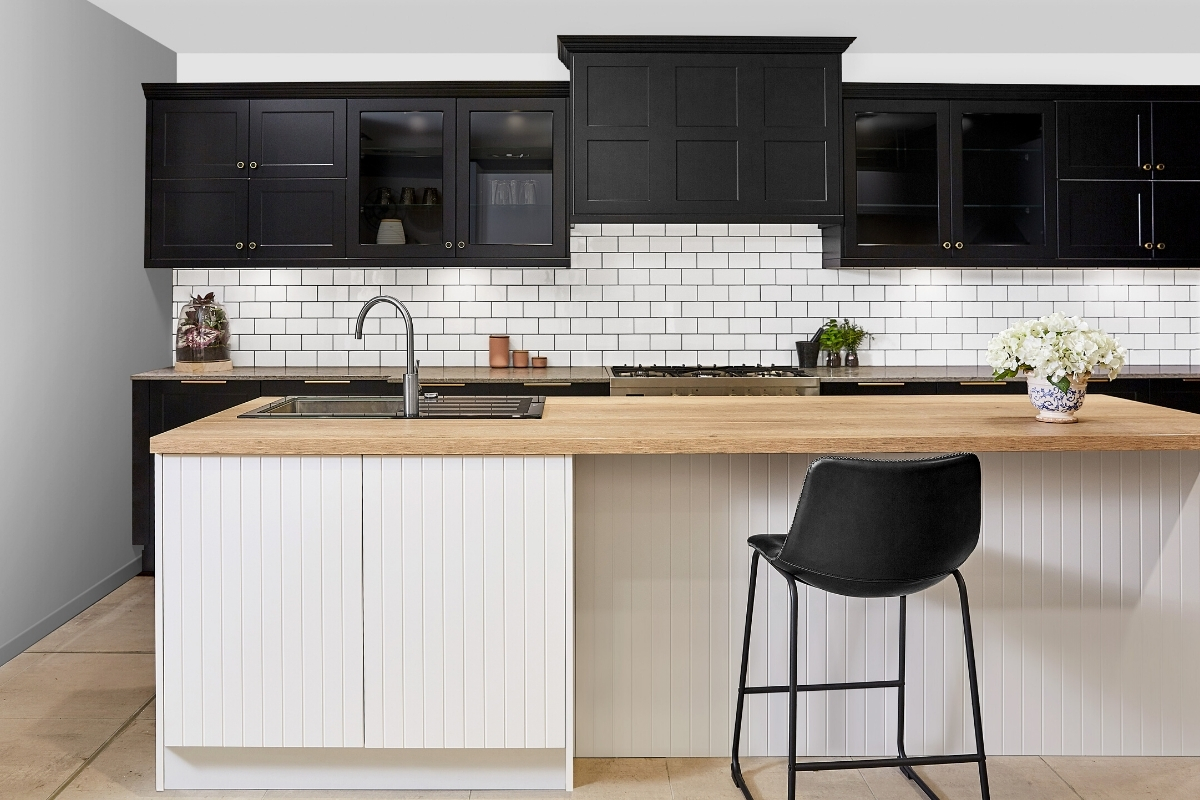 Laminate benchtops have come a long way in recent years, and are now a stylish alternative to more expensive options. Easy to clean, durable and resistant to stains, scratches and moisture, our laminate tops are available in a wide variety of colours, allowing you to evoke marble, timber or concrete-looks and so much more.
Our favourite way to create the perfect cost-effective countertop design is to use a slim 20mm Caesarstone quartz top on your island bench and pair it with laminate tops on the back benches, as well as in any pantry and laundry spaces.
3. Handle Selection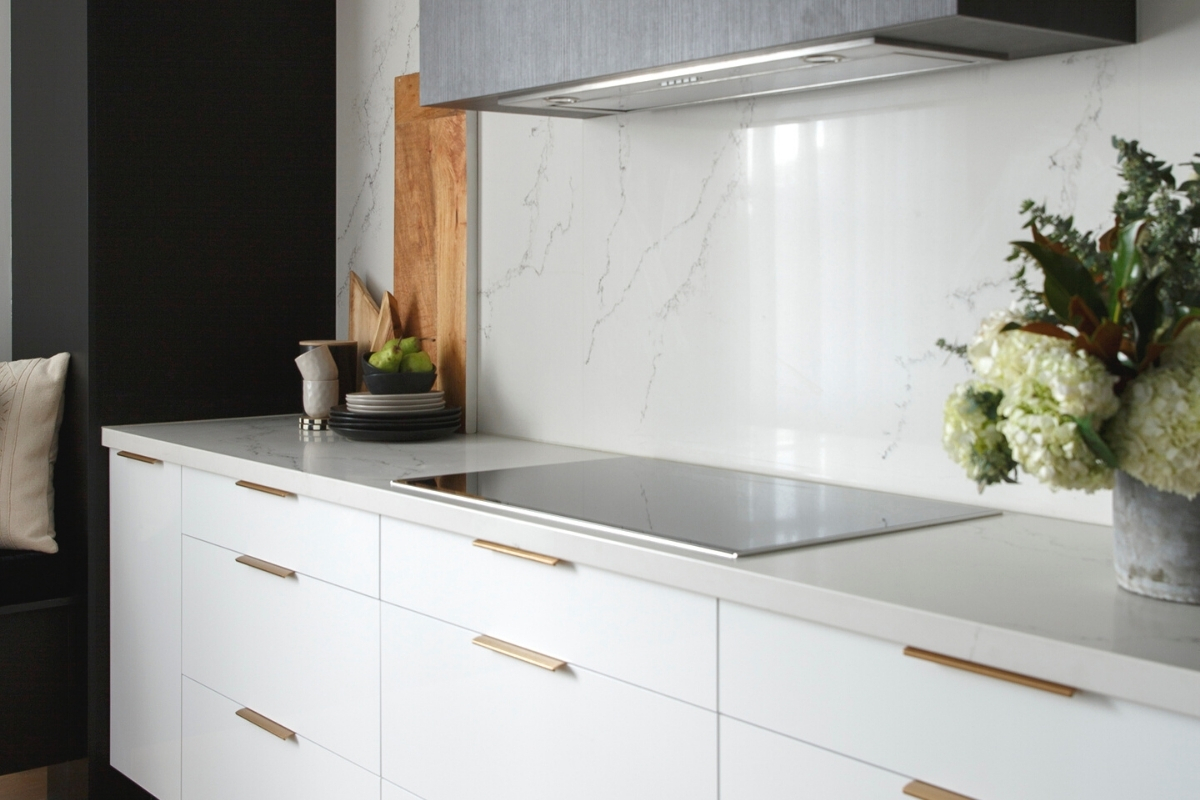 Handles are a small detail in a kitchen with the potential to make a big impact! Within our flagship Designer Collection we offer over 40 handle designs suitable for a range of budgets. So whether you love a bar, knob or pull design, you are sure to find a handle that is the perfect match for your cabinetry.
4. Lighting Selection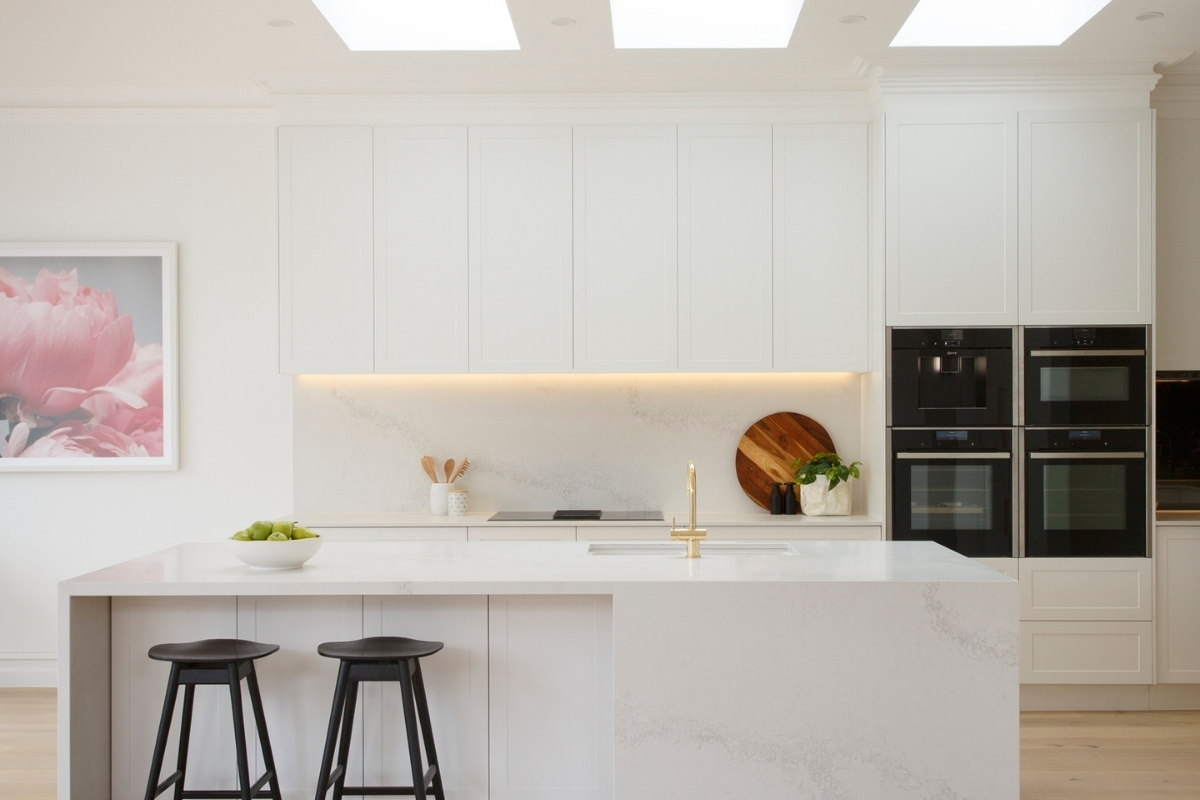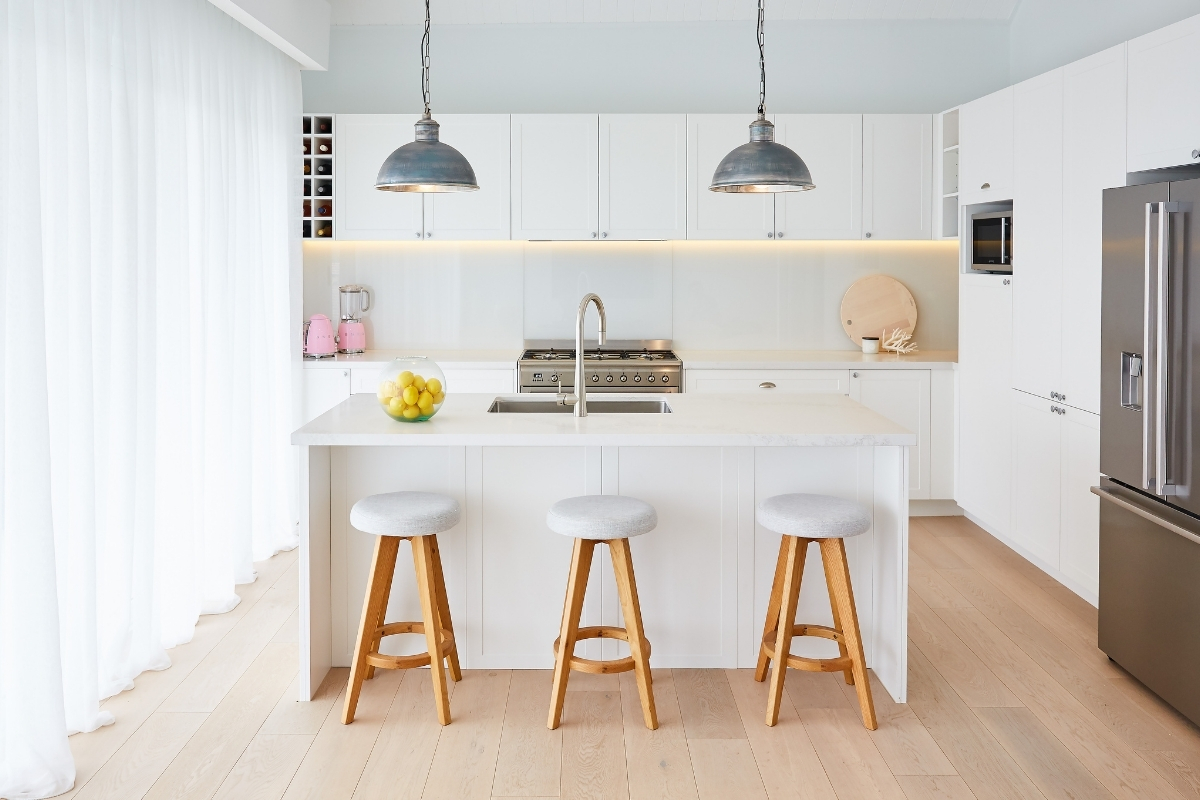 A well-thought out lighting scheme can transform a kitchen. As an alternative to statement pendants which can date quite quickly, we recommend opting for strip lighting and LED downlights. Our flexy strip lighting highlights the beauty of your glass-framed cabinetry and splashbacks, as well as providing ambient lighting when used along kickboards. Downlights or directional lighting on the ceiling are also a must to ensure all of your prep areas are well-lit.
5. Select a Value or Essential Range Kitchen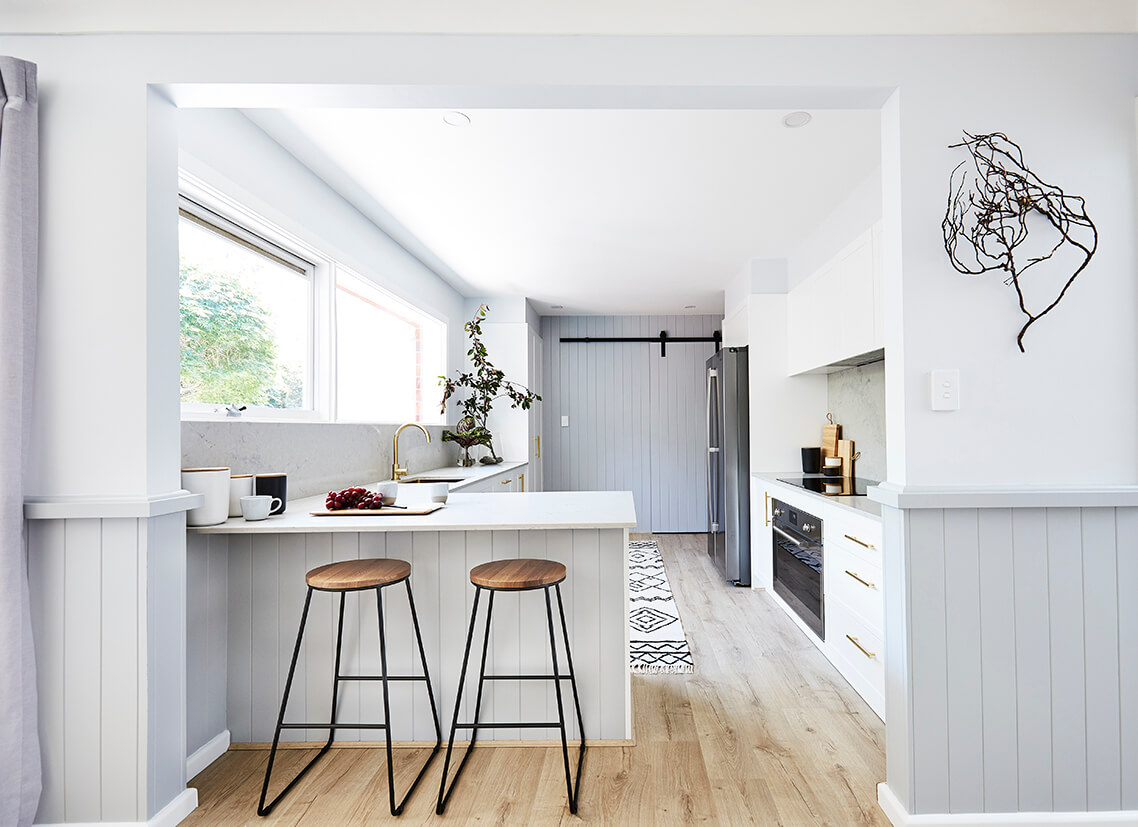 The Value Range is our newest kitchen collection offering a stylish kitchen design solution at a value price point with fully assembled cabinetry. Consisting of four on-trend door styles, a range of laminate and Caesarstone® benchtops, handles, accessories options and more, this range ensures your kitchen is stylish and functional at a great value price point, without having to build a flat pack.
If however you love a flat pack then the Essential Range, our quality flat pack kitchen collection, is for you! Featuring a curated selection of our most popular styles and colours at an outstanding price, Essential kitchens come 'ready to assemble', rather than being assembled in our factory. This means you can get your kitchen fast, delivered to your door in as little as 10 days after final payment, ready to be assembled by your builder or installer.
Bonus tip: Use a Kitchen Designer. We know we said we were only going to share our top 5 tips but we think this is an important one. A great Kitchen Designer will not only be able to meet your brief, save you time and money (we offer a free design appointment), they will be able to make recommendations you may not have thought of, bringing your dream kitchen to life. Our team of experienced and passionate Kitchen Designers are ready to help you on your kitchen journey!
Ready to create your designer kitchen without the designer price tag? Don't wait – start your journey with us today! Click HERE to book a free design appointment at your home or via video call, or click HERE to download our latest catalogue.