Summer is here which marks the beginning of coming together with friends and family at brunches, long lunches and dinner parties. Central to this is your kitchen as it is both the heart as well as the entertaining hub of your home. A well designed kitchen will not only work hard for you, it will also make guests feel welcome and at ease and allow you as a host to enjoy cooking for and serving your guests in a stress-free environment.
Below we share our top tips for ensuring your kitchen is ready for the entertaining season.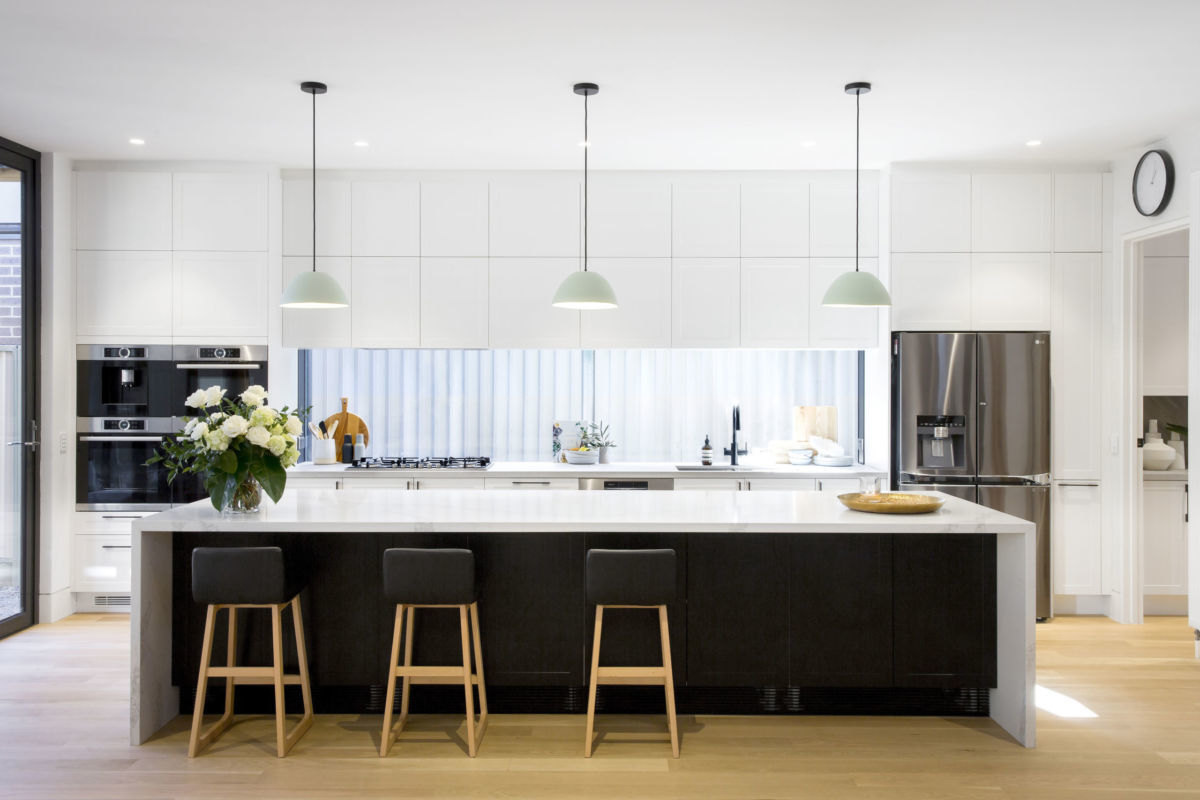 Love entertaining? Read on to discover our top tips to creating a dream Entertainers kitchen.
Style your kitchen
Styling your kitchen with a few simple items such a flowers and other greenery, fresh produce and other kitchen accessories can transform your space and elevate it for when you are entertaining.
The key to successful styling is to create a balance between style and functionality – try to style using some of the items you will use while entertaining, for example fresh lemons and limes for your guests' beverages, and mix in with other key styling elements that add colour and interest to your space.
Styling with vignettes (grouping items together to create a visual focal point in a space) is a simple and effective way to style your room. Not only do they look visually amazing, they are easily changed and updated, meaning that you can create a new 'look' each time you entertain.
To style your island bench a great option is to use chopping boards or trays (wooden or metallic depending on the look you wish to create) lying flat on your bench and style with 3-4 small items grouped together. For splashback styling we love to use chopping boards to add height and then style a small number of items in front in various heights, colours and textures.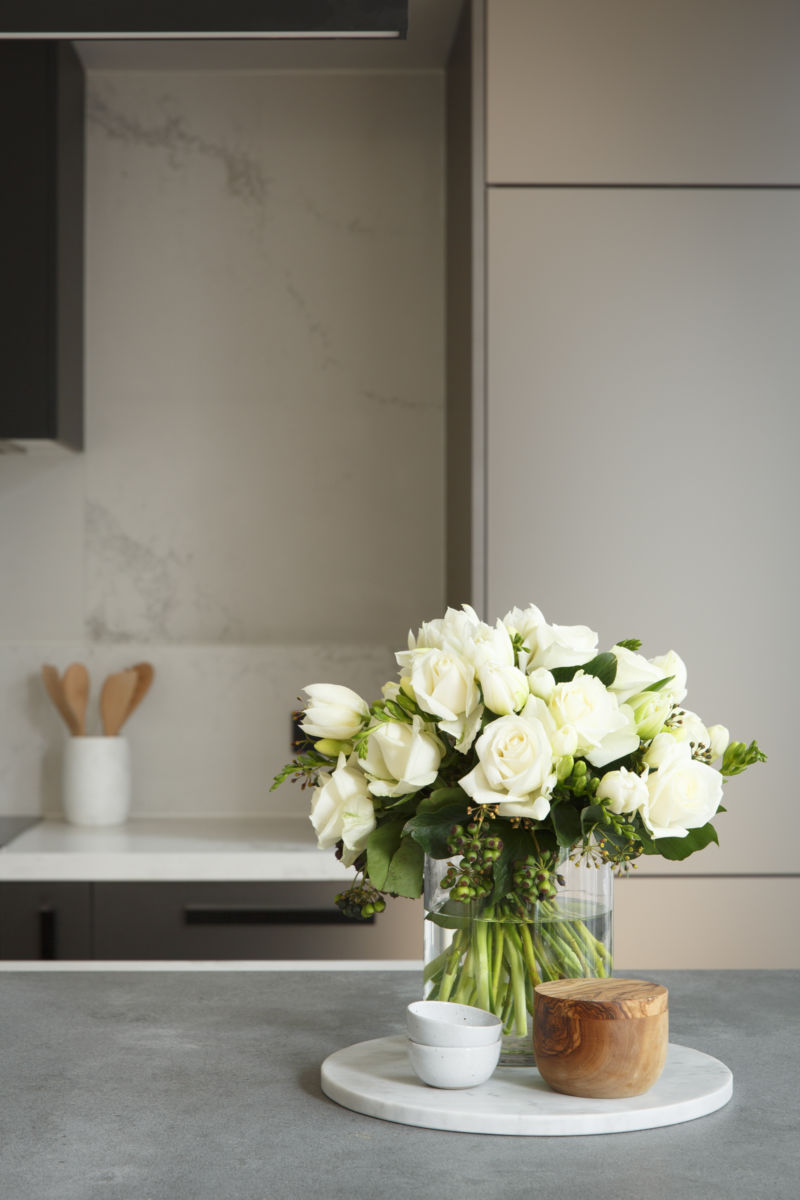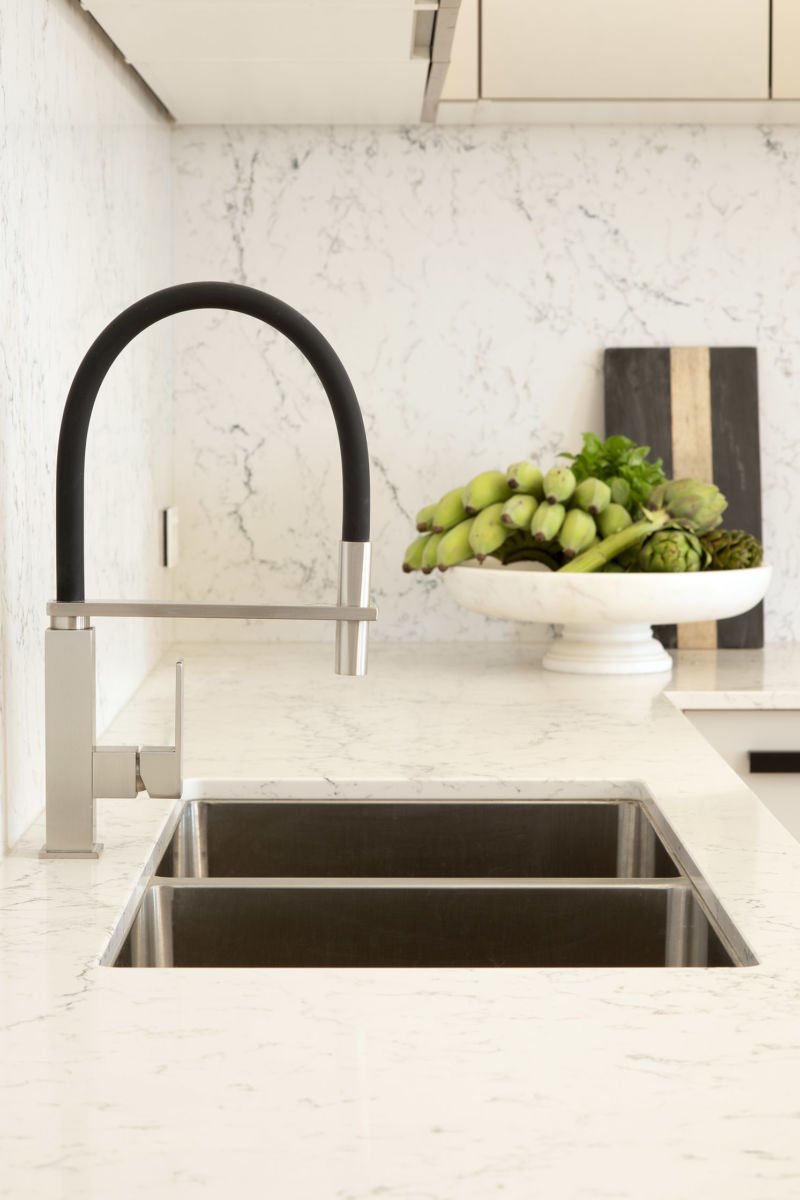 Styling is a simple and effective way to make your kitchen a warm & inviting space for your guests.
Maximise your Island benchtops
Island benches offer stylish and functional preparation space in your kitchen and allow your space to flow beautifully and easily. They create a beautiful gathering space for your family and/or guests when you're entertaining and allow you to maximise storage which is key in a hardworking kitchen.
The layout of your island bench can play a big role in terms of how you use it for entertaining and we recommend considering the following in terms of appliances and accessories to consider for the design.
What appliances & accessories should you include?
A sink and tap are the most common element found in a kitchen island with a dishwasher underneath it. Incorporating cooktops are also becoming a popular design choice- just remember you will need a rangehood above the cooktop, which will obviously impact on your design. But really the options are endless- you can consider wine fridges and microwaves as well!
A big trend in Australian kitchen design at the moment is to have nothing on the island, as it becomes a large gathering space- acting as a large dining table, so this is also worth considering as it works brilliantly in both large and small spaces.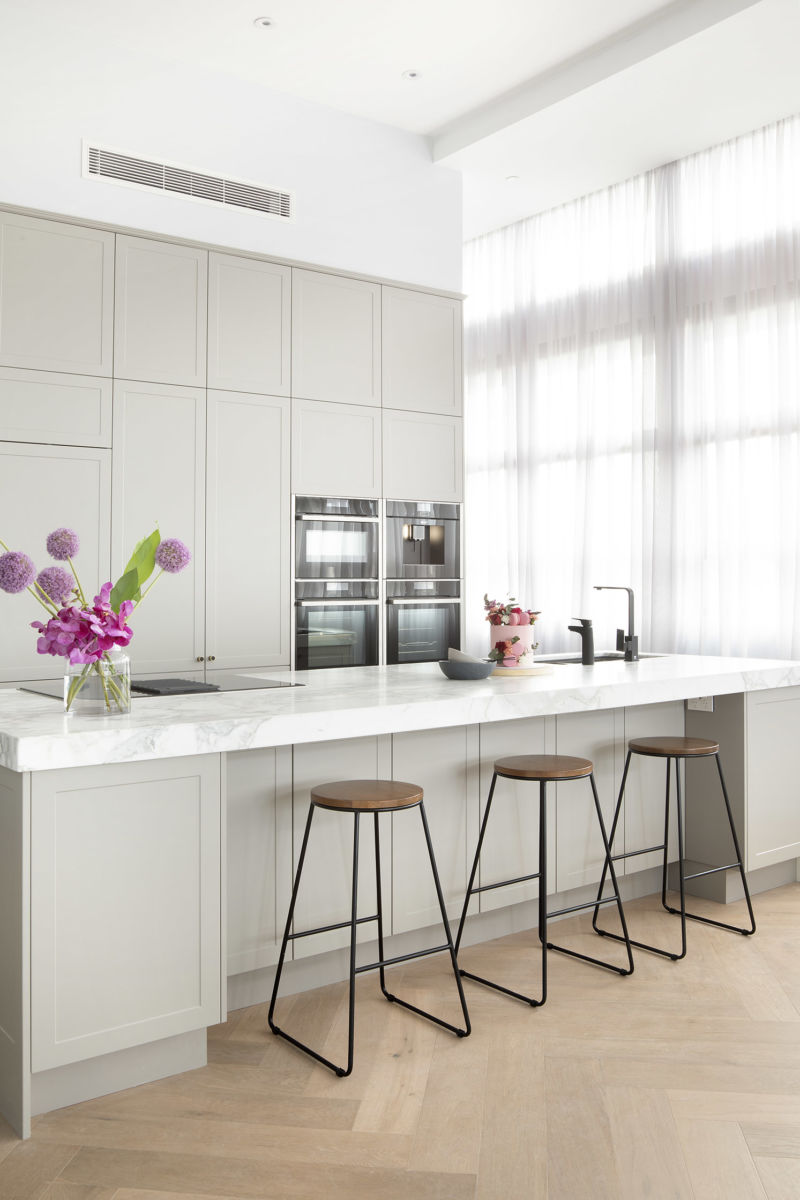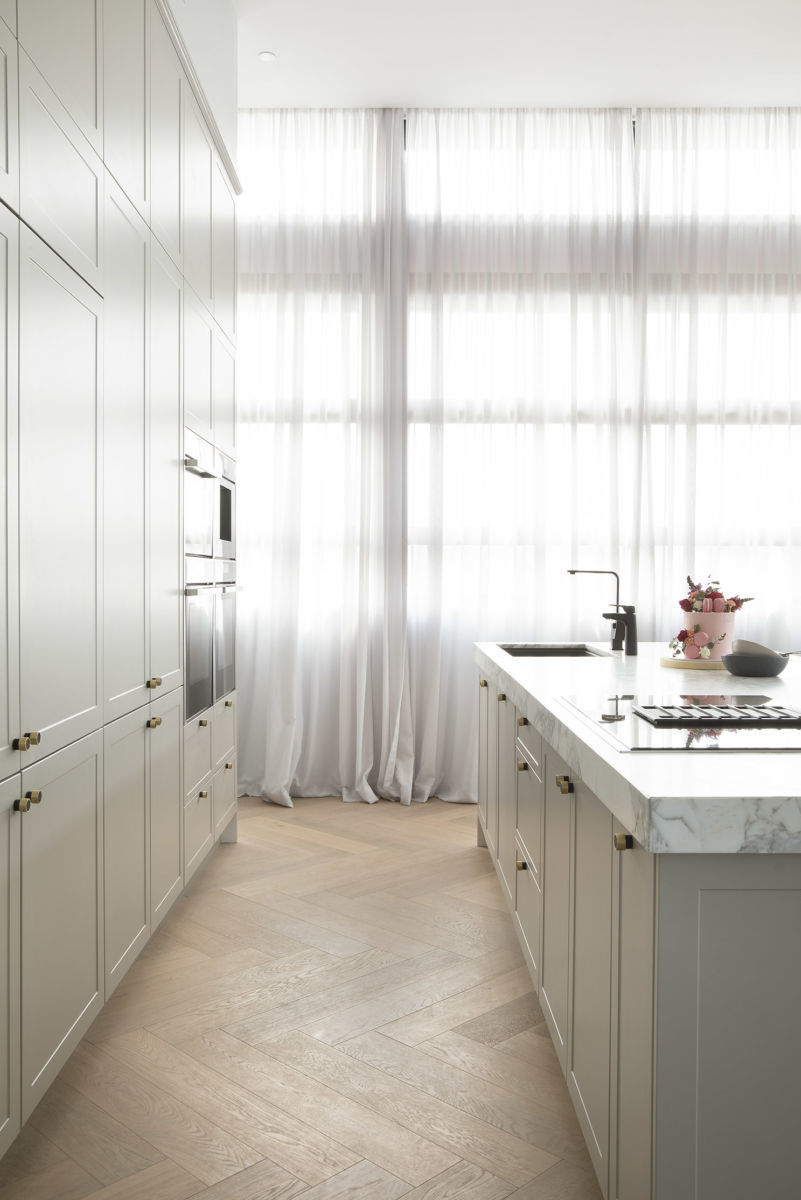 Accessories: Here at Freedom Kitchens we offer a wide variety of accessories that can enhance the useability of your room. Select internal accessories such a cutlery trays & inserts, knife blocks, spice racks as well as wire pull-outs (available in various sizes) to store food and cleaning items and incorporate them in your benchtop design to make organisation a breeze.
Appliances
Functional and stylish appliances have the power to transform your kitchen into an entertainers and home cooks dream.
Careful consideration should be given to your selection of appliances- from ovens, fridges, wine fridges, built-in coffee machines, dishwashers and even the humble microwave- as well as the location of them within your kitchen layout to ensure that they work optimally in the space.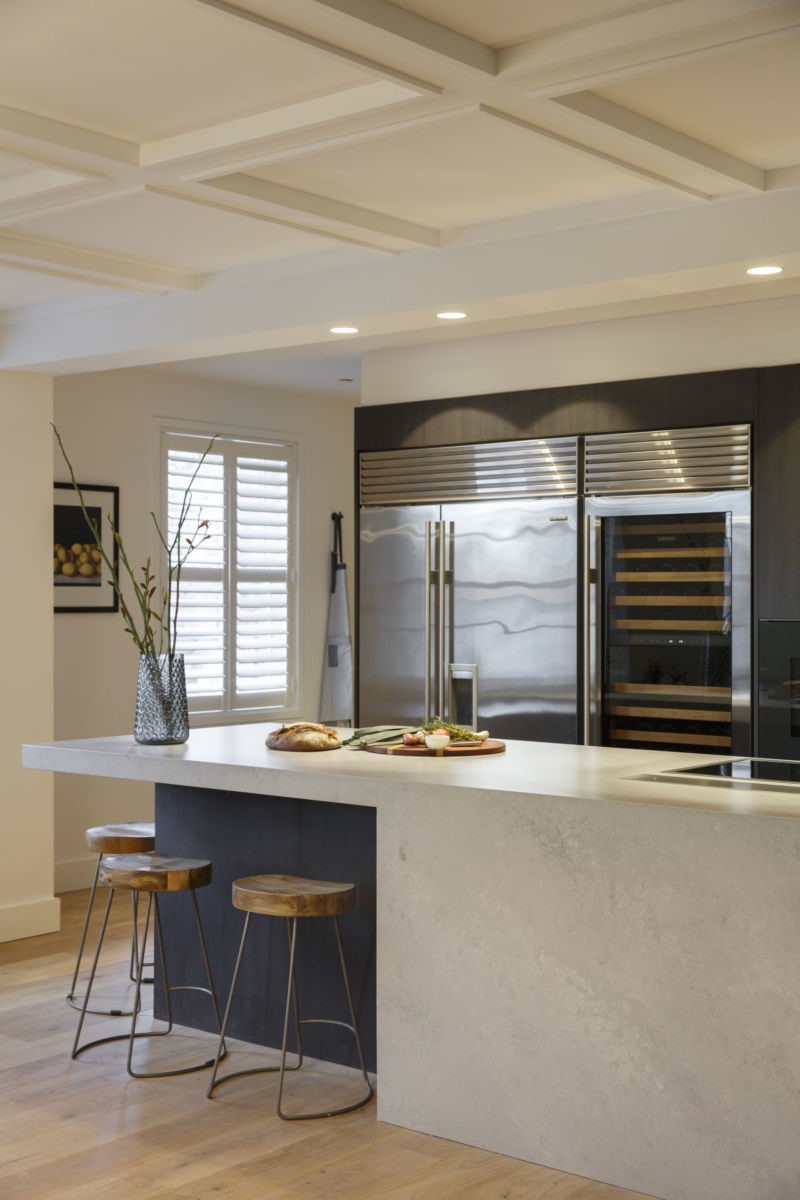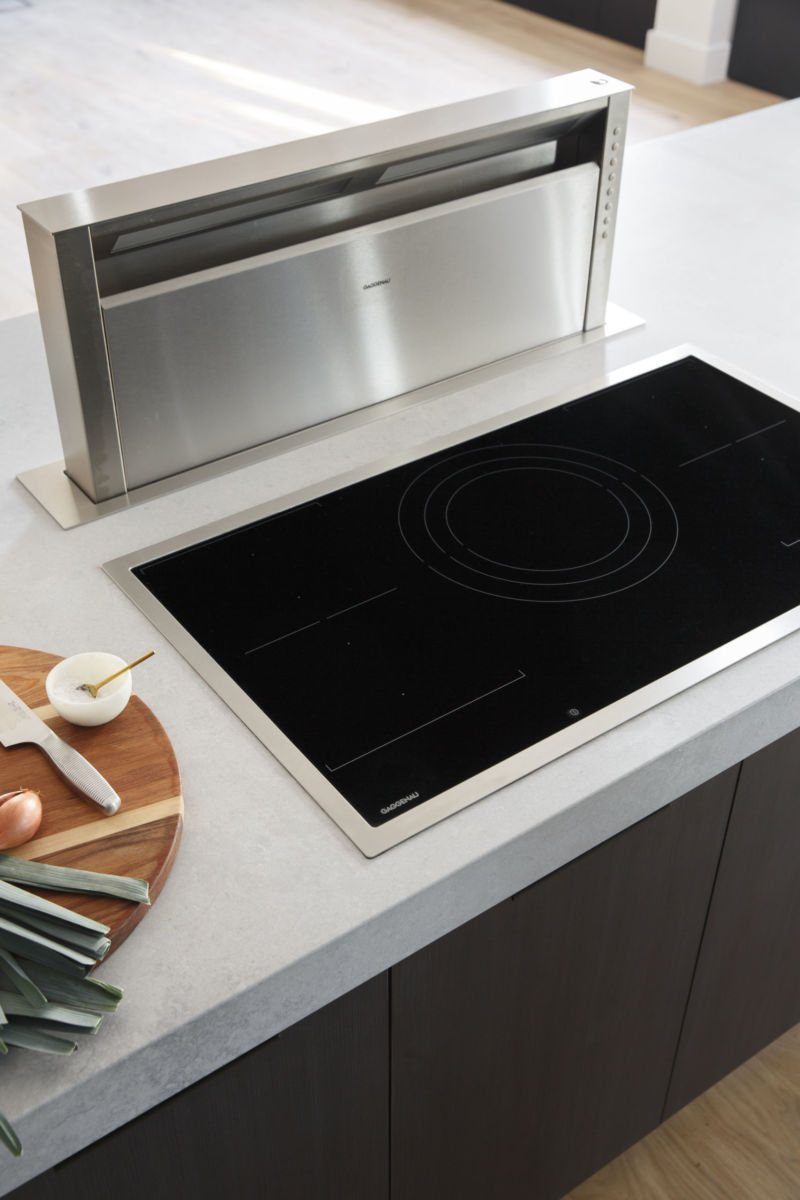 Kerrie and Spence presented an Entertainers dream kitchen on The Block 2019 which earned them a perfect score! It showcased a bank of Gaggenau appliances and cooktop, Subzero fridge, wine storage, as well as essentials such as dishwashers.
Tip: Not sure what appliances you require? The Inalto range of kitchen appliances, designed specifically for the Australian lifestyle, could be the right fit for you and your kitchen. Your Freedom Kitchens designer will be able to discuss the perfect appliances to complete your new kitchen. Plus, ask about our exciting $999 Appliance Package deal which is available until 18 December 2019.
Inspired to create your dream Entertainers kitchen?
Book a free in-home design appointment with a professional Freedom Kitchens' designer HERE. If you' inspiration and information download our latest Designer Kitchen Range catalogue HERE.