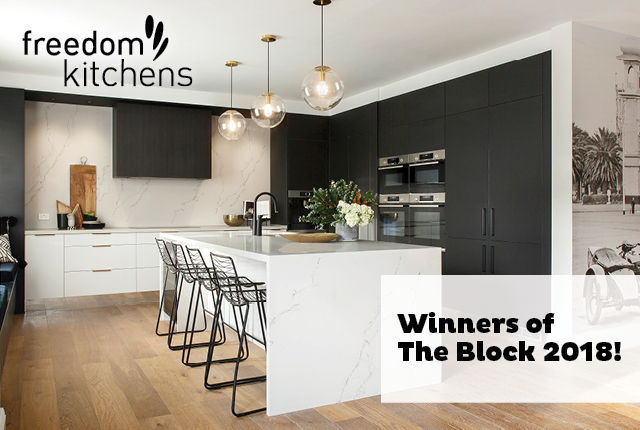 The Block 2018 has finished with a bang!
Congratulations to contestants Hayden & Sara for taking out the winning title after selling their apartment for $3.02 million, landing them a $545,000 profit. Added to that is the $100,000 cash prize for winning, giving them a total amount of takings to the tune of $645,000.
Last night's auction finale was a nail-biting event, with speculation that two of the Gatwick apartments may not sell amid Melbourne's current low market rates. However the five Block apartments did indeed beat the odds, achieving a 100% clearance rate.
Here's how everyone placed;
The winners: Hayden and Sara
Reserve: $2,475,000
Sale price: $3,020,000
Profit: $645,000 ($545,000 plus $100,000 prize money)
Kerrie and Spence
Reserve: $2,435,000
Sale price: $2,850,000
Profit: $415,000
Courtney and Hans
Reserve: $2,360,000
Sale price: $2,770,000
Profit: $410,000
Bianca and Carla
Reserve: $2,690,000
Sale price: $2,991,000
Profit: $301,000
Norm and Jess
Reserve: $2,650,000
Sale price: $2,859,000
Profit: $209,000
NSW duo Hayden & Sara certainly had a rollercoaster ride this season, from the infamous gold bath debacle to clashes with contestants (and each other!) as well as room after room of styling fails. However, one room the judges did praise them for, was their kitchen!
And no doubt that as the heart of the home, Hayden & Sara's large entertainer kitchen played a big part in their apartment's appeal.
Similar to Josh & Elyse's winning kitchen last year, it was the only one to have a benchtop orientation which faced the windows rather than the living space. The low-line storage underneath the window doubles as a seating nook, inviting friends and family to gather.  The Freedom Kitchens colour palette of 'Supa Black', 'Burnished Wood' and 'Alaskan White Gloss' cabinetry combined to create a stunning contemporary feel, with the design including a hidden butler's pantry featuring Freedom Kitchen's NEW '2020 Black Alumin' frame shelving.
Congratulations to all the contestants for the amazing apartments they've created this season – Freedom Kitchens loved being part of the transformation of The Gatwick.
Bring on The Oslo for 2019!