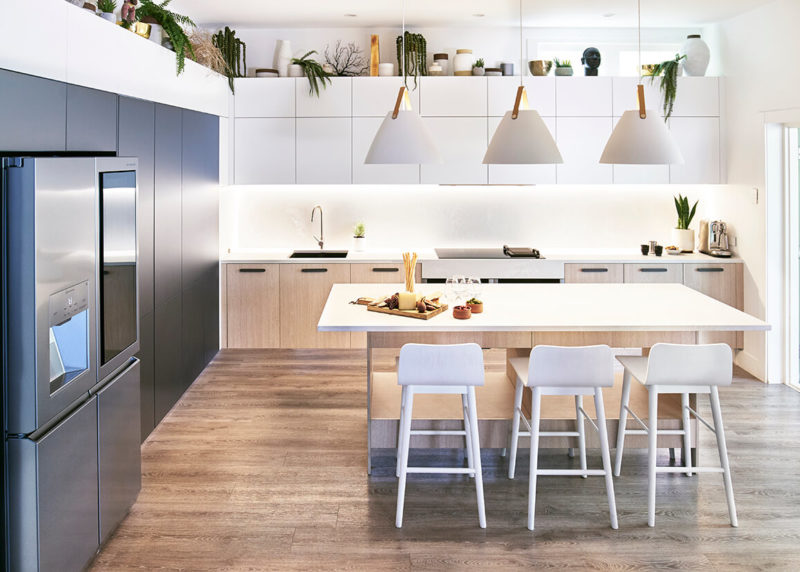 Inside Darren Palmer's New Freedom Kitchen
Interior designer, The Block judge, and good friend of Freedom Kitchens – Darren Palmer is a key figure in the Australian interiors industry that we love working with.
Having created kitchens for Darren in the past, he naturally came to Freedom Kitchens for the renovation of his Bondi home. The task was to convert his former basic kitchen (circa 2010) into a high-tech contemporary space to better suit his style, and reflect the lifestyle he enjoys with husband Olivier and their three dogs.
Being a designer, Darren already had a clear idea of what he wanted to achieve. He brought his ideas to Freedom Kitchens, and together we worked to modify the layout and create a kitchen with a crisp and natural palette showcasing contemporary Scandi style – but with a metallic twist.
Darren was especially drawn to our metallic range of cabinetry finishes, which lend a subtle and sophisticated sheen. The anthracite-toned TITAN perfectly matched the smart new French door fridge he was planning to install, and so integration dreams were realised: all of the surrounding joinery was done in Titan, allowing the fridge to blend in seamlessly.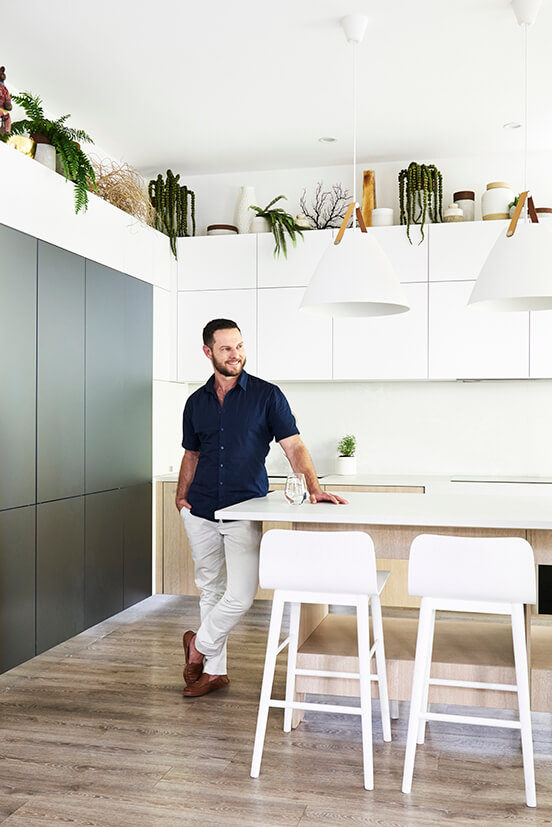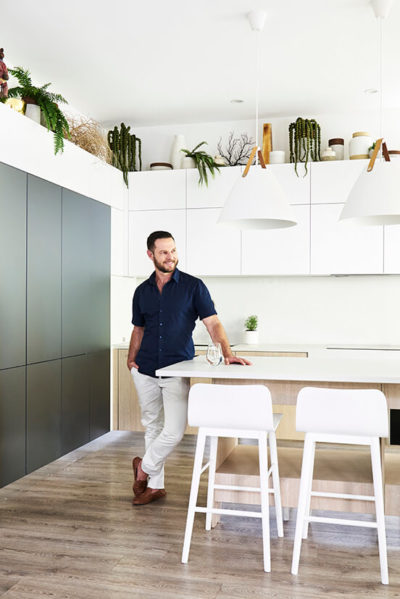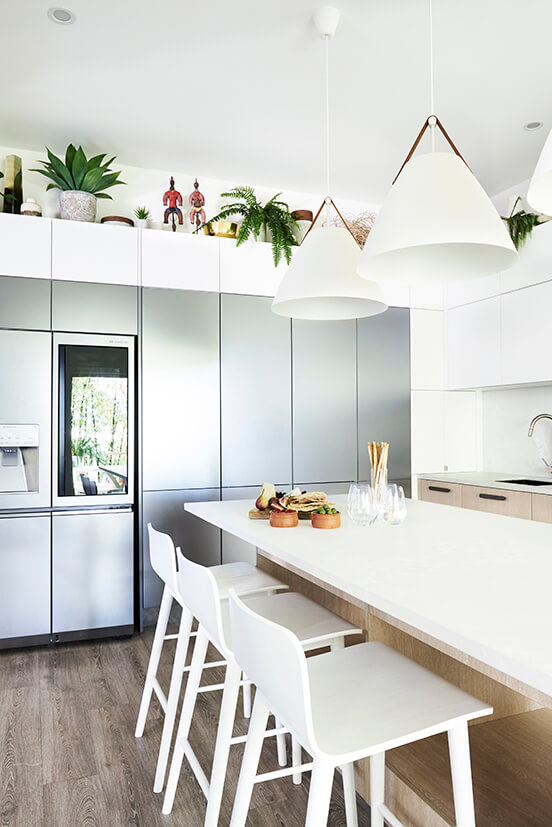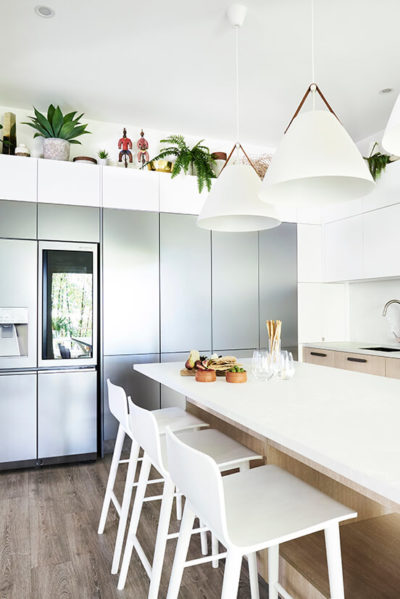 A run of slim line cabinets frame the TITAN up top, and extend across to the work side of the kitchen over larger overhead cabinets in matching ICELAND WHITE.
In keeping with the sleek and seamless theme, Darren chose touch-catch cabinetry rather than doors with handles. However for the timber-look cabinets beneath his sink, his designer's eye led him to source anthracite-toned handles that tie back perfectly with the metallic joinery.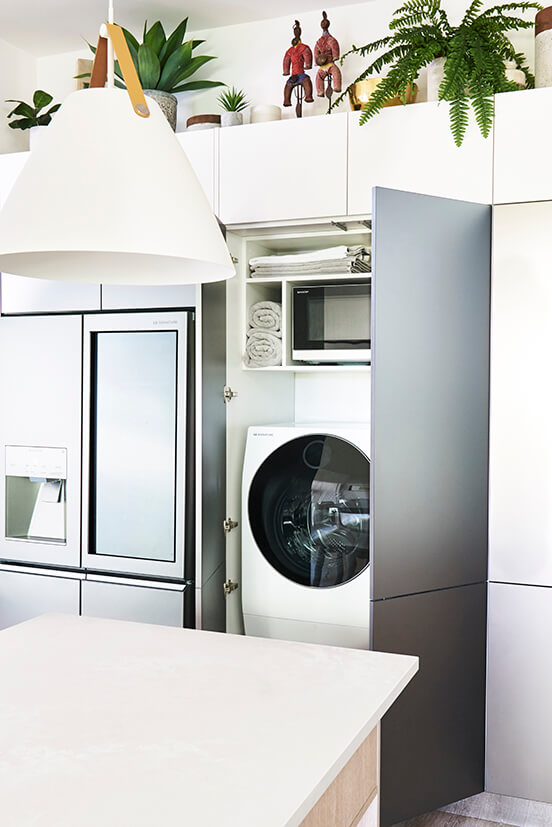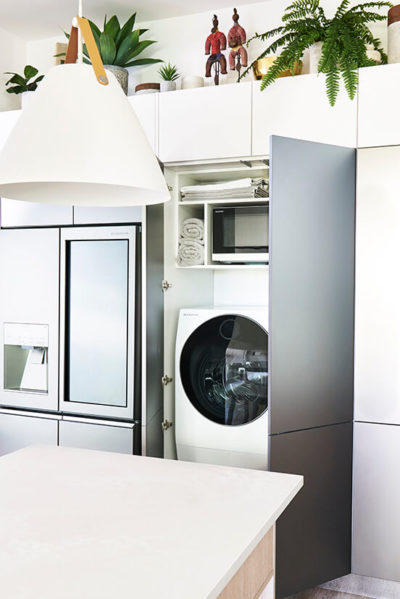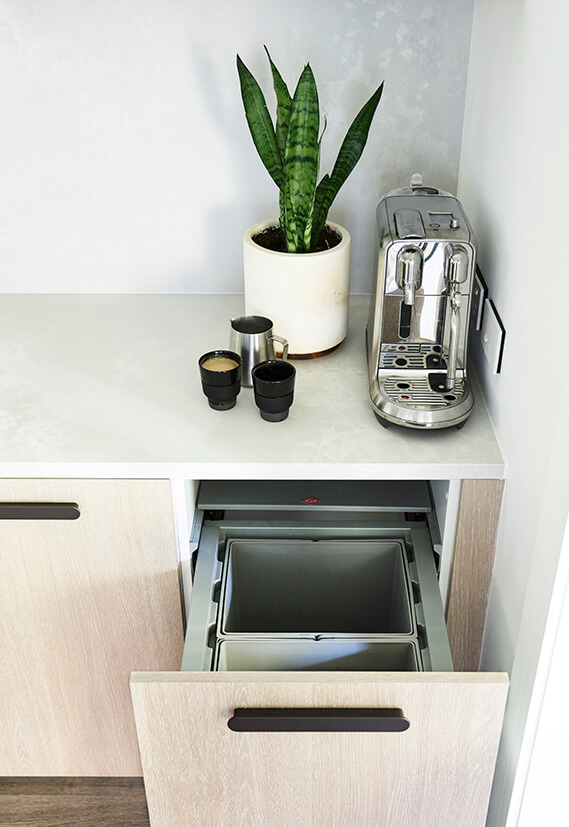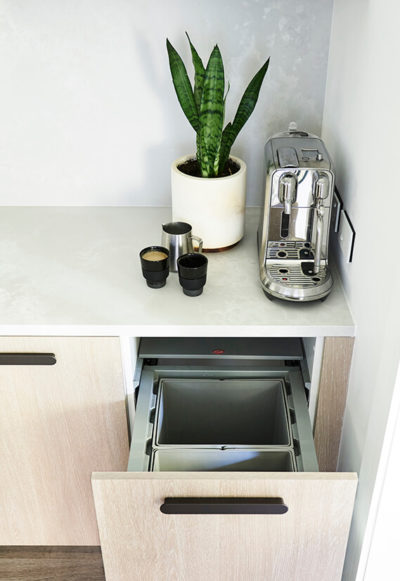 Within the block of metallic cabinets, Darren decided to make the internal space truly work for his lifestyle. The cabinet next to the fridge hides a surprise: it's a mini laundry!
The decision to put his new washing machine in the kitchen was born from the appealing notion of being able to use the large island benchtop for sorting and folding clothes, whilst watching the TV in the adjoining living room.
Compartment shelves hold laundry items, plus there's a dedicated niche for the microwave. The magic that makes it all work is how it disappears out of sight once the cabinet door is closed, with no hint as to what's inside – kicking goals in seamless integration.
Other items Darren chose to integrate were his dishwasher and bins, with a smaller twin set conveniently located beneath his coffee machine. It's perfect for disposing of coffee capsules or even trash from the nearby BBQ, which is located on the inside/outside deck extending from the kitchen.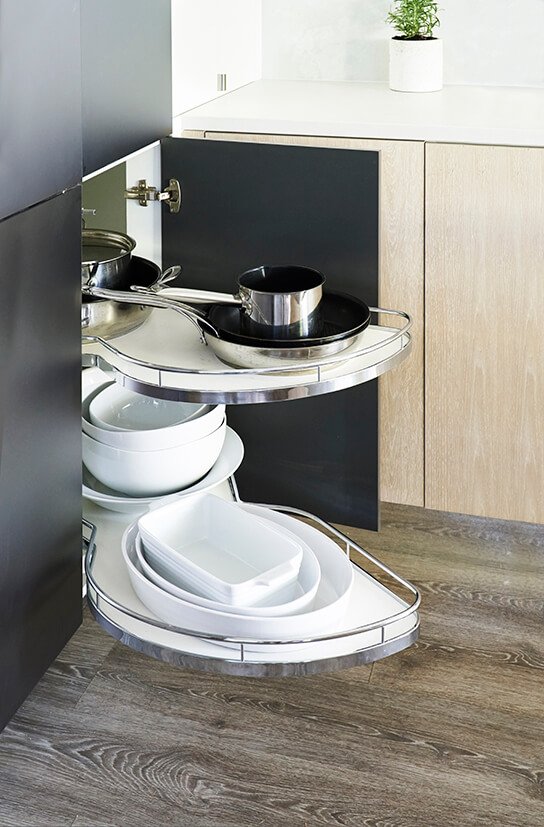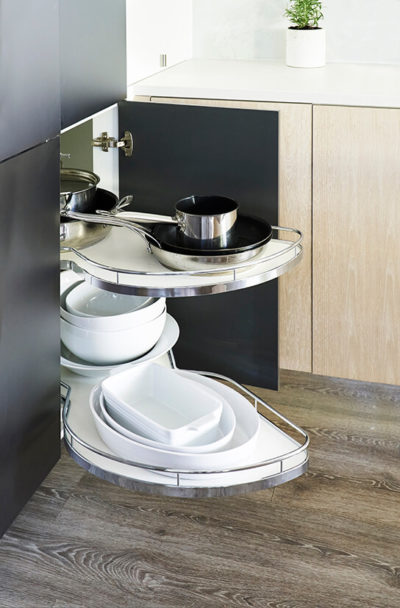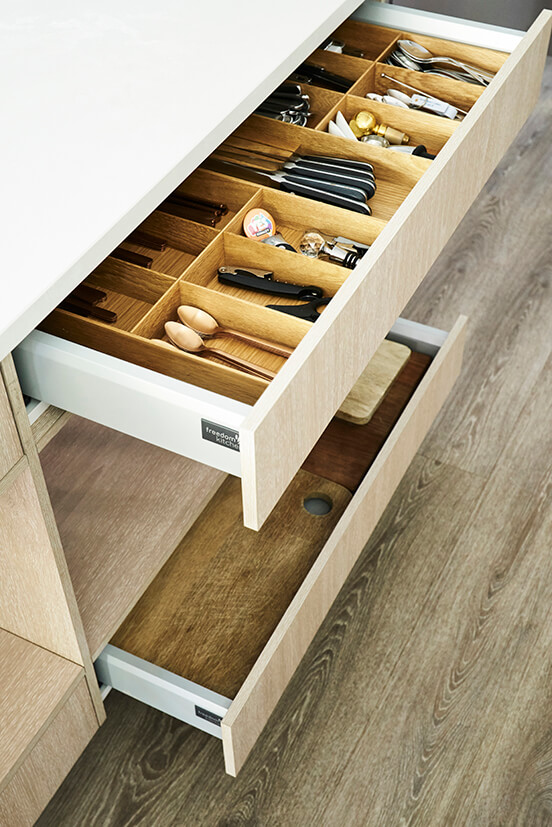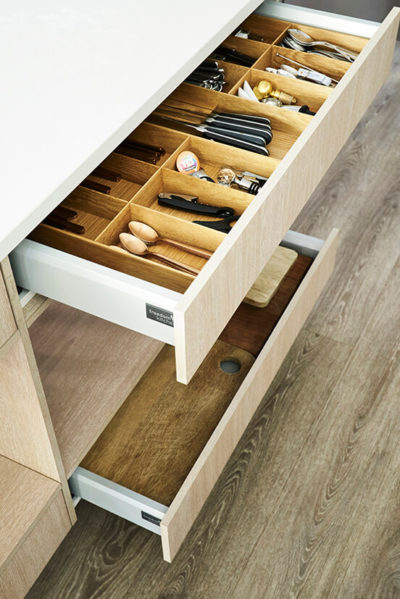 When it came to organised storage, Darren knew he had to have some clever Le Mans corner shelving: the shelves swing right out of the hard-to-reach corner which is too often consigned to being useless space.
He also had a stunning timber look divider tray put into his Freedom Kitchens drawers, which boast a lovely soft-close feature (something which is included as standard across all Freedom Kitchens).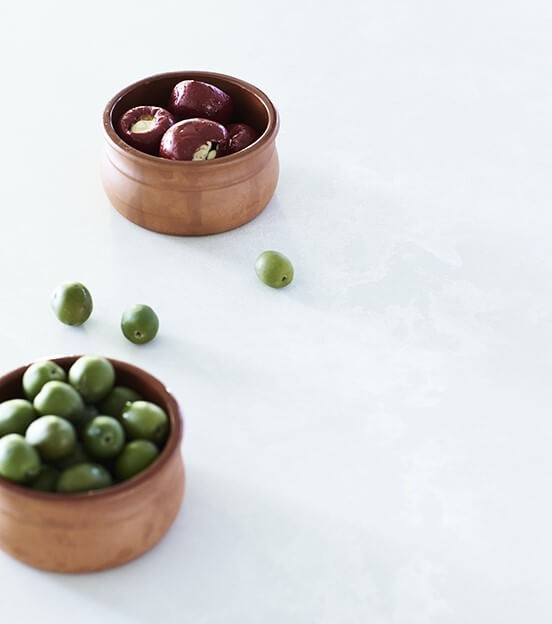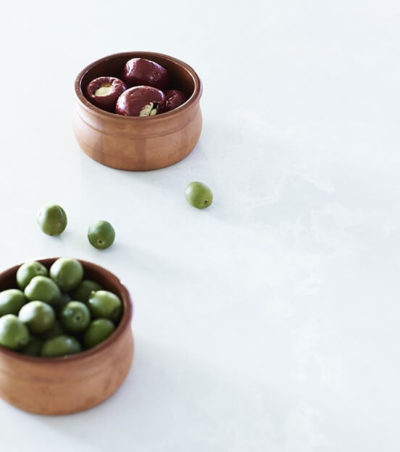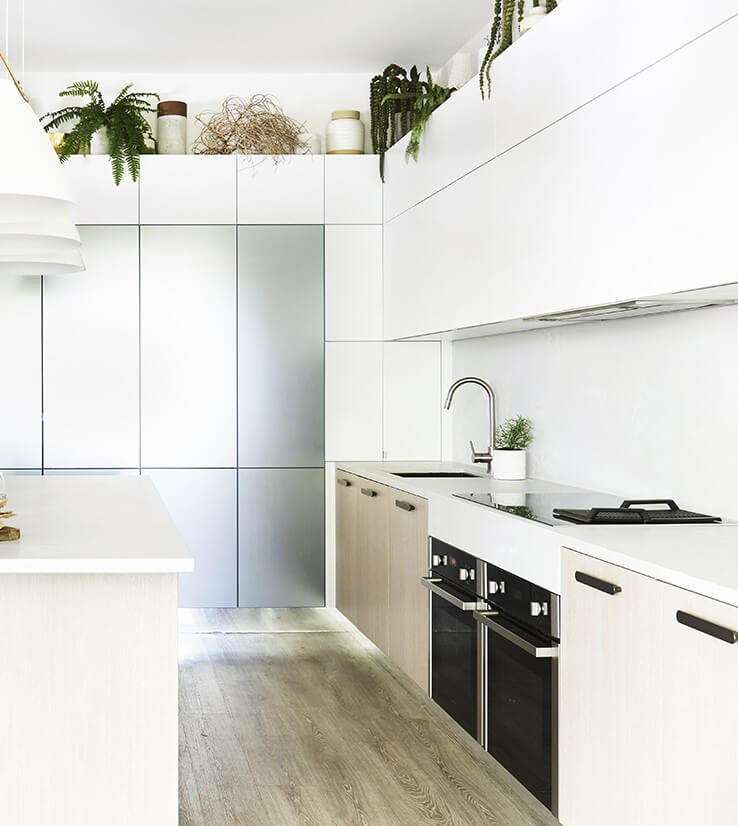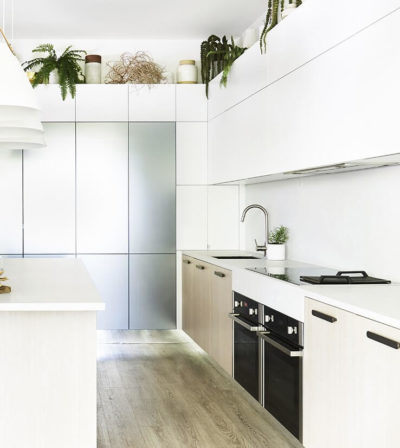 Darren's sizable island benchtop is a focal point in the space, and he knew he wanted a natural stone look, that would complement rather than clash with the metallic elements. His choice was CLOUDBURST CONCRETE™ by Caesarstone®, which has a dreamy cloud-like patina and textured surface, with a slim 30mm edge to keep everything sleek.
Darren also used CLOUDBURST CONCRETE for his splashback and extended it down the edge above the ovens as an 'apron' for added visual interest – certainly an inspiring designer's detail!
Want to see more of Darren Palmer's kitchen and his advice on kitchen trends, plus tips when considering form and function?  Watch our videos below.
Inside Darren Palmer's Freedom Kitchen – Talking Kitchen Trends
Inside Darren Palmer's Freedom Kitchen – Talking Form & Function