Designing a new kitchen is one of the most exciting projects you can embark on when renovating or updating your home. It can also be daunting to know exactly what you want to achieve and it is only natural that you will have plenty of questions of how to bring your dream kitchen design to life. The good news is that our expert kitchen designers are here to help, and below we list some of the most common questions we get asked during design appointments – and share our answers!
Q. Should I select a classic white kitchen colour palette or should I consider other schemes?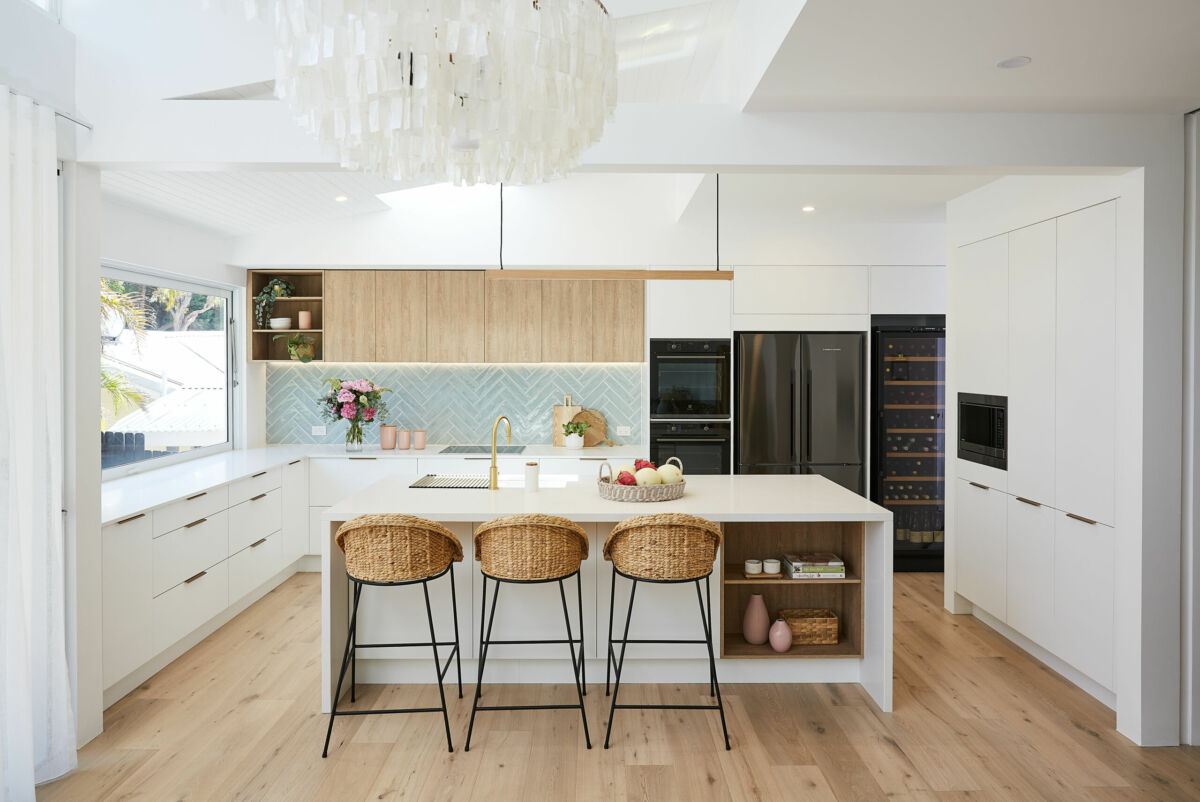 2021 will see bright white cabinetry in a matte finish paired with organic benchtops and pops of natural colours such as blue and timbers.
A. While a white kitchen colour scheme will always remain a popular choice, gone are the days where an all-white palette is the only option when designing your new kitchen, in particular if you are considering selling your home at some stage. Nowadays we are seeing a range of colour palettes being used in Australian kitchen design, with shades of white, grey, black, timber, and pops of colour all enjoying popularity.
Organic and natural palettes will reign supreme in 2021, with a push towards tactile and raw finishes. Expect to see bright whites in a matte finish paired with blacks and greys, and if you are feeling adventurous a pop of vibrant earthy colour such as green or blue. Adding elements of timber in various tones will add warmth and texture to your kitchen. Monochromatic kitchen schemes are also a popular choice, adding interest and depth to your room, creating a kitchen look that is both classic and modern.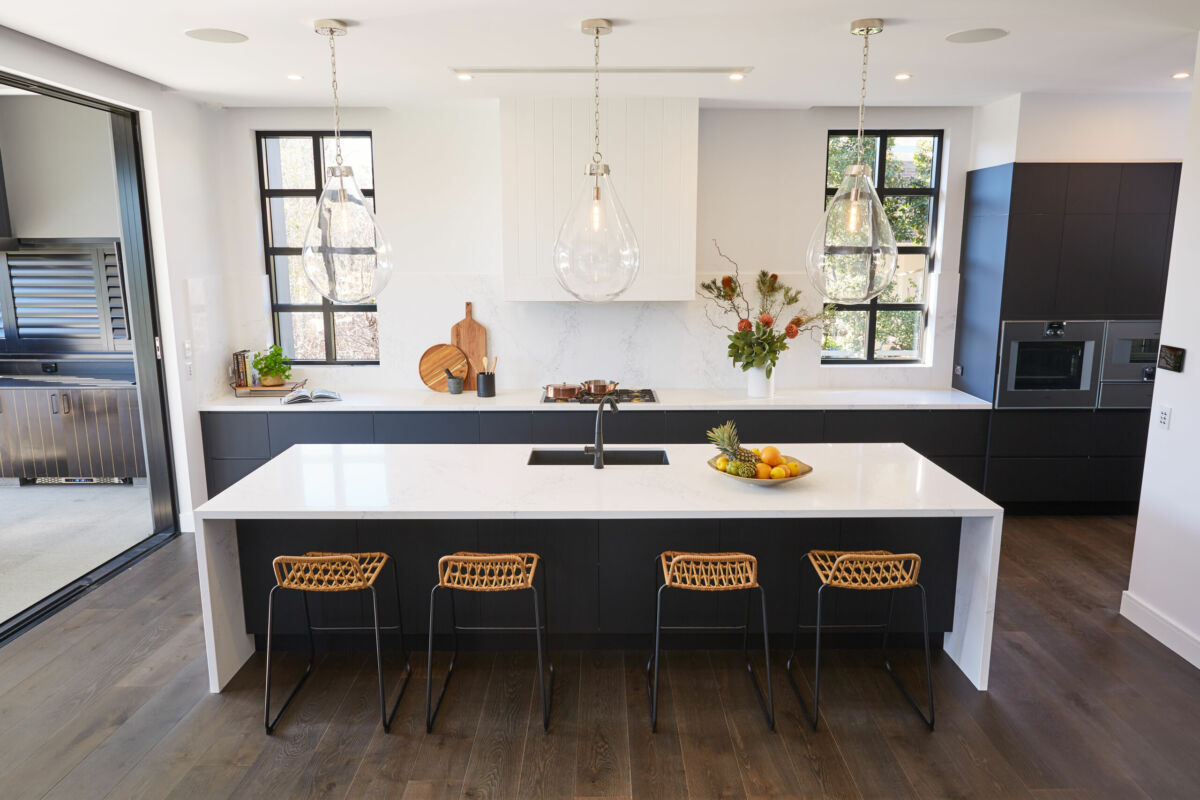 Love a classic colour scheme but don't want an all-white kitchen? Pair black and white cabinetry for a stunning monochromatic palette to create a look which is both classic and modern at the same time.
Your choice of door profile can also have huge impact on your kitchens look and feel. Our Sierra doors with their classic Shaker-look profile effortlessly evoke the charm of a Hamptons or coastal-inspired kitchen and come in a variety of stylish colours. Our new Vera and Verity doors, with their panel-look and vertical-fluted designs, provide additional texture and interest and suit many colour combinations.
Q. How do I choose the perfect benchtop for my kitchen when there are so many considerations such as look, material and thickness?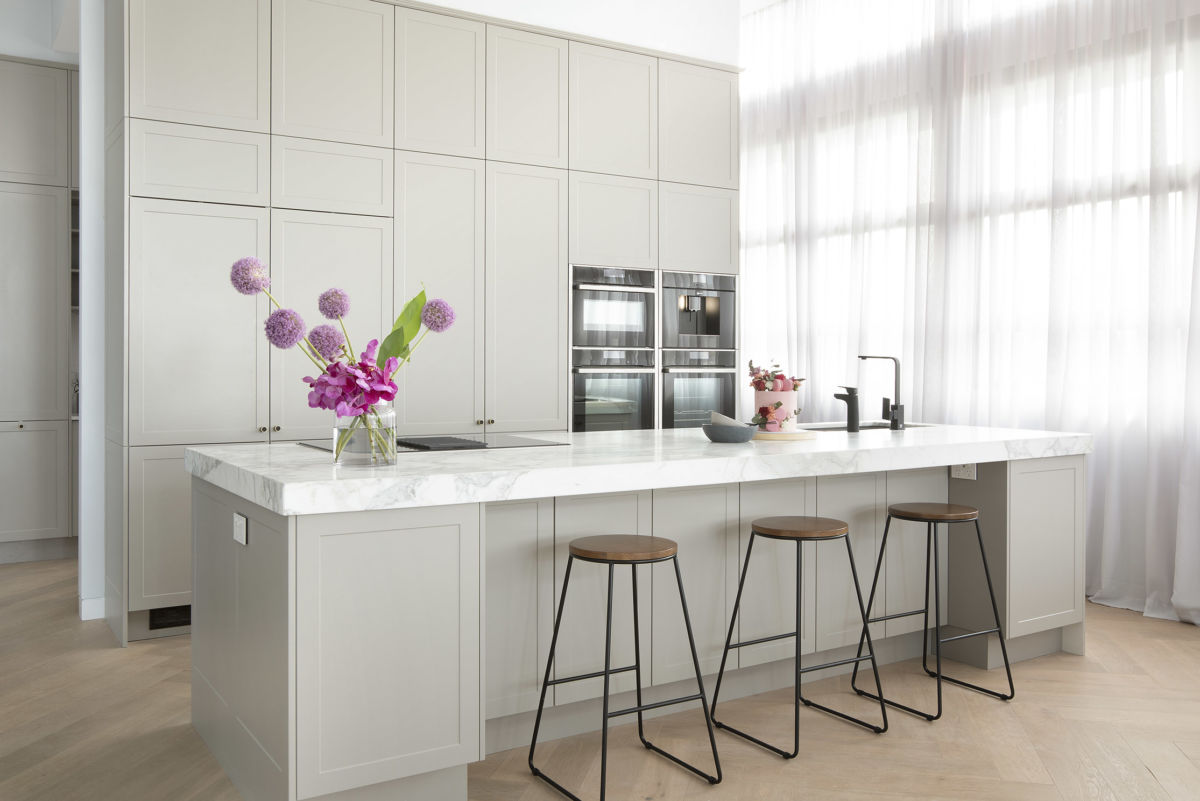 Select a benchtop that works for your kitchen style and budget. Freedom Kitchens is proud to provide a plethora of options from premium laminates to quatrz options from Caesarstone.
A. Within the Freedom Kitchens range we offer benchtops from our Laminate collection or quartz options from Caesarstone. Selecting your benchtop look will depend on the style you have chosen for your kitchen space. If you have fallen in love with the ever-popular Hamptons-look, a marble-look countertop is a wonderful match regardless if you prefer a traditional or modern take on the style. Timber-look tops from our Laminate benchtop range, such as our Premium Halifax Oak work well for country and Scandi looks, while our Noir Black Matt Nano benchtop suits sleek, edgy kitchen styles.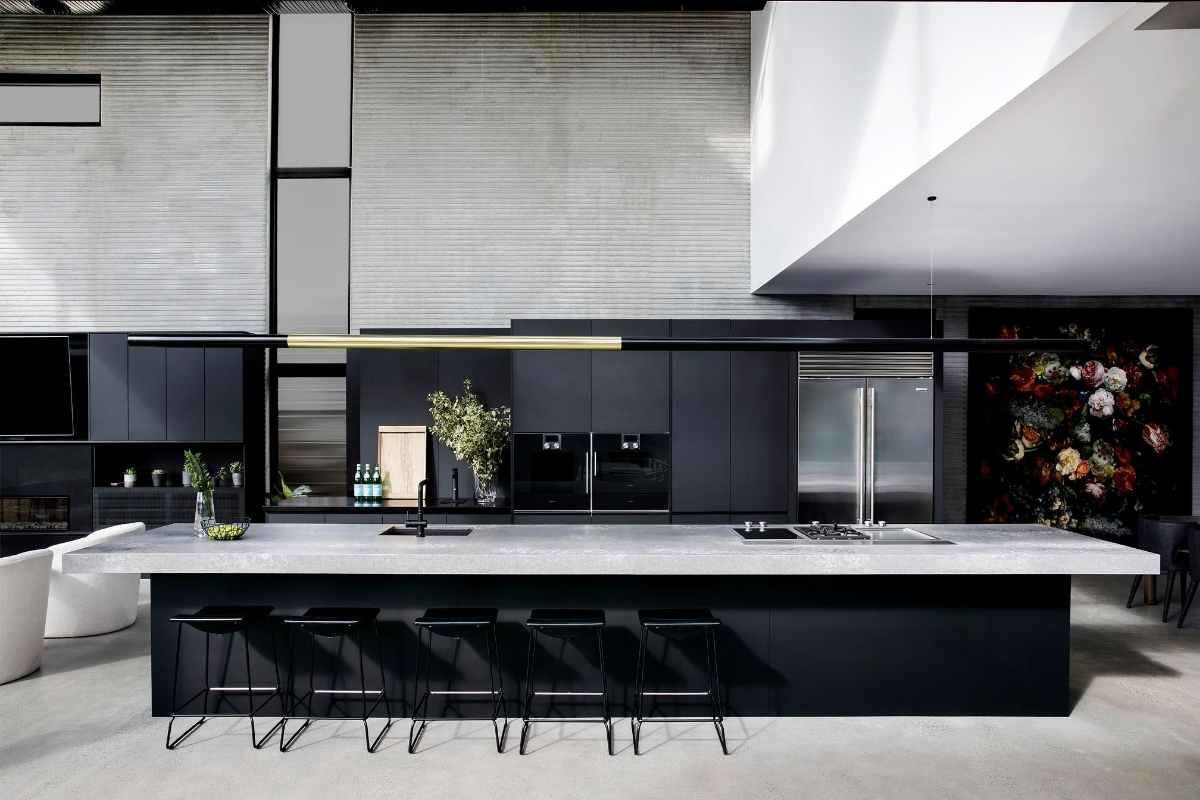 Star couple Jules & Guy Sebastian's sleek and modern kitchen includes a knockout 5.6 metre island bench with a 100mm Mitred edge in Caesarstone's Rugged Concrete, which they then paired with sleek 20mm Jet Black back benches.
Concrete-look benchtops are a great choice if you wish to create a modern and industrial kitchen style. We love the concrete-inspired range from Caesarstone which offers various shades from deep and dramatic tones to softer, more subtle colours, ensuring that you can find the perfect match for you and your home.
Your kitchens' style, layout, and your budget, will not only impact the above considerations but will influence the thickness and design of your benchtop. If you have opted for an island bench as part of your new kitchen design, we love to include an overhang to allow for generous seating, and you might like to select a thicker top and then match with slimmer back benches.
Q. Will including luxe extras such as island benches and butler's pantries make an impact on my kitchen design?
A. Island benches and butler's pantry provide a number of benefits to your kitchen and should be considered if your floor plan allows space for their inclusion.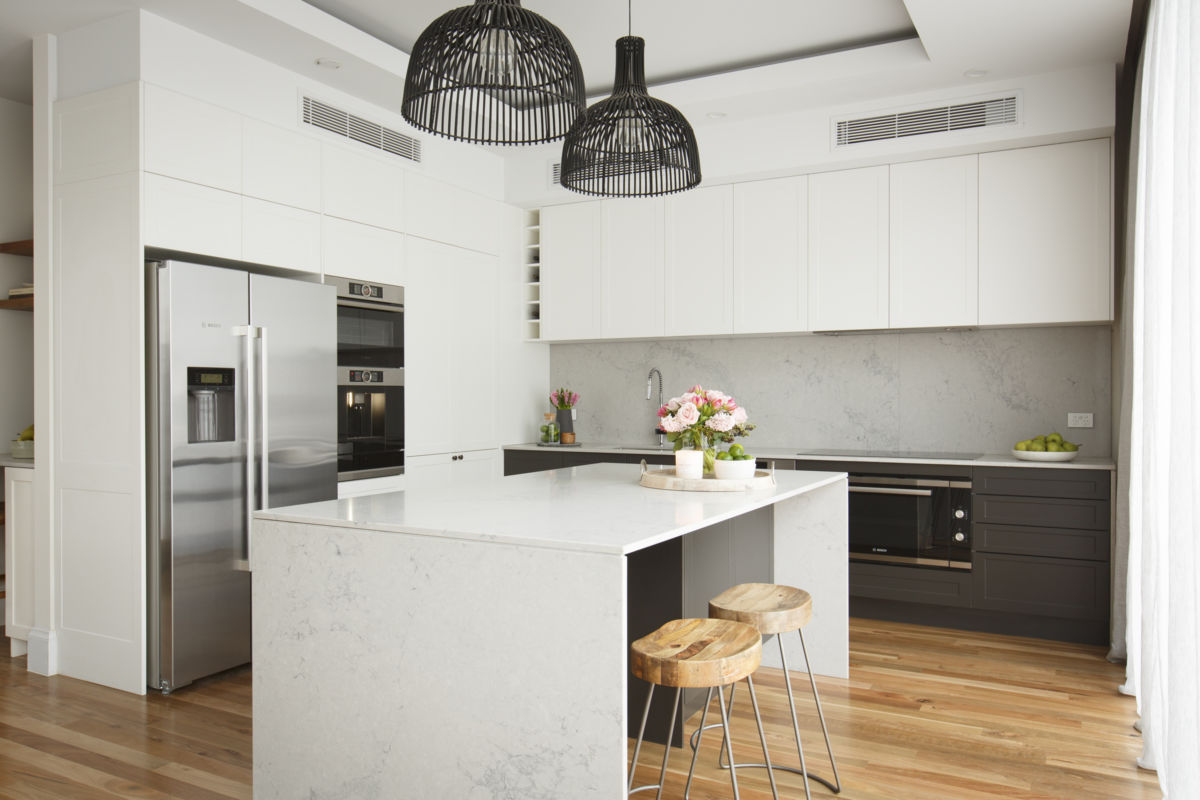 An island bench increases storage and prep area in your kitchen, while creating a gathering place for your friends and family.
Kitchen island benches are a very popular design feature in many kitchens – and for good reason. Offering a stunning design focal point in any kitchen, they also improve the functionality of your space. Island benches offer stylish and functional prep space in your kitchen and create a beautiful gathering space for your family and/or guests when you're entertaining. Islands also allow you to maximise storage which is key in a hardworking kitchen.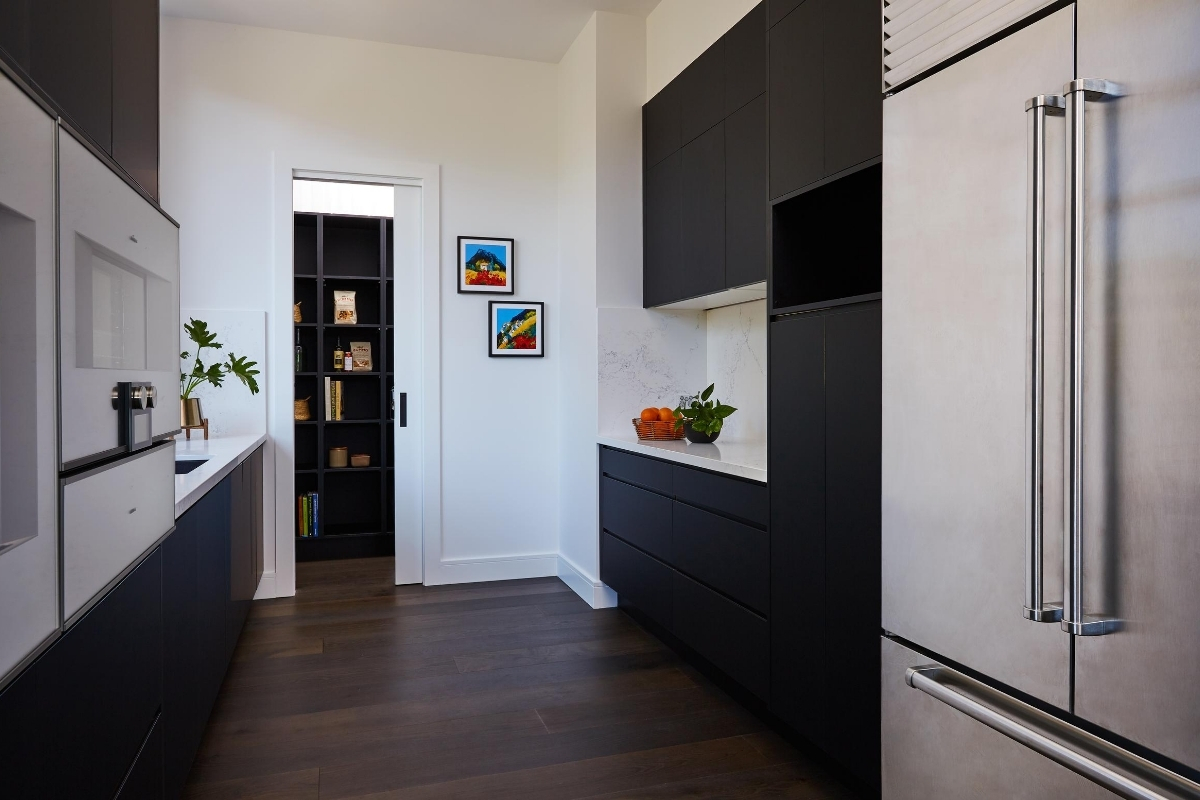 Whether a butler's, walk-in or a simple unit, a well thought-out and designed pantry can not only add value to your kitchen, it has the power to transform how you use it as well. If space permits, a butler's pantry provides plenty of space for storing pantry items, small kitchen appliances and can also be designed to included additional appliances such as dishwasher to make cleaning up a breeze. For those who love to entertain a butler's pantry not only provides extra prep space, you can also hide away any mess behind close doors so your guests can't see it! Win, win!
Q. How do I select the perfect handle for my kitchen?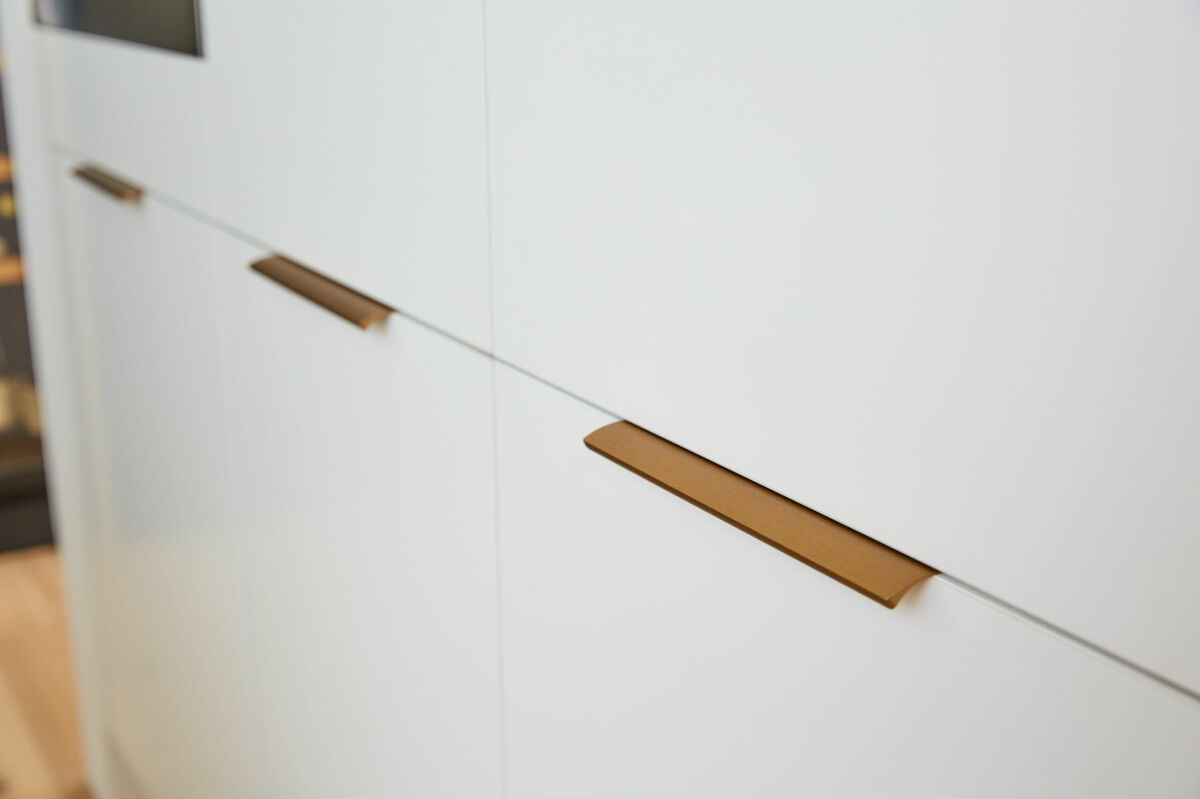 The extensive range of handles at Freedom Kitchens allows you to find the perfect match for your cabinetry and kitchen style.
A. Handles may seem like a small detail in your kitchen design yet they have the potential to make a big impact! When choosing a handle, be sure to make a selection that matches the profile of your doors and drawers, and complements the style you have chosen for your kitchen.
Gold or brass-look handles add the Midas touch to Hamptons kitchen, while silver shades complement a Scandi or modern look. Black and timber handles are also popular choices, perfect for industrial and earthy palettes respectfully. If you prefer a handle-less look, our Peak Integrated handles are a wonderful choice to suit a sleek and modern design.
Inspired to begin your kitchen journey with Freedom Kitchens?
Don't wait! Book your free in-home or video call design appointment HERE. Our expert kitchen designers are ready to answer your kitchen questions and create your dream kitchen!
For more inspiration, ideas and product range information download our latest catalogue HERE.