Transform Your Kitchen with the Magic of Island Benches
Kitchen Island Benches are a very popular design feature in many kitchens – and for good reason. Not only do they offer a stunning design focal point in any kitchen, acting as the heart of the room, they also improve the functionality of your space. Below we answer some of the most commonly asked questions about Island Benches and how you can bring them into your dream kitchen.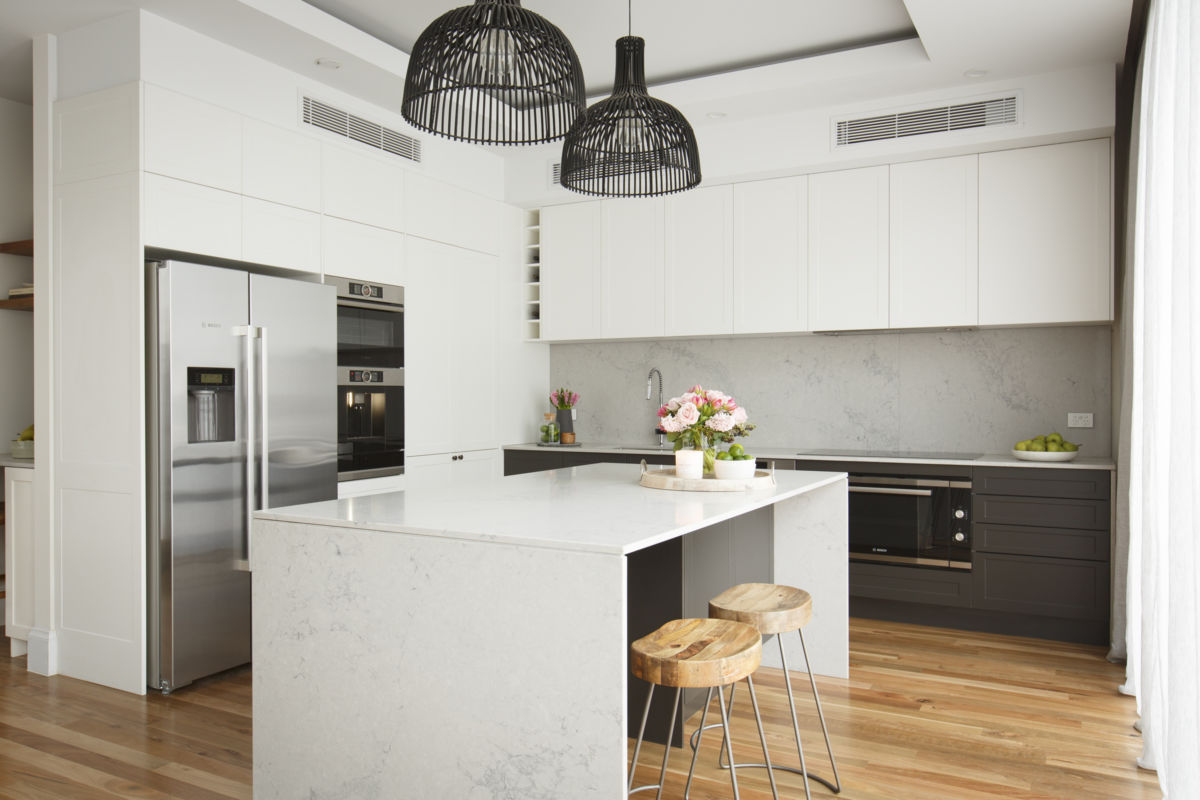 Josh & Elyse scored a perfect 30/30 for their kitchen from the judges in The Block Gatwick, with their island bench playing a large part in the winning design.
How do island benches contribute to the overall style and functionality of a kitchen?
Island benches offer stylish and functional preparation space in your kitchen and allow your space to flow beautifully and easily. They also create a beautiful gathering space for your family and/or guests when you're entertaining. Islands also allow you to maximise storage which is key in a hardworking kitchen.
What accessories or appliances should I put on my island bench?
Sinks are the most common element found in a kitchen island with a dishwashing underneath it. However incorporating cooktops are becoming a popular design choice- just remember you will need a rangehood above the cooktop, which will obviously impact on your design.
The beauty of Island Benches is that really the choices are endless in terms of what can be incorporated into them- the key is designing to suit your lifestyle and how you will be using your kitchen space. Other options can include wine fridges, microwaves as well as an array of wire pull outs and internal accessories for ultimate organisation.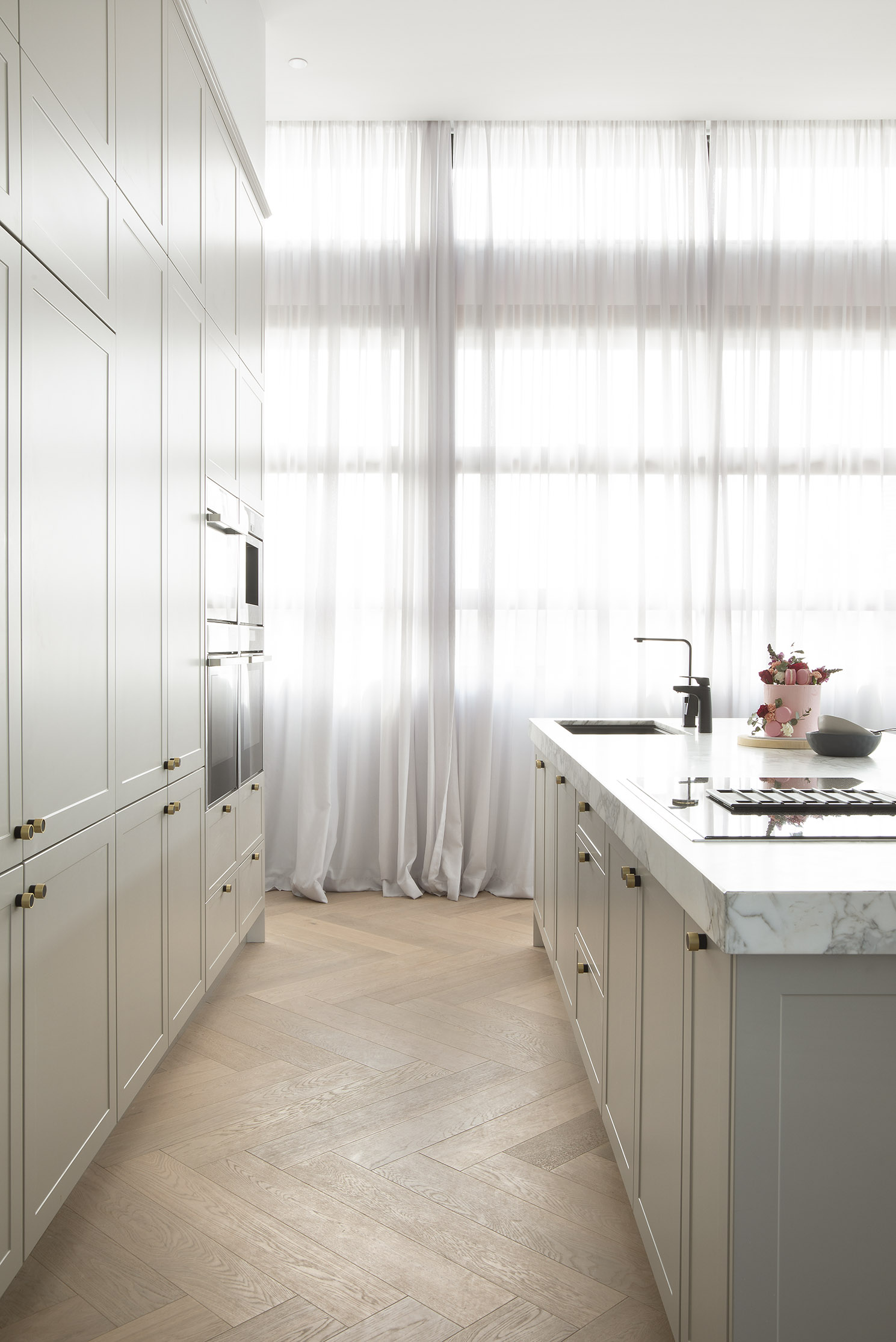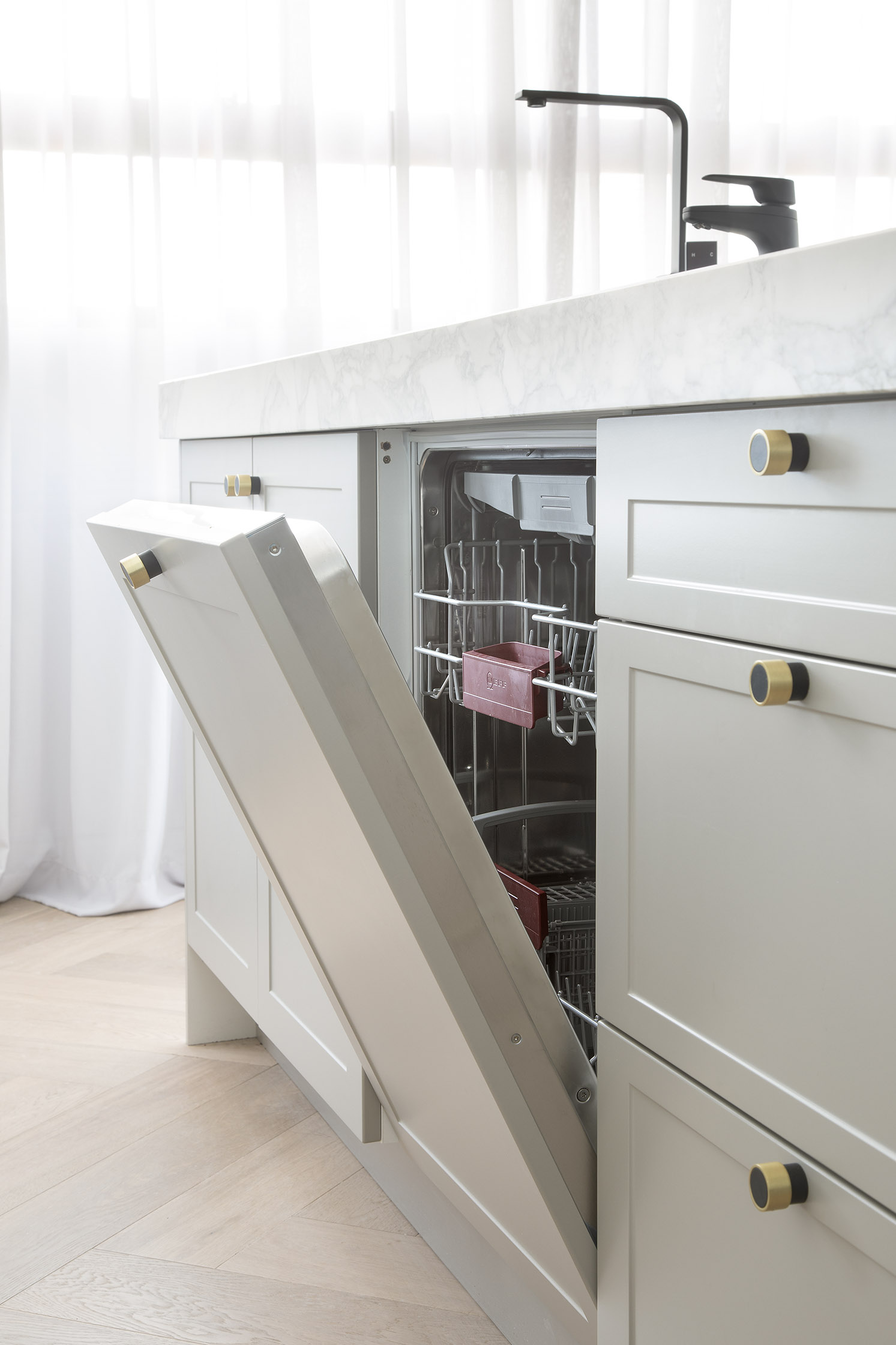 The island benchtop created by Jess & Norm on The Block Oslo plays hero in the centre of the kitchen, incorporating ingenious hidden storage as well as sink and tap and dishwasher.
Design tip: Don't have a huge kitchen space but would love to incorporate an Island bench into your design?
We are finding that having nothing on the island is increasingly popular- as it becomes a large gathering space, acting as or taking the place of a dining table. So if you're short on space and don't mind not having a conventional dining table this could be a great option. This design also allows you to maximise storage and seating- win, win!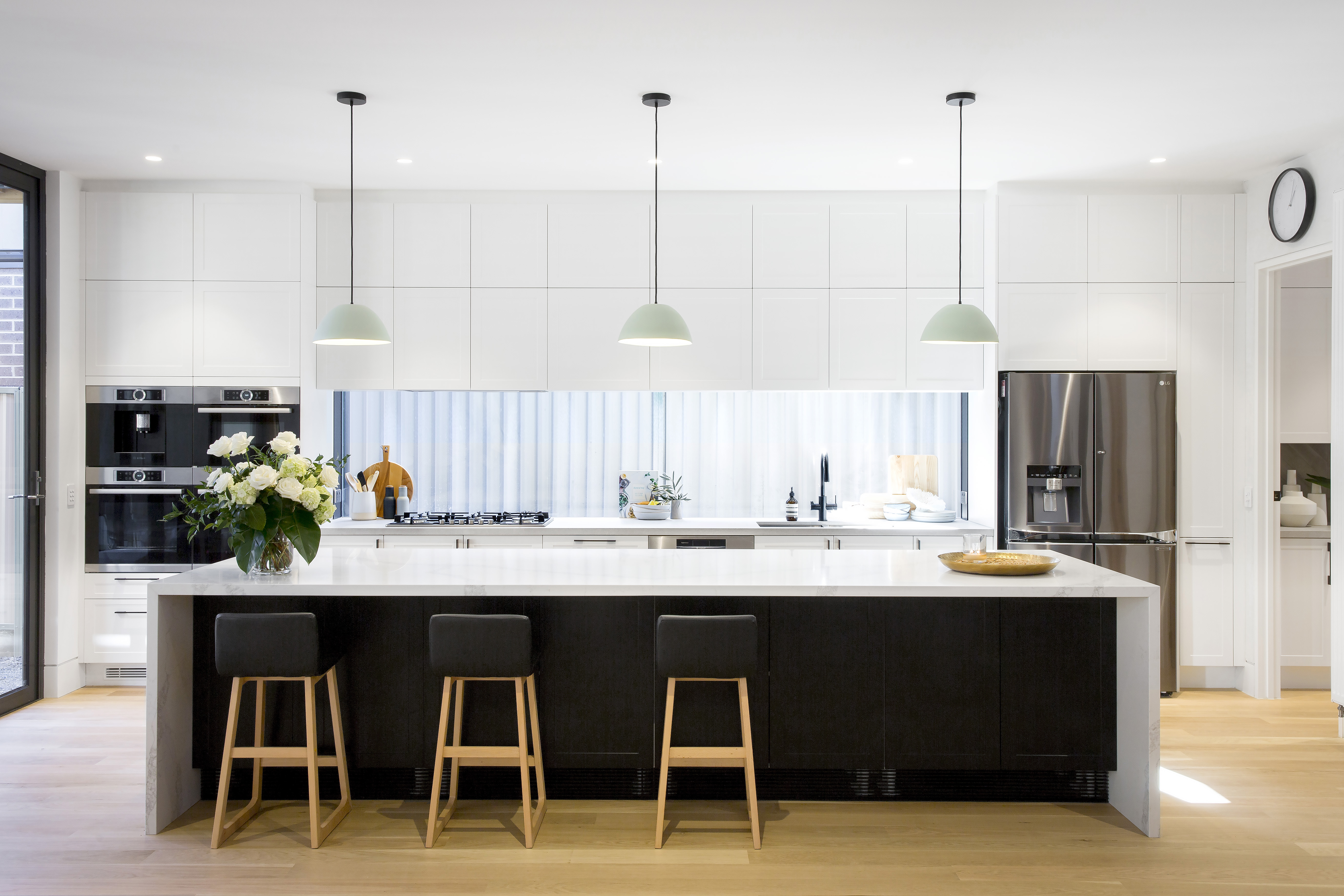 Who needs a dining table when you can have an Island Bench like the one pictured above – it measures over 3.6 metres creating plenty of seating room for his family of six easily.
Maximise Your Space with an Island Bench
Typically, we would advise to have storage on the inside of the island and seating on the outside. If space permits you could also have cupboards on the seating side to store items that are used less often in the kitchen.
In terms maximising storage in the island we recommend a mix of drawers, including cutlery drawers so you can easily serve guests, as well as tall double cupboards to store larger items such as platters in.
What should I choose for my benchtop?
Quartz surfaces from Caesarstone are a beautiful and classic choice for an island bench. With an array of colours and looks to choose from you can select a benchtop look that suits your kitchen style. Love the Hamptons look? Consider a beautiful marble-look colour such as the new Empira White. If you prefer a modern industrial look a concrete-look top is a great and fitting option.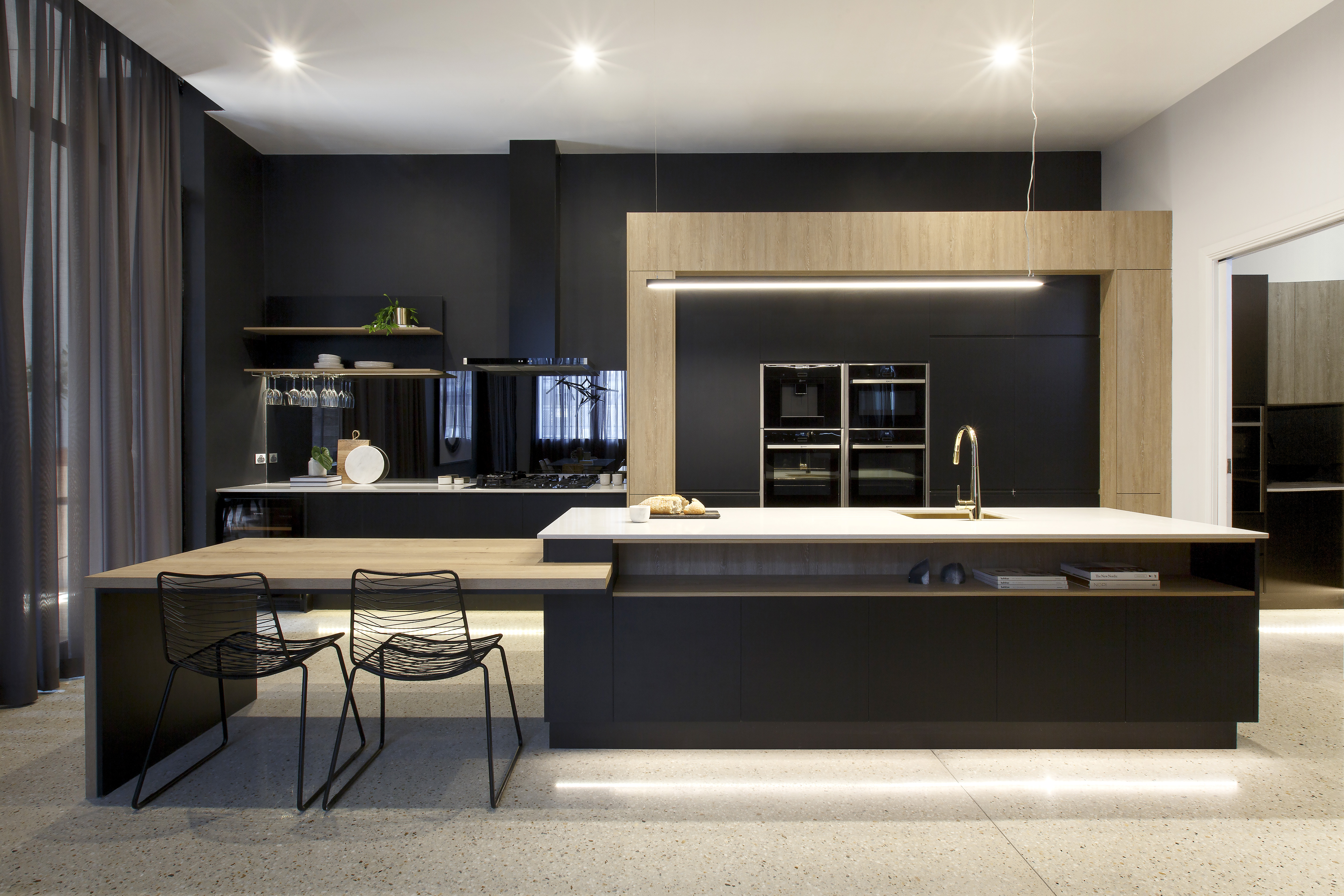 We love the Natural Halifax Oak timber-look Karlie & Will presented on The Block 2016, Port Melbourne series- the judges loved it too, scoring the kitchen a perfect score!
Cost-effective Laminate Benchtops
Laminate benchtops are an amazing & cost-effective option. Freedom Kitchens' Natural Halifax & Tobacco Halifax Oak Feelwood colours are an amazing way to introduce a timber-look to your kitchen with the added benefit of being easy to clean. These tops are characterised by the authentic character, knots and planking of true solid wood with the ends featuring vertical grain edging to complete the look.
Design tip: Consider mixing benchtop surfaces and looks used on your Island and on other tops in your kitchen. For example you might like to use a show stopping marble-look quartz top on your Island and pair it with simple block coloured tops on the back runs.
What should I choose for cabinetry?
In terms of doors we have an extensive range of finishes, colour and profiles to suit any kitchen style. Our Sierra doors are a popular choice as they offer a modern Shaker-style look but equally popular are flat door styles in a range of colours from white, grey, timber-look to our new Black Ultramatt cabinets as seen in Guy & Jules Sebastian's kitchen below.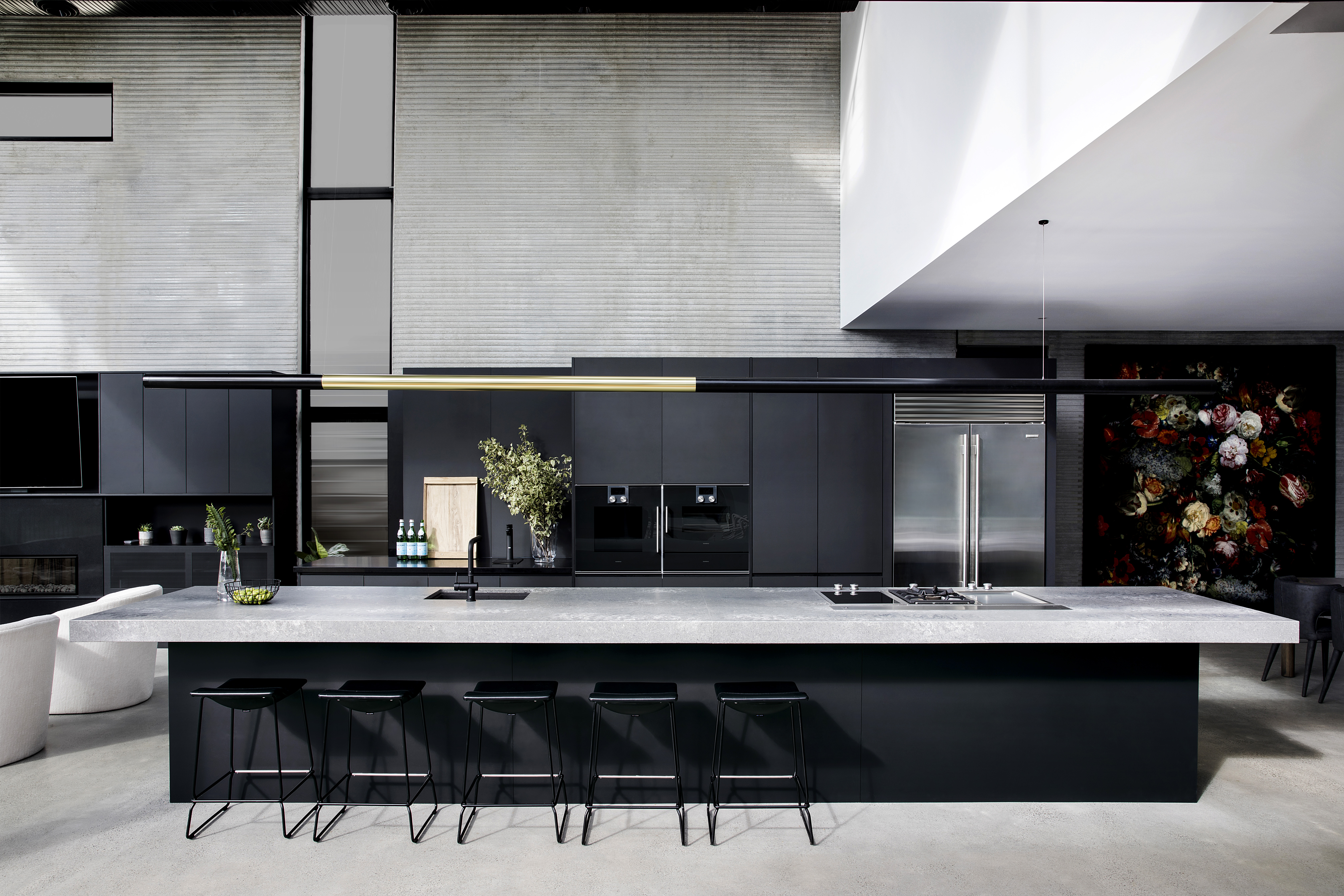 At the heart of the space is the showstopping island benchtop spanning a staggering 5.6 meters in length!
Guy & Jules selected Freedom Kitchen's new Black Ultramatt cabinetry for their modern kitchen, including their island bench which spans 5.6 metres! Its silky smooth pure matte finish has anti-fingerprint properties – a handy feature for keeping their cabinetry looking clean, with their young boys.
Love Island Benches as much as we do? Bring your dream kitchen and Island to life with us today!
Book a free in-home design appointment with a professional Freedom Kitchens' designer HERE. For more inspiration, follow @freedom_kitchens on Instagram or download our new Spring catalogue HERE.
What should I consider for my island benchtop and cabinetry?
Sarah Farrugia
2023-02-13T16:20:09+11:00
For the benchtop, consider using quartz surfaces, laminate, or a combination of different surfaces. For the cabinetry, choose a finish and profile that suits your kitchen style, such as shaker-style or flat doors in various colours.