Kitchen design trends for 2015
"It's not so long ago that the year 2015 seemed like a distant and super futuristic possibility. Yet here we are at the beginning of it and those space age, minimalistic ideas have fallen by the wayside, replaced with a new palette of warm, moody and sensually stimulating materials, finishes and colours – with a little bit of new age technology to boot."
1. BLACK IS THE NEW WHITE
Dark materials create atmosphere and younger home owners are opting for darker moody shades, and away from the sterile white spaces and 'Chefs' stainless steel kitchens recently in vogue.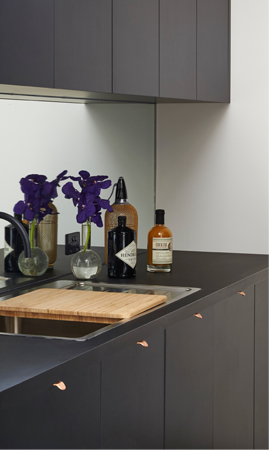 New to market is the brand new Super Matt Black Nano benchtop, exclusive to Freedom Kitchens. Imported from Italy, this benchtop is nothing short of stunning. This impressive material features an innovative technology to ensure it is resistant not only to fingerprints, but is also able to withstand knocks and scratches. It's also hygienic and easy to clean, waterproof, and resistant to dry heat and rubbing. I love its easy-to-repair qualities too – moisten the surface with a piece of damp kitchen paper, then pass over the scratch with a hot iron to repair the damage. Available February.
2. GREY ACCENTS REMAIN ON TREND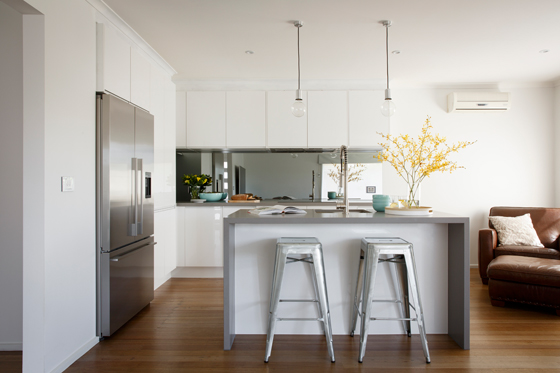 A continuing trend, grey will remain the hottest neutral colour for 2015. Pair with white or black for a fresh look and bring in timber grain to soften a monochromatic scheme.
In benchtops, look to new Caesarstone® Sleek Concrete. With its warm grey base it's the ideal finishing touch to any modern industrial styled kitchen. I love the fact you can now enjoy the look of concrete with the durability and easy maintenance for which Caesarstone® is renowned.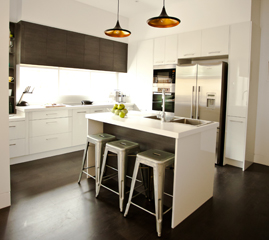 From the runway to the home, colour blocking as a design principle will be one of the top kitchen trends in 2015. Designers are cleverly defining spaces using multiple solid colours in the one space, such as island benches, a wall of tall cabinetry, or to define upper and lower cabinetry. This is a great way to bring in pops of colour and timbers and create a designer statement in the kitchen.
4. THE MODERN TRADITIONAL KITCHEN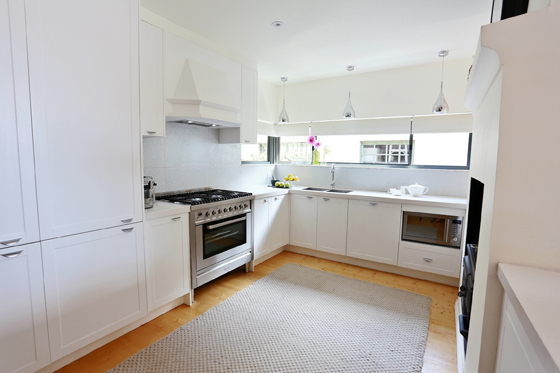 Homeowners and designers alike are choosing to mix modern and traditional styles to create a more personalised look in the kitchen. By mixing genres, homeowners are breaking convention; pairing contemporary colours, finishes and appliances with classic door profiles (e.g. Shaker) and tiled splashbacks to create sophisticated, yet welcoming and homely spaces. A look that will suit those steering away from the sleek, modern look. Consider the effect of different types of door handles and pulls as the type you choose can bring a modern edge or add more heritage appeal.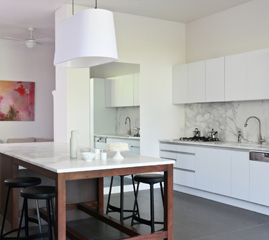 The kitchen is evolving as less of a utilitarian room for cooking and more as another type of living space. Bringing furniture-style details into the kitchen mix will create a space that further connects with the home. Timber-framed dining benches, floating benchtops and detailed islands are ways to incorporate this idea into your home.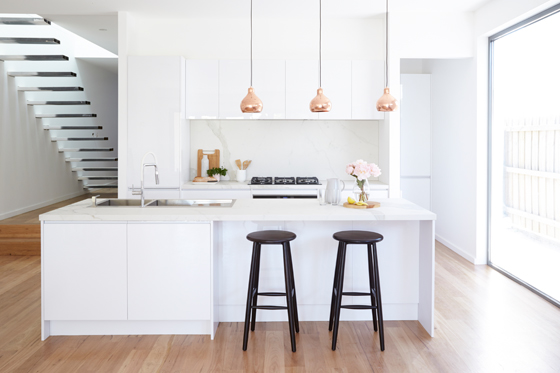 If your kitchen is in need of some warm accents and details, warm-coloured metals are a sure-fire way to give the room an inviting glow. Overhead pendants, metallic glass-fronted doors and handles are simple, effective and affordable ways to add some lavish touches. If the budget can stretch a little further, take a look at the new gold Oliveri sink available now through Freedom Kitchens.
7. FUTURE PROOF YOUR KITCHEN
Changes in the modern family, such as children staying home well into their 20s and more people working from home, are having a profound effect on today's kitchen designs. To ensure your kitchen will suit your family of tomorrow, design considerations should include an integrated study nook; dedicated entertainment hub; highly durable surfaces that will stand the test of time; and classic colour combinations that will remain timeless.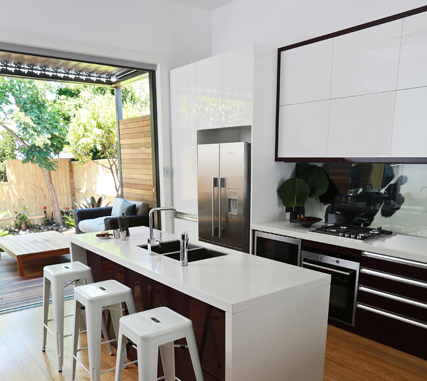 "Without a doubt, the single best piece of advice is to engage a professional kitchen designer who has the skills and experience to get this right first time."