Welcome to 2020! It's a brand new year and new decade – and here at Freedom Kitchens we think that creating your dream kitchen should be at the top of your New Year resolutions' list!
Below we share our top trends we are excited to see grow in Australian kitchen design this year- we hope that you're as inspired as we are!
Cabinetry: Colour Play
If white kitchens aren't your style, there are many door colours, finishes and textures that you can select from that will still allow you to create a beautiful kitchen that will stand the test of time.
Influenced by international design trends to suit our unique market the colour palette for cabinetry is moving towards sophisticated darker tones, combined with open display shelving, and rich textured benchtops.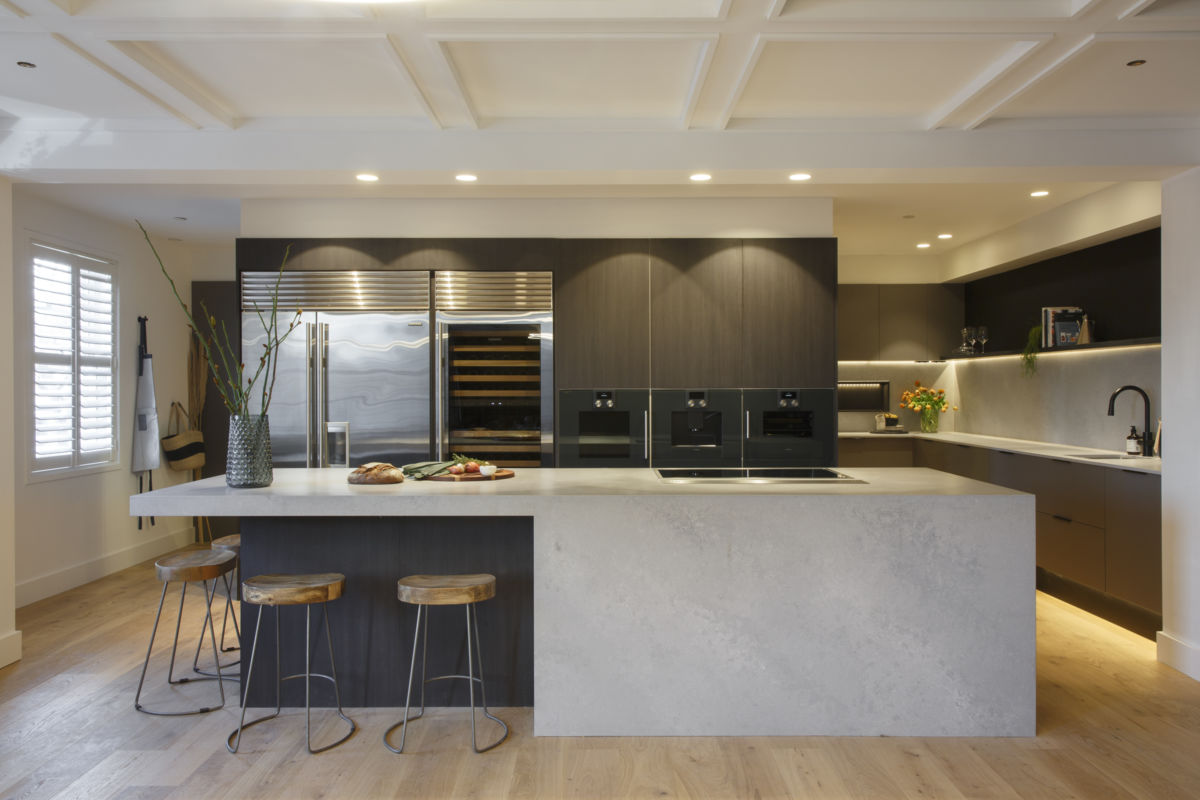 Furthermore, don't be afraid to add some colour to your kitchen. When Pantone announced Classic Blue as its Colour of the Year for 2020, our minds immediately went to French Navy doors from our Luxe range. As seen below adding a pop of colour to a small top run of cabinetry can completely transform the space by creating a feature that your eye is naturally drawn too.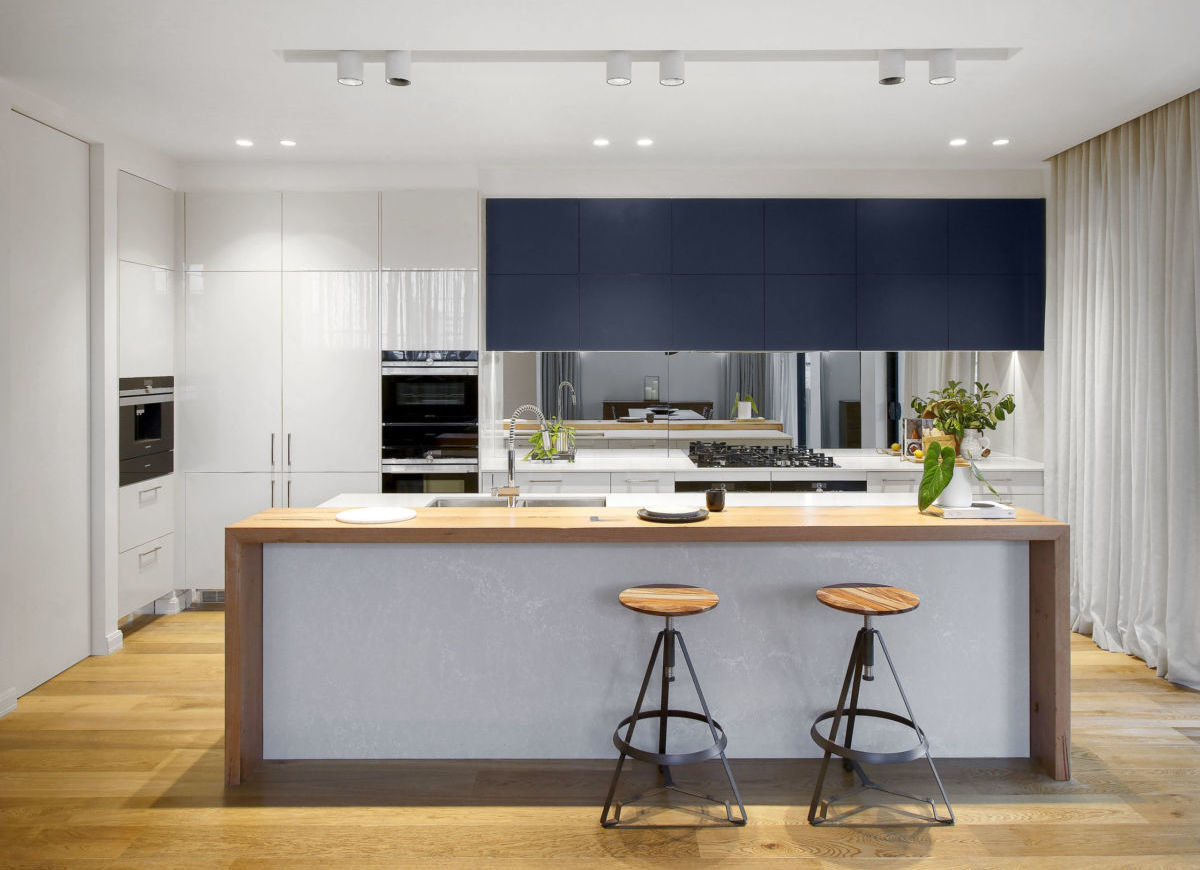 Benchtops: Back to Nature
In 2020 we are loving naturally toned and textured benchtops as they add interest and character to a kitchen space but are still a timeless style – a must-have combination when creating your new Freedom Kitchen. With an array of colours and looks to choose from you can select a benchtop look that suits your kitchen style.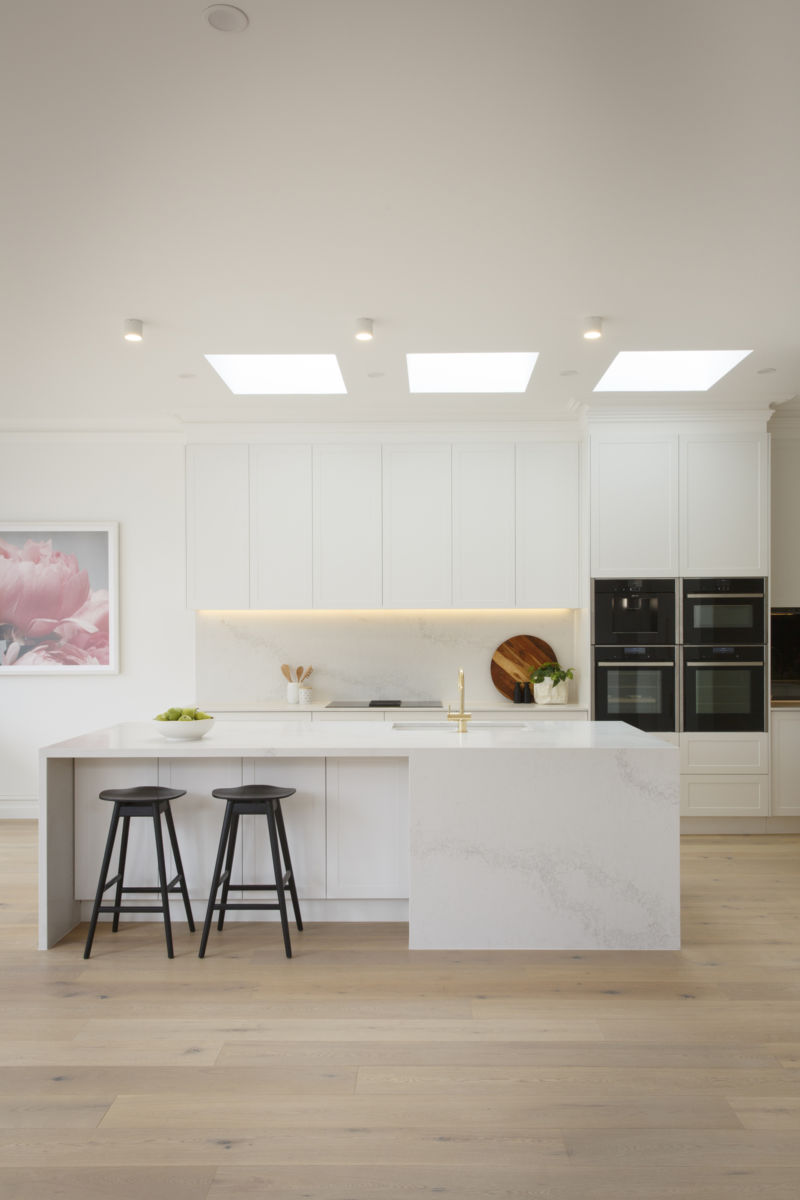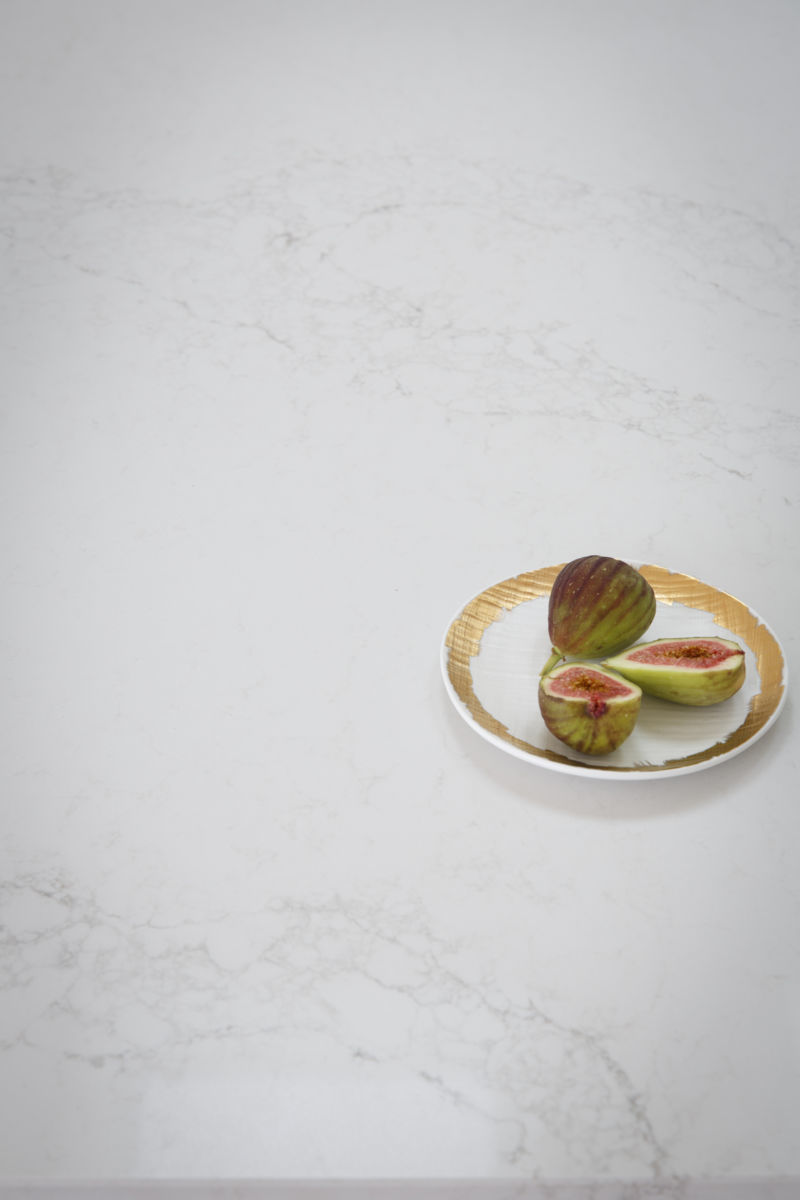 The Block alumi Julia & Sasha selected Caesarstone's Calacutta Nuvo for both their benchtops and splashback for this glamourous Hamptons-style kitchen.
Quartz surfaces from Caesarstone are a beautiful and classic choice for your kitchen benchtops. Boasting a wide range of colours and textures, there is something for everyone. Our pick is marble-look tops with a white base and subtle veining such as Calacutta Nuvo as they suit a wide range of kitchen styles and are classic choice. If you wish to create a more modern, industrial kitchen look no further than Caesarstone's new Primordia, an organic grey concrete-look top.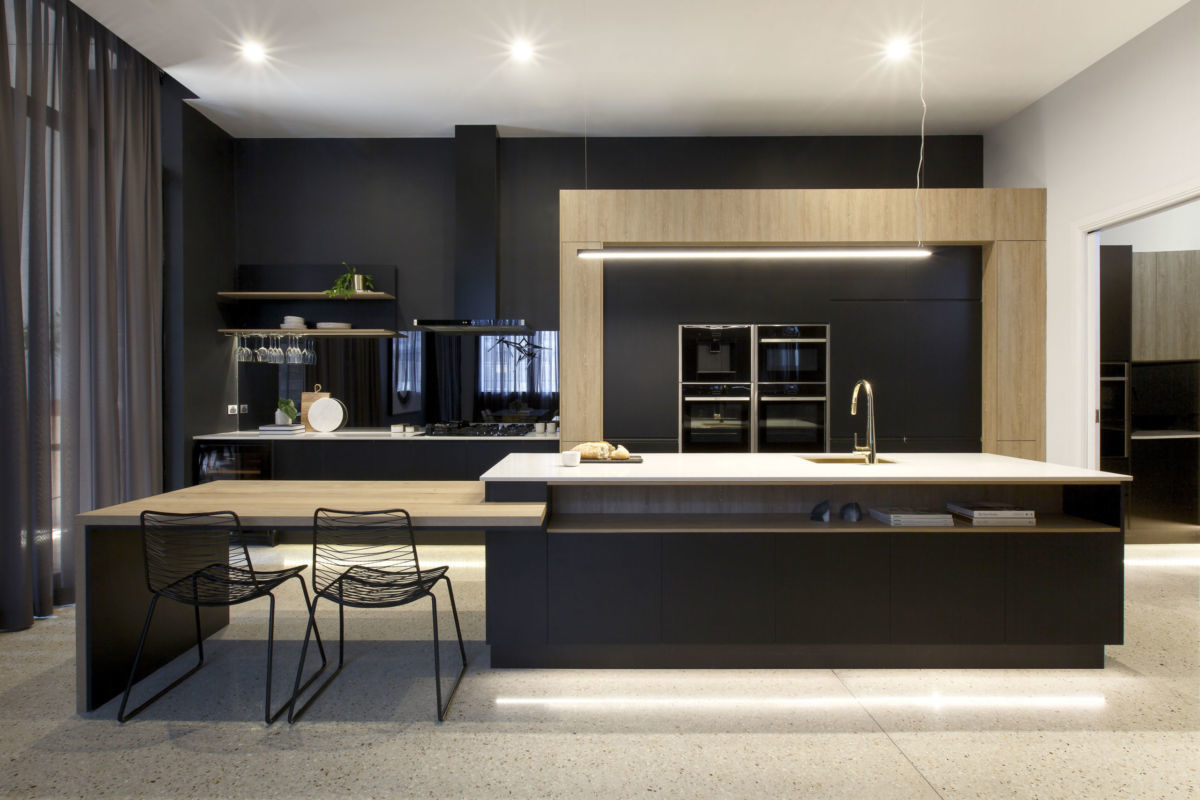 We love the Natural Halifax Oak timber-look Karlie & Will presented on The Block 2016, Port Melbourne series- the judges loved it too, scoring the kitchen a perfect score!
Laminate benchtops are an amazing & cost-effective option. Freedom Kitchens' Natural Halifax & Tobacco Halifax Oak Feelwood colours are an amazing way to introduce a timber-look to your kitchen with the added benefit of being easy to clean. These tops are characterised by the authentic character, knots and planking of true solid wood with the ends featuring vertical grain edging to complete the look.
Design tip: Consider mixing benchtop surfaces and looks used on your Island and on other tops in your kitchen. For example you might like to use a show stopping marble-look quartz top on your Island and pair it with timber-look or simple block coloured tops on the back runs.
Island Benches: Take a Seat
Kitchen Island Benches are a very popular design feature in many Australian kitchens – and for good reason. They offer stylish and functional preparation space in your kitchen, maximise storage and allow your space to flow beautifully and easily. They also create a beautiful gathering space for your family and/or guests when you're entertaining. What you include in your island bench design really depends on your needs, style and lifestyle.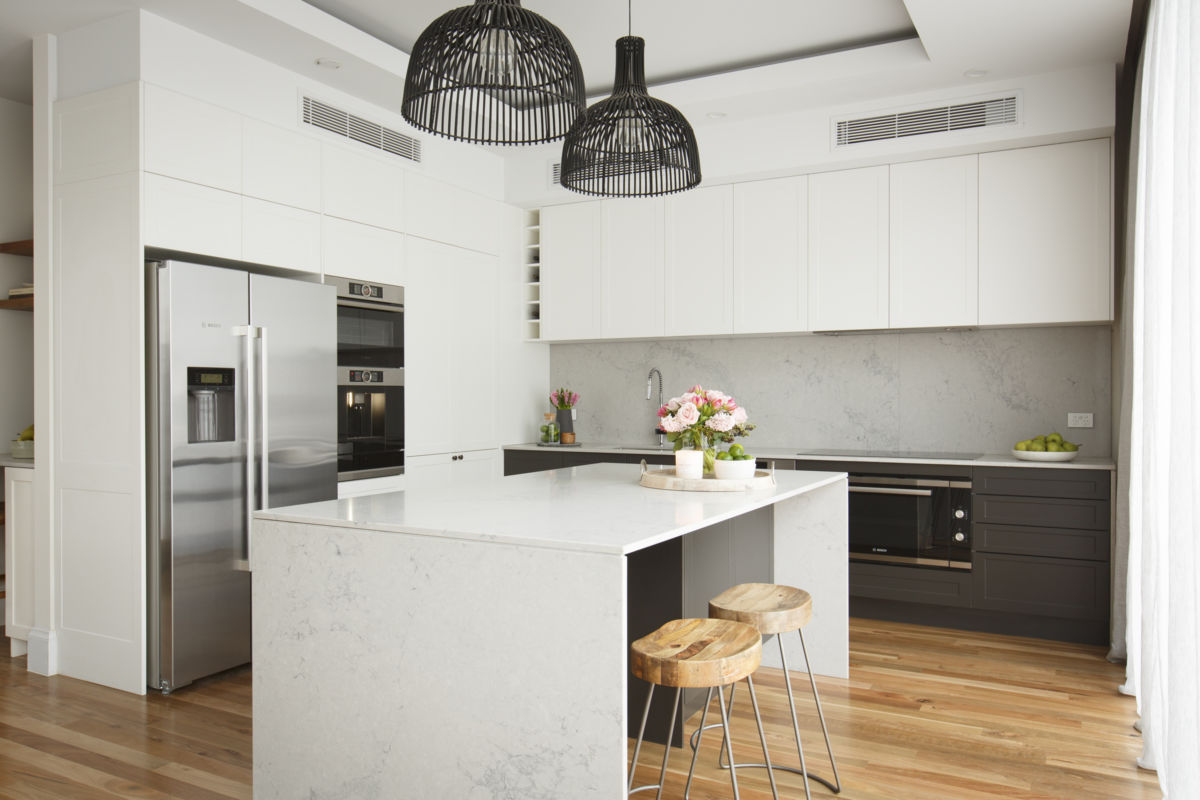 As the heart of the home, it makes sense to incorporate seating within your kitchen at the island bench, ensuring the room becomes a favourite gathering space for your family and guests.
We predict that having no appliances such as a cooktop or sink & tap on the island will continue to be an increasingly popular design choice as it becomes a large seating area, acting as or taking the place of a dining table. So if you're short on space and don't mind not having a conventional dining table this could be a great option. This design also allows you to maximise storage and seating- win, win!
Storage: Organisation is Key!
Find a place for everything in your kitchen with our smart storage solutions which will transform how you use your room. Choose from an extensive range of internal organisers, from adjustable drawer dividers, knife holders, corner carousels to base units built into drawers or cupboards allow you to optimise your kitchen space.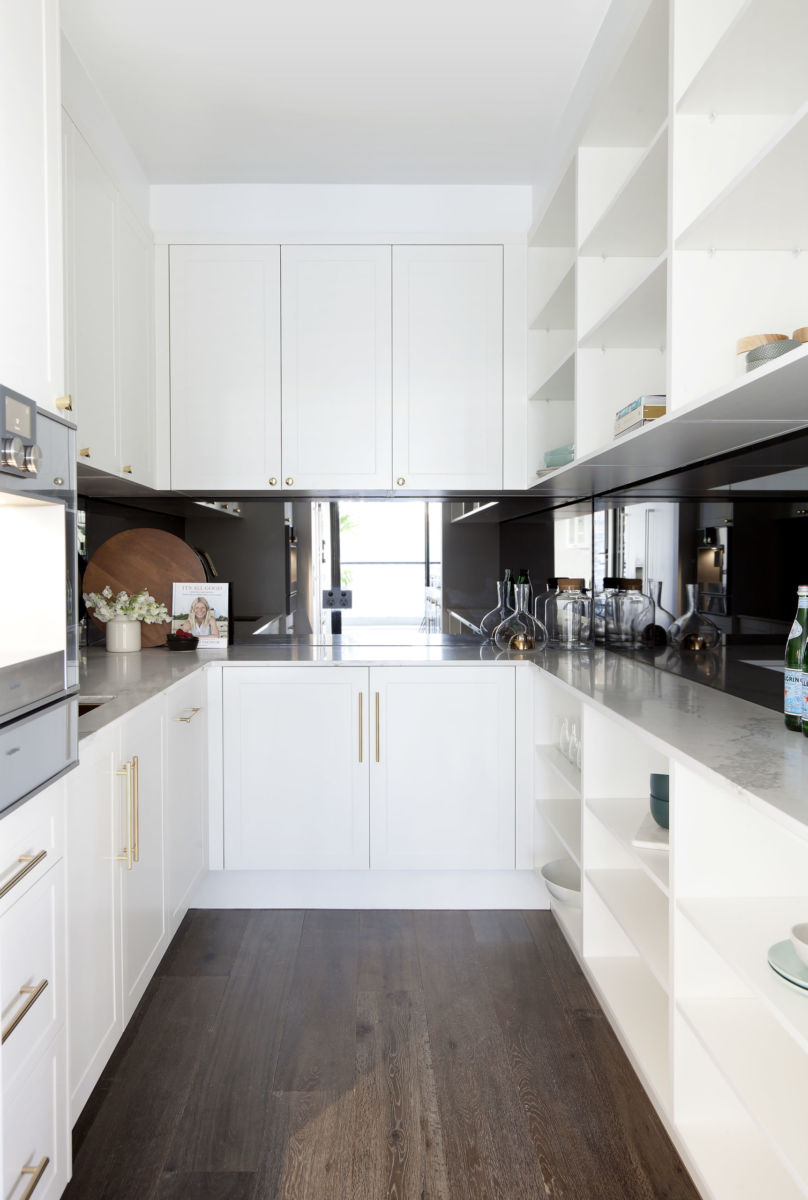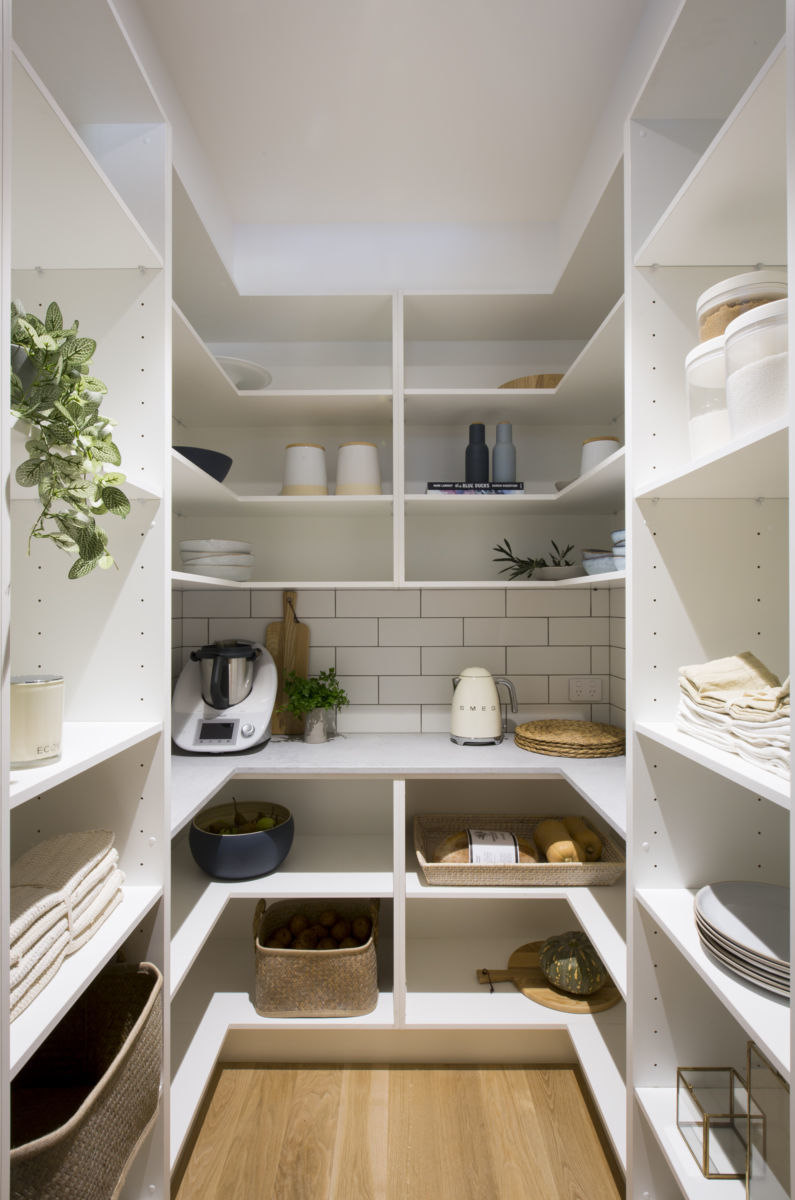 A butler's pantry or walk-in pantry can take your storage and organisation to the next level. No matter your space ask your Freedom Kitchens designer how to maximise your storage.
If space permits, a walk-in or butler's pantry concealed from the main kitchen will also provide extra storage space – not to mention they help to hide mess when entertaining! If space is tight, opt for a pull-out pantry with adjustable shelving to store all your necessities – or customise your own by adding drawers inside the cupboards.
Put it on Display:
Drawing from the latest European trends, our new 2020 Black Alumin Frame Shelving features anodised matte black framing with glass shelves (melamine panel shelving is also an option); providing a striking visual effect. This shelving is a clever way to incorporate extra overhead storage in an eye-catching and stylish way without blocking natural light.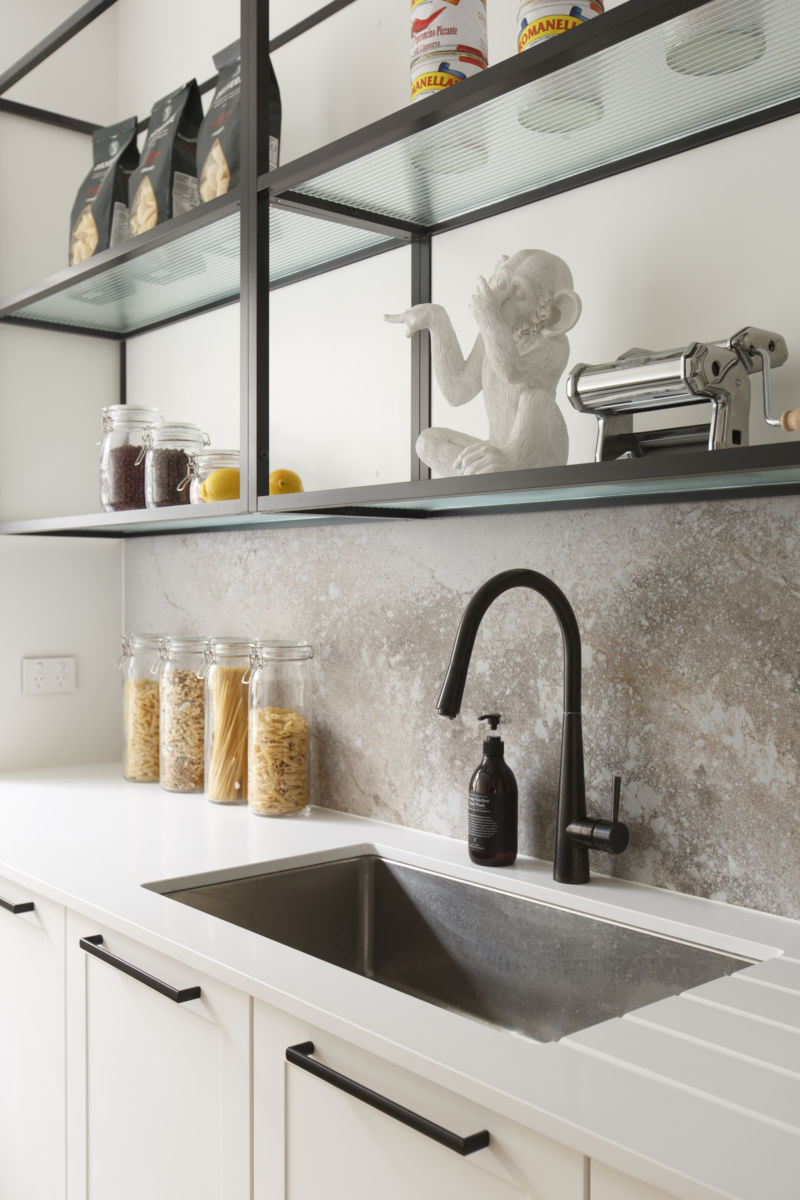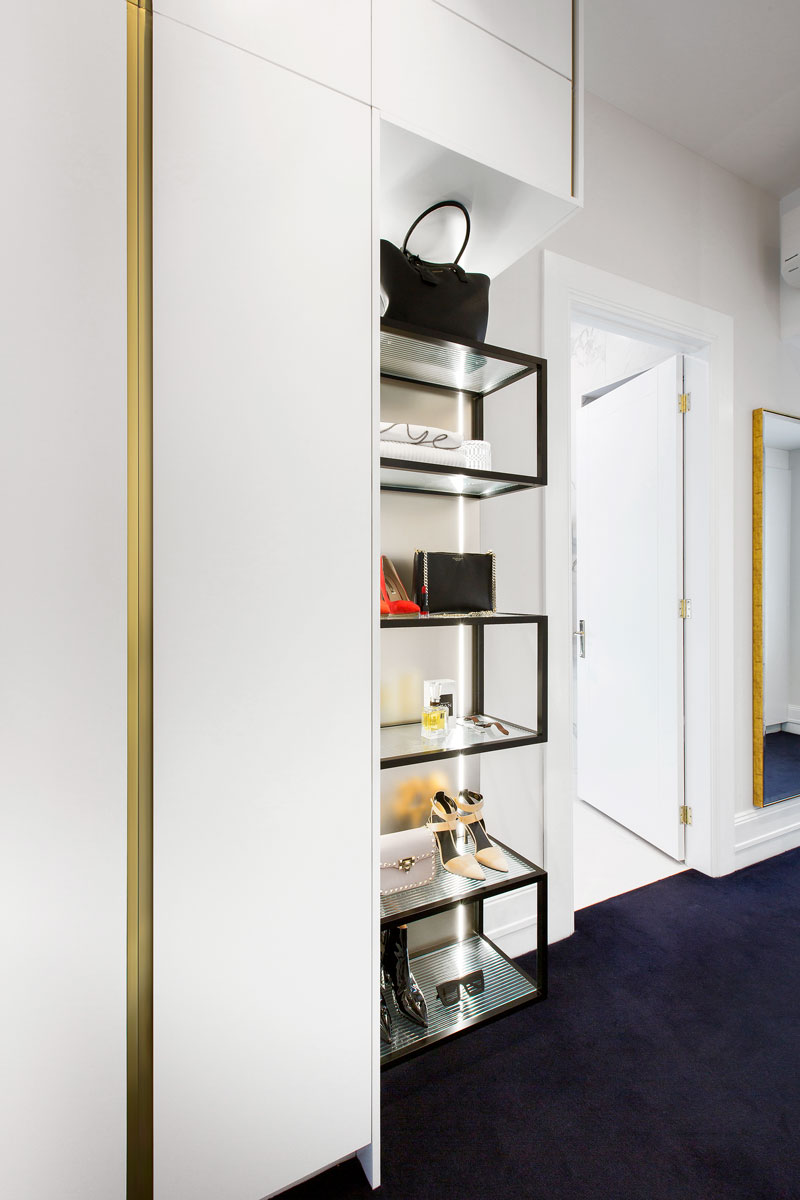 We love styling smaller sculptural pieces on open shelving mixed in with other kitchen essentials such as accessories and cookbooks. Consider displaying pieces that have a bit of humour or that add a pop of colour so that your eye is drawn to them.
The beauty of our 2020 Black Alumin Frame Shelving is that you can incorporate them into other areas of your home such as your Freedom Wardrobes – which creates connection and flow throughout the whole house.
Inspired to start a new kitchen journey with us? Why wait – start your own kitchen journey today!
Click HERE to book a free design appointment, or click HERE to download our latest catalogue.