Time and time again when customers tell us what their dream kitchens look like, the kitchens from past seasons on The Block are often at the top of the list. And we think it's for good reason, as these kitchens showcase a variety of styles, colours and layouts, and push the design envelope.
Looking for inspiration to create the best kitchen on your block? Below, we explore some of our most popular kitchen designs from then beloved renovation TV series. Which is your favourite?
Kerrie & Spence (2018)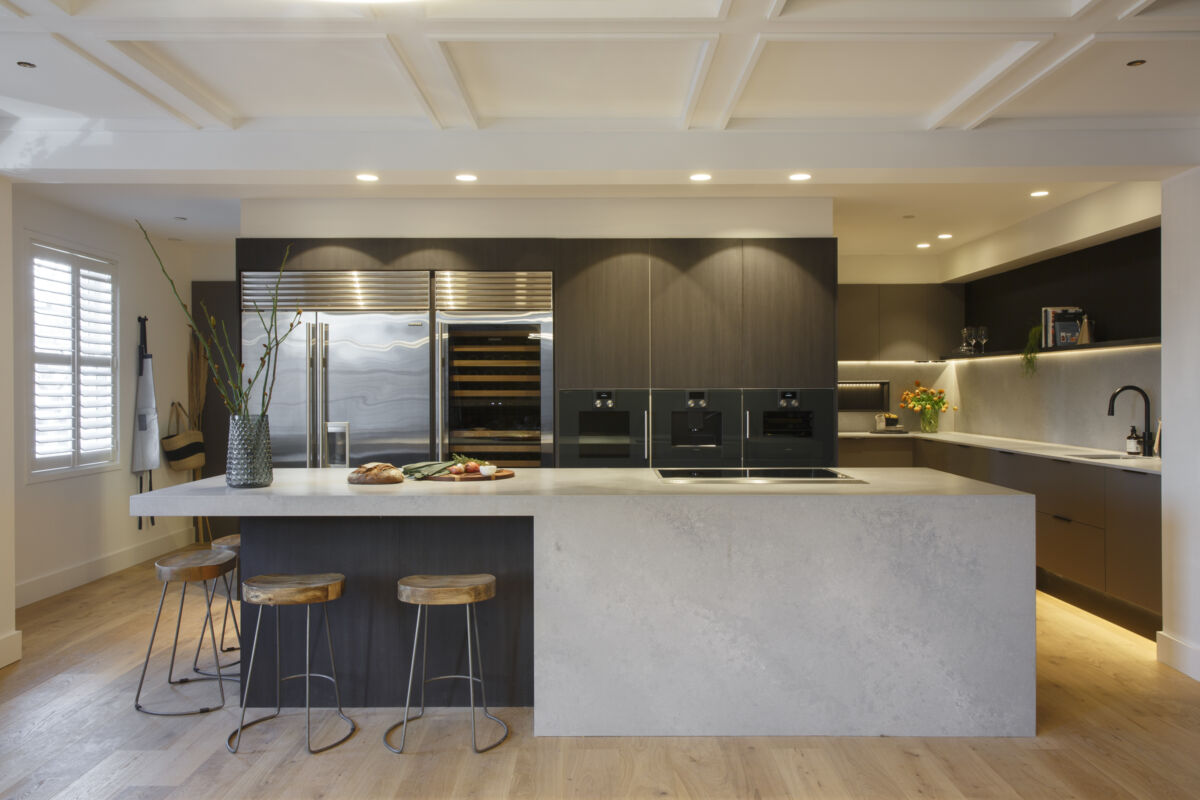 Kerrie and Spencer presented a refined kitchen design with the timeless appeal of earthy tones and textures. The judges loved it so much that they received a perfect score of 30/30!
With a neutral palette and a timeless layout, the design incorporates a central stack of joinery in Burnished Wood, creating a seamless flow from the kitchen space to the butler's pantry. Additional cabinetry features the lighter tone of Moose.
Caesarstone's Airy Concrete is showcased throughout the space, including a cut-out in the splashback wall which serves as a decorative niche for small items. The vast island benchtop, also featuring Caesarstone's Airy Concrete is perfect for food preparation and entertaining, boasts a Gaggenau tabletop ventilation system for the cooktop which rises from the benchtop from within the "stone box".

Norm & Jess (2018)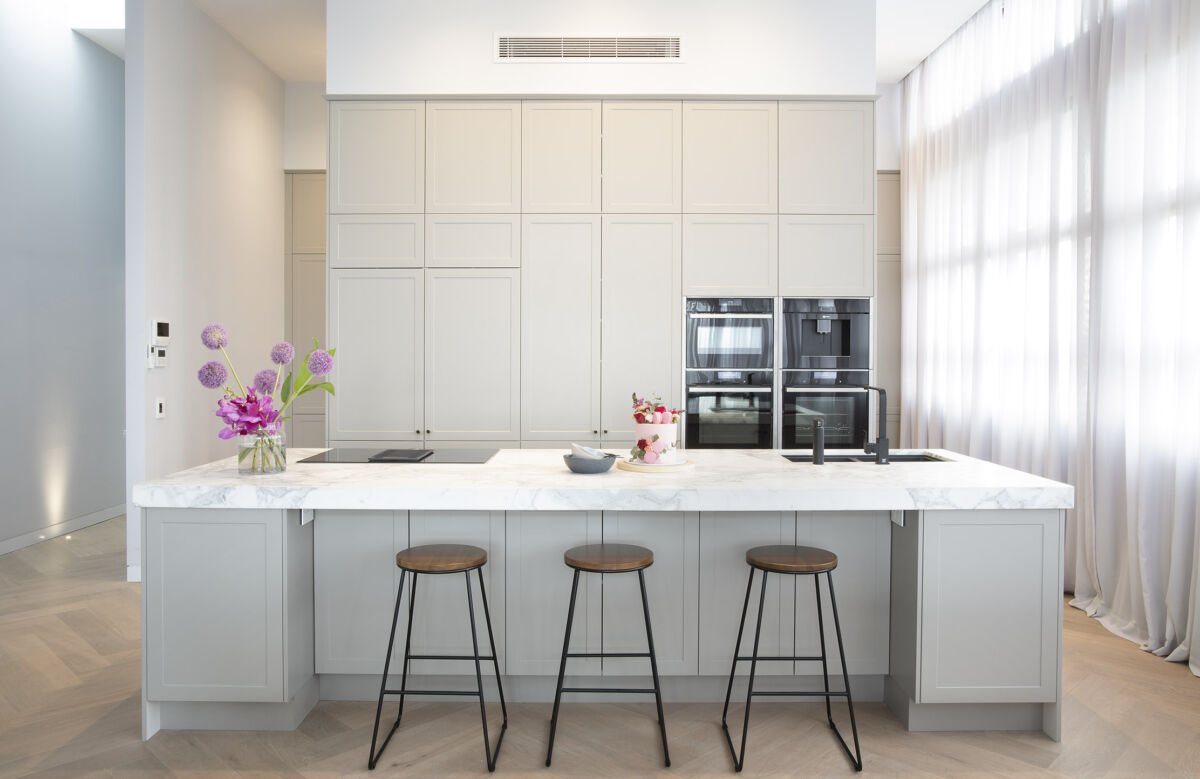 The enduring appeal of a Hamptons-style kitchen has been updated in this design by Jess & Norm, using our Sierra profile doors in the versatile 'new neutral' hue of Stone Grey.
This contemporary take on this classic style is also seen in their choice of marble-look benchtops. Caesarstone's Statuario Maximus amplifies the beauty of the space with its subtle vein patterns. The huge island benchtop plays hero in the centre of the kitchen, incorporating ingenious hidden storage such as an integrated fridge, pantry pull outs and internal accessories for ultimate organisation.

Elyse & Josh (2017)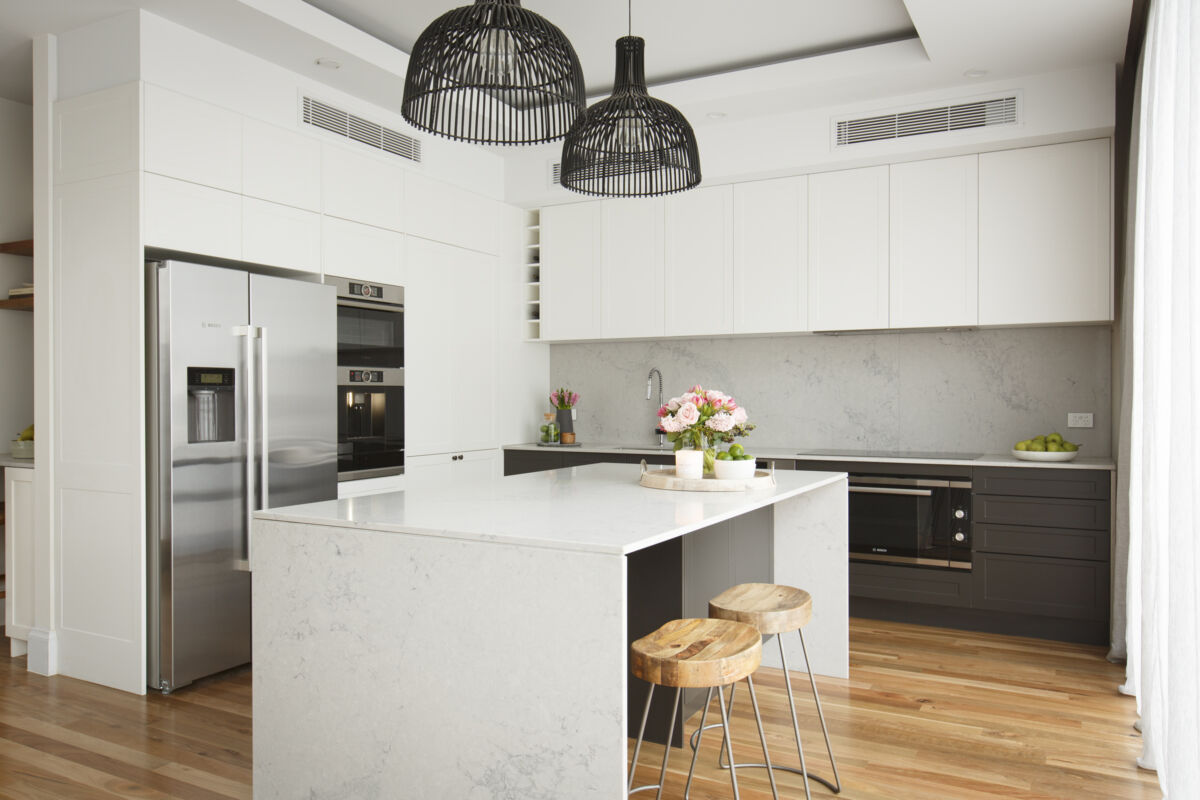 The youngest couple on The Block, Josh & Elyse, achieved a perfect score and took out the win for 'Kitchen Week' for their fresh take on a traditional Hamptons-style kitchen. They then went on to win the series, their stunning kitchen the showpiece room in their home!
They opted for Sierra Cinder Matt and Sierra White Matt profiled cabinetry to align with the look of the rest of their winning house, and centred their kitchen space with a luxe Caesarstone island benchtop with waterfall ends in Noble Grey.
In a risky move that paid off, their island bench was oriented to face the garden rather than the living area- to enhance the feel of indoor-outdoor living.

Hayden & Sara (2018)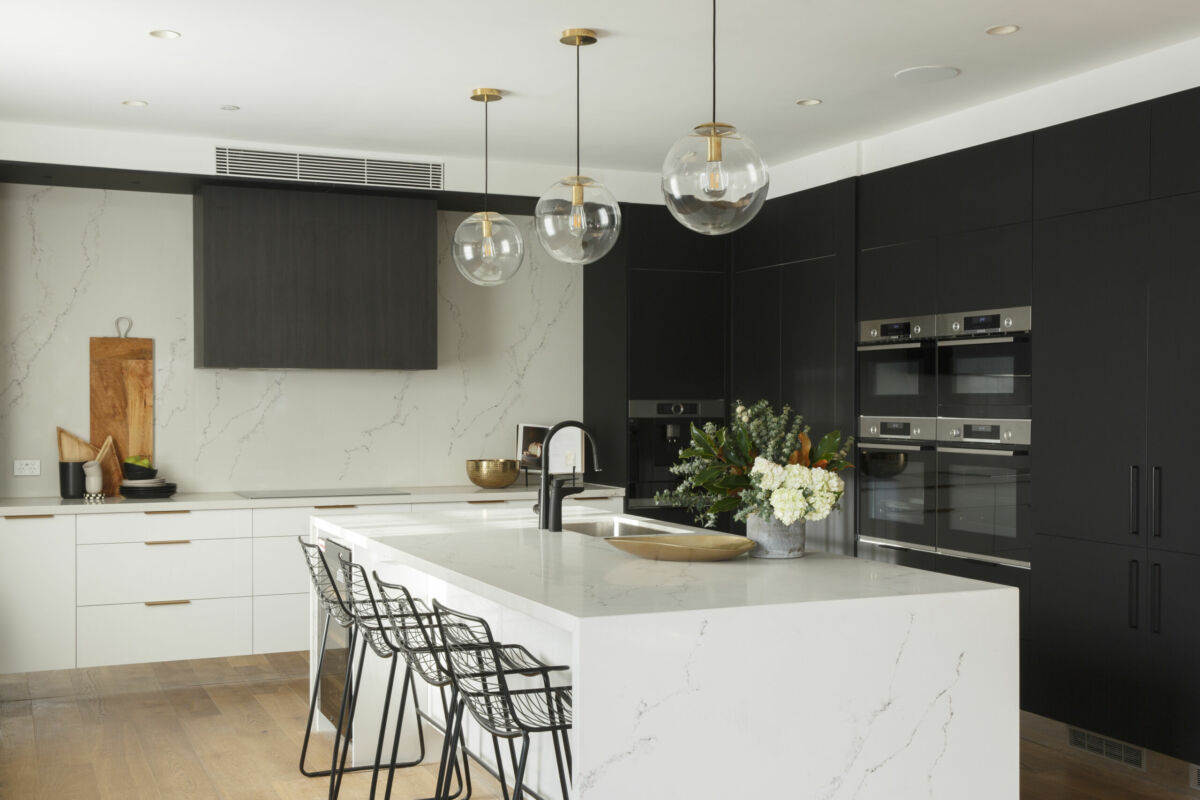 Hayden and Sara's kitchen is an entertainer's delight with a creative edge. The design features a creative layout, creating the perfect space for a large entertainer kitchen as well as a private butler's pantry hidden behind a wall of tall joinery.
Caesarstone's Statuario Maximus has been used to pick up the tones throughout not only the kitchen and pantry, but also the entire apartment, lending a sense of continuity. There's an enthused use of mixed metallics for added interest, with brass detailing on handles contrasting with the touches of gunmetal tapware and stainless steel appliances.
A seating nook has been included underneath the window to the left, and the orientation of the island bench has be designed to run parallel to it. The result is the perfect spot for entertaining guests while serving up drinks in the kitchen and enjoying the view – both inside and out!

Courtney & Hans Challenge Kitchens (2018)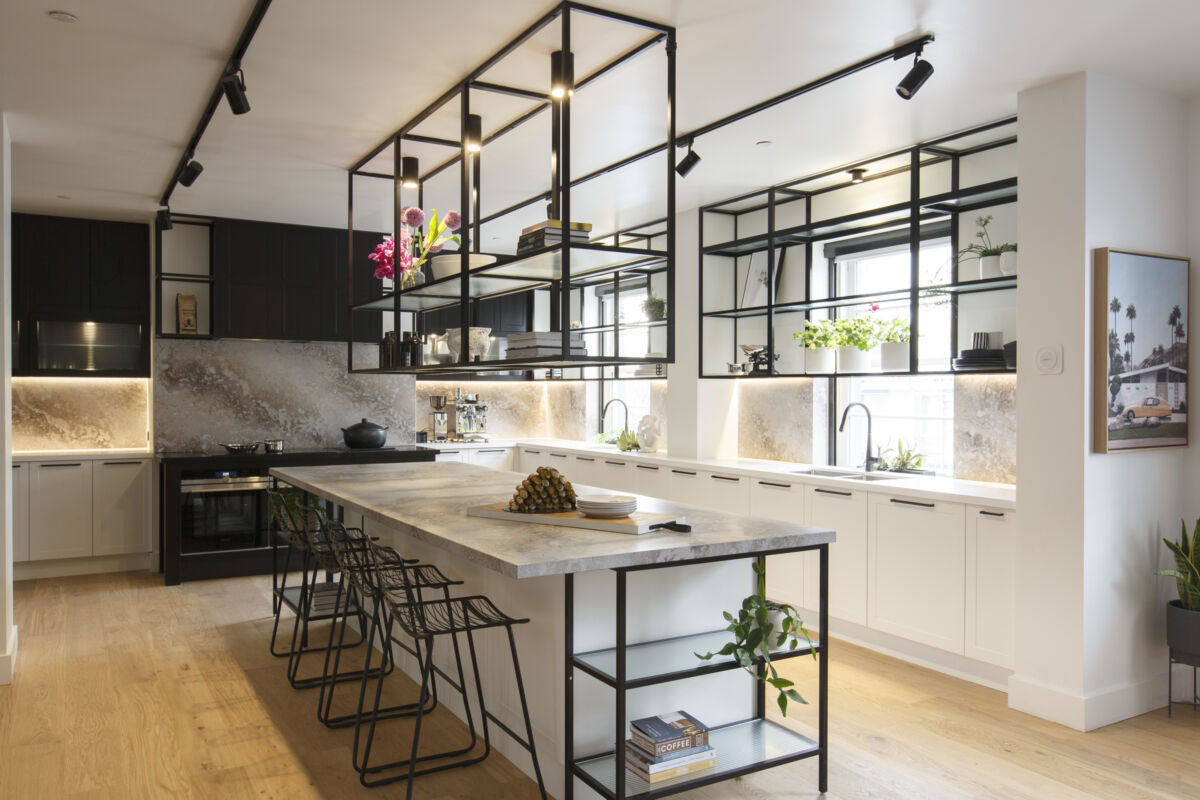 Western Australian couple Courtney & Hans blew the judges away in their Challenge Kitchen which celebrated a 'cafe-chic meets industrial' style that really makes a statement!
The room showcases our Sierra Shaker-profiled doors in contrasting White and Black Matt which are then complemented by our effortlessly on-trend and striking 2020 Black Alumin frames with glass shelves.
The vast central island provides the perfect space for food preparation and entertaining, showcases Caesarstone's Excava with matching splashbacks, an ideal choice for creating a modern industrial vibe.

Inspired to create your own dream kitchen that will be the best on your block? Don't wait! Start your Freedom Kitchens journey today.
Click HERE to book a free design appointment at your home or via video call. Ask about our latest offers.
Looking for more kitchen inspiration? Click HERE to download our latest catalogue.