2021 is in full swing and working from home is now the new normal. Last year many of us made do with working at the dining table, couch or a make-shift desk area that was put up in panic. However, as the months pass and we continue to work from home, the need for a well designed home office has become increasingly clear.
Here at Freedom Kitchens, we understand that the perfect working space allows you to focus on the task at hand. Balancing style with functionality, our Home Office range has been designed to create a home office or study space that suits your needs, space and home.
Every day we are asked a range of questions about how to bring the perfect home office and/or study nook to life, so today we are answering the most frequently asked questions to provide you with guidance and inspiration.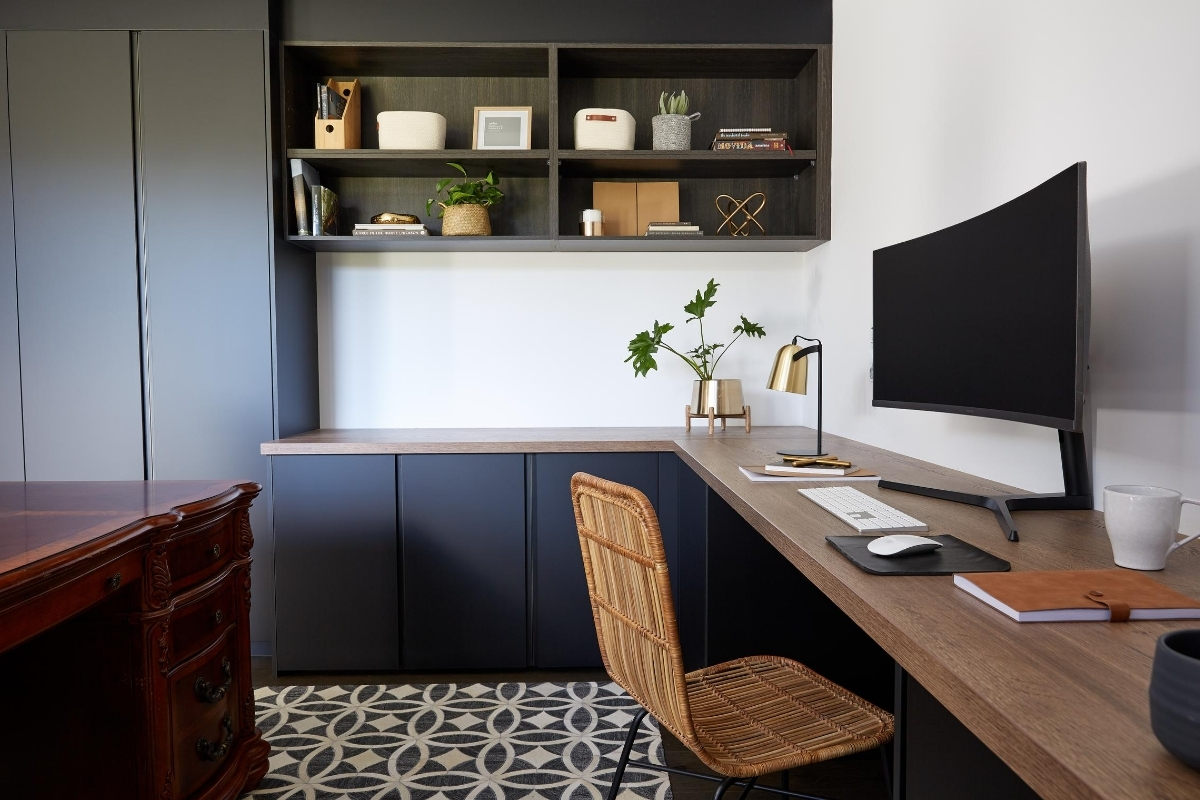 Our Home Office Collection allows you to create your perfect work/study for your needs and lifestyle.
Q. How do I set up a Home Office?
A. Plan, plan, plan! Take the time at the beginning of the design process to consider exactly what you will require for your office space. For example, do you have files to store? Will you need space for printers or scanners? How many power points will you need? Would you like put decor on display to add colour and personality to the space?
While this planning may seem overwhelming our designers are here to help. They know all the questions to ask and will work through them with you to create the perfect Home Office that meets all your needs! You can book an in-home or video call design appointment to help you get your Home Office journey started HERE!
Q. What is a good size for a Home Office?
A. There is no one right answer to this question as it depends on a number of variables. Considerations such as how many people will work in the space, whether multiple desks are required, what needs to be stored in the space, will there be large office equipment such as printers that will need to be accommodated in the room, and so on, will all affect the size needed.
Working with one of our expert designers will ensure that you can create an Office or Study Zone that is stylish, comfortable and functional within the space you have available.
Q. How much space do I need for a Home Office?
A. Again, the answer depends on how you plan on using the space and what your exact requirements are.
If you're simply looking for somewhere handy to sit at your laptop a 600mm deep space with open shelving works really well, however, if you need more storage, have a few screens and/or have equipment such as printers and the like then you will require a larger space to accommodate these.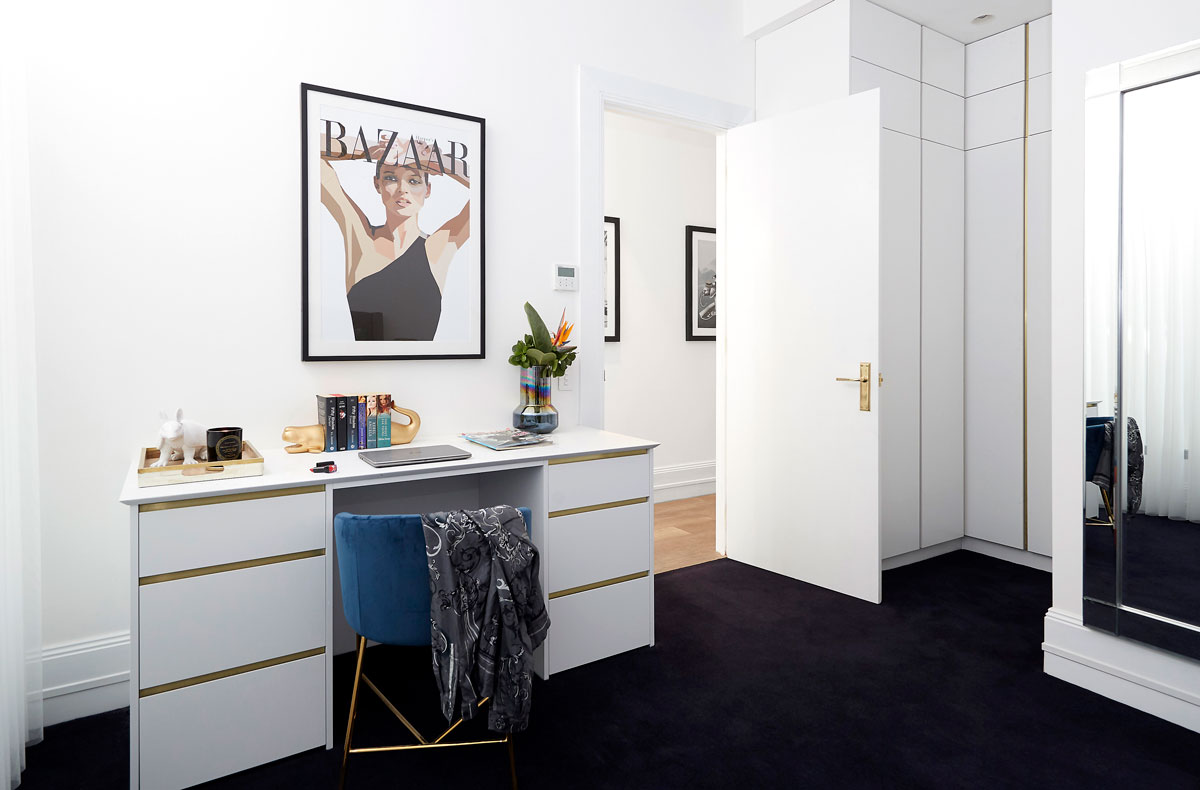 Our range of Home Office joinery has been designed to complement the rest of your home.
Q. Where should a desk go in a home office?
A. Most of our Home Office joinery is suitable for built-in solutions, between wardrobes and nib walls, or built around your room dimensions. However you can also opt for a freestanding office desk, centred to the room with space to walk around- just don't forget about important factors such as power access.
Q. What is the minimum size for a desk?
A. If you don't have much room, then it's best to create a simple desk area where you can use a laptop- for this option your desktop should be no less than 450mm deep with 300mm leg room/depth underneath. You can then add open shelving above to provide storage.
Q. What height should a desk be at?
A. Typically the height of a desk should be around 720-750mm for a comfortable place to work. However, it's important to consider the height of the person using the desk, as well as the chair that will be paired it, to ensure that your setup aligns with ergonomic principles. Our designers will discuss this with you and work out the perfect fit for you.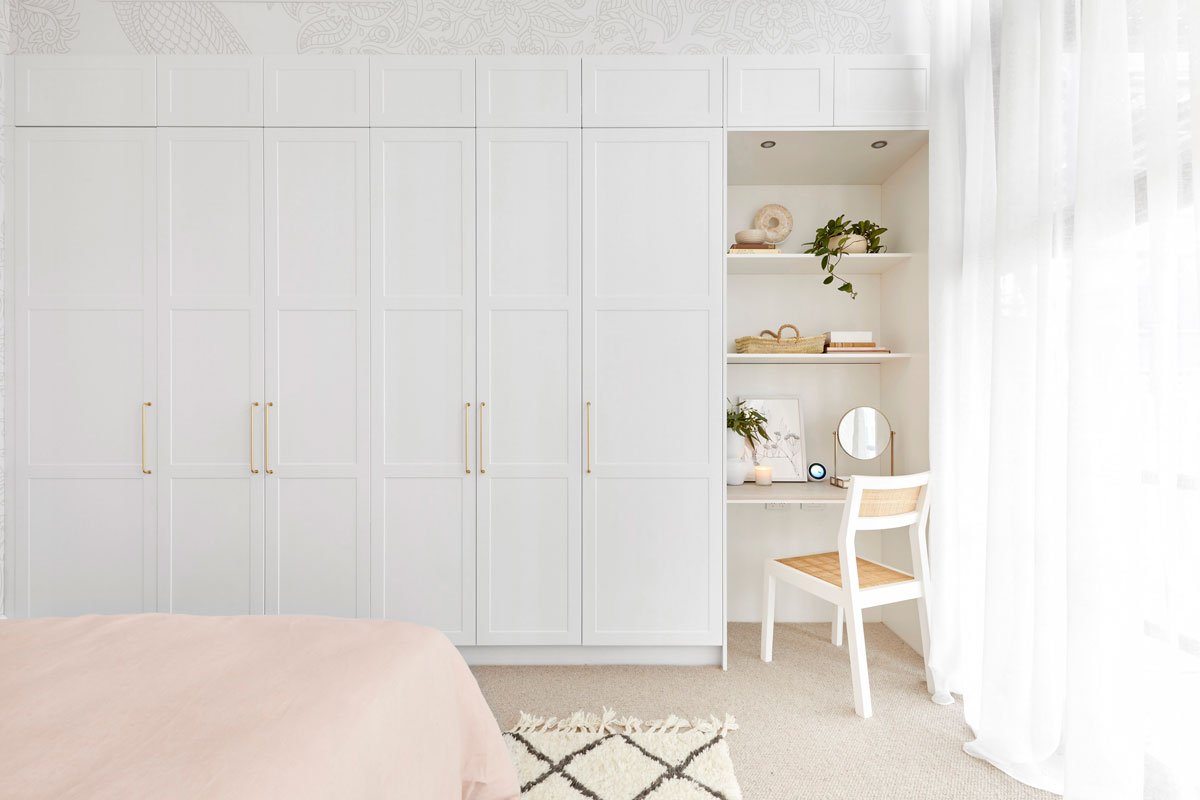 No matter what space you have available for a Home Office, our designers will work with you to create a space that is functional and beautiful, ensuring it is a space that you will enjoy working in.
Q. How do you create a stylish & functional Home Office in a small space?
A. Short on space? Don't worry! There are still plenty of great options to create your perfect Home Office.
A great option is for a desk area to be added to your new Hinged Freedom Wardrobe or as flow-on joinery such as a benchtop from your robe to form a desk. You can also look to create an office/study zone in an existing part of your home, such as guest bedroom, lounge room, even your hallway! You may also like to consider adding a study nook to your new Freedom Kitchen design as seen below.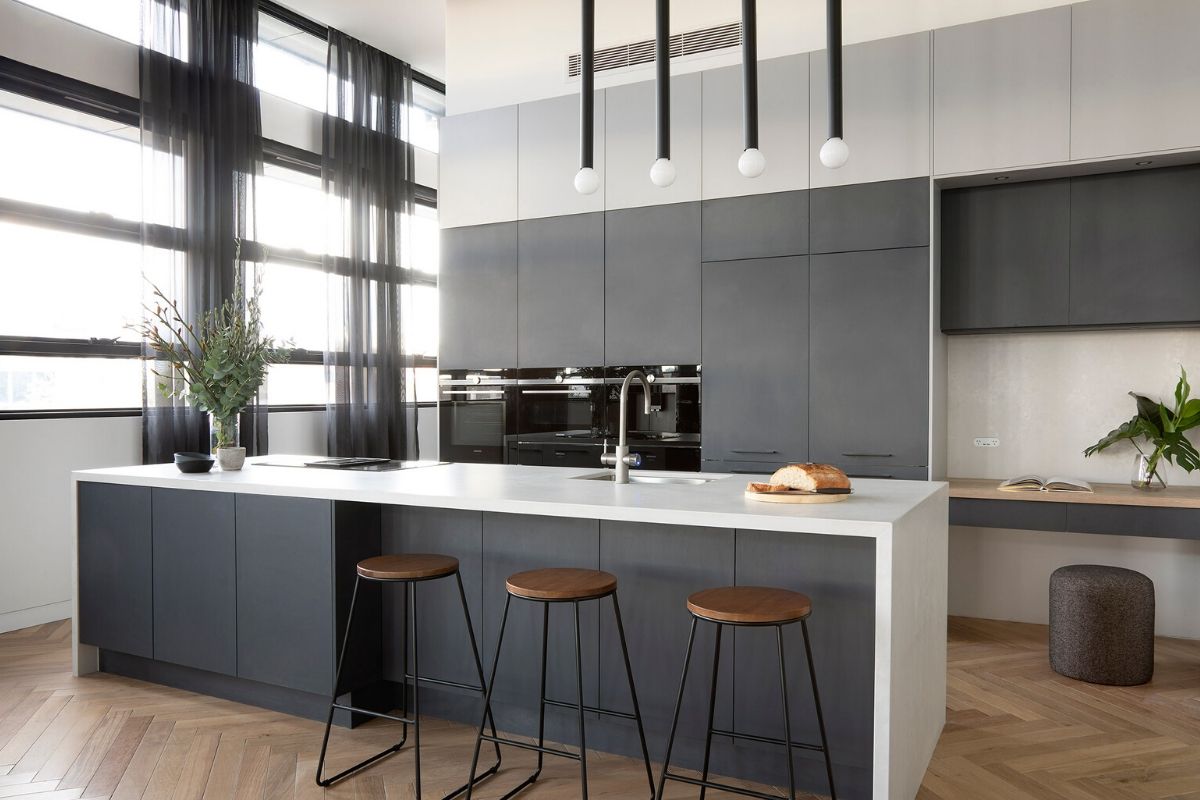 Renovating your kitchen and need to add a space for work? Add a stylish and functional study nook like Bianca and Carla did for their New York penthouse-inspired kitchen on The Block 2018.
Q. What are 3 essentials for a functional Home Office?
A. Our top 3 essentials are:
1. Ample storage. Storage is king! We love to use a combination of solutions such as drawers, cupboards and open shelving to ensure you have everything where you need it.
2. Tactile surfaces. Beautiful finishes and textures for your doors and desktops aids creativity and ensures that your home office is a place you love spending time in.
3. A functional & practical layout: Remember it's the small details that can make or break the functionality of a home office. Give careful consideration to details such as the placement of power points.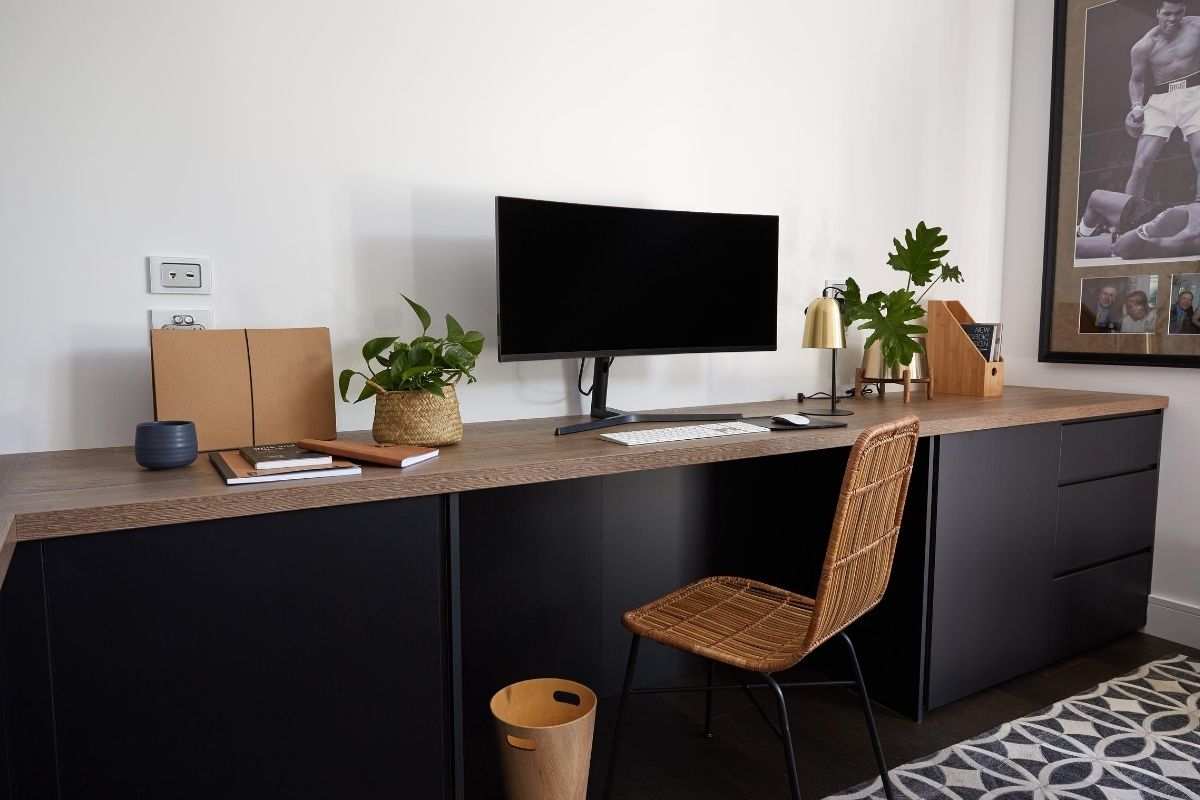 Smaller details such as power point placement, where office machinery will be located and lighting make a big impact on the workability of your new Home Office.
Q. What is something that is sometimes overlooked when designing a Home Office?
A. It can be easy to overlook small but essential details such as placement of power points, cable access, as well as space for printers and internet modems, which are very important in the functionality of your home office/study.
Q. Is lighting important in a Home Office?
A. Yes! A well-planned lighting scheme will improve your productivity in your work space. Depending on your home office layout, LED downlights or Strip LED lighting within the cabinetry or a combination of both, are great options.
Q. What are some popular colour palettes to incorporate into your new Home Office?
A. Similar to kitchen trends, some popular Home Office colour palettes we are seeing at the moment celebrate the Hamptons, Modern and Scandi styles. We love to mirror or complement the existing cabinetry and tops that you already have in your home to create a cohesive look.
Ready to create a Freedom Kitchens & Wardrobes Home Office that is the perfect fir for you & your home?
Book your expert in-home or video-call appointment HERE and start your journey today!
For more Home Office inspiration, including our range of cabinetry and benchtop colours, handles and more, download our new Home Office catalogue HERE.