Spotlight on: Kitchen Trends in 2022
As this year comes to a close, we are excited to share the hottest trends for kitchen design in 2022. With a focus on open-plan living, dual-coloured cabinetry, textured features, and pops of brass, there is no shortage of inspiring design ideas that will inspire you to start creating your dream kitchen today. Which will you incorporate into your new Freedom Kitchen?
Open plan living.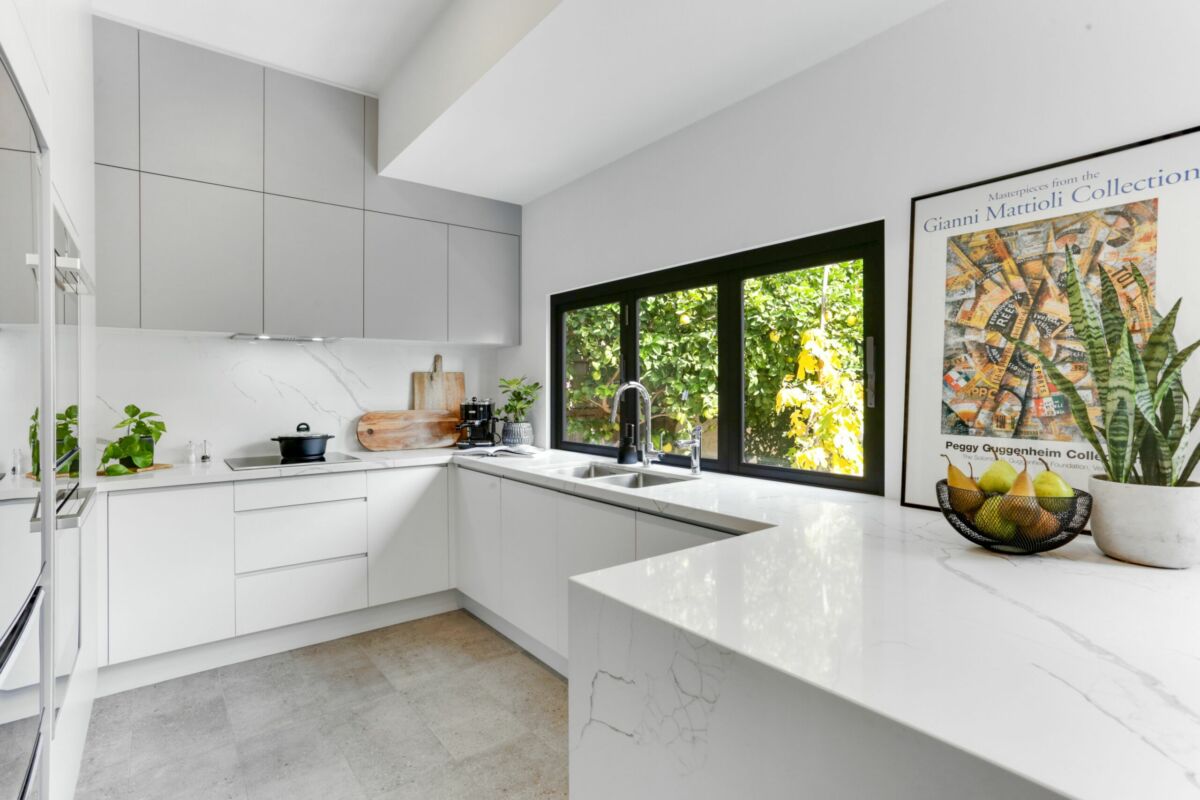 Never has home been more important than it is now: representing comfort, safety and connection. At the centre of this is the kitchen; the heart of the house where the whole family can gather. Kitchens are being designed as open plan living, connecting it to other vital rooms of the house, including living and dining zones. Joining the kitchen to outdoor spaces such as gardens and balconies via bi-fold servery windows is another trend gaining popularity in Australian homes, allowing you to entertain outside with ease.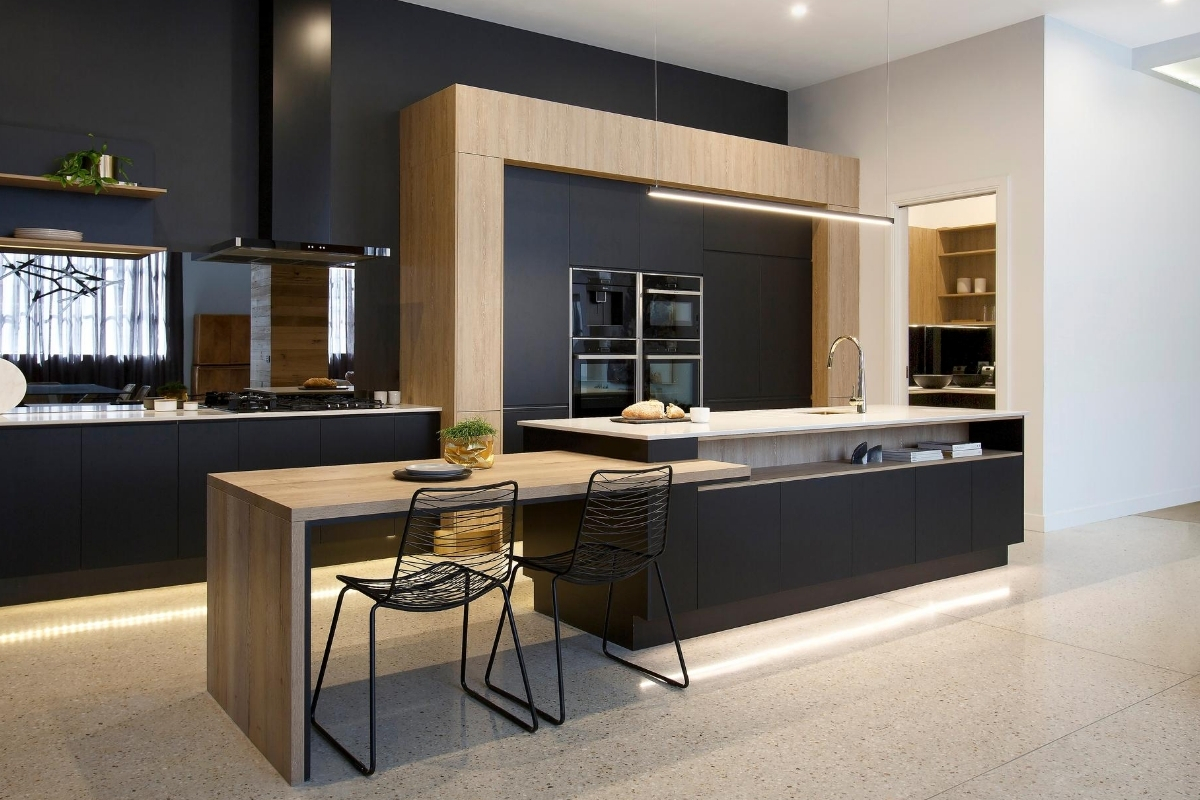 An island bench within your kitchen design is one of the most effective design elements to promote sociable living, providing the perfect place to gather in the home. Get the most of your design by thinking about how you will use the space. We love to include power points within the layout so you can charge laptops, tablets, and phones so that it can also be a place to work or help your children with their homework while you prep meals. Often used as a casual dining space, extend the island with an additional table, eliminating the need for a formal dining table, a design decision that suits many modern homes, especially when space is limited.
Two-tone cabinetry.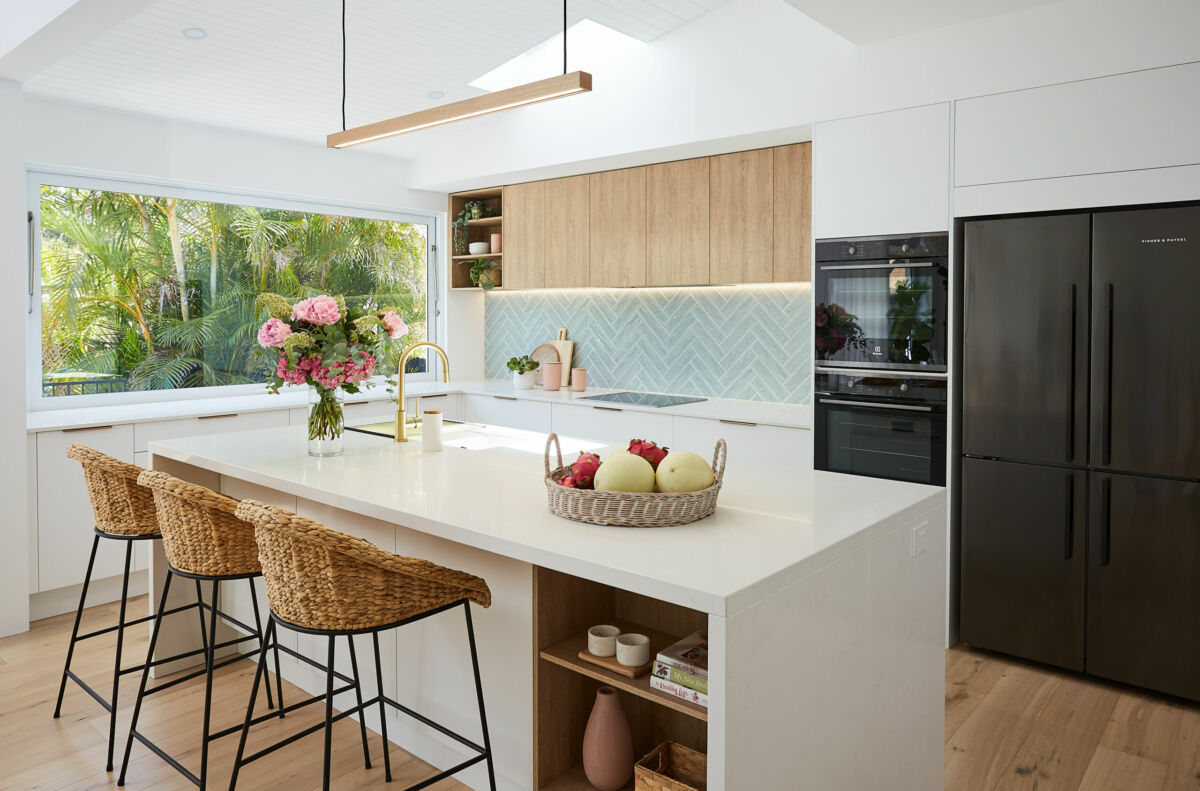 Are you trying to decide on the perfect colour palette for your new Freedom Kitchen? Torn between two colours? The good news is that two-tone cabinetry kitchens are a fantastic option for your home and are bound to be one of our favourite trends in 2022 and beyond.
All-white and all-black kitchens are certainly classic choices; however, this year will see a rise in other colour schemes to create a stylish and timeless kitchen look. Monochrome kitchens can suit both modern industrial kitchen styles as easily as they can classic looks. If you love a Coastal or Scandic-inspired space, consider a mixture of white and timber, while for a bold Hamptons look, navy and white are an excellent option. If you are still craving a neutral scheme for your kitchen, grey and white is a sophisticated alternative.
Texture.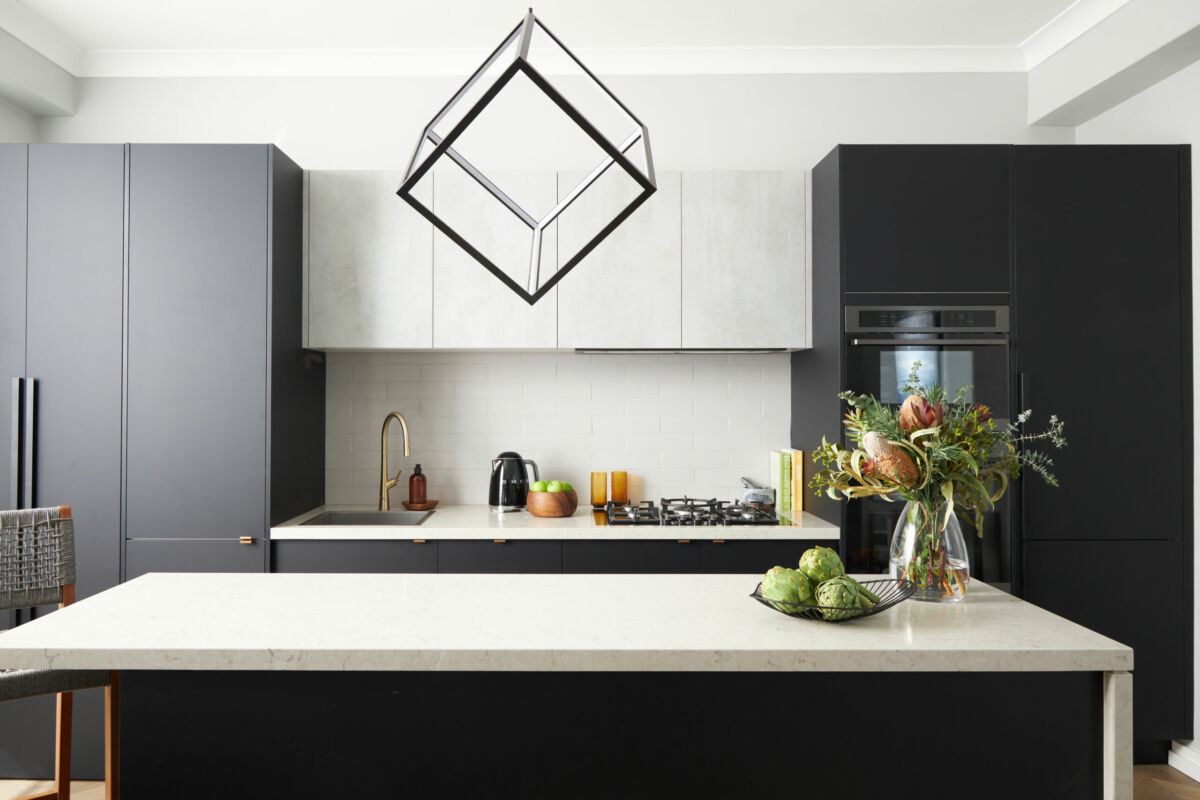 With a shift towards kitchen designs that celebrate natural and raw finishes, celebrating texture within the room is something you should definitely consider in 2022. You can inject texture via various mediums, such as your splashbacks and benchtops, but we love to bring it to life with cabinetry selection.
Here at Freedom Kitchens, we are pleased to offer a wide variety of door options in various colours and profiles to suit any kitchen style. One of the combinations we are most excited about for the upcoming year is joinery which evokes the look and feel of concrete. Achieve this with our Luxe Beton Texture door and pair with Alaskan Black Ultramatt, our high performance matte black door with anti-fingermark technology for a sleek modern look.
Brass Features.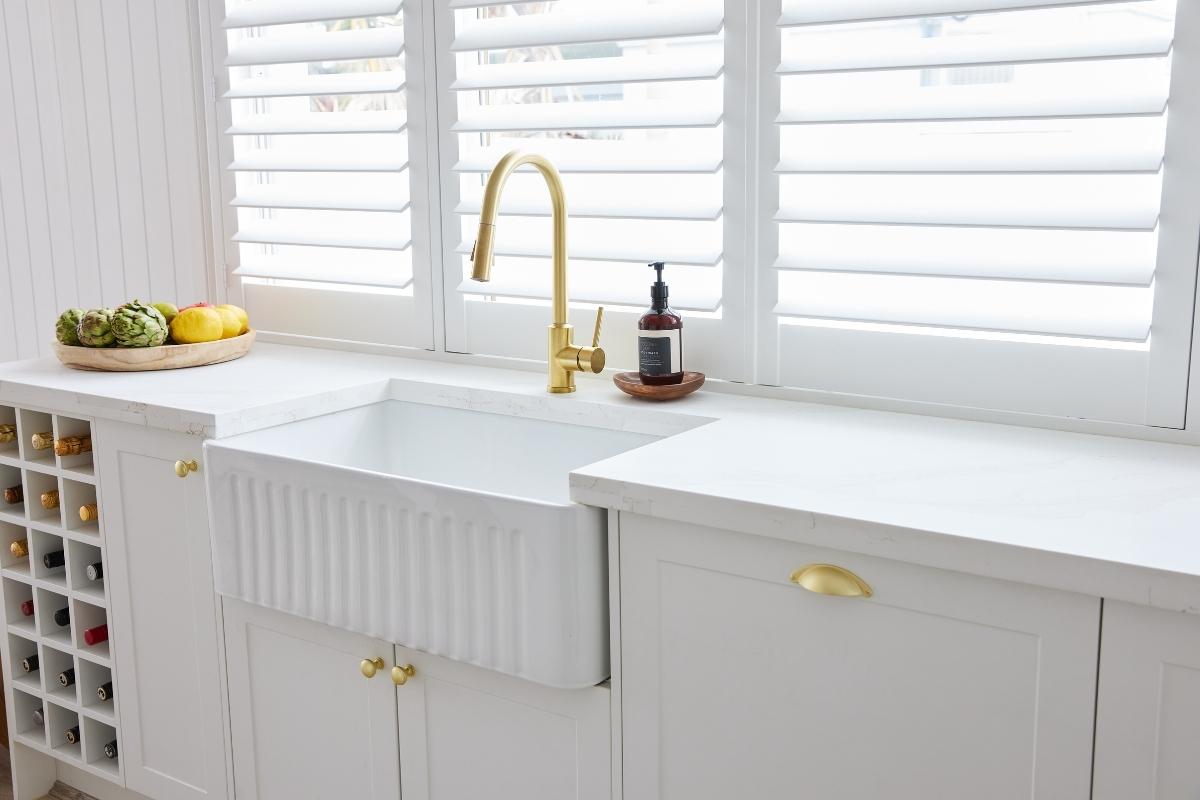 Working perfectly with natural and organic-inspired surfaces, brass features such as handles, tapware and even inlays in benchtops continues to be the metal of choice in interior design. Available in different finishes from satin to brushed, adding hints of this metallic will immediately inject glamour and interest into your kitchen design.
Glass feature doors.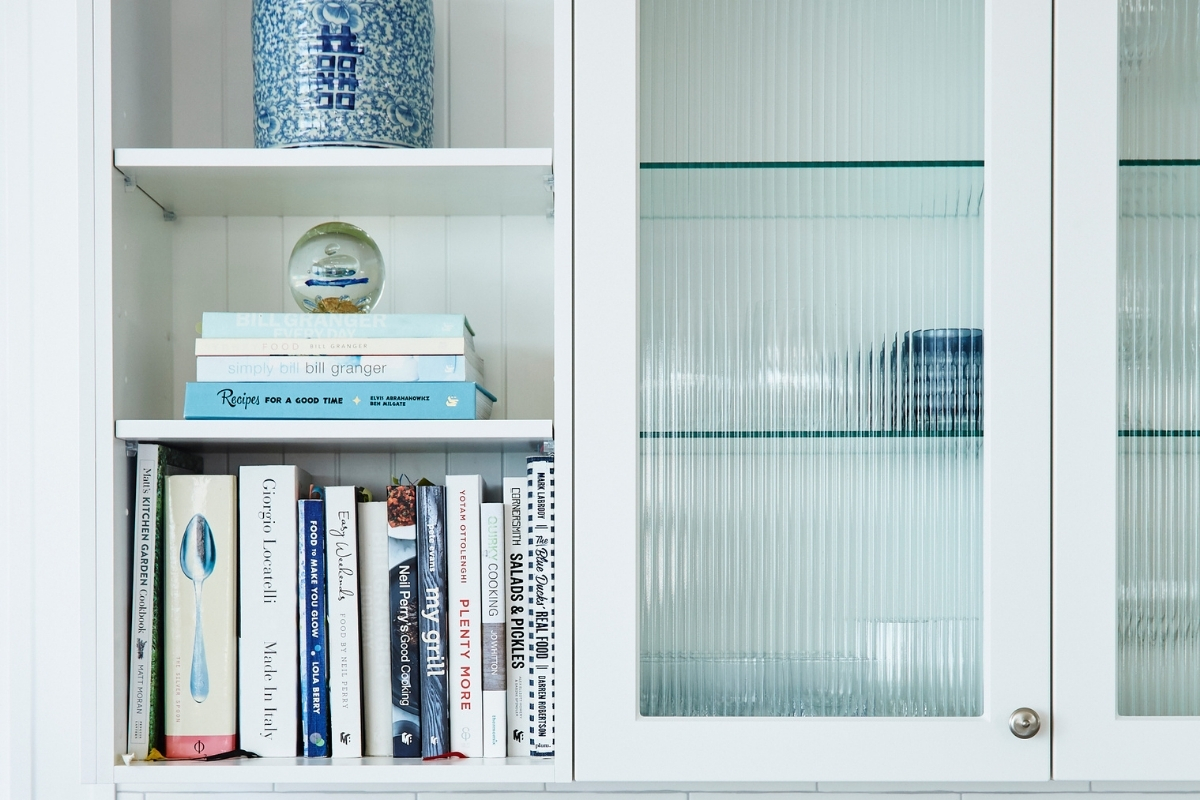 The inclusion of glass feature doors to break up banks of wall cabinets continues to be a rising trend in Australian kitchen design, adding texture and beauty. Our Broadline Glass is vertically textured, presenting a beautiful balance between heritage and architecture and suits a modern kitchen just as well as a Hamptons-inspired one. We love to include lighting within the cabinets to illuminate the contents within to maximise the effect. Frame it with bold black frames or match it to your cabinetry palette for a look that will turn heads.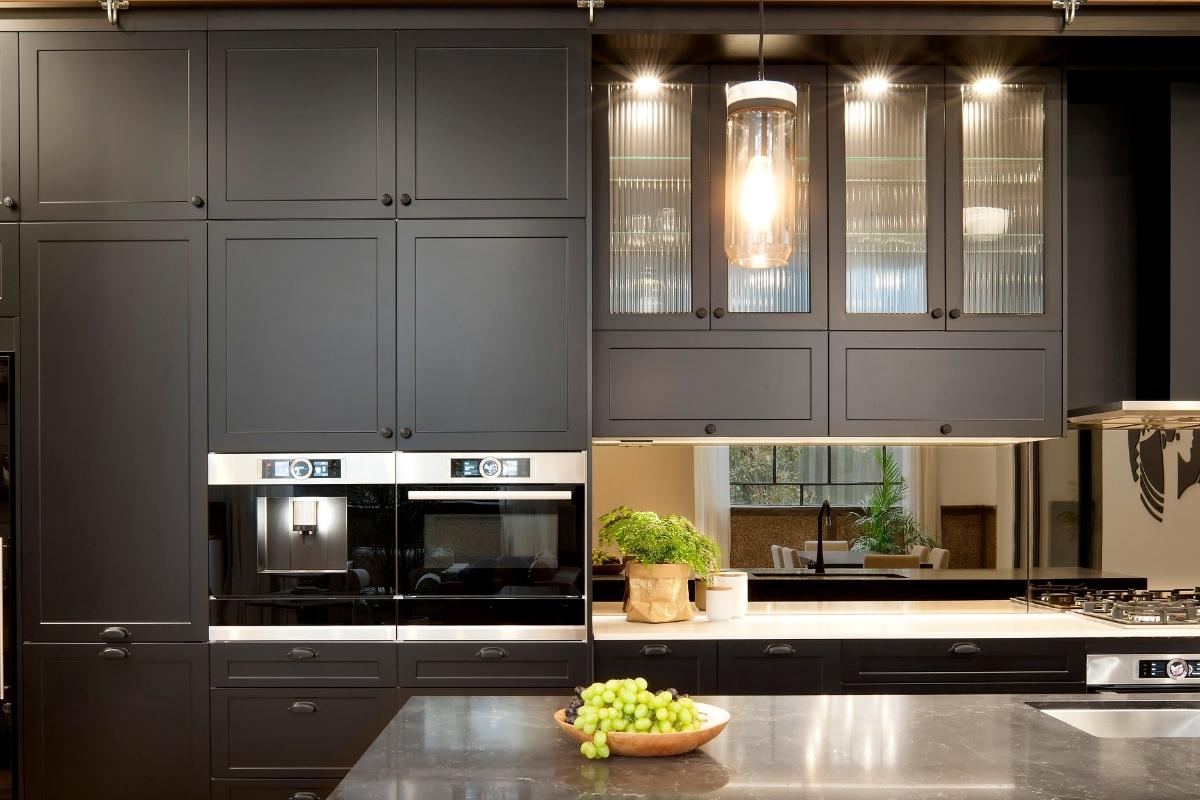 Our 2020 Black Alumin frames come with broadline glass shelving, producing a striking visual effect. It's a clever way to incorporate extra overhead storage without blocking light and allows you to style with both kitchen and living décor to connect your open plan living.
Start your dream kitchen journey with us today and create a kitchen you will love spending time in for years to come!
Click HERE to book a free design appointment at your home or via video call, or click HERE to download our latest Designer Range Catalogue for more inspiration, images and product range details.