Whether butler's, walk-in or a simple unit, a well thought-out and designed pantry can not only add value to your kitchen it has the power to transform how you use it as well.
More than just a storage area for food items, it can also kitchen and household essentials such as small kitchen appliances, dinnerware, cookware and the many (thousand) pieces of Tupperware- and if you have the space for a butler's pantry it can become a mini-kitchen in its own right where you can hide mess, prep food and enjoy additional appliances.
Read on to discover what we at Freedom Kitchens consider the key ingredients for the perfect pantry.
1. Layout
Storage: A great pantry is one that maximises storage. Adjustable open shelving is the easiest and most stylish way to ensure that your pantry items are easy to both see and access.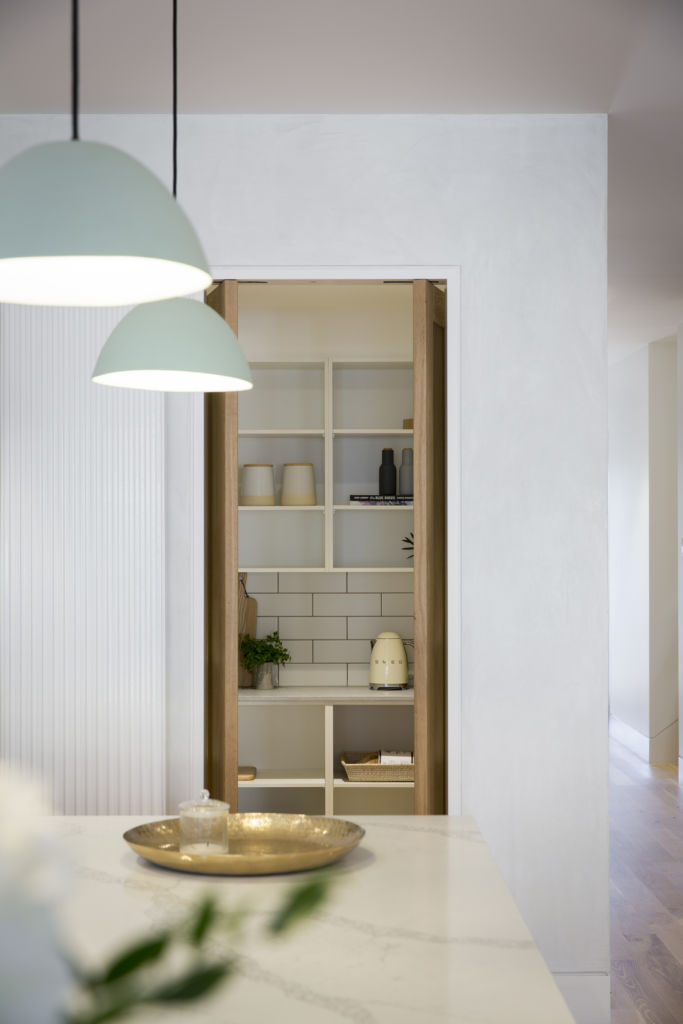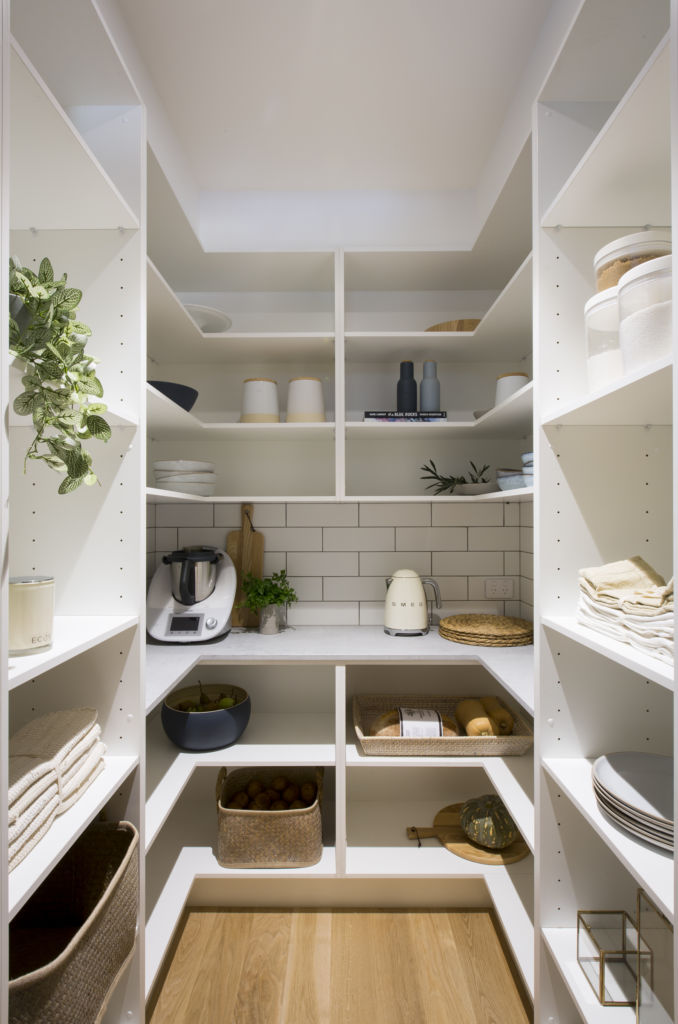 This small walk-in pantry features adjustable open shelving and small bench space.
Arranging your pantry: Shelving allows you group like items within your pantry. Keep go-to items at eye level (such as cereals, pasta, and other cooking staples) while placing treats and baking items up high on top shelves (out of sight, out of mind yes?!) and small appliances at the lower levels or on a benchtop.
Bench space: Even it's just a small run, bench space in a pantry is prime real estate. It creates additional prep space, a zone for your small appliances such as kettles, toasters, coffee machines and the like, and an area to hide away mess from the main kitchen area.
2. Accessories 
Our range of accessories and lighting act to maximise your storage and streamline the way you use your pantry space.
2020 Black Alumin Frame Shelving: Looking to make a statement? Drawing from the latest European trends, our new 2020 Black Alumin range features anodised matte black framing with glass shelves, providing a striking visual effect. A premium open shelving option, they're a clever way to incorporate extra overhead storage as well as a space for styling décor items.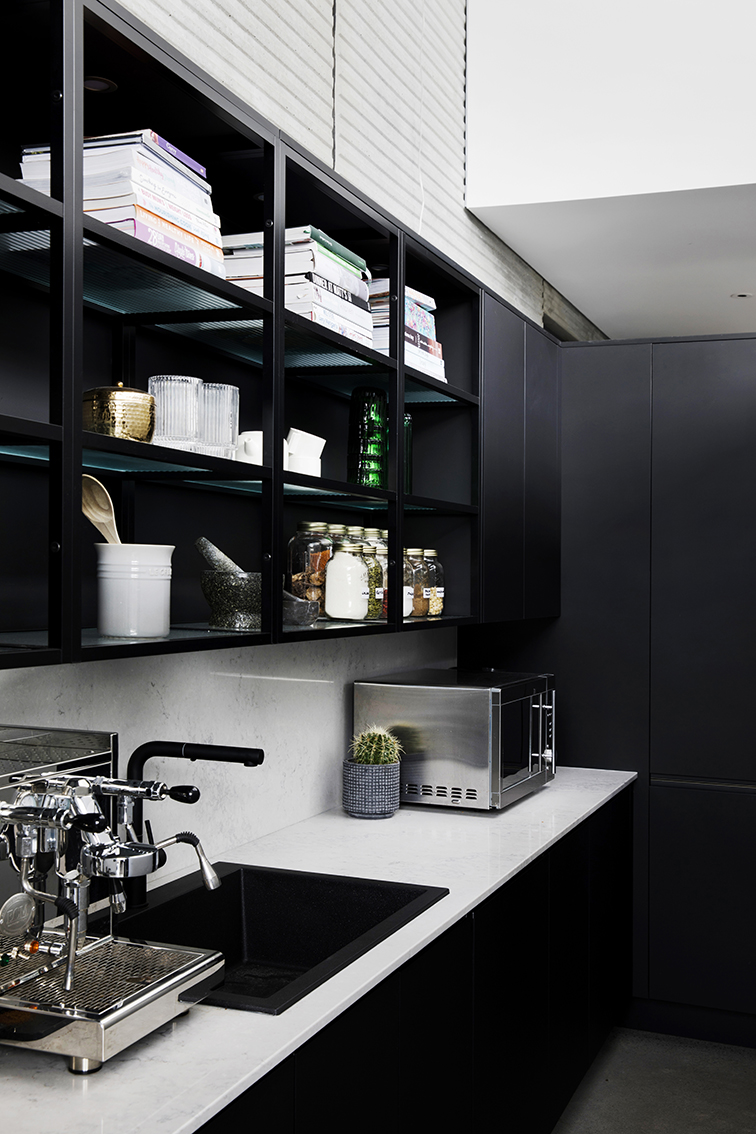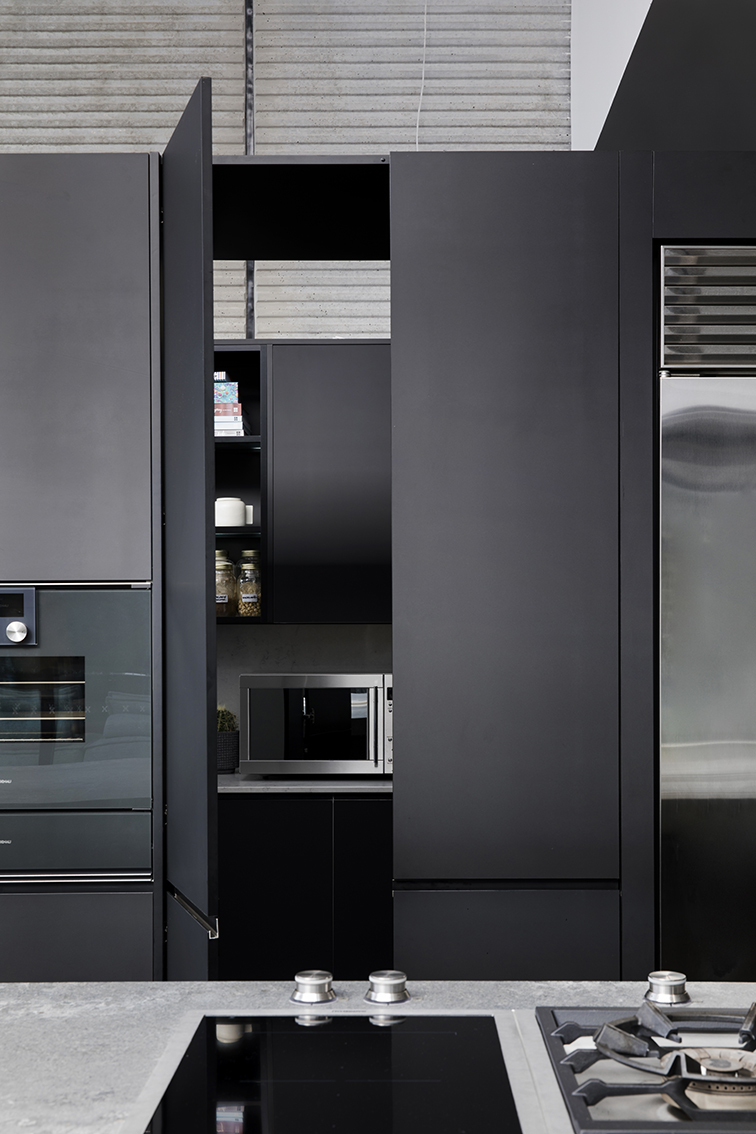 Guy & Jules Sebastian's stunning butler's pantry features 2020 Black Alumin Frames with glass shelves as well as an addtional sink, tap and dishwasher. They also used the same Black Ultramatt doors from our Luxe range which matches the main kitchen.
Lighting: A well thought out lighting design can transform your pantry space. Select from LED downlights or strip flexy lighting or a combination of the two to light prep and storage areas properly.
Extra accessories: Incorporate additional accessories to your pantry to make organisation a breeze. Choose from a range of wire accessories such as internal wire drawers to pull-out pantries and shelves which create optimal space utilisation in narrow cabinet. Also consider cutlery inserts for any drawers and extra bins to ensure your pantry works hard.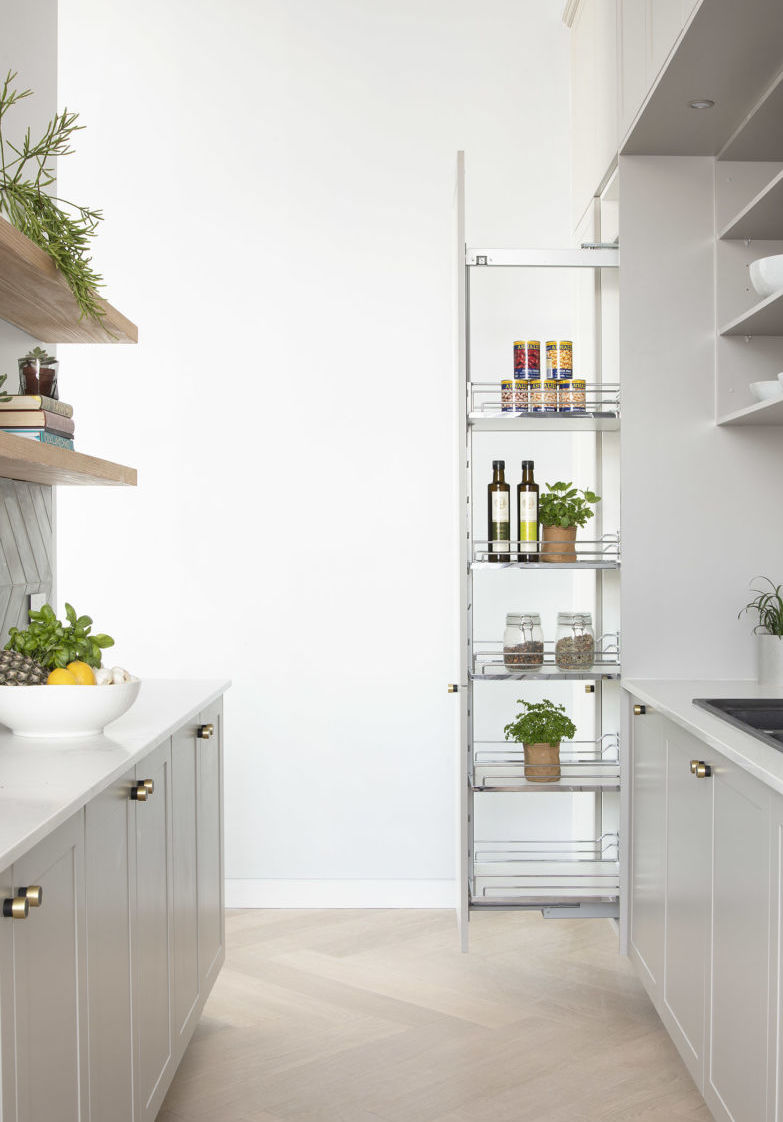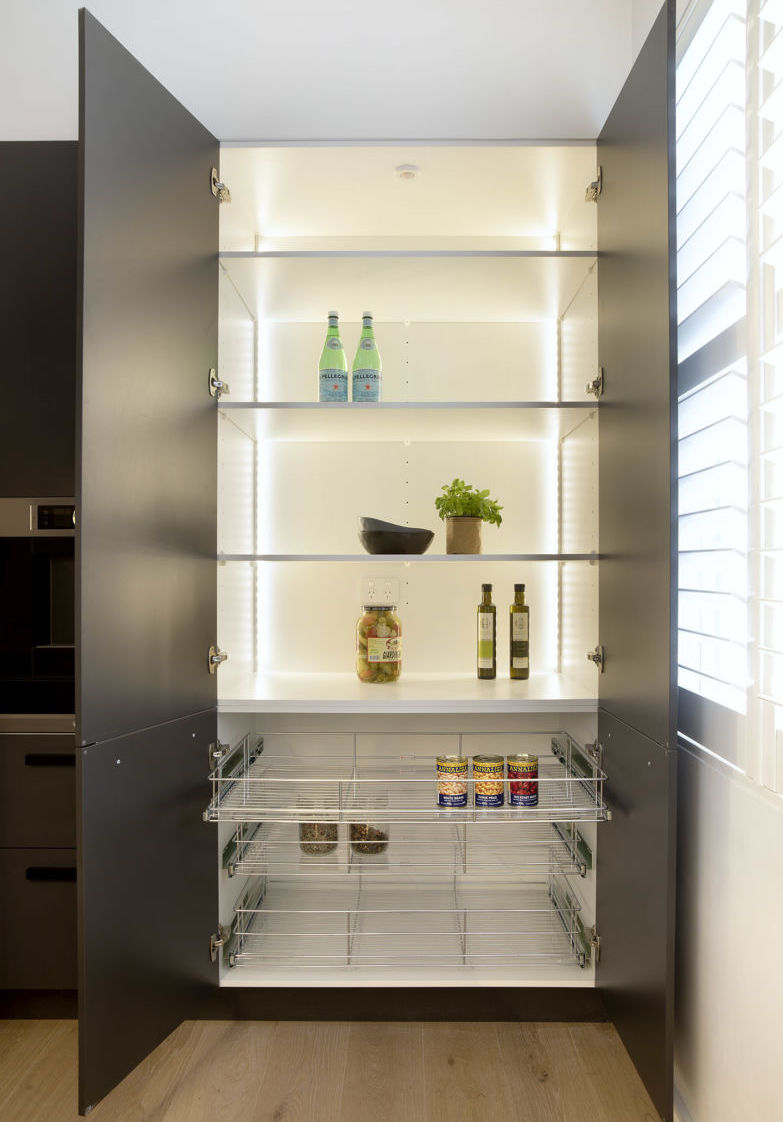 Norm & Jess presented a beautiful Butler's Pantry on The Block 2018 featuring a Pull Out Pantry (left). Fellow contestants Courtney & Hans maximised storage with the inclusion of Internal Wire Drawers (right) below open shelving in a simple pantry space.
3. Additional Appliances
If you have the space and are creating a walk-in or butler's pantry, a sink & tap and dishwasher are a great addition to any pantry space as they provide the perfect place to clean and hide away mess from the main kitchen area when entertaining.
If you're lucky enough to have a larger floor plan look to include additional appliances such a microwave and perhaps an additional oven.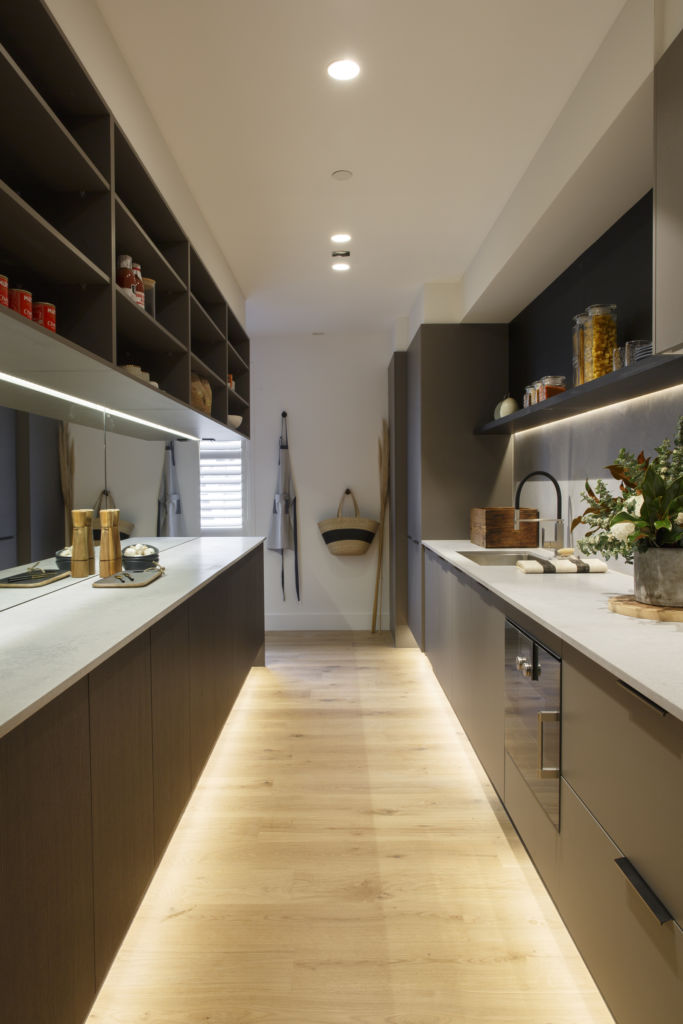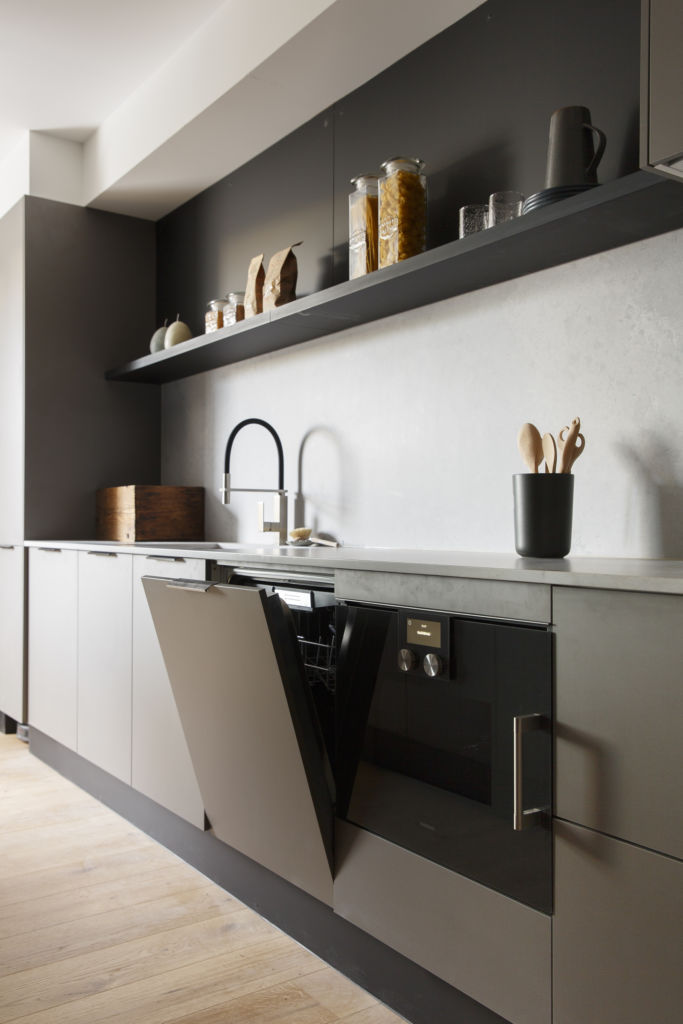 Kerrie & Spence delivered a "Butler's Kitchen" on The Block 2018 which as well as offering a plethora of storage options also included an additional tap, sink, dishwasher and microwave space to complement the main kitchen area which scored a perfect 30/30 from the judges.
Emerging trend: The combined pantry and laundry
Combining both pantry and laundry spaces in one room is an emerging trend in Australian interior design, where homeowners are faced with more compact layouts within smaller homes and/or city apartment blocks. This trend has been seen most recently on The Block 2019 where the majority of contestants presented a room that combined the two spaces.
This combination works well as it optimises space and functionality- creating a streamline workflow for cooking and washing. You'll see joinery designed around integration of washing machine & dryer combos and extra dishwashers enabling the zone to become multi-useful with cleaning, prep and storage space.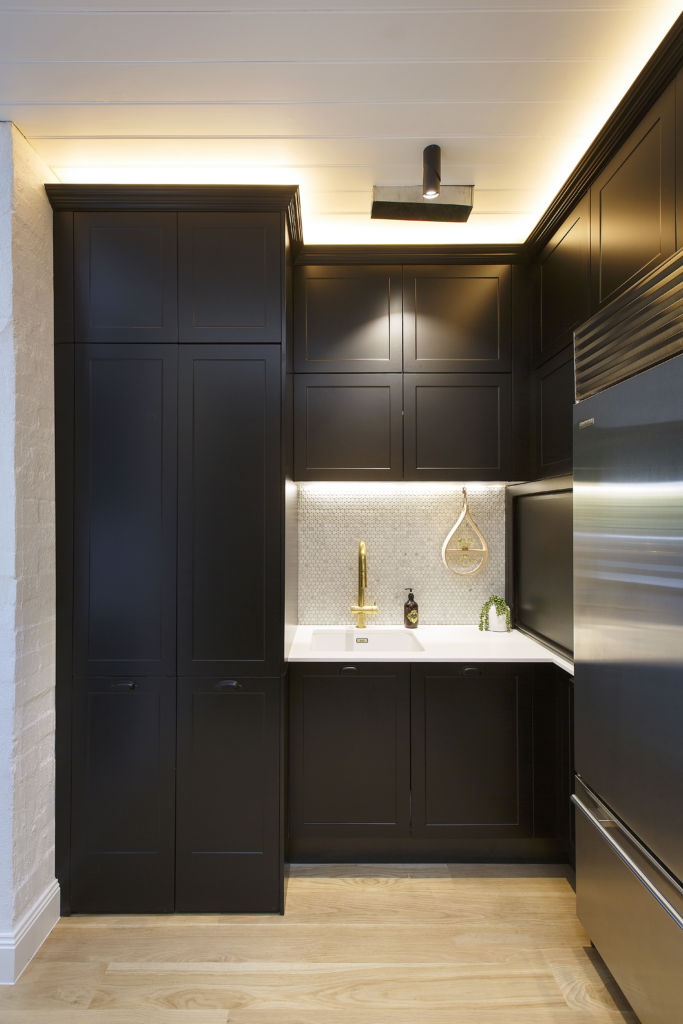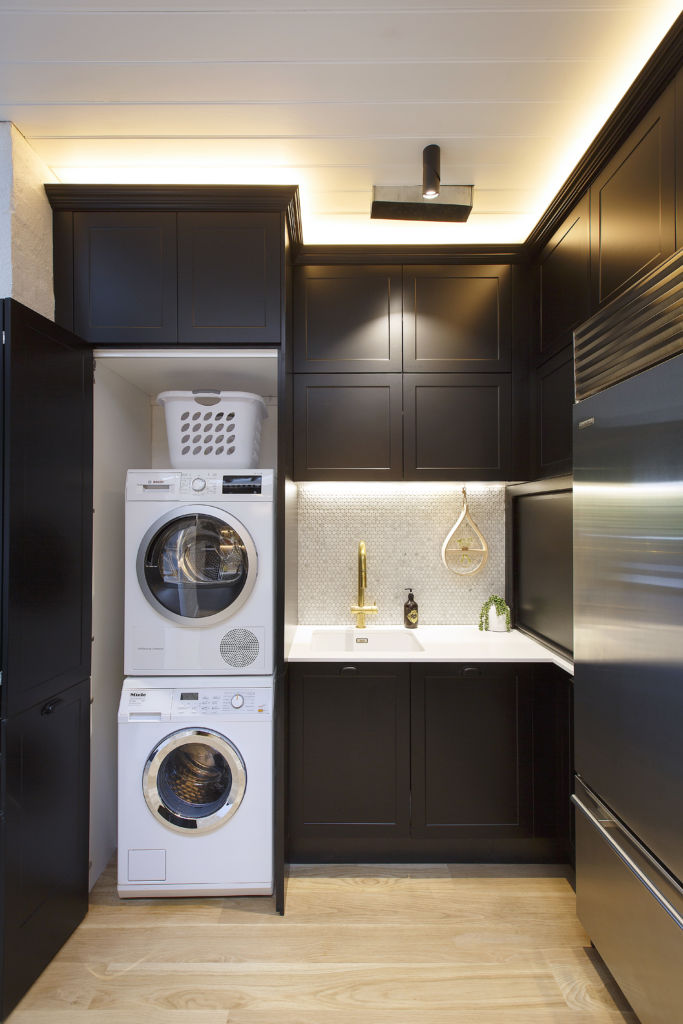 This pantry/laundry space was created for the homeowners to complement their entertainer's kitchen. Large fridges have been placed to the right so that they aren't located in the main kitchen and the laundry appliances creates a stylish and functional space.
Ready to create pantry perfection in your home with Freedom Kitchens? Book your free, expert design appointment with us today by clicking HERE.
For more pantry, kitchen and laundry inspiration download our new Spring catalogue HERE.