Are you renovating your kitchen? Then this is also a great time to consider a new laundry! Often overlooked due to their utilitarian nature, we think there's no reason why the humble laundry can't be elevated into space of beauty- and a place where you will love laundry day!
The current design trend is to make your home's style feel as seamless as possible from room to room, so by redesigning your kitchen and laundry at the same time, you'll be able to create cohesiveness throughout by using matching or complementary cabinetry, benchtops and handles.
Below we explore some of our favourite laundries (plus a mudroom) which showcase a variety of styles, layouts, sizes and storage options. What they all have common is that they balance style with functionality: which is your favourite?
Family-friendly laundry.
If space is no object, then this generous laundry we created for a family of six in Melbourne, will provide plenty of inspiration! The galley-style room features our Sierra White Matt cabinetry, separate linen cupboards and two hidden laundry hampers. The hampers are actually the homeowners favourite feature of the room, as they allow laundry to be sorted and hidden, keeping the space clear from clutter.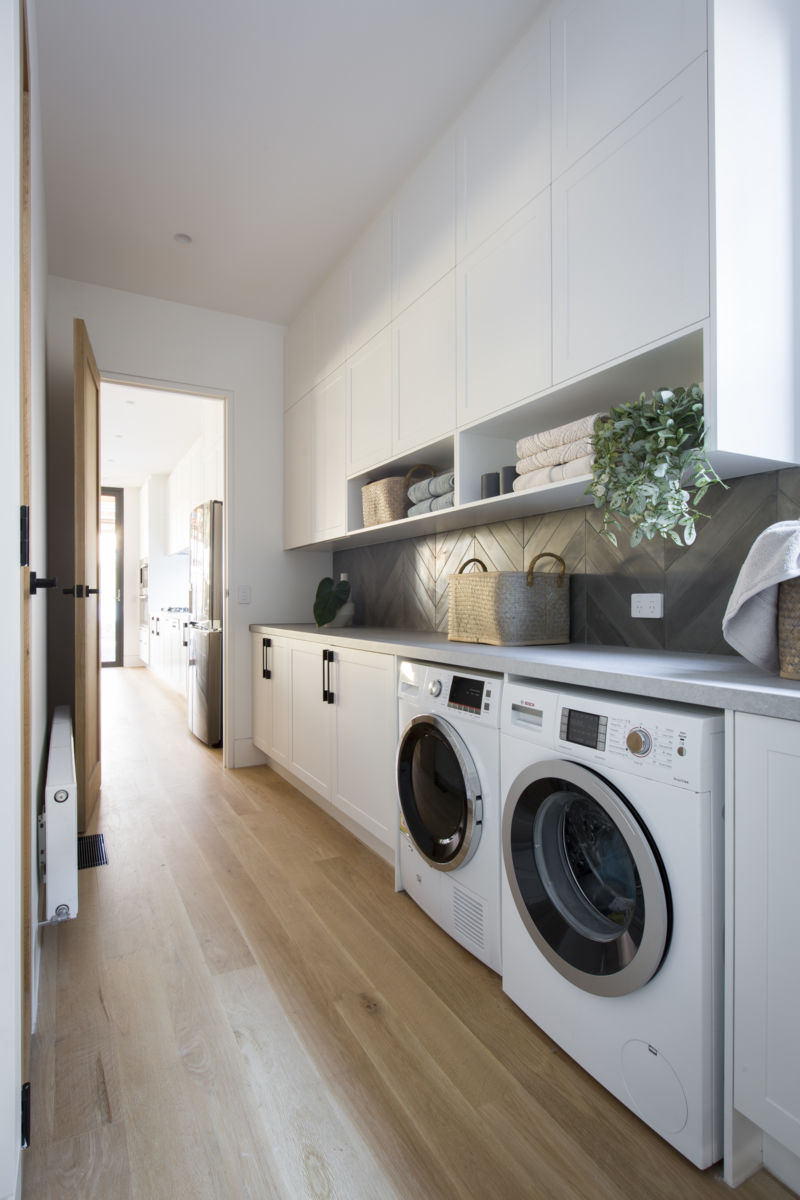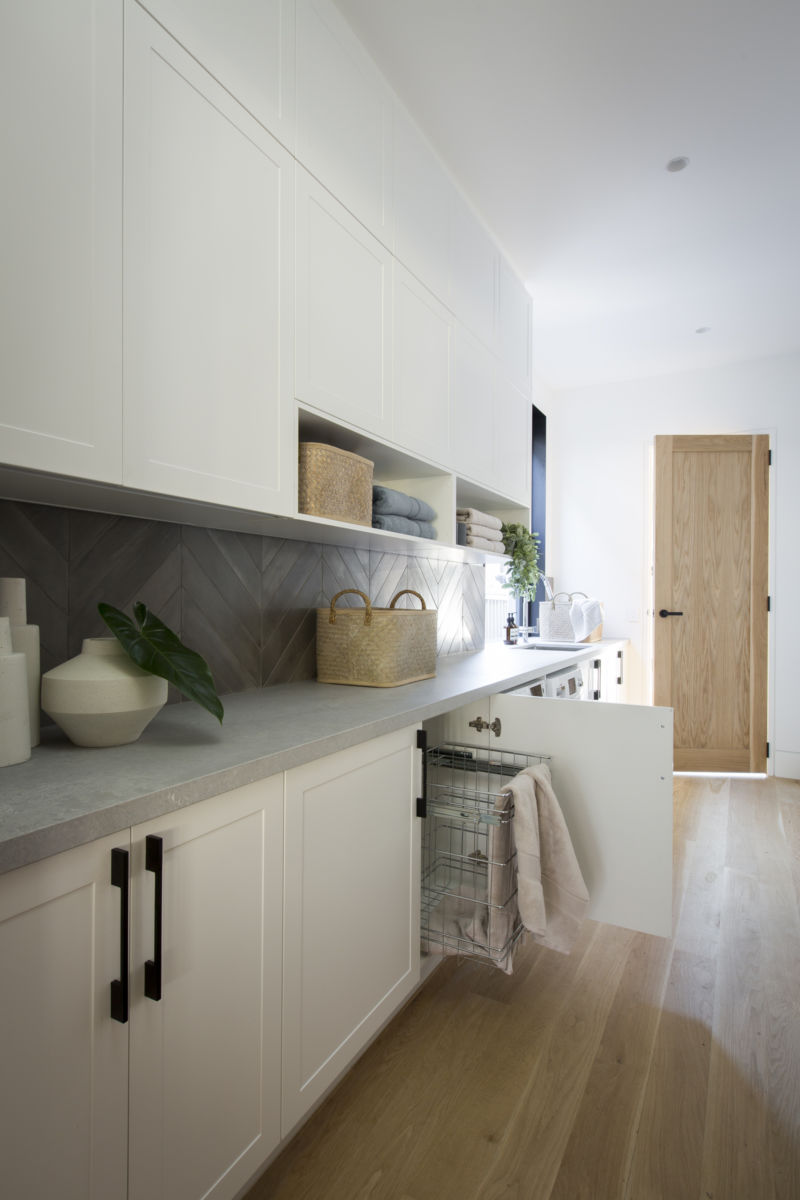 Offering a plethora of storage options, sink and tap, and a 3-metre long Airy Concrete top from Caesarstone perfect for folding clothing, the space complements the rest of the home and makes laundry day a pleasure.
Small but stylish.
If space is limited, a stylish and compact European laundry is a great solution! We created this European laundry to complement the homeowners' new Freedom Kitchen in their home in the Melbourne suburb of Highett, and the effect is immediately apparent as the rooms sit side by side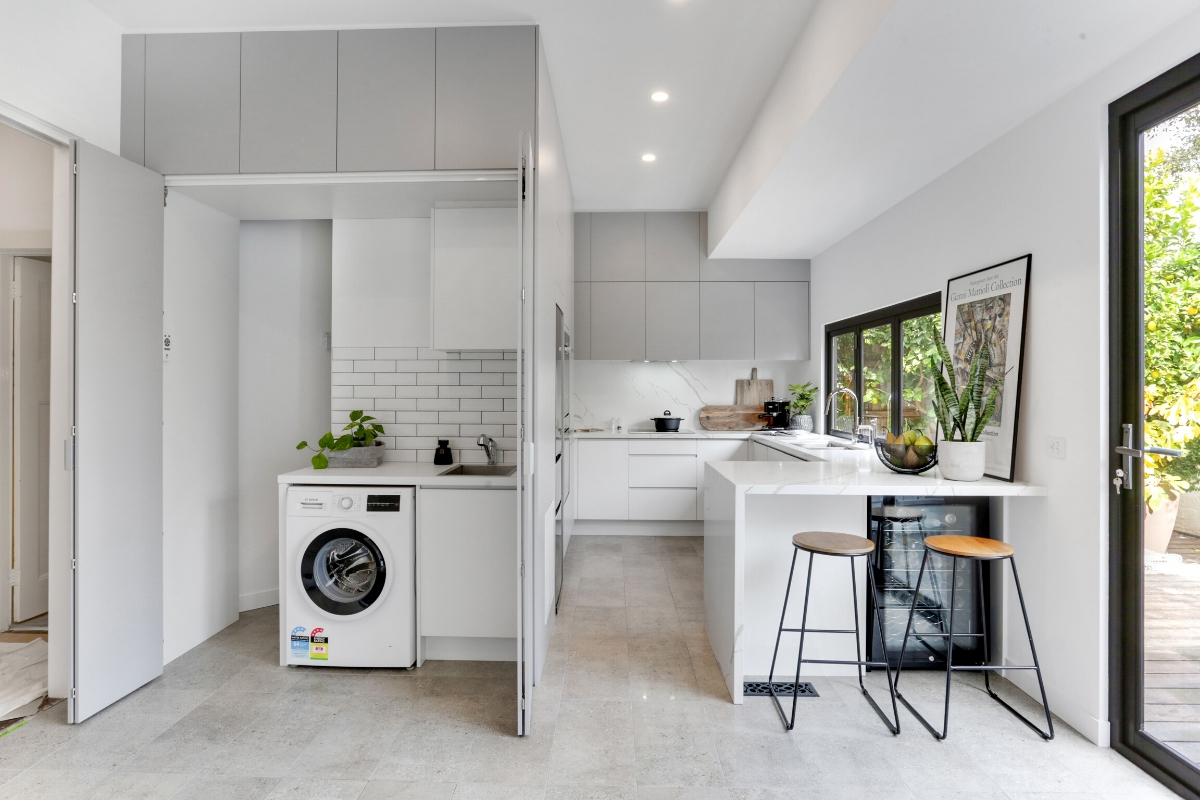 A sleek and modern two-tone palette of white and grey, a Caesarstone Empira White benchtop and classic subway tiles for the splashback keeps the laundry light and bright. Storage is maximised with the introduction of two cabinets in Iceland Peak White Satin, and the 2.3-metre tall bi-fold doors paired with the touch-catch cabinetry in Newbury Fox creates the perfect solution for hiding away mess behind closed doors.
Best on the block.
Over the years we have created so many beautiful laundries on Channel Nine's reno show The Block that it's hard to pick a favourite. However, the laundry room Kerrie & Spence presented in 2018 at The Gatwick is one that stands out due to its moody palette, ample storage and clever design features.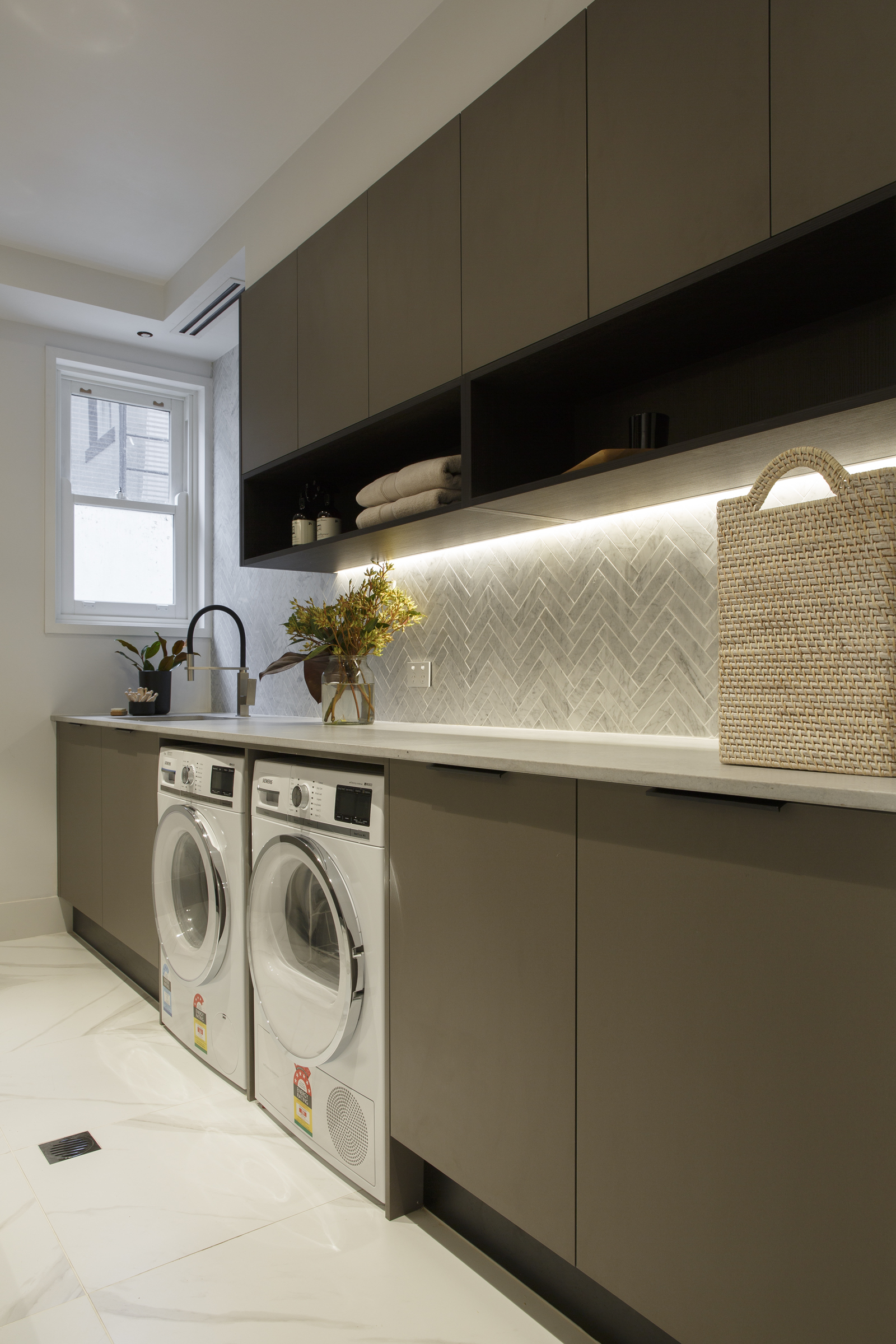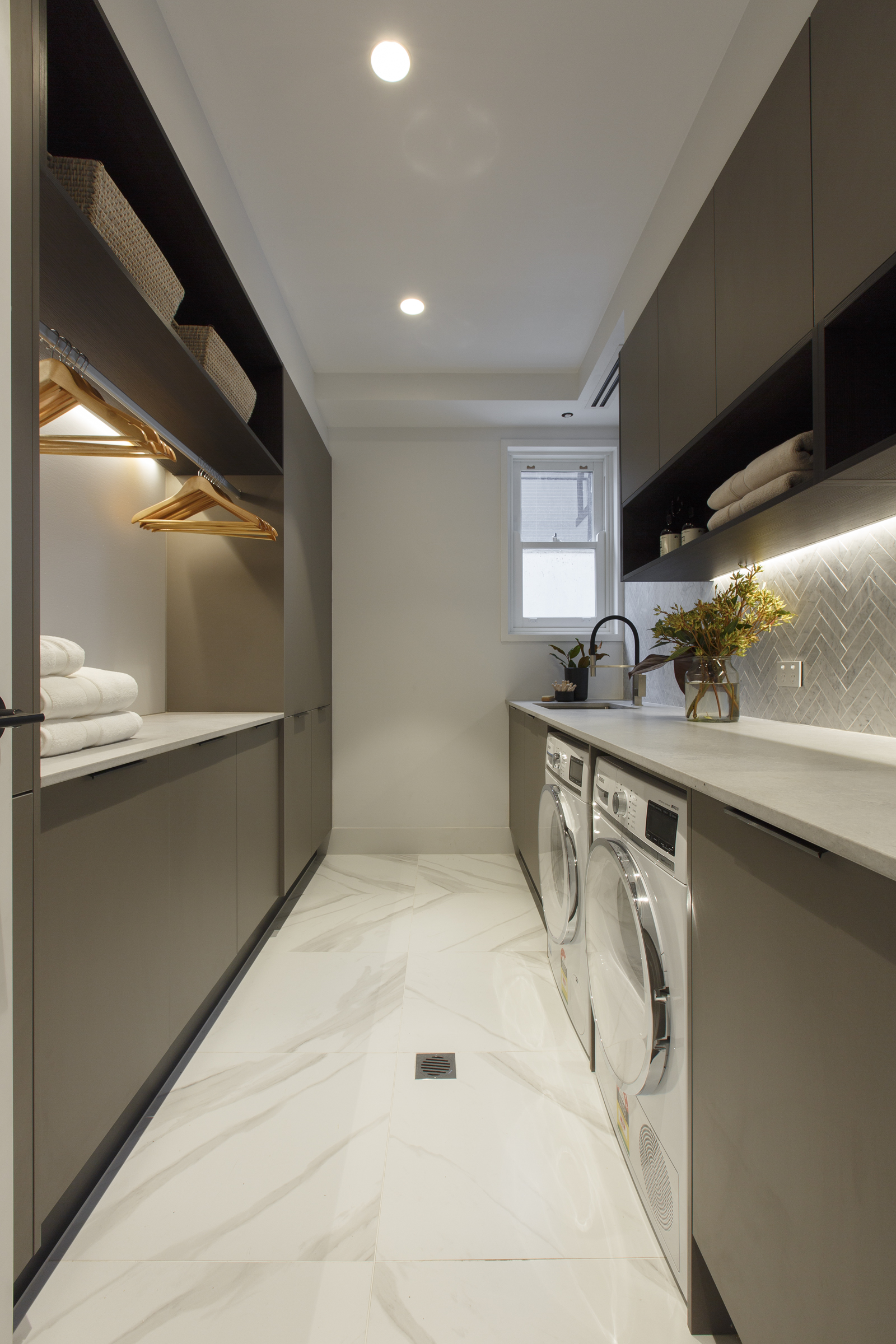 The space available has been utilised perfectly by incorporating cabinet storage, open shelving, and a hanging rail – a feature we think will transform your laundry! Burnished Wood and Moose cabinetry give the space a sophisticated and warm palette, with Touch Catch and Black Anodised Lip Pull handles creating clean lines. The look is flawlessly complemented by a Caesarstone Airy Concrete top and herringbone tiled splashback.
Glamorous laundry & mudroom.
When ex-Blockheads Julia and Sasha went searching for a new project to flip, Little Willow, a 100-year old Edwardian cottage, was the answer. We were thrilled when they enlisted our help to create a new kitchen, laundry and mudroom for the home, reflecting their glamorous Hamptons design aesthetic.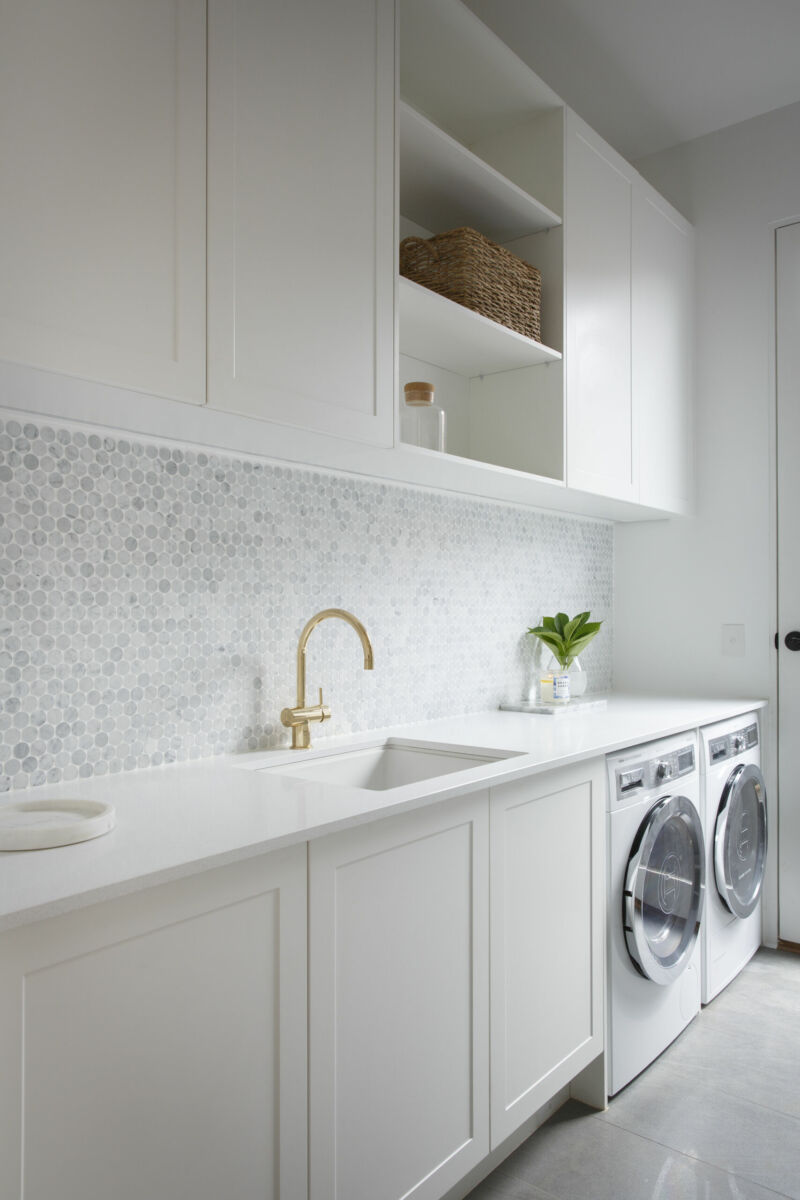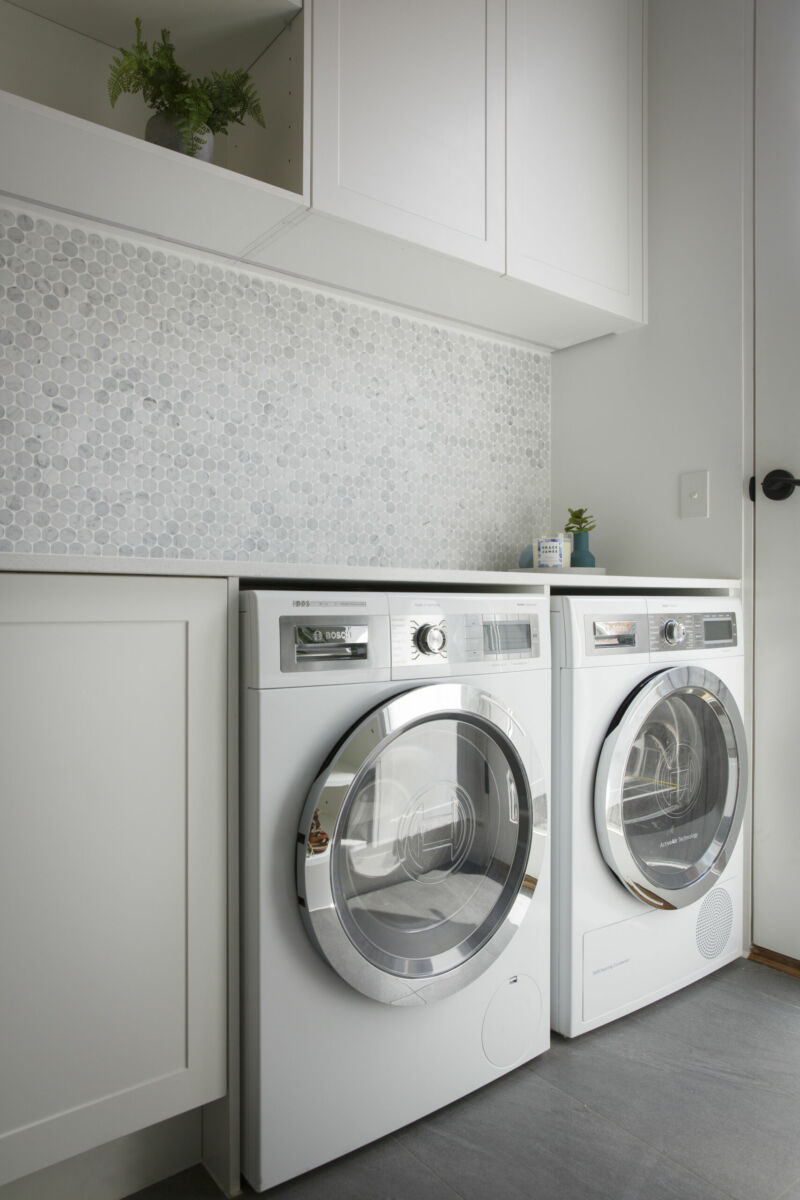 All three rooms have a base of a white colour palette, Sierra Shaker-style doors, marble-look quartz benchtops and gold accents. The laundry is light and bright, with plenty of storage, thanks to a thoughtful combination of cabinetry and open shelving. We love the use of the penny round marble tiling on the splashback!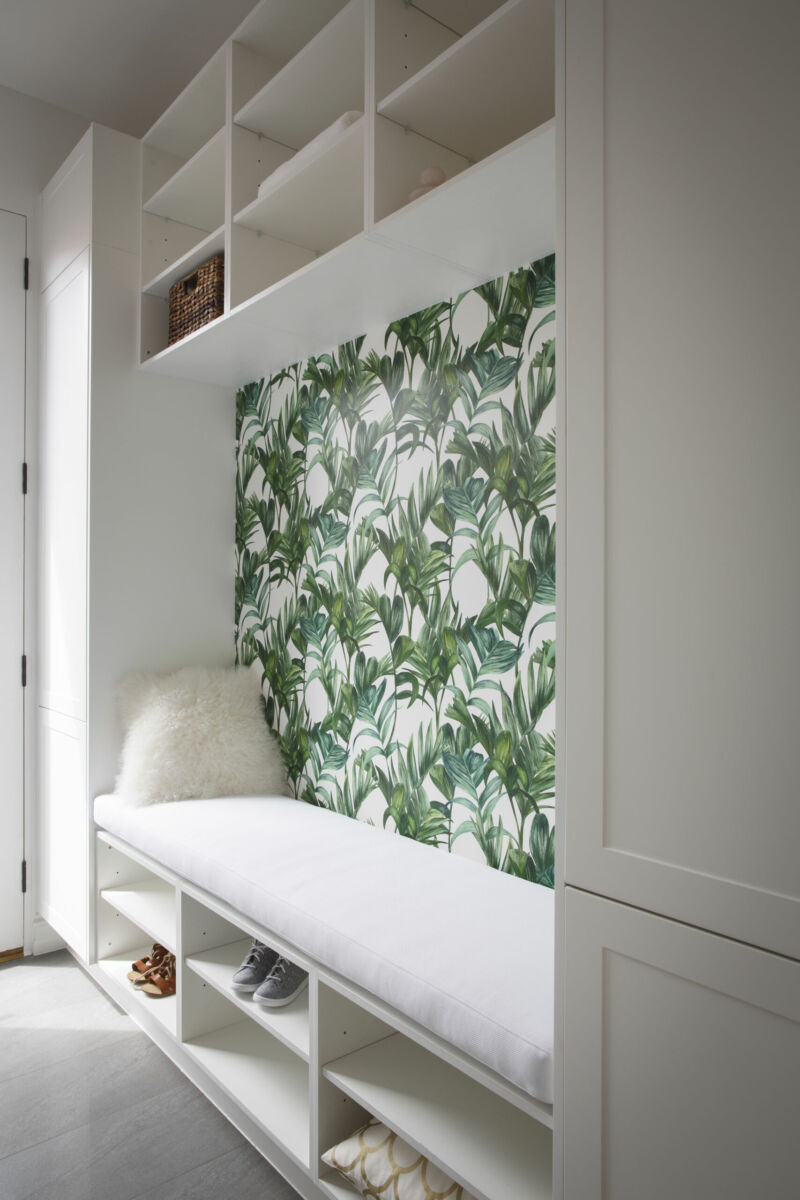 The mudroom was Sasha's pet project- although the stunning palm wallpaper is Julia's special touch in the room! Accessed from the outside of the house, it features a bench to sit down and remove shoes, which you can then place into the shelves below. Tall cupboards sit either side, adding even more storage space, and the open shelving above provides the perfect place for hats, towels, blankets, decor items, and more.
Play with Colour.
If you wish to inject colour into your laundry space but are not sure where to start, look no further than the stunning laundry space we created with The Block Alumni Michael & Carlene for their Gold Coast home.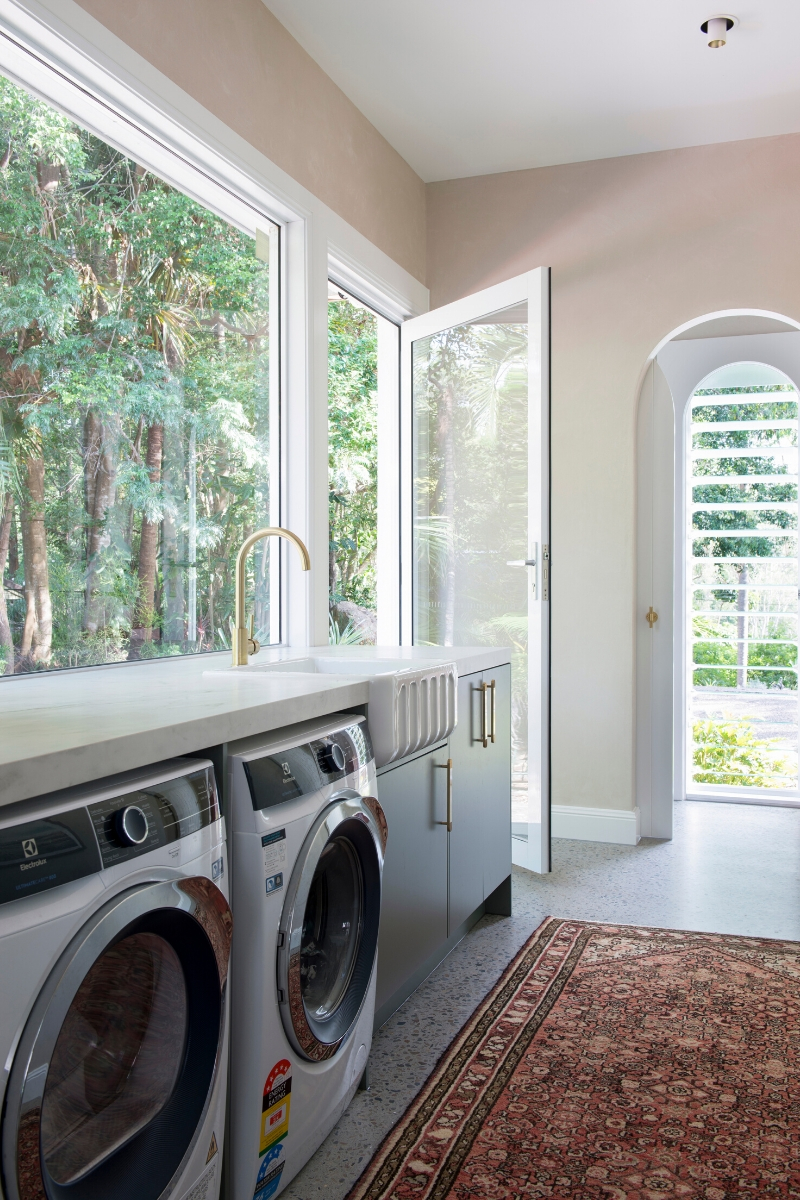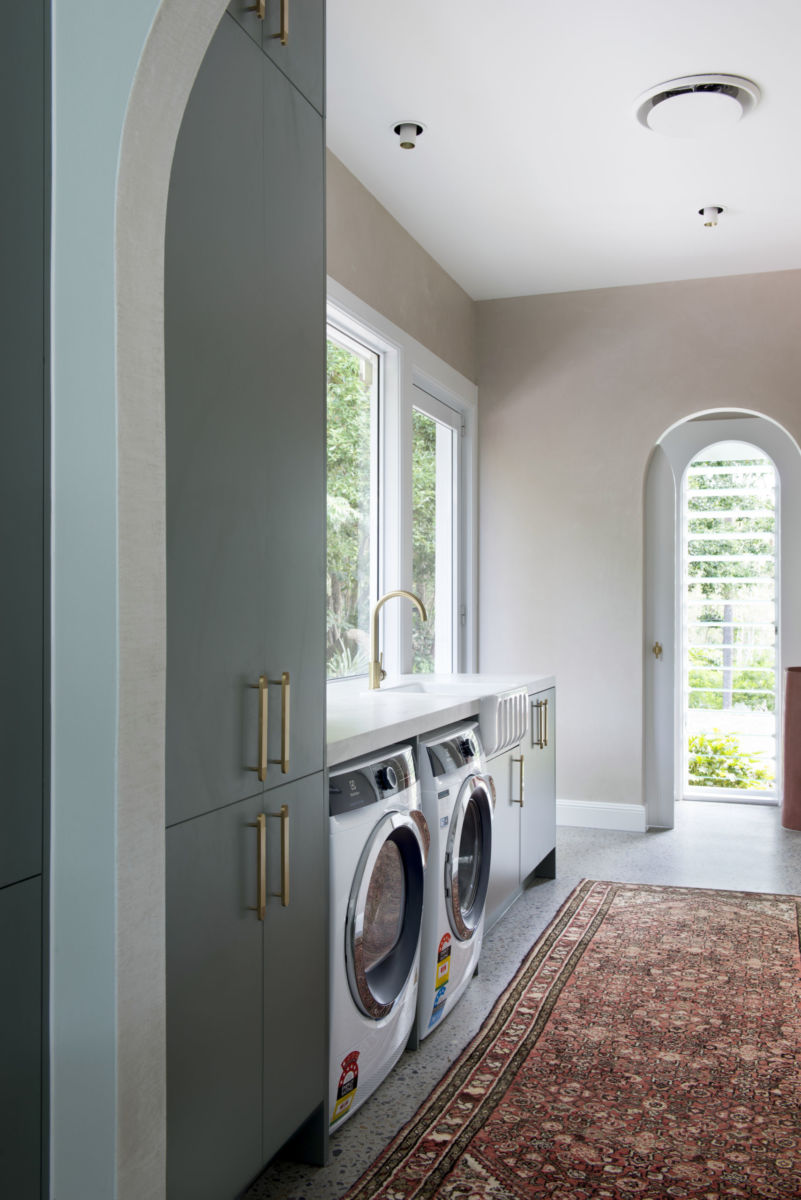 Carlene, who 'needs to live with colour', chose cabinetry in Impressions Green Slate for their kitchen, pantry and laundry (which are all connected) to reference the beautiful gum trees that surround their home.
Their simple yet stylish and functional laundry ticks all the boxes, featuring tall cabinets, hidden wire pull-out laundry hamper and ample folding space. Gold hardware and a white sink work together for a luxe yet welcoming palette.
Inspired to create a laundry that complements the rest of your home, and that makes you look forward to laundry day?
Don't wait! Book your free in-home or video call design appointment HERE.
For more inspiration for laundries, kitchens, pantries and more, download our new catalogue HERE.