With 2020 drawing to a close, here at Freedom Kitchens we are looking forward to 2021 and the exciting kitchen trends that come with it. Celebrating earthy organic colour palettes, pops of colour and metallics, curves and so much more, below we take a look at the trends we believe are the ones to watch, and to fall in love with, in 2021.
Colour & Texture
Organic and natural palettes will reign supreme in 2021, with a push towards tactile and raw finishes. Expect to see bright whites in a matte finish paired with black and soft greys with one pop of a vibrant, earthy colour such as a green, mint and blue. Touches of metallic will not be seen through cabinetry, instead introduced through accessories such as our handles and sinks & taps in brass and gunmetal looks.

Adding elements of timber, in both light and dark tones, adds warmth and texture to your kitchen. Our new Vera and Verity doors with their panel-look and vertical fluted designs provide a stunning focal point in the kitchen. We love to use this style of cabinetry for wall cabinets and/or to wrap around an island bench. Choose cabinetry in either our Prime Oak or Bottega Oak which feature a woodgrain texture.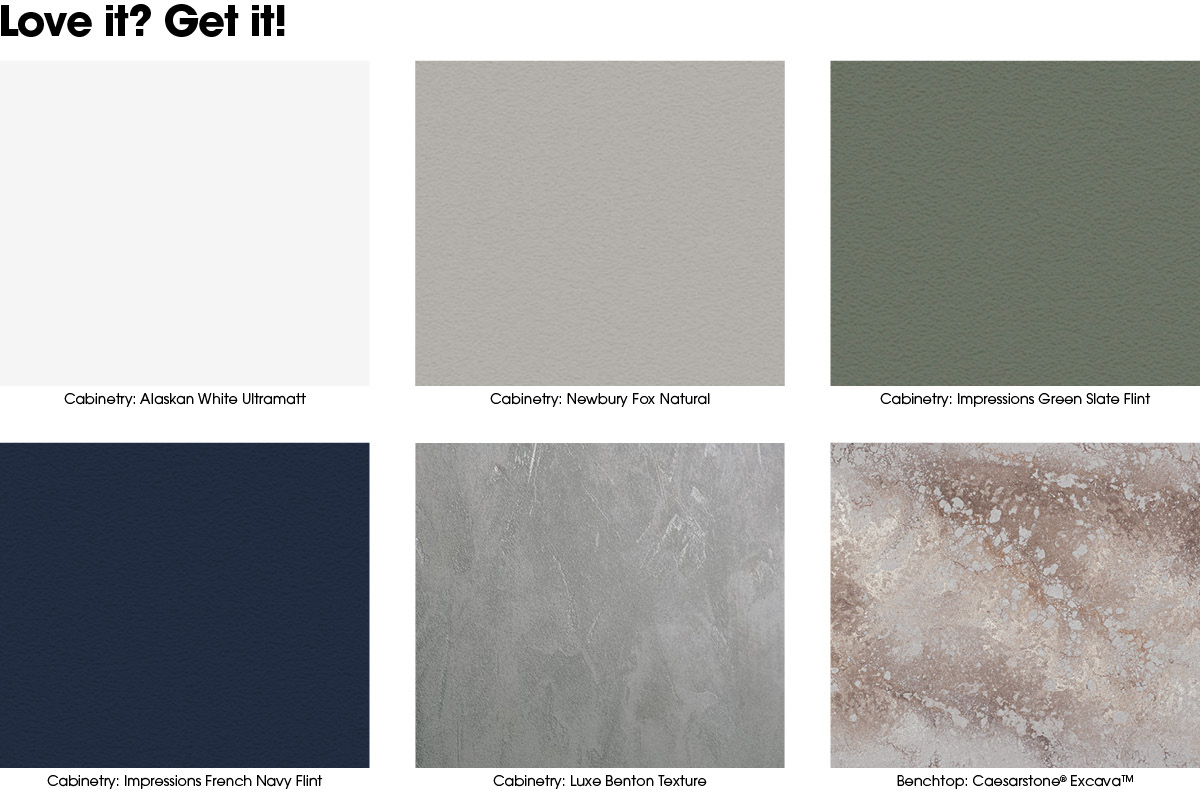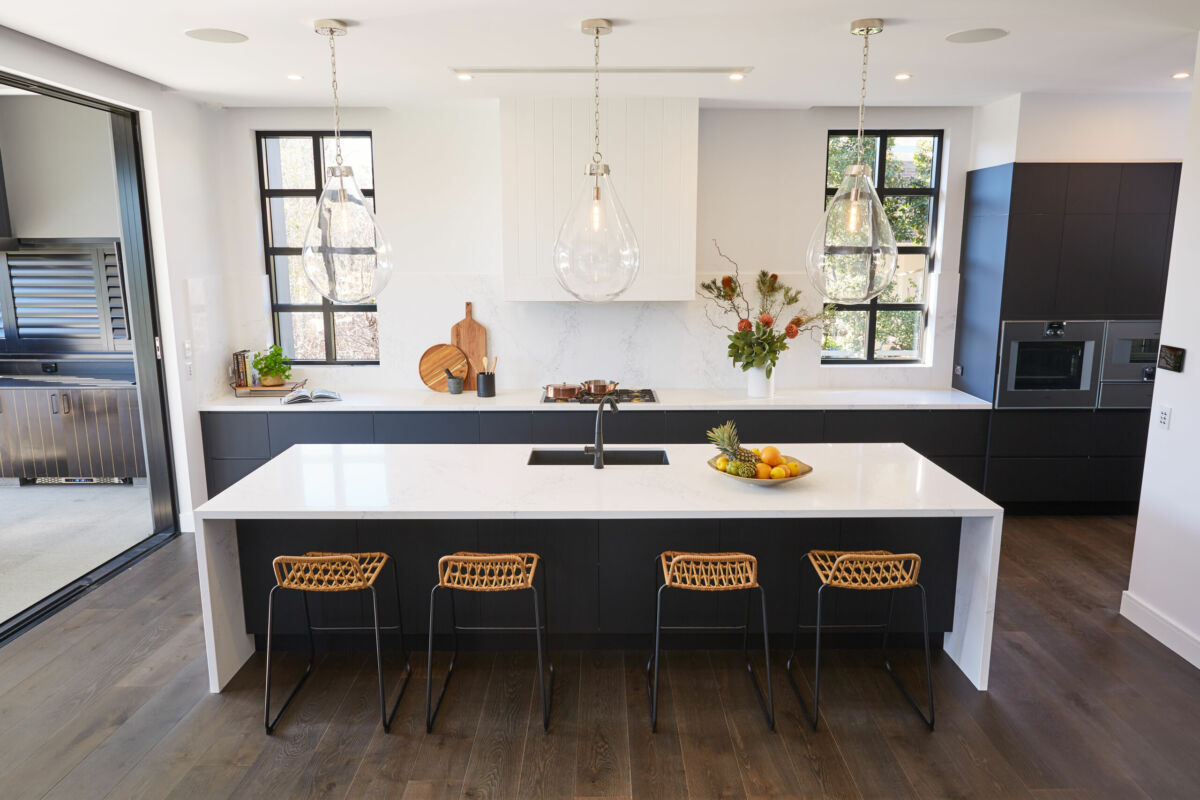 As an alternative to timber, our new V-Groove panel board and Broadline Glass within black-framed cabinets will add texture, sophistication and interest. Both complement a variety of colour palettes as well as a board range of kitchen styles- from modern to classic and anything in between.
Curves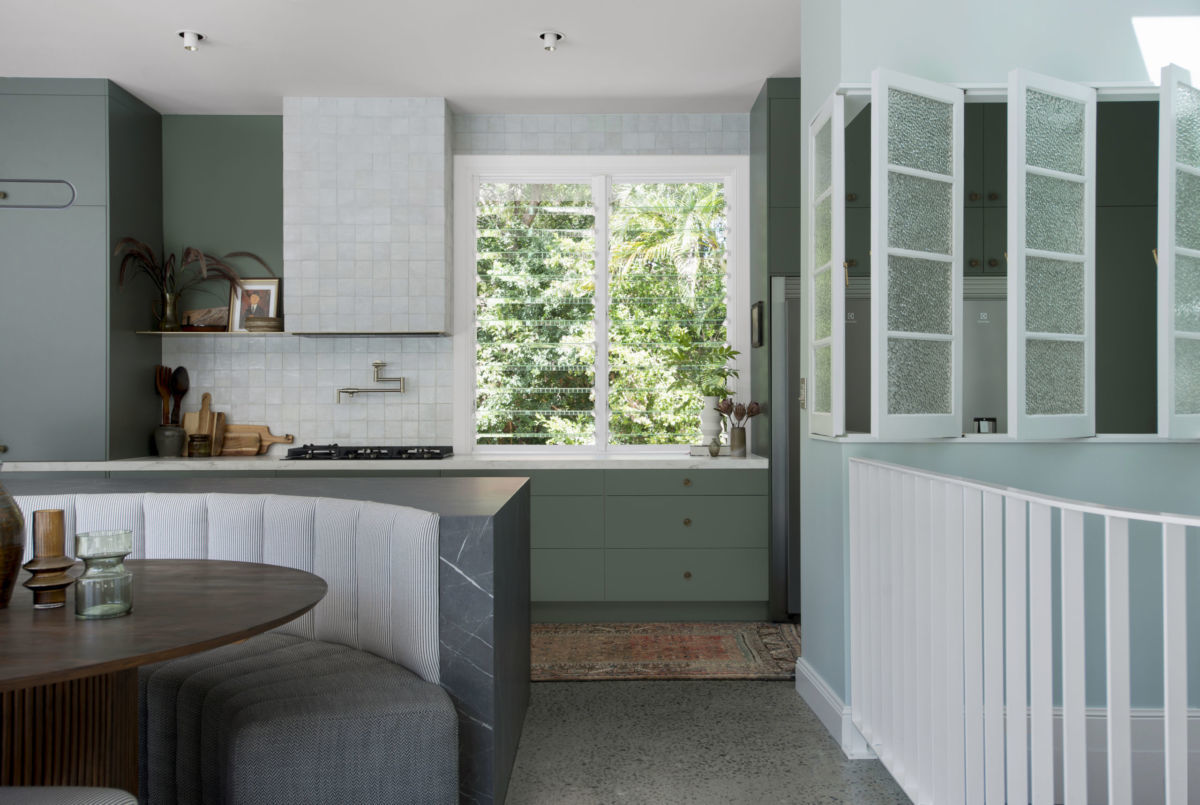 For the past couple of years we have seen the emerging popularity of curves in interior design, from furniture to archways throughout homes, and now this beautiful feature is taking the spotlight in the kitchens, primarily through sculptural island benches.
A curved island bench or dining booth within an island bench softens the straight lines typically seen in kitchens, adding a level of organic sophistication to your room and providing an informal and welcoming dining space for your family and friends to gather around.
Splashback Details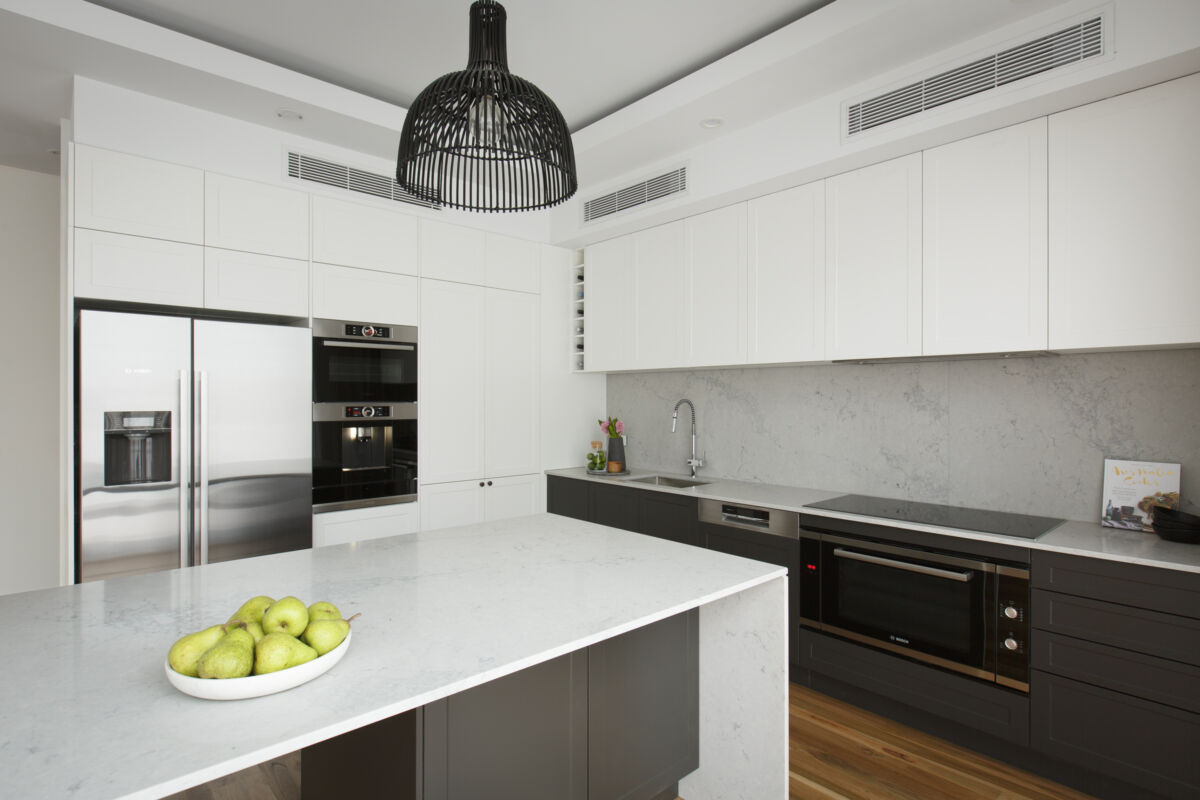 Step away from a traditional tiled splashback design and bring a natural yet sophisticated look to your kitchen through natural-look materials such as quartz Caesarstone or Vasari* a stunning porcelain material that can be used for both benchtops and splashbacks.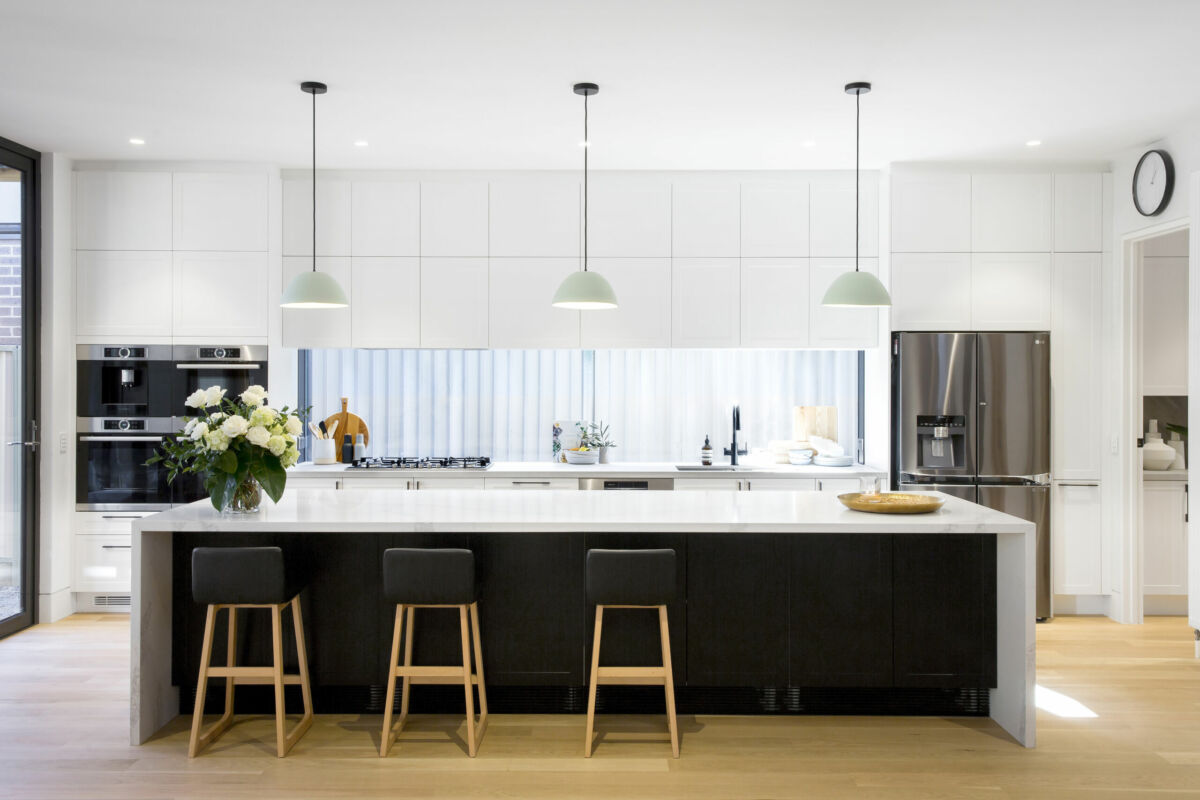 Another wonderful alternative to tiles, a window splashback brings in plenty of natural light into your kitchen. It also allows you to create a frame of natural beauty, one that will change and evolve with the seasons and as your plants grow.
Open Plan Family Living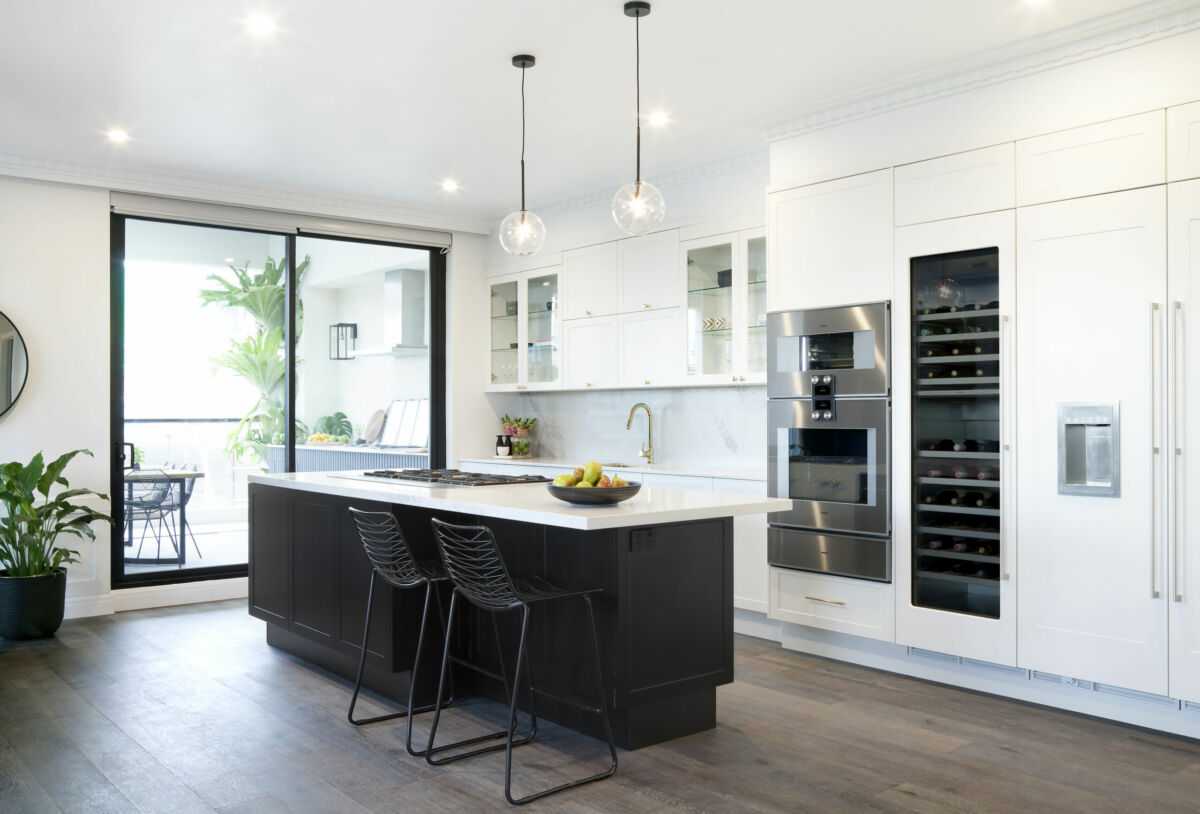 The heart of the home centres around the kitchen, with even more emphasis on an open plan design that connects the kitchen, living and dining spaces together so they are all connected- bringing together family and friends. Island benches create a beautiful and informal dining space and a natural gathering hub in the home. Also consider serveries to connect to your outdoor spaces, as well as dining nooks, study nooks, desks, bars into your kitchen design. These design considerations transform your kitchen into a multifunctional space. With all of us spending a lot more time at home, it is also where we will spend time entertaining. Create a streamline entertainers kitchen by incorporating hidden concepts into the design such as a hidden butler's pantry, integrated appliances, small appliances hidden within an appliance hutch or roller door. Our touch catch and integrated Peak handles are perfect for this look.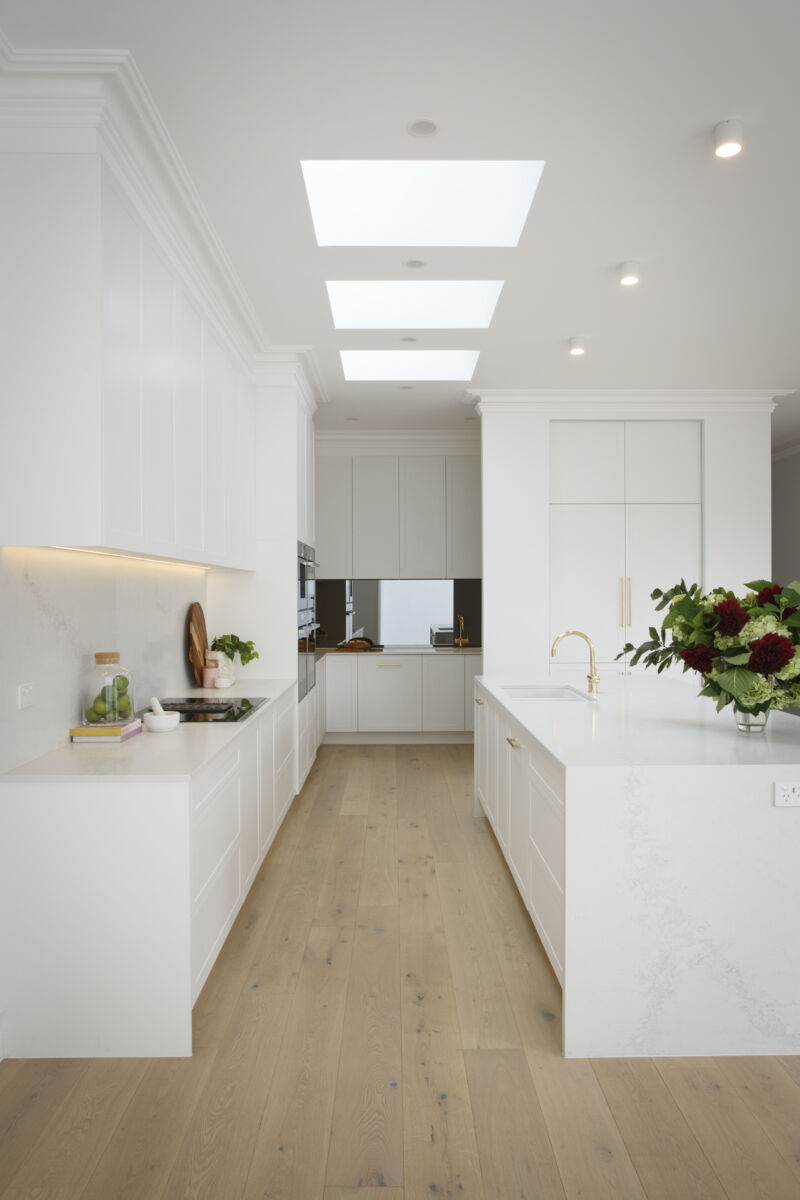 Designer tip: If you love the streamline look but also want to include handles in your kitchen design we recommend using handles on the inside of your island bench or back runs of cabinetry where they can't be seen from the outside of the kitchen, and integrated or touch catch handles where it is visible.
Inspired to start your kitchen journey with us? Don't wait!
Click HERE to book your free in-home or video-call design appointment.
For more inspiration download our latest Designer Range catalogue HERE.
*Vasari is currently available only in Melbourne and Brisbane.