Top 6 Kitchen Design Trends to Transform your Kitchen Renovation in 2023
The new year is the perfect time to start planning an exciting renovation project – and what could be more exciting than transforming your kitchen in 2023? Here at Freedom Kitchens, we pride ourselves on being at the forefront of Australian kitchen interior design. Australia's favourite renovation TV show, The Block, in late 2022 was the perfect place to showcase kitchen design ideas that will trend in 2023 – and for many years to come.
Kitchen Week on The Block 2022 saw six of the biggest and best kitchens ever seen in the show's history. Showcasing several new products within the Freedom Kitchens' range, each room was brimming with inspiration for kitchen trends that you will want to bring into your home. Below we explore 6 of the hottest kitchen trends in Australian interior design in 2023.
Escape to the Country with a Farmhouse Kitchen Design.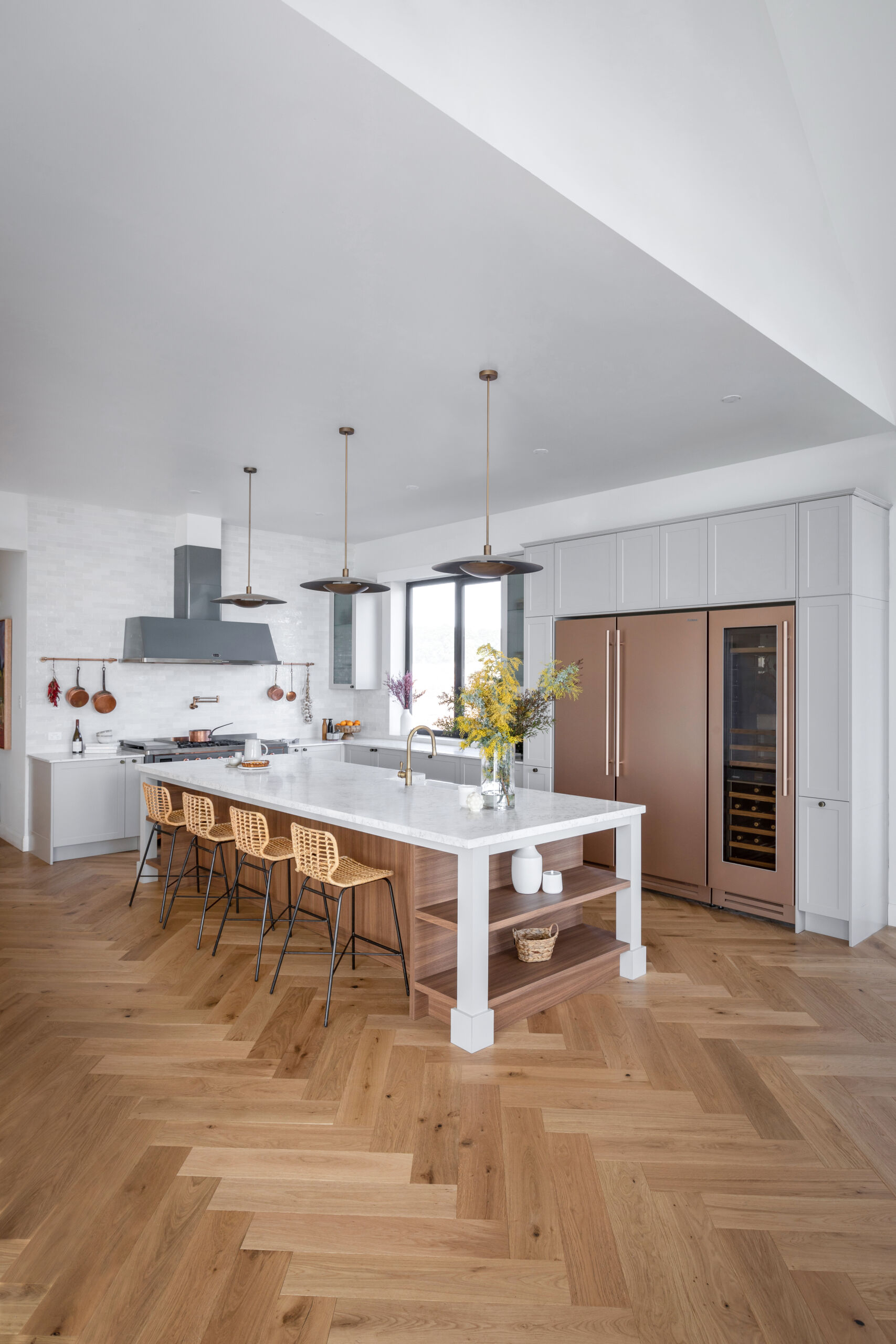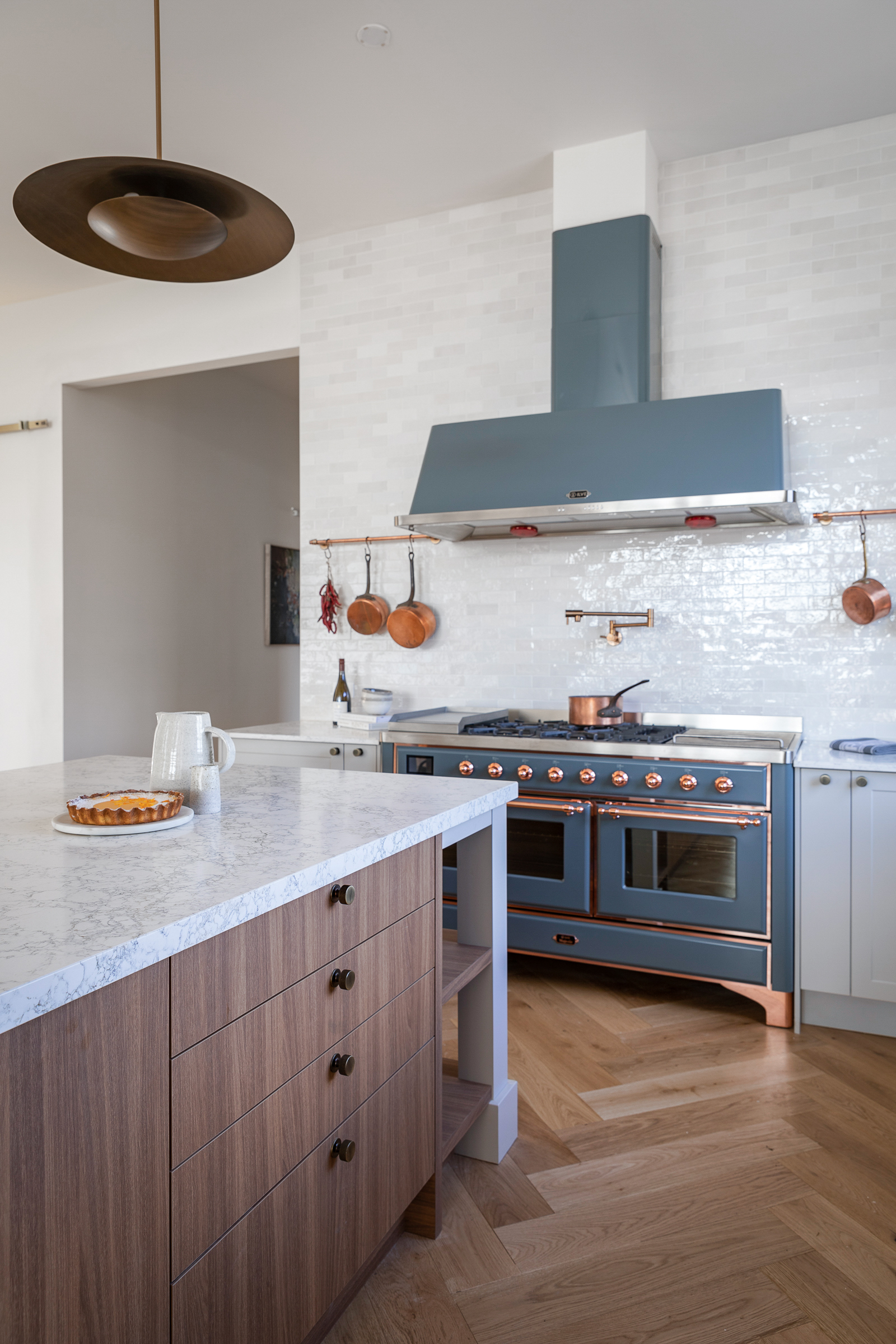 Inspired by the stunning surrounds of the show's rural location of Gisborne in Victoria, many of the kitchens on The Block celebrated a modern take on the Country or Farmhouse style which has gained popularity in Australian interiors in both urban and rural areas. 
The appeal of a farmhouse-inspired kitchen is easy to see – words such as 'warm', 'welcoming' and 'charming' immediately spring to mind when describing the look. Farmhouse country kitchen designs allow you to use colour and beautifully textured materials such as wood shelving, timber cabinetry and metal hanging display elements, to elevate and personalise your style – lending itself perfectly to a family-friendly kitchen.
Detailed Joinery and Hardware Compliments a Coastal or Hamptons Look.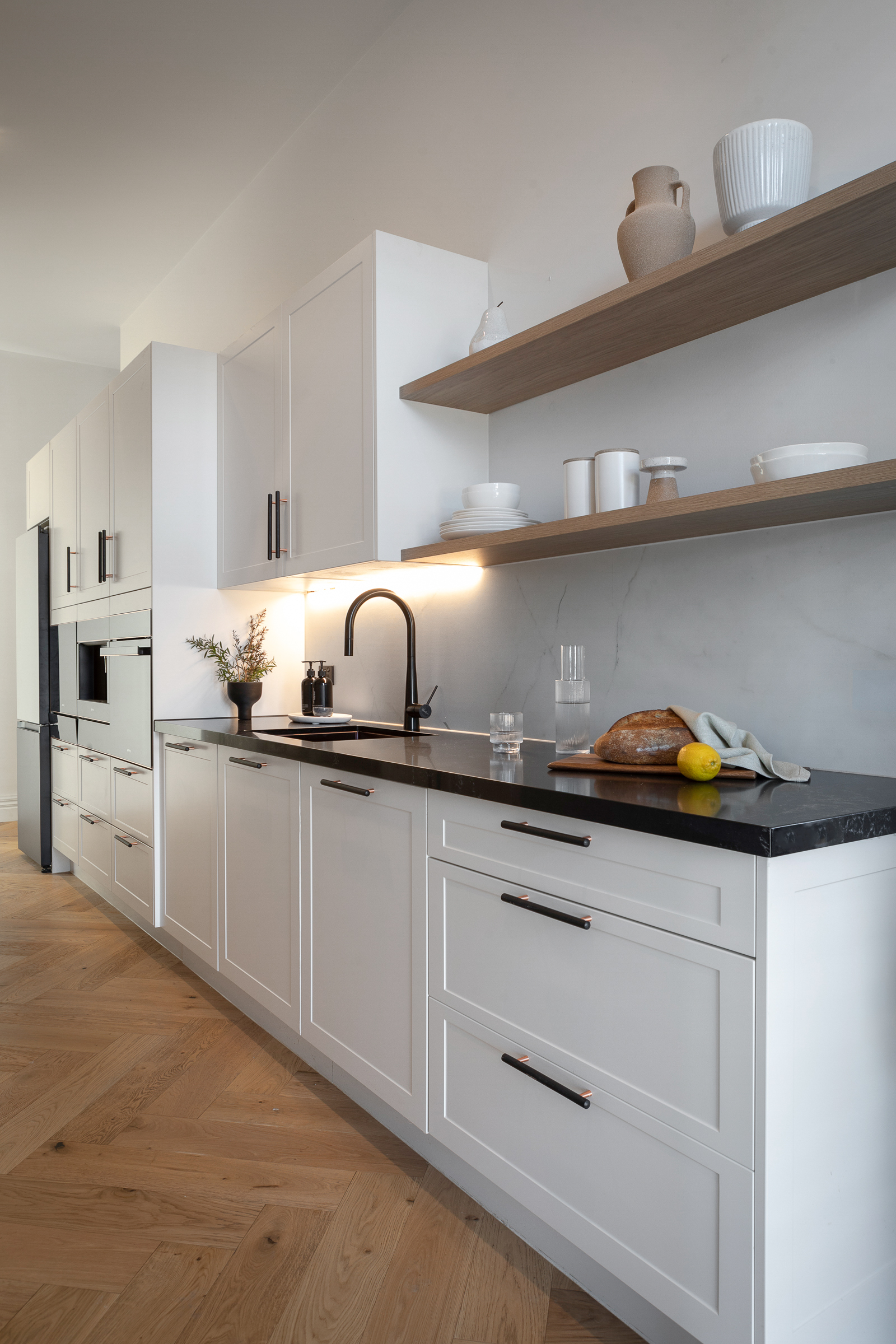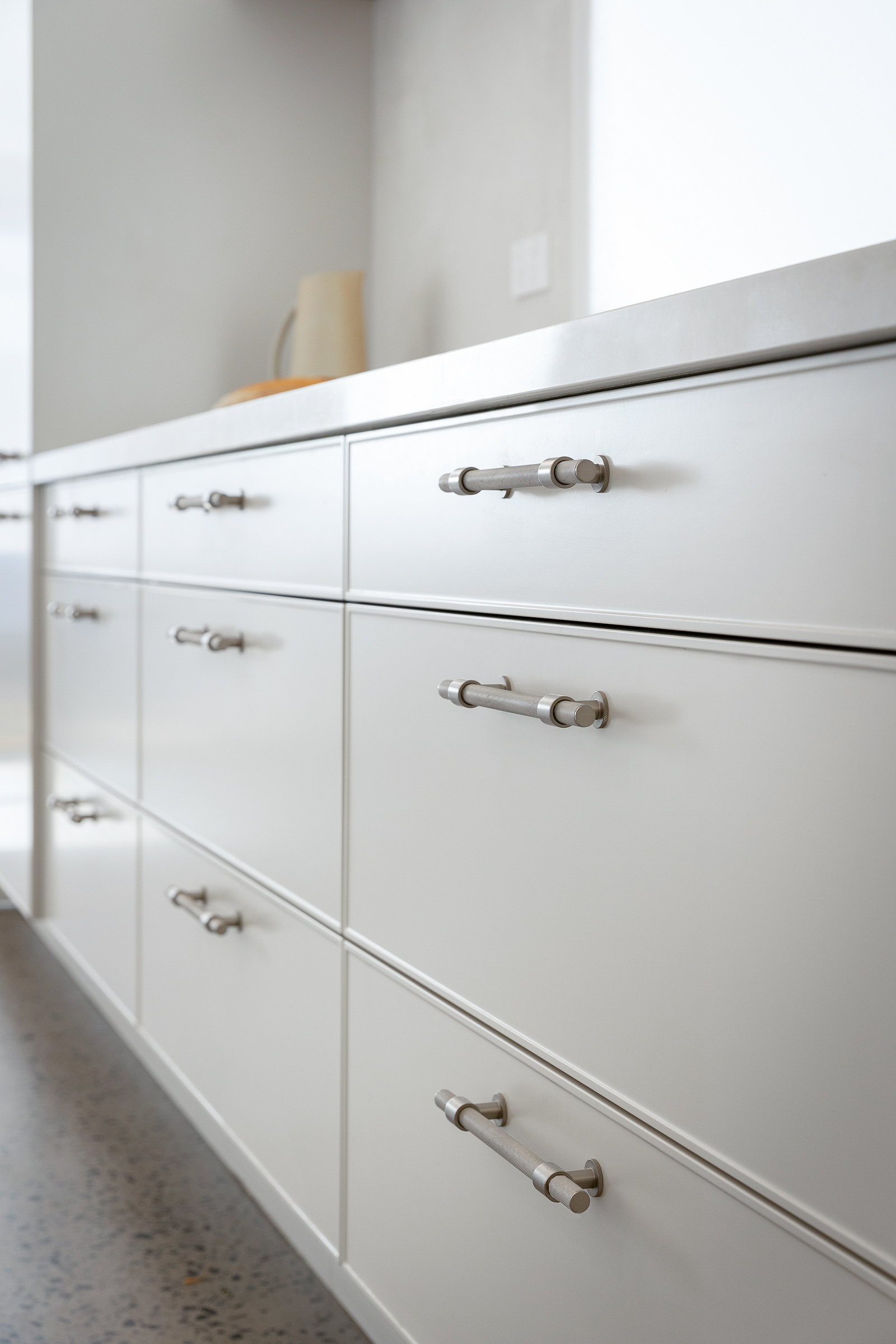 The popular classic Shaker-style joinery complements a Farmhouse, Hamptons or Coastal look, and our new Sierra IV doors are an exciting new addition to the Freedom Kitchens range. Showcasing a 40mm Shaker-style profile, the cabinet offers a modern take on this classic design. Hardware selection will also make an impact, adding texture and colour to your space and a layer to your joinery. In line with 2023 hardware trends consider mixed metallic tones in brass, brushed nickel, or matte black, and detailed designs for your handles.  
Embrace Colour Through Bold and Warm Colour Saturation.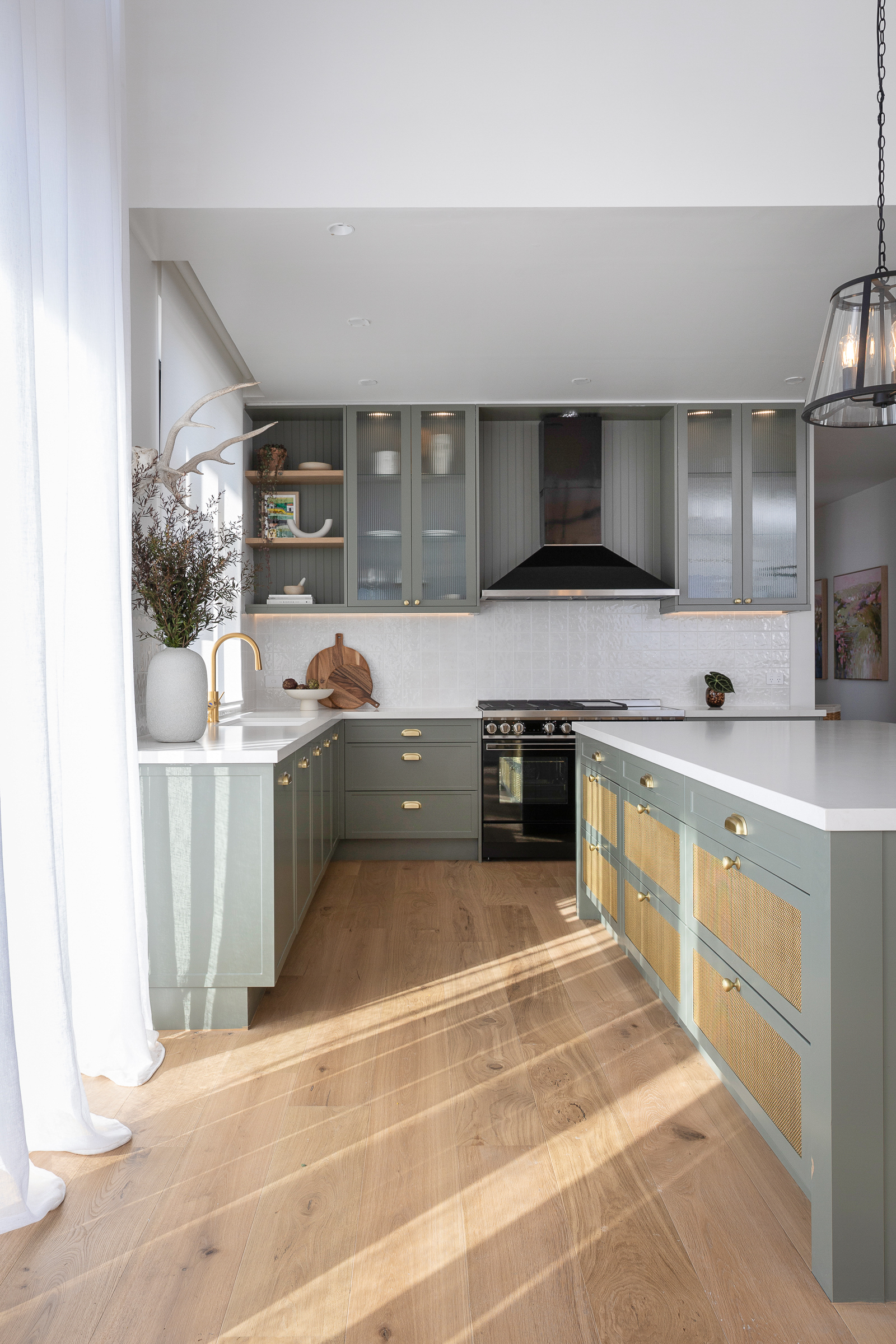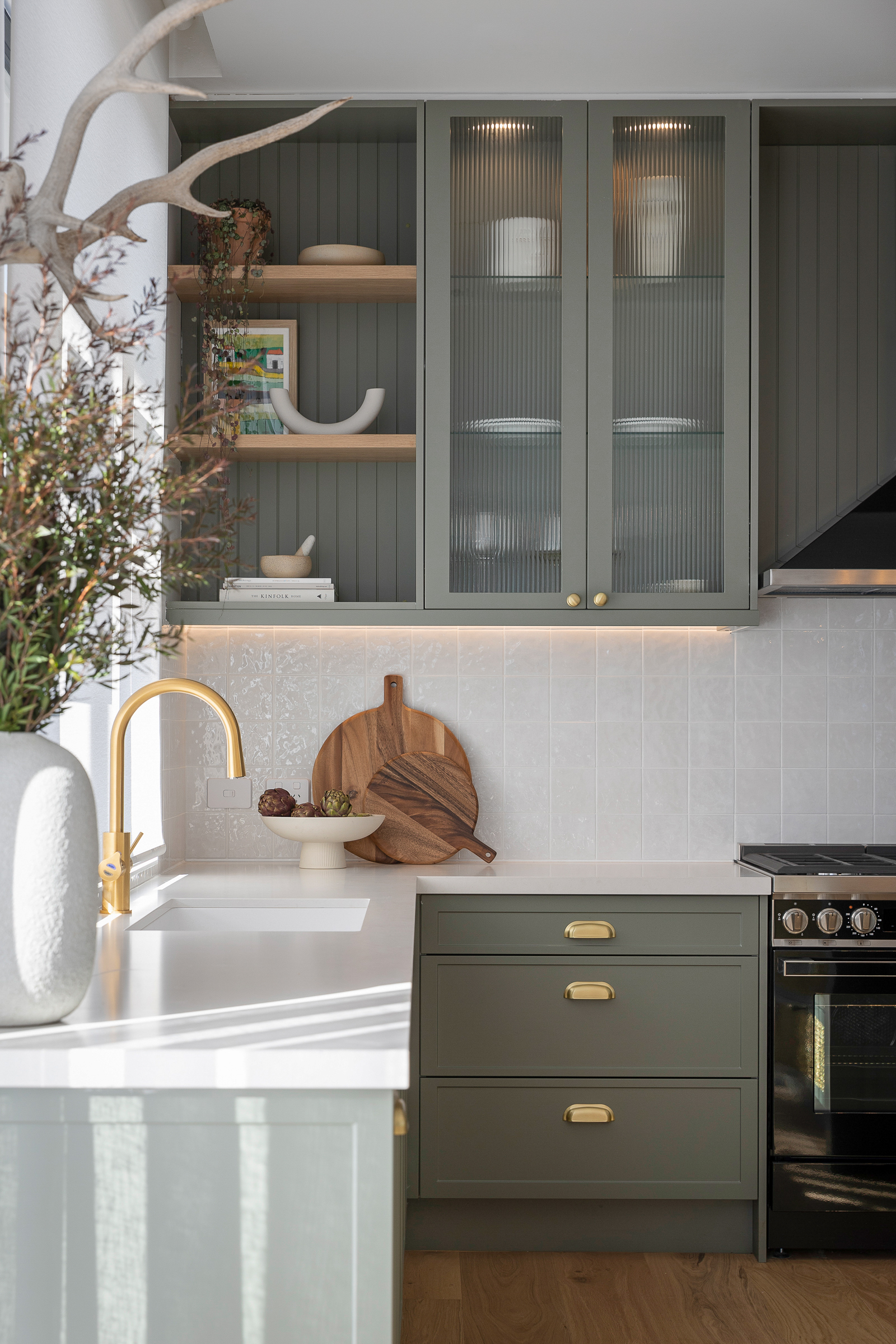 Over the past few years there has been a clear shift towards kitchen designs that celebrate natural and raw finishes and richer, earthier colour palettes. Our new Dry Sage green doors connect to nature and the outdoors, as well as being chic and calming. Blue is another shade that is gaining popularity in Australian kitchens, whether it be a rich navy, or a brighter blue as seen in Scotty Cam's kitchenette which features Habitat joinery. Patina Brass Inserts, which Dylan and Jenny added to their island bench drawers, will further enhance your kitchen scheme, and will naturally oxidise over time.
Oversized & coloured appliances.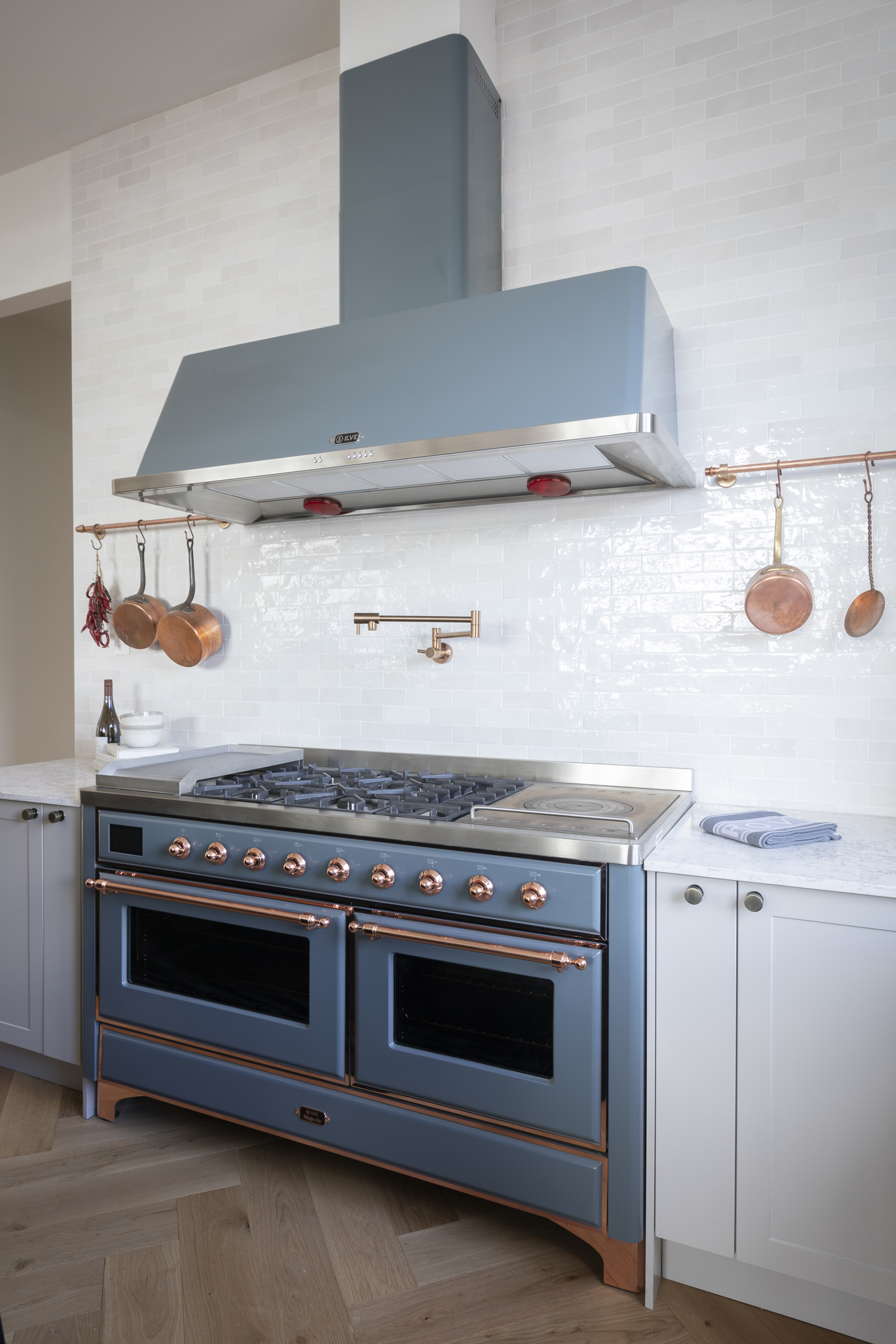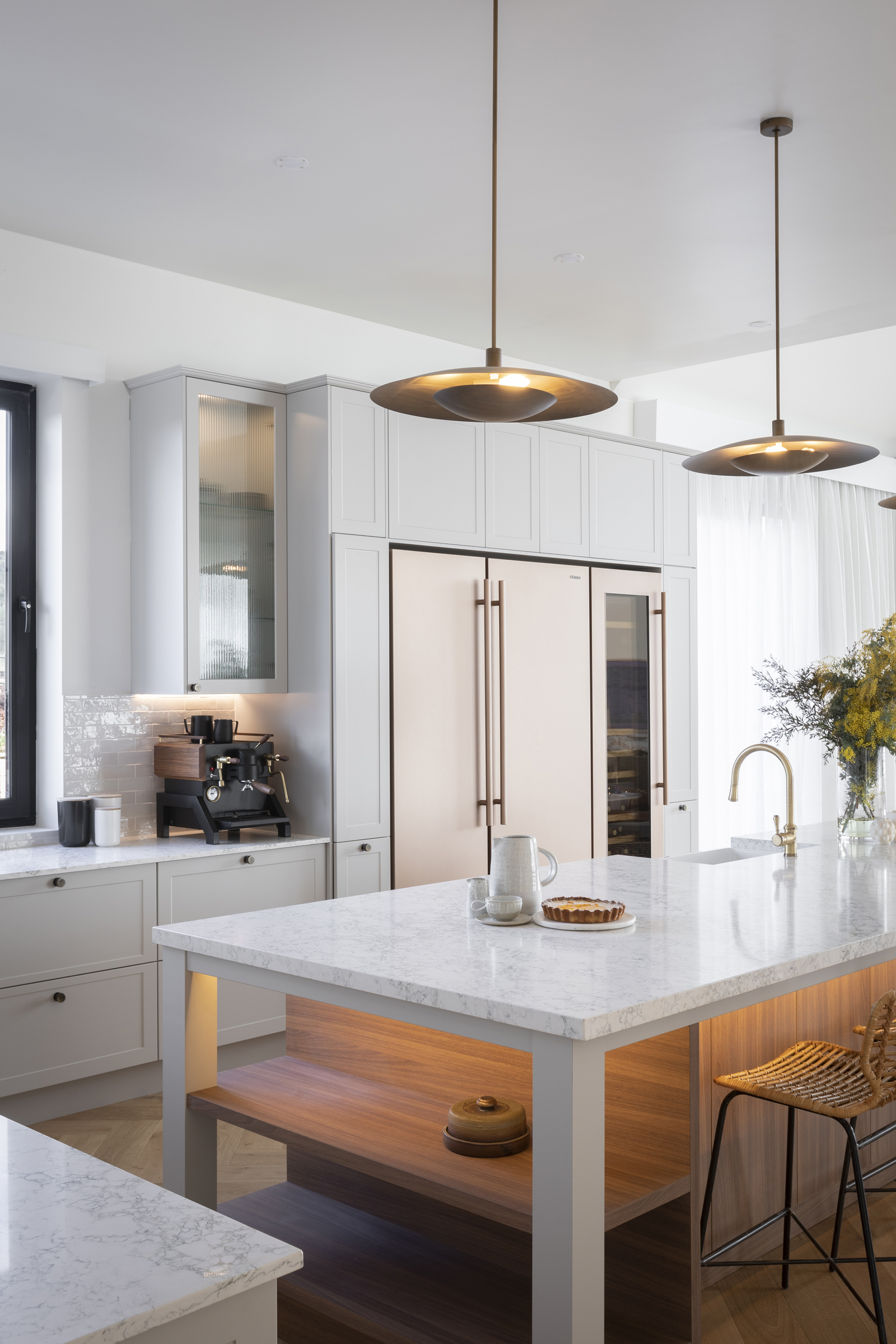 Critical to the success of your kitchen, your cooking appliances can become showpieces within your design. Oversized freestanding cookers, exposed rangehoods and personalised fridges added the 'wow factor' to The Block kitchens in the 2022 season regardless of whether the designs leaned towards a modern or traditional look.
Tom and Sarah-Jane's kitchen was a masterclass in how to successfully blend several colours such as copper, blue, and rose gold without overpowering the room. Conversely, Omar and Oz opted for sleek and ultra-modern appliances to suit their urban-style kitchen design. Consider the kitchen look you wish to create and select appliances that complement the style you love.   
Use Oversized Island Benches As The Design Star.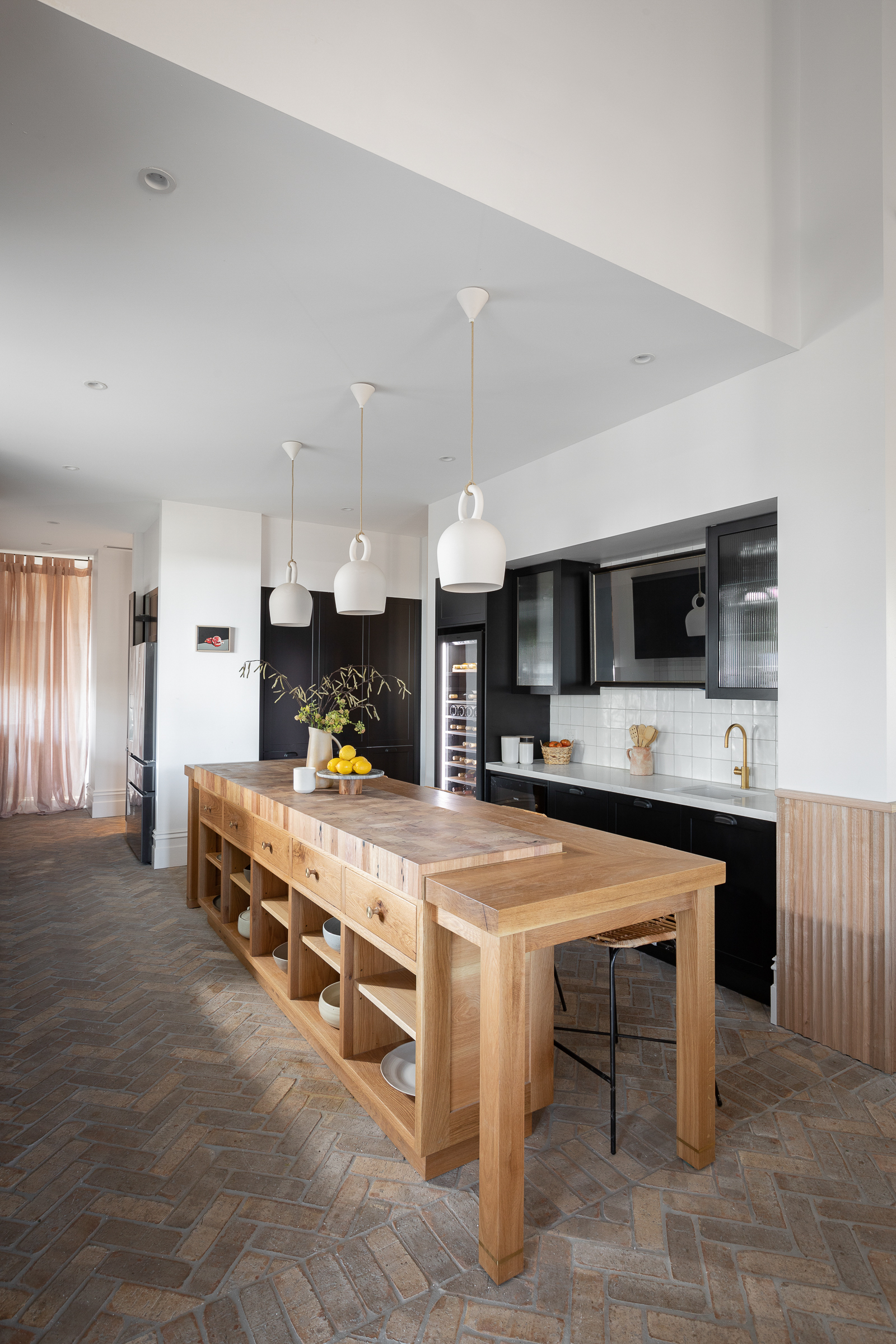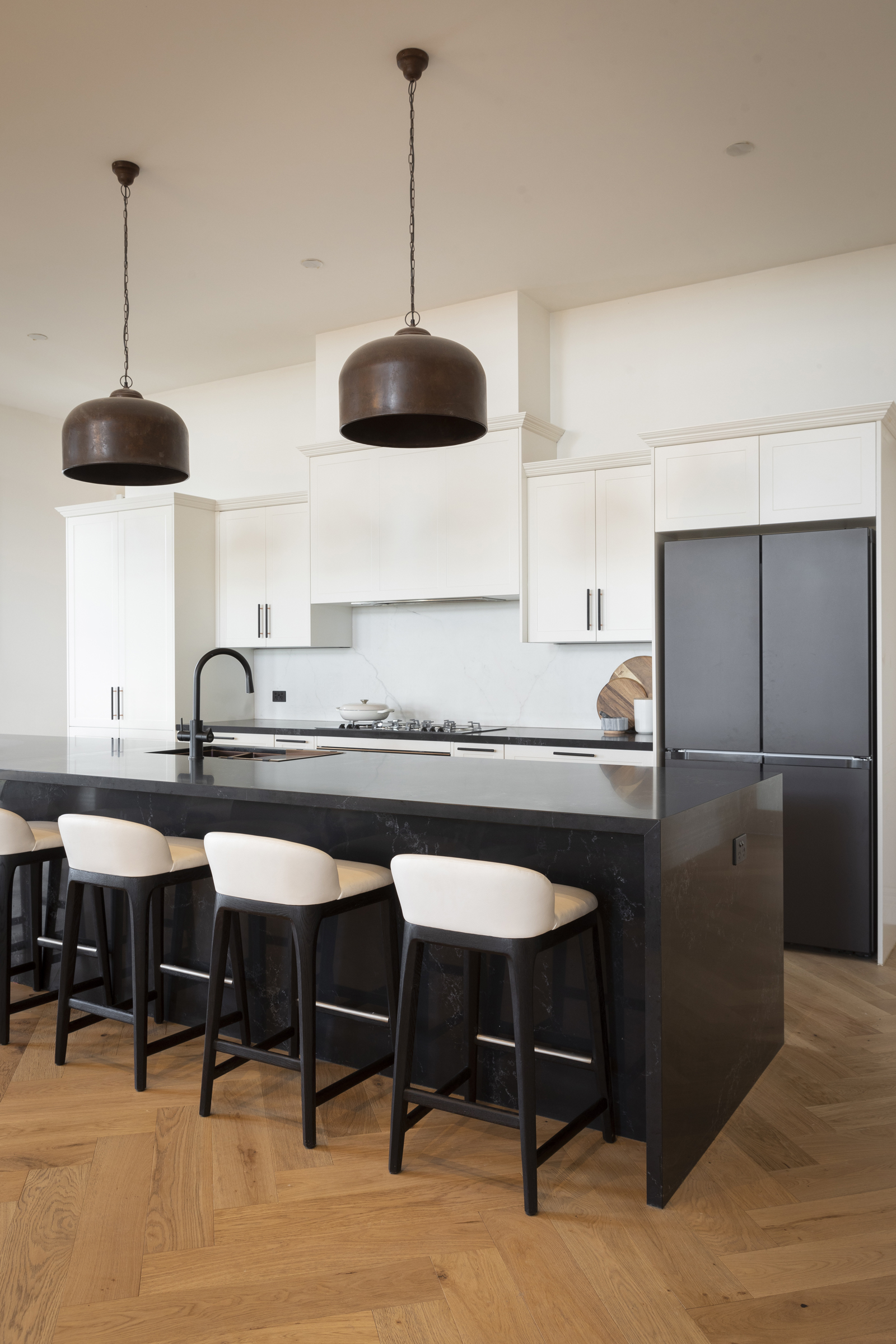 The biggest kitchens ever seen on The Block also call for the biggest kitchen islands. Island benches offer a stylish and functional preparation space in your kitchen, allow for additional storage, and provide a beautiful gathering space for your family and/or guests when you're entertaining thanks to seating zones. Caesarstone quartz benchtop selection completed the look each team created from the earthy tones of Riverlet in House 4, Arbetto's bold marble look in House 1, bold dramatic Empira Black in House 3 or the cool urban tones of Rugged Concrete seen in House 5. Your benchtop colour should complement your cabinetry, and add to the overall 'look' you want to evoke.
Use Butler's Pantries to Maximise Space.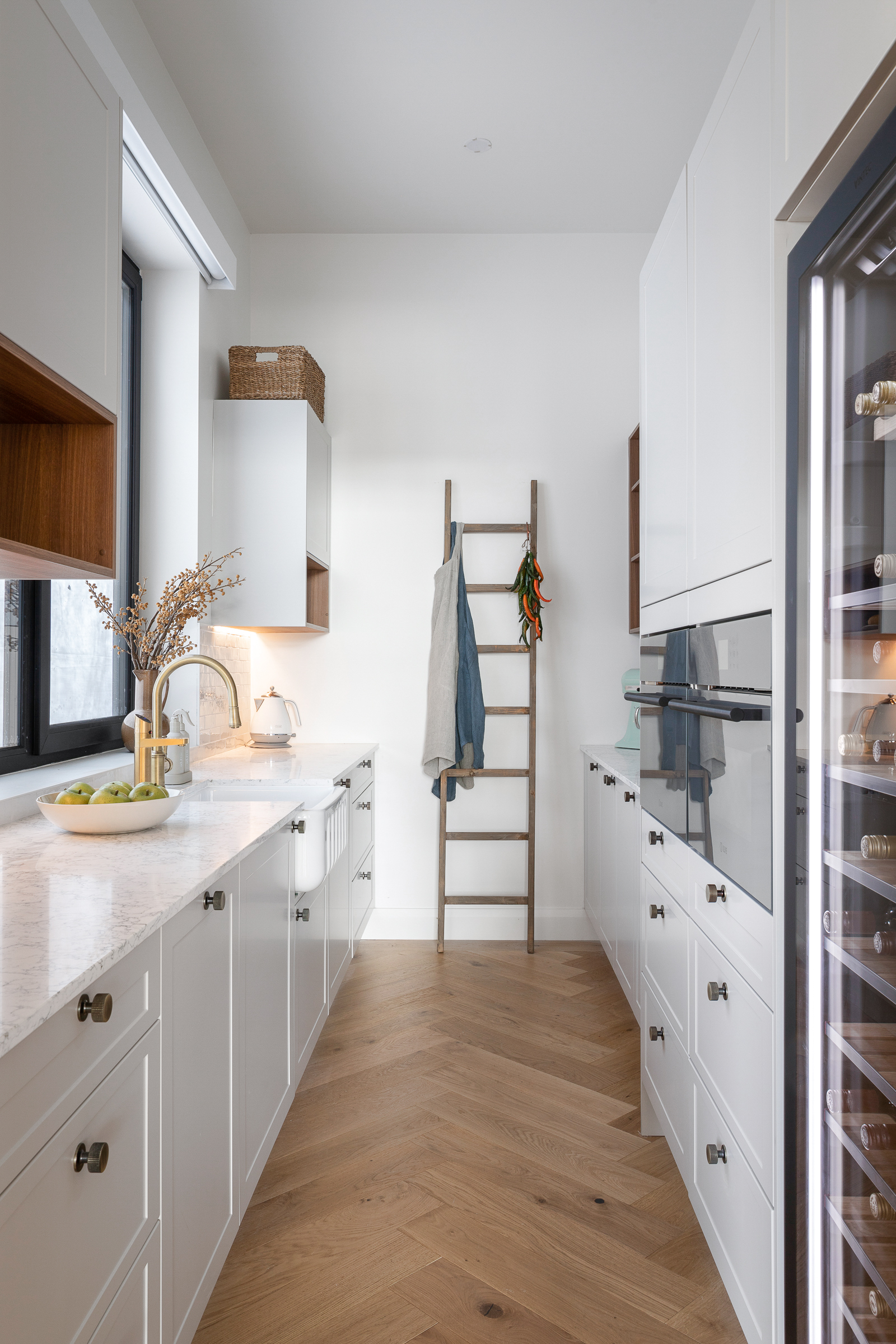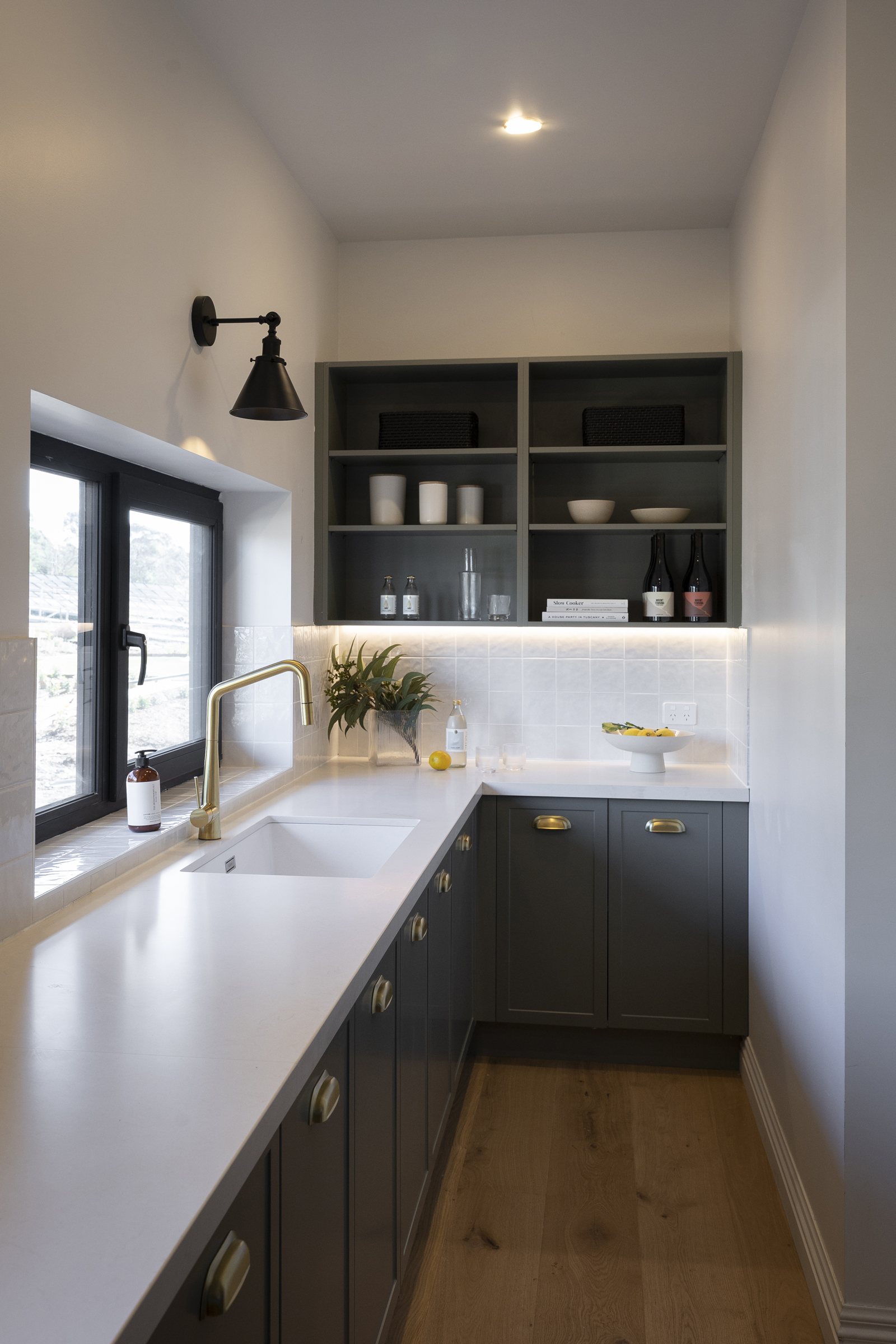 If space permits, a butler's pantry is a wonderful addition to any kitchen and home. The pantries on The Block acted as a second kitchen as they featured additional cooking and cleaning appliances. Located near the main kitchen space, but hidden from view, this allows for food prep and cleaning to be done away from the kitchen and entertaining spaces of your home. Maximise storage with pull-out pantries, blind corner shelves and space to store small appliances.
Feeling inspired to create your own dream kitchen that's the best on your block in 2023?  Start your renovation journey with Freedom Kitchens by downloading our latest Kitchen Catalogue, or book a free design appointment at your home or via a video call with our kitchen designers.