A small or compact kitchen doesn't mean one that lacks storage, functionality and style when you create your dream kitchen with us! As we always say, 'planning makes perfect', and below we share our favourite tips and tricks to consider when planning your new Freedom Kitchen to create a small kitchen that makes a big impact!
Tip 1. Consider a Neutral Colour Palette.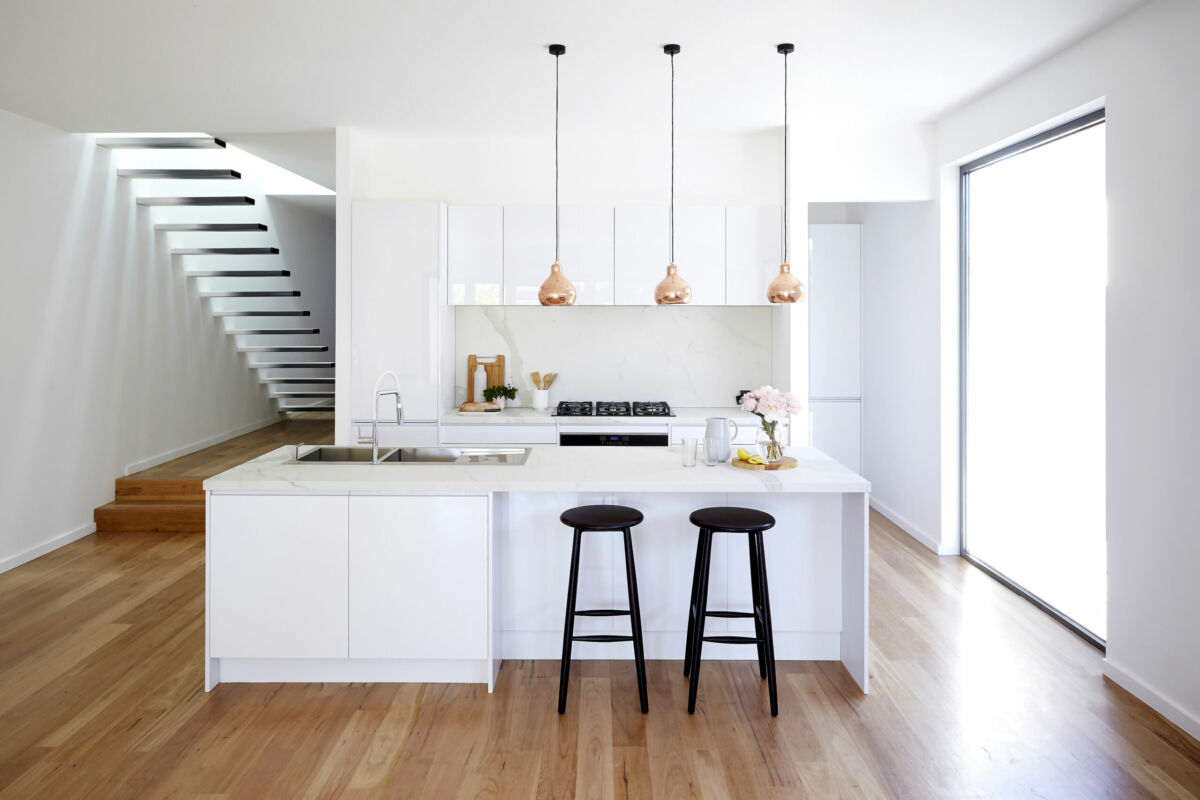 Keep it light! Lighter and brighter cabinetry, benchtops and splashbacks in a neutral colour scheme are always a great option to create the illusion that your space is larger than it really is.
Bright white cabinetry with a flat profile in a matte or satin finish, such as our Iceland White Satin or the new Supa Ultra White Supa Matt, are right on trend and are a smart choice if natural light is limited. We also recommend integrating appliances such as dishwashers and accessories such as bins to maintain a streamline look.
Designer tip: Darker tones can be introduced into your kitchen via smaller features such as handles and tapware etc so as to not overwhelm the room, while still adding interest and a pop of colour.
Tip 2. Maximise Cabinetry Height.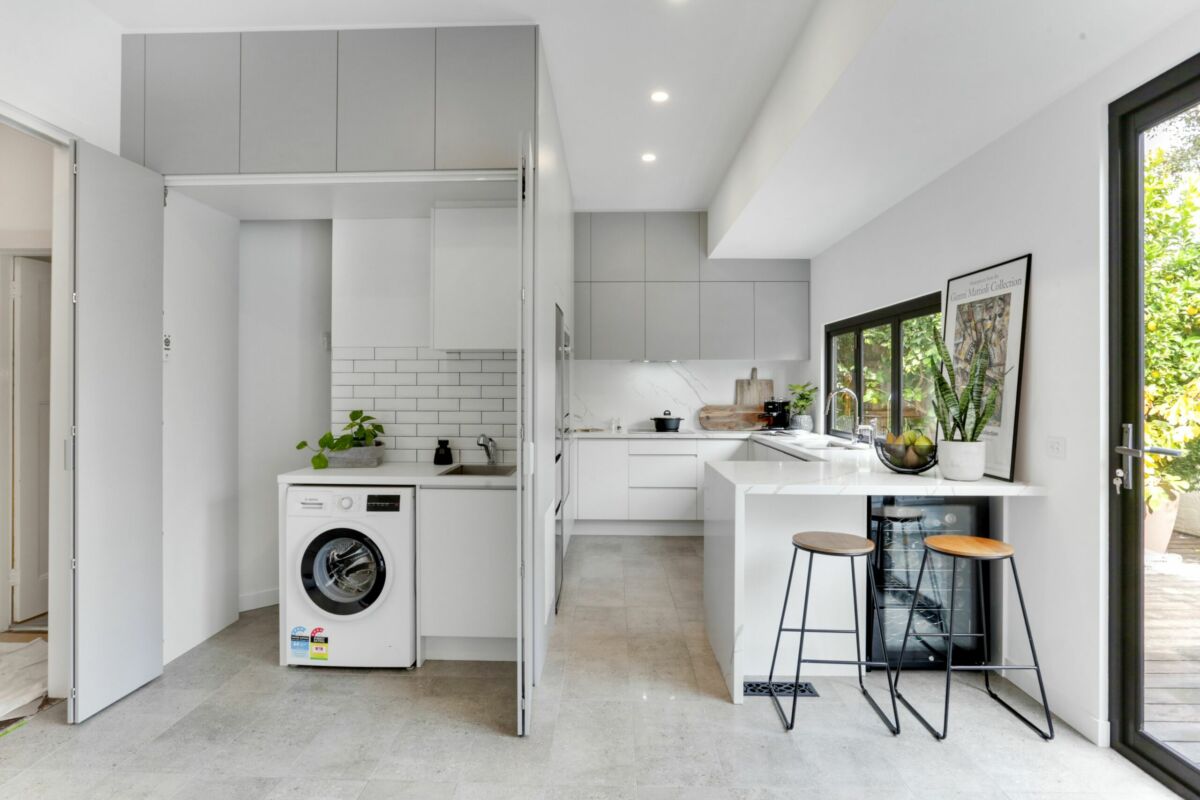 Make the most of the height within your kitchen by bringing cabinetry as close to the ceiling as you can to make use of every inch of storage space you can. Store items that you may not use all the time such as vases, serving ware, special glassware within your top wall cabinets, ensuring that other well used items are within easy reach.
Designer tip: Maximise storage even if your cabinetry doesn't go up to the ceiling, and use that space above the cabinets to add more storage through beautiful baskets and boxes.
Tip 3. Maximise Bench Space.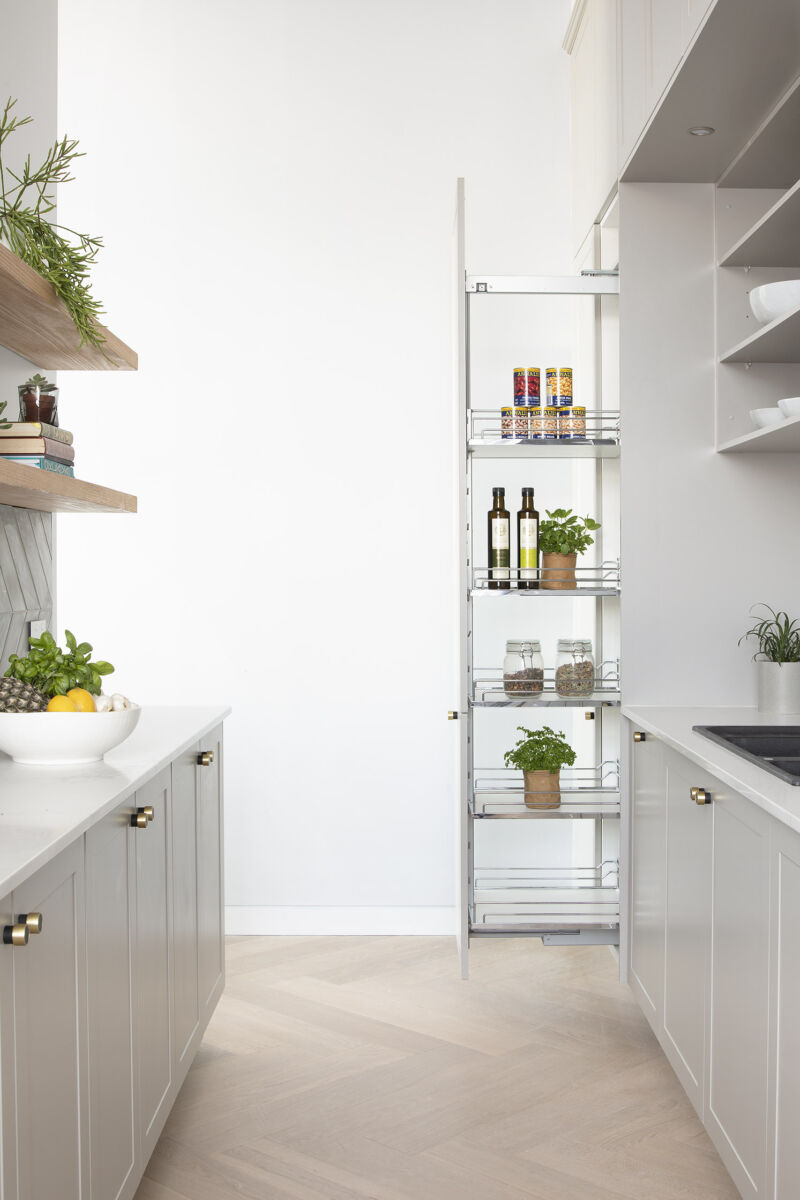 Bench space is a must-have in any kitchen and when space is limited you will need to consider ways to maximise it while keeping lots of tall storage within your design. Pull-out pantries are a great way of maximising storage in a confined space, and allow for more room for under bench drawers and cupboards, and in turn boost bench space. Win, win!
Tip 4. Transform Those Pesky Corner Cupboards!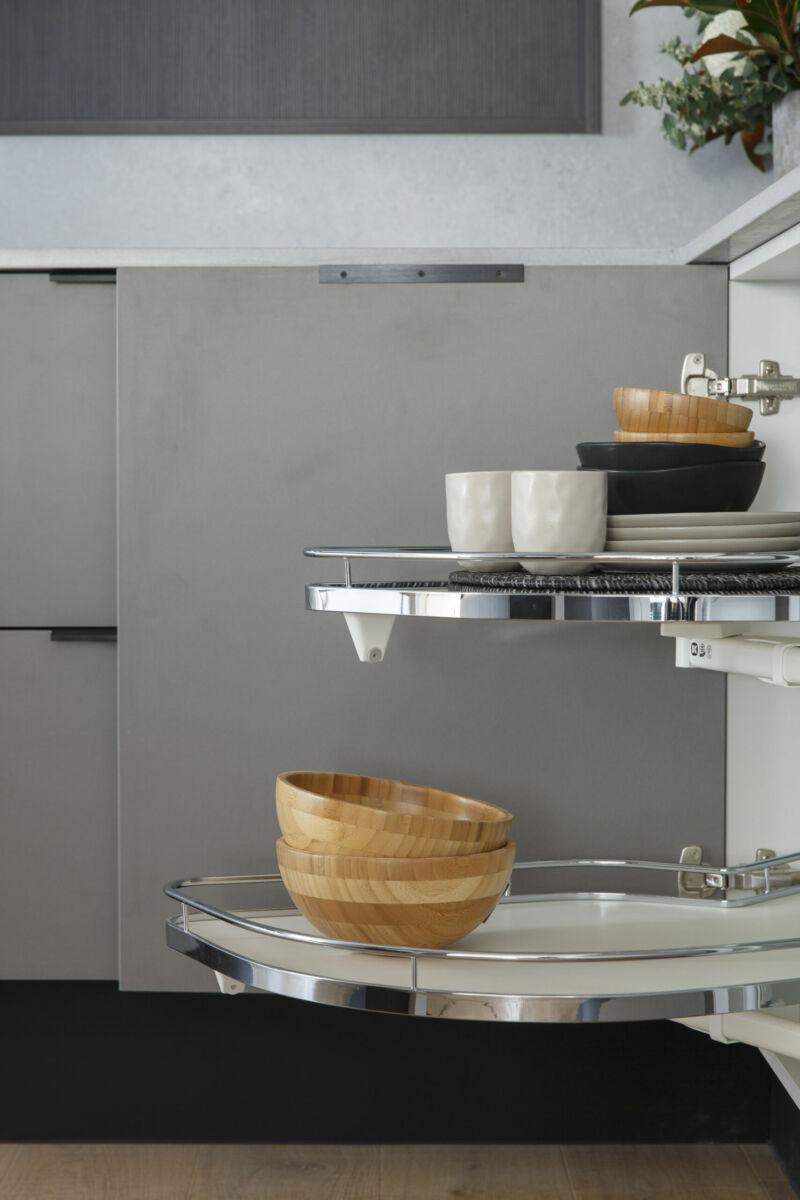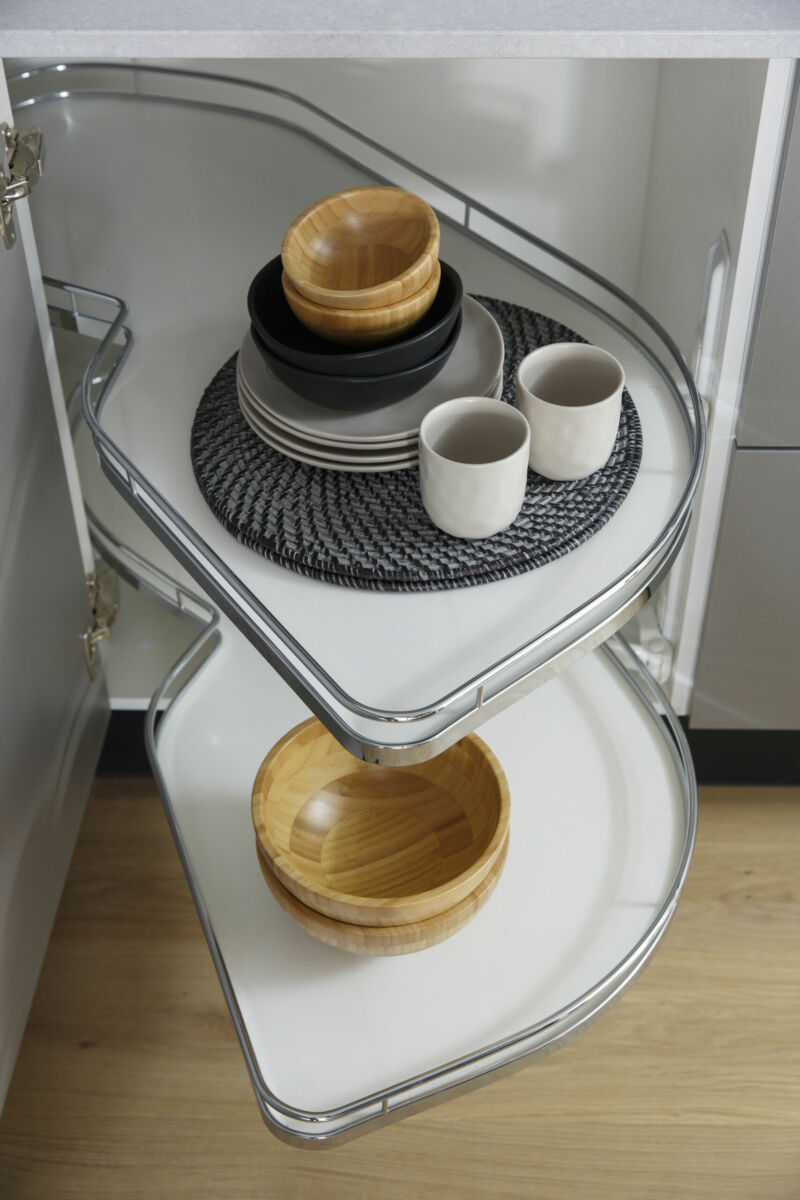 Corners in compact kitchens are usually the space that people neglect the most as typically they are difficult to store and organise kitchen items in. However, in a smaller kitchen, we believe that every inch of your kitchen space should work hard. Enter our Carousel or Le-Mans Blind Corner Shelf system- both make practical use out of what would otherwise be 'dead' space.
Tip 5. Create Balance.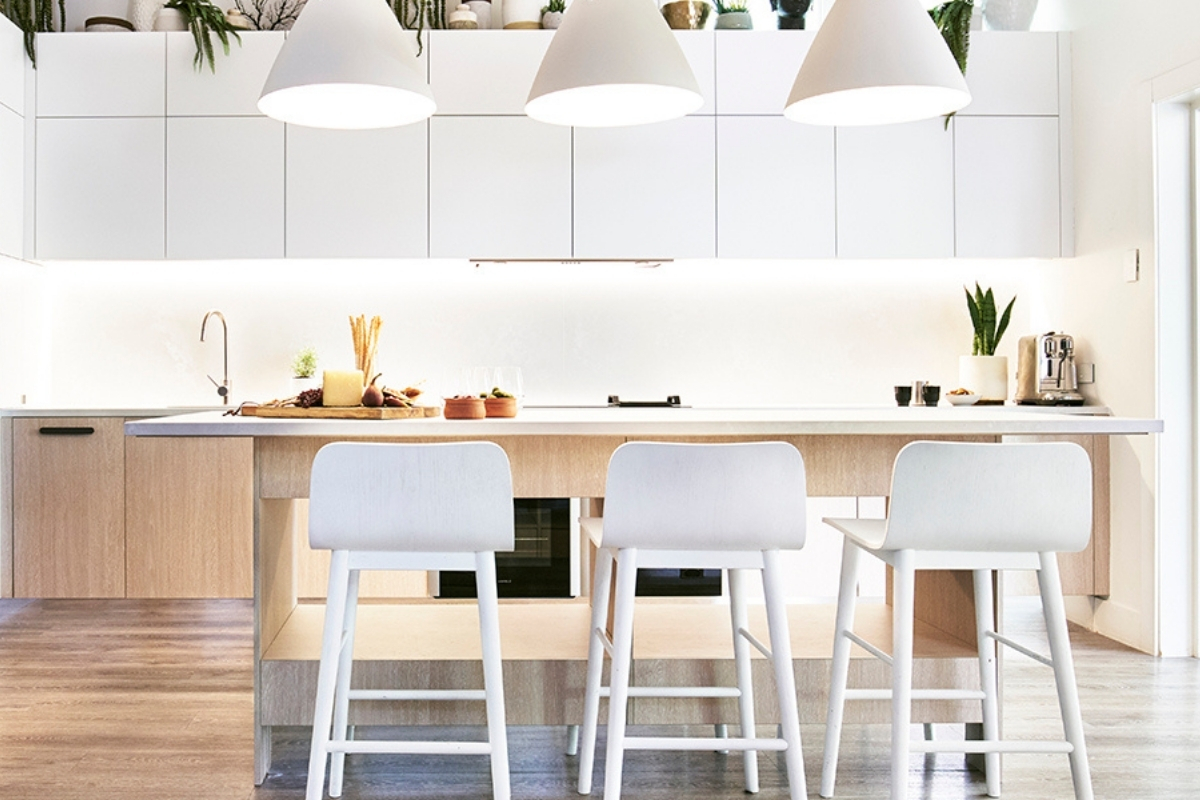 Scale is important! There always needs to be a balance between appliance sizes and storage space. Overcapitalising and selecting larger appliances in a compact room such as a double door fridge or 900mm cooktop could hinder the space left over for drawers and other items. Your Freedom Kitchen designer will consider this when designing your new kitchen and will have a great range of suggestions for how to create the perfect balance.
Ready to bring your dream kitchen design to life? Start your Freedom Kitchens journey with us today!
Book your free in-home or video call design appointment HERE.
For more inspiration, ideas and product information download our latest catalogue HERE.